Abstract
Recent technical advancements have facilitated the mapping of epigenomes at single-cell resolution; however, the throughput and quality of these methods have limited their widespread adoption. Here we describe a high-quality (105 nuclear fragments per cell) droplet-microfluidics-based method for single-cell profiling of chromatin accessibility. We use this approach, named 'droplet single-cell assay for transposase-accessible chromatin using sequencing' (dscATAC-seq), to assay 46,653 cells for the unbiased discovery of cell types and regulatory elements in adult mouse brain. We further increase the throughput of this platform by combining it with combinatorial indexing (dsciATAC-seq), enabling single-cell studies at a massive scale. We demonstrate the utility of this approach by measuring chromatin accessibility across 136,463 resting and stimulated human bone marrow-derived cells to reveal changes in the cis- and trans-regulatory landscape across cell types and under stimulatory conditions at single-cell resolution. Altogether, we describe a total of 510,123 single-cell profiles, demonstrating the scalability and flexibility of this droplet-based platform.
Relevant articles
Open Access articles citing this article.
Xiumei Lin

,

Xueqian Yang

…

Chang Liu

Scientific Data Open Access 19 July 2023

Betelehem Solomon Bera

,

Taylor V. Thompson

…

Masako Suzuki

Epigenetics & Chromatin Open Access 28 April 2023

Wenjing Ma

,

Jiaying Lu

&

Hao Wu

Nature Communications Open Access 03 April 2023
Access options
Access Nature and 54 other Nature Portfolio journals
Get Nature+, our best-value online-access subscription
$29.99 / 30 days
cancel any time
Subscribe to this journal
Receive 12 print issues and online access
$209.00 per year
only $17.42 per issue
Rent or buy this article
Prices vary by article type
from$1.95
to$39.95
Prices may be subject to local taxes which are calculated during checkout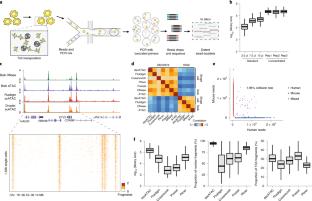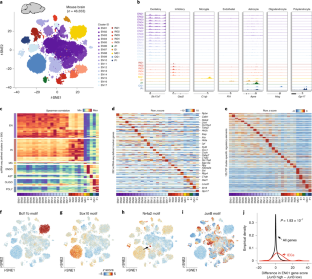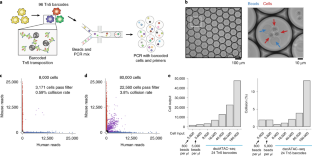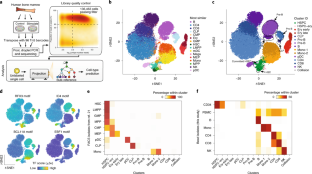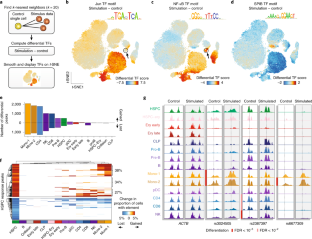 References
Roadmap Epigenomics Consortium. Integrative analysis of 111 reference human epigenomes. Nature 518, 317–330 (2015).

Thurman, R. E. et al. The accessible chromatin landscape of the human genome. Nature 489, 75–82 (2012).

Spitz, F. & Furlong, E. E. M. Transcription factors: from enhancer binding to developmental control. Nat. Rev. Genet. 13, 613–626 (2012).

Calo, E. & Wysocka, J. Modification of enhancer chromatin: what, how, and why? Mol. Cell 49, 825–837 (2013).

Weintraub, H. & Groudine, M. Chromosomal subunits in active genes have an altered conformation. Science 193, 848–856 (1976).

Boyle, A. P. et al. High-resolution mapping and characterization of open chromatin across the genome. Cell 132, 311–322 (2008).

Hesselberth, J. R. et al. Global mapping of protein–DNA interactions in vivo by digital genomic footprinting. Nat. Methods 6, 283–289 (2009).

Buenrostro, J. D., Giresi, P. G., Zaba, L. C., Chang, H. Y. & Greenleaf, W. J. Transposition of native chromatin for fast and sensitive epigenomic profiling of open chromatin, DNA-binding proteins and nucleosome position. Nat. Methods 10, 1213–1218 (2013).

Gerstein, M. B. et al. Architecture of the human regulatory network derived from ENCODE data. Nature 489, 91–100 (2012).

Maurano, M. T. et al. Systematic localization of common disease-associated variation in regulatory DNA. Science 337, 1190–1195 (2012).

Plasschaert, L. W. et al. A single-cell atlas of the airway epithelium reveals the CFTR-rich pulmonary ionocyte. Nature 560, 377–381 (2018).

Tirosh, I. et al. Dissecting the multicellular ecosystem of metastatic melanoma by single-cell RNA-seq. Science 352, 189–196 (2016).

Wagner, A., Regev, A. & Yosef, N. Revealing the vectors of cellular identity with single-cell genomics. Nat. Biotechnol. 34, 1145–1160 (2016).

Kelsey, G., Stegle, O. & Reik, W. Single-cell epigenomics: recording the past and predicting the future. Science 358, 69–75 (2017).

Jin, W. et al. Genome-wide detection of DNase I hypersensitive sites in single cells and FFPE tissue samples. Nature 528, 142–146 (2015).

Rotem, A. et al. Single-cell ChIP-seq reveals cell subpopulations defined by chromatin state. Nat. Biotechnol. 33, 1165–1172 (2015).

Corces, M. R. et al. Lineage-specific and single-cell chromatin accessibility charts human hematopoiesis and leukemia evolution. Nat. Genet. 48, 1193–1203 (2016).

Buenrostro, J. D. et al. Single-cell chromatin accessibility reveals principles of regulatory variation. Nature 523, 486–490 (2015).

Cusanovich, D. A. et al. Multiplex single cell profiling of chromatin accessibility by combinatorial cellular indexing. Science 348, 910–914 (2015).

Cusanovich, D. A. et al. The cis-regulatory dynamics of embryonic development at single-cell resolution. Nature 555, 538–542 (2018).

Buenrostro, J. D. et al. Integrated single-cell analysis maps the continuous regulatory landscape of human hematopoietic differentiation. Cell 173, 1535–1548 (2018).

Corces, M. R. et al. An improved ATAC–seq protocol reduces background and enables interrogation of frozen tissues. Nat. Methods 14, 959–962 (2017).

Amini, S. et al. Haplotype-resolved whole-genome sequencing by contiguity-preserving transposition and combinatorial indexing. Nat. Genet. 46, 1343–1349 (2014).

Preissl, S. et al. Single-nucleus analysis of accessible chromatin in developing mouse forebrain reveals cell-type-specific transcriptional regulation. Nat. Neurosci. 21, 432–439 (2018).

Pliner, H. A. et al. Cicero predicts cis-regulatory DNA interactions from single-cell chromatin accessibility data. Mol. Cell 71, 858–871 (2018).

Schep, A. N., Wu, B., Buenrostro, J. D. & Greenleaf, W. J. Chromvar: inferring transcription-factor-associated accessibility from single-cell epigenomic data. Nat. Methods 14, 975–978 (2017).

Cusanovich, D. A. et al. A single-cell atlas of in vivo mammalian chromatin accessibility. Cell 174, 1309–1324 (2018).

Chen, X., Miragaia, R. J., Natarajan, K. N. & Teichmann, S. A. A rapid and robust method for single cell chromatin accessibility profiling. Nat. Commun. 9, 5345 (2018).

Saunders, A. et al. Molecular diversity and specializations among the cells of the adult mouse brain. Cell 174, 1015–1030 (2018).

Zeisel, A. et al. Molecular architecture of the mouse nervous system. Cell 174, 999–1014 (2018).

Urban-Ciecko, J. & Barth, A. L. Somatostatin-expressing neurons in cortical networks. Nat. Rev. Neurosci. 17, 401–409 (2016).

Ullrich, B. & Südhof, T. C. Differential distributions of novel synaptotagmins: comparison to synapsins. Neuropharmacology 34, 1371–1377 (1995).

Meneses, A. Serotonin, neural markers, and memory. Front. Pharmacol. 6, 143 (2015).

Hatori, M. et al. Lhx1 maintains synchrony among circadian oscillator neurons of the SCN. eLife 3, e03357 (2014).

Visel, A. et al. A high-resolution enhancer atlas of the developing telencephalon. Cell 152, 895–908 (2013).

Kadkhodaei, B. et al. Nurr1 is required for maintenance of maturing and adult midbrain dopamine neurons. J. Neurosci. 29, 15923–15932 (2009).

Yap, E.-L. & Greenberg, M. E. Activity-regulated transcription: bridging the gap between neural activity and behavior. Neuron 100, 330–348 (2018).

Picelli, S. et al. Tn5 transposase and tagmentation procedures for massively scaled sequencing projects. Genome Res. 24, 2033–2040 (2014).

Bendall, S. C. et al. Single-cell mass cytometry of differential immune and drug responses across a human hematopoietic continuum. Science 332, 687–696 (2011).

Bodenmiller, B. et al. Multiplexed mass cytometry profiling of cellular states perturbed by small-molecule regulators. Nat. Biotechnol. 30, 858–867 (2012).

Becht, E. et al. Dimensionality reduction for visualizing single-cell data using UMAP. Nat. Biotechnol. (2018). https://doi.org/10.1038/nbt.4314.

Essers, M. A. G. et al. IFNα activates dormant haematopoietic stem cells in vivo. Nature 458, 904–908 (2009).

Espín-Palazón, R. et al. Proinflammatory signaling regulates hematopoietic stem cell emergence. Cell 159, 1070–1085 (2014).

Petrillo, C. et al. Cyclosporine H overcomes innate immune restrictions to improve lentiviral transduction and gene editing in human hematopoietic stem cells. Cell Stem Cell 23, 820–832 (2018).

Farh, K. K.-H. et al. Genetic and epigenetic fine mapping of causal autoimmune disease variants. Nature 518, 337–343 (2015).

Ulirsch, J.C. et al. Interrogation of human hematopoiesis at single-cell and single-variant resolution. Nat. Genet. 51, 683–693 (2019).

Lopez, R. D., Waller, E. K., Lu, P. H. & Negrin, R. S. CD58/LFA-3 and IL-12 provided by activated monocytes are critical in the in vitro expansion of CD56+ T cells. Cancer Immunol. Immunother. 49, 629–640 (2001).

Laroni, A. et al. Dysregulation of regulatory CD56bright NK cells/T cells interactions in multiple sclerosis. J. Autoimmun. 72, 8–18 (2016).

HCA Consortium. The Human Cell Atlas White Paper (2017).

Stuart, T. et al. Comprehensive integration of single cell data. Preprint at https://doi.org/10.1101/460147 (2018).

Han, X. et al. Mapping the mouse cell atlas by microwell-seq. Cell 173, 13071091– (2018).

Vitak, S. A. et al. Sequencing thousands of single-cell genomes with combinatorial indexing. Nat. Methods 14, 302–308 (2017).

Mulqueen, R. M. et al. Highly scalable generation of DNA methylation profiles in single cells. Nat. Biotechnol. 36, 428–431 (2018).

Cao, J. et al. Joint profiling of chromatin accessibility and gene expression in thousands of single cells. Science 361, 1380–1385 (2018).

Rakyan, V. K., Down, T. A., Balding, D. J. & Beck, S. Epigenome-wide association studies for common human diseases. Nat. Rev. Genet. 12, 529–541 (2011).

Smith, T., Heger, A. & Sudbery, I. UMI-tools: modeling sequencing errors in Unique Molecular Identifiers to improve quantification accuracy. Genome Res. 27, 491–499 (2017).

Lander, E. S. & Waterman, M. S. Genomic mapping by fingerprinting random clones: a mathematical analysis. Genomics 2, 231–239 (1988).
Acknowledgements
We thank members of the Buenrostro lab for useful discussions and critical assessment of this work. We thank D. Norton at Bio-Rad for enabling the collaboration with the Broad Institute and Harvard University. We would also like to acknowledge other Bio-Rad colleagues for establishing and providing droplet-related consumables, including D. Do, B. Zhang, P. Pattamatta, S. Cater, L. Frenz, D. Greiner and J. Agresti. We also recognize L. Christiansen, A. Yunghans and L. Watson from the Illumina Assay Development team, in addition to F. Zhang and F. Schlesinger at Illumina, for their bioinformatics contributions. We are grateful to the Zhang lab (Broad Institute) for providing the Tn5 for combinatorial experiments. J.D.B., C.A.L., F.M.D. and V.K.K. acknowledge support by the Allen Distinguished Investigator Program through the Paul G. Allen Frontiers Group. This work was further supported by the Chan Zuckerberg Initiative. C.A.L. is supported by an NIH F31 grant (F31CA232670).
Ethics declarations
Competing interests
Work by D.P. and F.J.S. was performed at Illumina. Work by J.G.C., Z.D.B., A.S.K. and R.L. was performed at Bio-Rad. J.D.B. holds patents related to ATAC-seq.
Additional information
Publisher's note: Springer Nature remains neutral with regard to jurisdictional claims in published maps and institutional affiliations.
Integrated supplementary information
Supplementary information
About this article
Cite this article
Lareau, C.A., Duarte, F.M., Chew, J.G. et al. Droplet-based combinatorial indexing for massive-scale single-cell chromatin accessibility. Nat Biotechnol 37, 916–924 (2019). https://doi.org/10.1038/s41587-019-0147-6
Received:

Accepted:

Published:

Issue Date:

DOI: https://doi.org/10.1038/s41587-019-0147-6