Abstract
The use of monoclonal antibodies in cancer therapy is limited by their cross-reactivity to healthy tissue. Tumor targeting has been improved by generating masked antibodies that are selectively activated in the tumor microenvironment, but each such antibody necessitates a custom design. Here, we present a generalizable approach for masking the binding domains of antibodies with a heterodimeric coiled-coil domain that sterically occludes the complementarity-determining regions. On exposure to tumor-associated proteases, such as matrix metalloproteinases 2 and 9, the coiled-coil peptides are cleaved and antigen binding is restored. We test multiple coiled-coil formats and show that the optimized masking domain is broadly applicable to antibodies of interest. Our approach prevents anti-CD3-associated cytokine release in mice and substantially improves circulation half-life by protecting the antibody from an antigen sink. When applied to antibody–drug conjugates, our masked antibodies are preferentially unmasked at the tumor site and have increased anti-tumor efficacy compared with unmasked antibodies in mouse models of cancer.
Relevant articles
Open Access articles citing this article.
Michael Brasino

,

Eli Wagnell

…

Stuart D. Ibsen

Communications Biology Open Access 10 December 2022

Sicong Yao

,

Adam Moyer

…

Chuanliu Wu

Nature Communications Open Access 22 March 2022

Yao Lu

,

Jieli Chen

…

Changhai Ding

Journal of Nanobiotechnology Open Access 19 February 2022
Access options
Access Nature and 54 other Nature Portfolio journals
Get Nature+, our best-value online-access subscription
$29.99 per month
cancel any time
Subscribe to this journal
Receive 12 print issues and online access
$209.00 per year
only $17.42 per issue
Rent or buy this article
Get just this article for as long as you need it
$39.95
Prices may be subject to local taxes which are calculated during checkout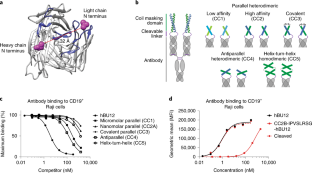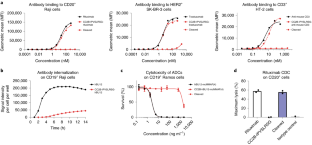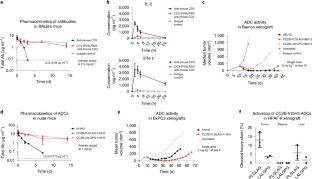 Data availability
The data that support the findings of this study are available within the paper and its Supplementary Information files.
References
Bugelski, P. J. & Martin, P. L. Concordance of preclinical and clinical pharmacology and toxicology of therapeutic monoclonal antibodies and fusion proteins: cell surface targets. Brit. J. Pharmacol. 166, 823–846 (2012).

Hansel, T. T., Kropshofer, H., Singer, T., Mitchell, J. A. & George, A. J. The safety and side effects of monoclonal antibodies. Nat. Rev. Drug Discov. 9, 325–338 (2010).

Polu, K. R. & Lowman, H. B. Probody therapeutics for targeting antibodies to diseased tissue. Expert Opin. Biol. Ther. 14, 1049–1053 (2014).

Desnoyers, L. R. et al. Tumor-specific activation of an EGFR-targeting probody enhances therapeutic index. Sci. Transl. Med. 5, 207ra144 (2013).

Donaldson, J., Kari, C., Fragoso, R., Rodeck, U. & Williams, J. C. Design and development of masked therapeutic antibodies to limit off-target effects: application to anti-EGFR antibodies. Cancer Biol. Ther. 8, 2147–2152 (2009).

Thomas, J. & Daugherty, P. Proligands with protease-regulated binding activity identified from cell-displayed prodomain libraries. Protein Sci. 18, 2052–2059 (2009).

Erster, O. et al. Site-specific targeting of antibody activity in vivo mediated by disease-associated proteases. J. Control. Release 161, 804–812 (2012).

Yang, Y. et al. Preclinical studies of a pro-antibody-drug conjugate designed to selectively target EGFR-overexpressing tumors with improved therapeutic efficacy. mAbs 8, 405–413 (2015).

Yang, Y. et al. Generation and characterization of a target-selectively activated antibody against epidermal growth factor receptor with enhanced anti-tumor potency. mAbs 7, 440–450 (2015).

Sandersjoo, L., Jonsson, A. & Lofblom, J. A new prodrug form of Affibody molecules (pro-Affibody) is selectively activated by cancer-associated proteases. Cell. Mol. Life Sci. 72, 1405–1415 (2015).

Chen, I. et al. Selective antibody activation through protease-activated pro-antibodies that mask binding sites with inhibitory domains. Sci. Rep. 7, 1–12 (2017).

Burkhard, P., Stetefeld, J. & Strelkov, S. V. Coiled coils: a highly versatile protein folding motif. Trends Cell Biol. 11, 82–88 (2001).

Thomas, F., Boyle, A. L., Burton, A. J. & Woolfson, D. N. A set of de novo designed parallel heterodimeric coiled coils with quantified dissociation constants in the micromolar to sub-nanomolar regime. J. Am. Chem. Soc. 135, 5161–5166 (2013).

Arndt, K., Pelletier, J., Müller, K., Plückthun, A. & Alber, T. Comparison of in vivo selection and rational design of heterodimeric coiled coils. Structure 10, 1235–1248 (2002).

Schmidt, M. M. Engineering antibodies for improved targeting of solid tumors. PhD thesis, Massachusetts Institute of Technology, Ch. 5 (2010); http://hdl.handle.net/1721.1/61239

McClain, D., Woods, H. & Oakley, M. Design and characterization of a heterodimeric coiled coil that forms exclusively with an antiparallel relative helix orientation. J. Am. Chem. Soc. 123, 3151–3152 (2001).

Plückthun, A. & Pack, P. New protein engineering approaches to multivalent and bispecific antibody fragments. Immunotechnology 3, 83–105 (1997).

Gerber, H. P. et al. Potent antitumor activity of the anti-CD19 auristatin antibody drug conjugate hBU12-vcMMAE against rituximab-sensitive and -resistant lymphomas. Blood 113, 4352–4361 (2009).

Jiang, T. et al. Tumor imaging by means of proteolytic activation of cell-penetrating peptides. Proc. Natl Acad. Sci. USA 101, 17867–17872 (2004).

Turk, B. E., Huang, L. L., Piro, E. T. & Cantley, L. C. Determination of protease cleavage site motifs using mixture-based oriented peptide libraries. Nat. Biotechnol. 19, 661–667 (2001).

Shay, G., Lynch, C. C. & Fingleton, B. Moving targets: emerging roles for MMPs in cancer progression and metastasis. Matrix Biol. 44–46, 200–206 (2015).

Kessenbrock, K., Plaks, V. & Werb, Z. Matrix metalloproteinases: regulators of the tumor microenvironment. Cell 141, 52–67 (2010).

King, K. M. & Younes, A. Rituximab: review and clinical applications focusing on non-Hodgkin's lymphoma. Expert Rev. Anticancer Ther. 1, 177–186 (2001).

Maximiano, S., Magalhães, P., Guerreiro, M. P. & Morgado, M. Trastuzumab in the treatment of breast cancer. BioDrugs 30, 75–86 (2016).

Ryan, M. C. et al. Integrin αVα6 is expressed on multiple solid tumors and is a potential therapeutic target for auristatin-based antibody-drug conjugates. Canc. Res. 72, abstr. 4630 (2012).

Leo, O., Foo, M., Sachs, D. H., Samelson, L. E. & Bluestone, J. A. Identification of a monoclonal antibody specific for a murine T3 polypeptide. Proc. Natl Acad. Sci. USA 84, 1374–1378 (1987).

Lin, J. & Sagert, J. in Innovations for Next-Generation Antibody-Drug Conjugates (ed. Damelin, M.) 281–298 (Springer Int. Pub., 2018).

Doronina, S. O. et al. Enhanced activity of monomethylauristatin F through monoclonal antibody delivery: effects of linker technology on efficacy and toxicity. Bioconjug. Chem. 17, 114–124 (2006).

Stanková, J., Hoskin, D. W. & Roder, J. C. Murine anti-CD3 monoclonal antibody induces potent cytolytic activity in both T and NK cell populations. Cell. Immunol. 121, 13–29 (1989).

Alegre, M. et al. Hypothermia and hypoglycemia induced by anti-CD3 monoclonal antibody in mice: role of tumor necrosis factor. Eur. J. Immunol. 20, 707–710 (1990).

Ferran, C. et al. Cytokine-related syndrome following injection of anti-CD3 monoclonal antibody: further evidence for transient in vivo T cell activation. Eur. J. Immunol. 20, 509–515 (1990).

Huang, X. et al. Inactivation of the integrin B6 subunit gene reveals a role of epithelial integrins in regulating inflammation in the lungs and skin. J. Cell Biol. 133, 921–928 (1996).

Lyon, R. P. et al. Reducing hydrophobicity of homogeneous antibody-drug conjugates improves pharmacokinetics and therapeutic index. Nat. Biotechnol. 33, 733–735 (2015).
Acknowledgements
We thank our Seattle Genetics colleagues L. Benoit, D. Meyer and J. Mitchell for help with antibody–drug conjugation and C. Yu for help with internalization experiments.
Ethics declarations
Competing interests
All of the authors were employees and shareholders of Seattle Genetics at the time of these studies.
Additional information
Publisher's note: Springer Nature remains neutral with regard to jurisdictional claims in published maps and institutional affiliations.
Integrated supplementary information
Supplementary information
Supplementary Figs. 1–14 and Supplementary Tables 1 and 2
About this article
Cite this article
Trang, V.H., Zhang, X., Yumul, R.C. et al. A coiled-coil masking domain for selective activation of therapeutic antibodies. Nat Biotechnol 37, 761–765 (2019). https://doi.org/10.1038/s41587-019-0135-x
Received:

Accepted:

Published:

Issue Date:

DOI: https://doi.org/10.1038/s41587-019-0135-x