Abstract
Recent single-cell RNA-sequencing studies have suggested that cells follow continuous transcriptomic trajectories in an asynchronous fashion during development. However, observations of cell flux along trajectories are confounded with population size effects in snapshot experiments and are therefore hard to interpret. In particular, changes in proliferation and death rates can be mistaken for cell flux. Here we present pseudodynamics, a mathematical framework that reconciles population dynamics with the concepts underlying developmental trajectories inferred from time-series single-cell data. Pseudodynamics models population distribution shifts across trajectories to quantify selection pressure, population expansion, and developmental potentials. Applying this model to time-resolved single-cell RNA-sequencing of T-cell and pancreatic beta cell maturation, we characterize proliferation and apoptosis rates and identify key developmental checkpoints, data inaccessible to existing approaches.
Relevant articles
Open Access articles citing this article.
Marius Lange

,

Volker Bergen

…

Fabian J. Theis

Nature Methods Open Access 13 January 2022

Saradha Venkatachalapathy

,

Doorgesh S. Jokhun

…

G. V. Shivashankar

Scientific Reports Open Access 29 November 2021

Grace Hui Ting Yeo

,

Sachit D. Saksena

&

David K. Gifford

Nature Communications Open Access 28 May 2021
Access options
Access Nature and 54 other Nature Portfolio journals
Get Nature+, our best-value online-access subscription
$29.99 / 30 days
cancel any time
Subscribe to this journal
Receive 12 print issues and online access
$209.00 per year
only $17.42 per issue
Rent or buy this article
Get just this article for as long as you need it
$39.95
Prices may be subject to local taxes which are calculated during checkout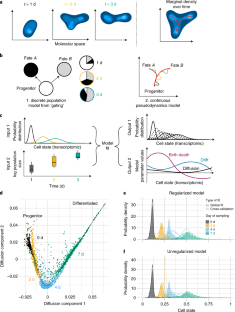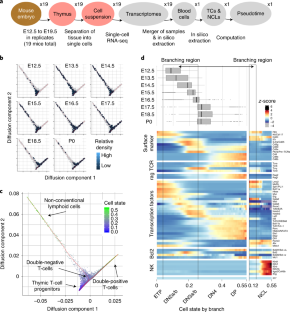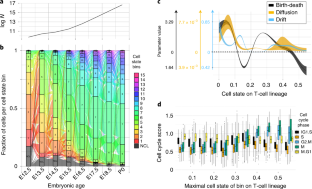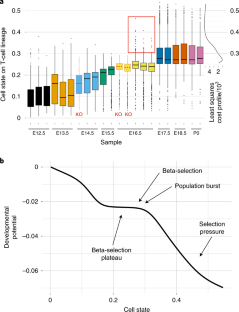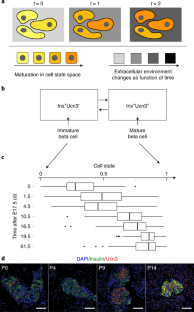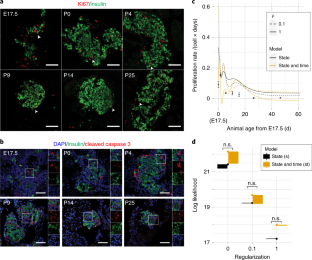 References
Klein, A. M. et al. Droplet barcoding for single-cell transcriptomics applied to embryonic stem cells. Cell 161, 1187–1201 (2015).

Taniguchi, K., Kajiyama, T. & Kambara, H. Quantitative analysis of gene expression in a single cell by qPCR. Nat. Methods 6, 503–506 (2009).

Bandura, D. R. et al. Mass cytometry: technique for real time single cell multitarget immunoassay based on inductively coupled plasma time-of-flight mass spectrometry. Anal. Chem. 81, 6813–6822 (2009).

Haghverdi, L., Büttner, M., Wolf, F. A., Buettner, F. & Theis, F. J. Diffusion pseudotime robustly reconstructs lineage branching. Nat. Methods 13, 845–848 (2016).

Trapnell, C. et al. The dynamics and regulators of cell fate decisions are revealed by pseudotemporal ordering of single cells. Nat. Biotechnol. 32, 381–386 (2014).

Qiu, X. et al. Reversed graph embedding resolves complex single-cell trajectories. Nat. Methods 14, 979–982 (2017).

Wolf, F. A. et al. PAGA: Graph abstraction reconciles clustering with trajectory inference through a topology preserving map of single cells. Genome Biol. 20, 59 (2019).

Saelens, W., Cannoodt, R., Todorov, H. & Saeys, Y. A comparison of single-cell trajectory inference methods: towards more accurate and robust tools. Preprint at bioRxiv https://doi.org/10.1101/276907 (2018).

Kafri, R. et al. Dynamics extracted from fixed cells reveal feedback linking cell growth to cell cycle. Nature 494, 480–483 (2013).

Kuritz, K., Stöhr, D., Pollak, N. & Allgöwer, F. On the relationship between cell cycle analysis with ergodic principles and age-structured cell population models. J. Theor. Biol. 414, 91–102 (2017).

Weinreb, C., Wolock, S., Tusi, B. K., Socolovsky, M. & Klein, A. M. Fundamental limits on dynamic inference from single-cell snapshots. Proc. Natl Acad. Sci. USA 115, E2467–E2476 (2018).

Schiebinger, G. et al. Optimal-transport analysis of single-cell gene expression identifies developmental trajectories in teprogramming. Cell 176, 928–943.e22 (2019).

Hashimoto, T., Gifford, D. & Jaakkola, T. Learning population-level diffusions with generative RNNs. in International Conference on Machine Learning 48, 2417–2426 (2016).

Buchholz, V. R. et al. Disparate individual fates compose robust CD8+ T cell immunity. Science 340, 630–635 (2013).

Cho, H. et al. Modelling acute myeloid leukaemia in a continuum of differentiation states. Lett. Biomath. 5, S69–S98 (2018).

Segerstolpe, Å. et al. Single-cell transcriptome profiling of human pancreatic islets in health and type 2 diabetes. Cell Metab. 24, 593–607 (2016).

Haber, A. L. et al. A single-cell survey of the small intestinal epithelium. Nature 551, 333–339 (2017).

Yui, M. A. & Rothenberg, E. V. Developmental gene networks: a triathlon on the course to T cell identity. Nat. Rev. Immunol. 14, 529–545 (2014).

Kernfeld, E. M. et al. A single-cell transcriptomic atlas of thymus organogenesis resolves cell types and developmental maturation. Immunity https://doi.org/10.1016/j.immuni.2018.04.015 (2018).

Haghverdi, L., Buettner, F. & Theis, F. J. Diffusion maps for high-dimensional single-cell analysis of differentiation data. Bioinformatics 31, 2989–2998 (2015).

Vosshenrich, C. A. J. et al. A thymic pathway of mouse natural killer cell development characterized by expression of GATA-3 and CD127. Nat. Immunol. 7, 1217–1224 (2006).

Ribeiro, V. S. G. et al. Cutting edge: Thymic NK cells develop independently from T cell precursors. J. Immunol. 185, 4993–4997 (2010).

Tang, Y. et al. Emergence of NK-cell progenitors and functionally competent NK-cell lineage subsets in the early mouse embryo. Blood 120, 63–75 (2012).

Cook, A. M. Proliferation and lineage potential in fetal thymic epithelial progenitor cells. Edinburgh Research Archive, 1–195 (2010).

Germain, R. N. T-cell development and the CD4-CD8 lineage decision. Nat. Rev. Immunol. 2, 309–322 (2002).

Qiu, W.-L. et al. Deciphering Pancreatic Islet β Cell and α Cell Maturation Pathways and Characteristic Features at the Single-Cell Level. Cell Metab. 25, 1194–1205.e4 (2017).

Bader, E. et al. Identification of proliferative and mature β-cells in the islets of Langerhans. Nature 535, 430–434 (2016).

Herbach, N., Bergmayr, M., Göke, B., Wolf, E. & Wanke, R. Postnatal development of numbers and mean sizes of pancreatic islets and beta-cells in healthy mice and GIPRdn transgenic diabetic mice. PLoS One 6, e22814 (2011).

Hija, A. et al. G0-G1 Transition and the restriction point in pancreatic β-cells in vivo. Diabetes 63, 578 (2014).

Scaglia, L., Cahill, C. J., Finegood, D. T. & Bonner-Weir, S. Apoptosis participates in the remodeling of the endocrine pancreas in the neonatal rat. Endocrinology 138, 1736–1741 (1997).

Waddington, C. H. Organisers and Genes (Cambridge Univ. Press, 1940).

McKenna, A. et al. Whole-organism lineage tracing by combinatorial and cumulative genome editing. Science 353, aaf7907 (2016).

Spanjaard, B. et al. Simultaneous lineage tracing and cell-type identification using CRISPR–Cas9-induced genetic scars. Nat. Biotechnol. 36, 469 (2018).

La Manno, G. et al. RNA velocity of single cells. Nature 560, 494–498 (2018).

Cohen, S. D., Hindmarsh, A. C. & Dubois, P. F. CVODE, a stiff/nonstiff ODE solver in C. Computers in Physics 10/2, 138–143 (1996).

Fröhlich, F., Theis, F. J., Rädler, J. O. & Hasenauer, J. Parameter estimation for dynamical systems with discrete events and logical operations. Bioinformatics 33, 1049–1056 (2017).

Stapor, P. et al. PESTO: Parameter EStimation TOolbox. Bioinformatics 34, 705–707 (2018).

Raue, A. et al. Lessons learned from quantitative dynamical modeling in systems biology. PLoS One 8, e74335 (2013).

Stubbington, M. J. T. et al. T cell fate and clonality inference from single-cell transcriptomes. Nat. Methods 13, 329–332 (2016).

Satija, R., Farrell, J. A., Gennert, D., Schier, A. F. & Regev, A. Spatial reconstruction of single-cell gene expression data. Nat. Biotechnol. 33, 495–502 (2015).

Macosko, E. Z. et al. Highly parallel genome-wide expression profiling of individual cells using nanoliter droplets. Cell 161, 1202–1214 (2015).

Waltman, L. & van Eck, N. J. A smart local moving algorithm for large-scale modularity-based community detection. Eur. Phys. J. B 86, 471 (2013).

Wolf, F. A., Angerer, P. & Theis, F. J. SCANPY: large-scale single-cell gene expression data analysis. Genome Biol. 19, 15 (2018).
Acknowledgements
We would like to express our gratitude towards Ping Xu and Kashfia Neherin for mouse husbandry and tissue preparation. F.J.T. acknowledges financial support by the Graduate School QBM, the German Research Foundation (DFG) within the Collaborative Research Centre 1243, Subproject A17, by the Helmholtz Association (Incubator grant sparse2big, ZT-I-0007) and by the Chan Zuckerberg Initiative DAF (advised fund of Silicon Valley Community Foundation, 182835). R.M. acknowledges financial support by the Leona M. and Harry B. Helmsley Charitable Trust (2015PG-T1D035), a Charles H. Hood Foundation Child Health Research Award, the Glass Charitable Foundation and the National Institutes of Health (1DP3DK111898, R01 AI132963, UC4 DK104218). J.H. acknowledges financial support by the German Research Foundation (DFG) (HA 7376/1–1) and the German Federal Ministry of Education and Research (BMBF) within the SYS-Stomach project (01ZX1310B). H.L. acknowledges financial support by the Helmholtz Society and German Center for Diabetes Research (DZD e.V.). D.S.F. acknowledges financial support by a German research foundation (DFG) fellowship through the Graduate School of Quantitative Biosciences Munich (QBM) (GSC 1006) and by the Joachim Herz Stiftung.
Ethics declarations
Competing interests
The authors declare no competing interests.
Additional information
Publisher's note: Springer Nature remains neutral with regard to jurisdictional claims in published maps and institutional affiliations.
Integrated supplementary information
Supplementary information
About this article
Cite this article
Fischer, D.S., Fiedler, A.K., Kernfeld, E.M. et al. Inferring population dynamics from single-cell RNA-sequencing time series data. Nat Biotechnol 37, 461–468 (2019). https://doi.org/10.1038/s41587-019-0088-0
Received:

Accepted:

Published:

Issue Date:

DOI: https://doi.org/10.1038/s41587-019-0088-0