Abstract
Accurate genome assembly is hampered by repetitive regions. Although long single molecule sequencing reads are better able to resolve genomic repeats than short-read data, most long-read assembly algorithms do not provide the repeat characterization necessary for producing optimal assemblies. Here, we present Flye, a long-read assembly algorithm that generates arbitrary paths in an unknown repeat graph, called disjointigs, and constructs an accurate repeat graph from these error-riddled disjointigs. We benchmark Flye against five state-of-the-art assemblers and show that it generates better or comparable assemblies, while being an order of magnitude faster. Flye nearly doubled the contiguity of the human genome assembly (as measured by the NGA50 assembly quality metric) compared with existing assemblers.
Relevant articles
Open Access articles citing this article.
Ana Rodriguez Jimenez

,

Nadège Guiglielmoni

…

Jean-François Flot

BMC Genomics Open Access 25 August 2022

James Stewart

,

Louise M. Judd

…

Jane Hawkey

BMC Infectious Diseases Open Access 24 August 2022

Igor Filipović

,

Gordana Rašić

…

Kayvan Etebari

BMC Genomics Open Access 07 June 2022
Access options
Subscribe to Nature+
Get immediate online access to the entire Nature family of 50+ journals
Subscribe to Journal
Get full journal access for 1 year
$99.00
only $8.25 per issue
All prices are NET prices.
VAT will be added later in the checkout.
Tax calculation will be finalised during checkout.
Buy article
Get time limited or full article access on ReadCube.
$32.00
All prices are NET prices.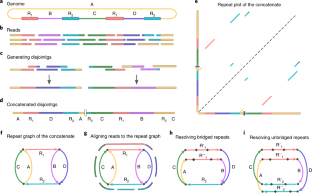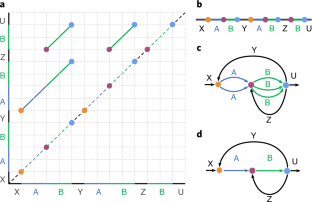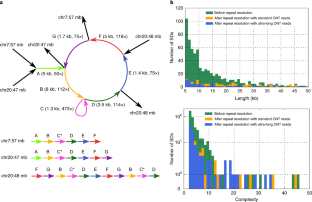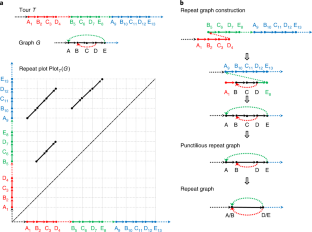 References
Koren, S. et al. Hybrid error correction and de novo assembly of single-molecule sequencing reads. Nat. Biotechnol. 30, 693–700 (2012).

Chin, C. S. et al. Nonhybrid, finished microbial genome assemblies from long-read SMRT sequencing data. Nat. Methods 10, 563–569 (2013).

Berlin, K. et al. Assembling large genomes with single-molecule sequencing and locality-sensitive hashing. Nat. Biotechnol. 33, 623–630 (2015).

Chin, C. S. et al. Phased diploid genome assembly with single-molecule real-time sequencing. Nat. Methods 13, 1050–1054 (2016).

Li, H. Minimap and miniasm: fast mapping and de novo assembly for noisy long sequences. Bioinformatics 32, 2103–2110 (2016).

Lin, Y. et al. Assembly of long error-prone reads using de Bruijn graphs. Proc. Natl Acad. Sci. USA 113, E8396–E8405 (2016).

Kamath, G. M., Shomorony, I., Xia, F., Courtade, T. A. & David, N. T. HINGE: long-read assembly achieves optimal repeat resolution. Genome Res. 27, 747–756 (2017).

Koren, S. et al. Canu: scalable and accurate long-read assembly via adaptive k-mer weighting and repeat separation. Genome Res. 27, 722–736 (2017).

Nowoshilow, S. et al. The axolotl genome and the evolution of key tissue formation regulators. Nature 554, 50–55 (2018).

Ghurye, J., Pop, M., Koren, S., Bickhart, D. & Chin, C. S. Scaffolding of long read assemblies using long range contact information. BMC Genomics 18, 527 (2017).

Weissensteiner, M. H. et al. Combination of short-read, long-read, and optical mapping assemblies reveals large-scale tandem repeat arrays with population genetic implications. Genome Res. 27, 697–708 (2017).

Pevzner, P. A., Tang, H. & Tesler, G. De novo repeat classification and fragment assembly. Genome Res. 14, 1786–1796 (2004).

Bankevich, A. et al. SPAdes: a new genome assembly algorithm and its applications to single-cell sequencing. J. Comput. Biol. 19, 455–477 (2012).

Jiang, Z. et al. Ancestral reconstruction of segmental duplications reveals punctuated cores of human genome evolution. Nat. Genet. 39, 1361–1368 (2007).

Pu., L., Lin, Y. & Pevzner, P. A. Detection and analysis of ancient segmental duplications in mammalian genomes. Genome Res. 28, 901–909 (2018).

Bao, Z. & Eddy, S. Automated de novo identification of repeat sequence families in sequenced genomes. Genome Res. 8, 1269–1276 (2002).

Schmid, M. D. et al. Pushing the limits of de novo genome assembly for complex prokaryotic genomes harboring very long, near identical repeats. Nucleic Acids Res. 46, 8953–8965 (2018).

Tischler, G. Haplotype and repeat separation in long reads. Preprint at bioRxiv https://doi.org/10.1101/145474 (2017).

Mikheenko, A., Prjibelski, A., Saveliev, V., Antipov, D. & Gurevich, A. Versatile genome assembly evaluation with QUAST-LG. Bioinformatics 34, i142–i150 (2018).

Edmonds, J. & Johnson, E. L. Matching, Euler tours and the Chinese postman. Math. Program. 5, 88–124 (1973).

Antipov, D., Korobeynikov, A., McLean, J. S. & Pevzner, P. A. hybridSPAdes: an algorithm for hybrid assembly of short and long reads. Bioinformatics 32, 1009–1015 (2015).

Giordano, F. et al. De novo yeast genome assemblies from MinION, PacBio and MiSeq platforms. Sci. Rep. 7, 3935 (2017).

Jain, M. et al. Nanopore sequencing and assembly of a human genome with ultra-long reads. Nat. Biotechnol. 36, 338–345 (2018).

Zimin, A. V. et al. Hybrid assembly of the large and highly repetitive genome of Aegilops tauschii, a progenitor of bread wheat, with the MaSuRCA mega-reads algorithm. Genome Res. 27, 787–792 (2017).

Simpson, J. T. et al. Detecting DNA cytosine methylation using nanopore sequencing. Nat. Methods 14, 407 (2017).

Walker, B. J. et al. Pilon: an integrated tool for comprehensive microbial variant detection and genome assembly improvement. PloS ONE 9, e112963 (2014).

Lin, Y., Nurk, S. & Pevzner, P. A. What is the difference between the breakpoint graph and the de Bruijn graph? BMC Genomics 15, S6 (2014).

Chaisson, M. J. P. et al. Resolving the complexity of the human genome using single-molecule sequencing. Nature 51, 608–611 (2015).

Nattestad, M. S. et al. Complex rearrangements and oncogene amplifications revealed by long-read DNA 2 and RNA sequencing of a breast cancer cell line. Genome Res. 28, 1126–1135 (2018).

Wick, R. R., Schultz, M. B., Zobel, J. & Holt, K. E. Bandage: interactive visualization of de novo genome assemblies. Bioinformatics 31, 3350–3352 (2015).

Gibbs, A. J. & McIntyre, G. A. The diagram, a method for comparing sequences. Its use with amino acid and nucleotide sequences. Eur. J. Biochem. 16, 1–11 (1970).

Edmonds, J. Paths, trees, and flowers. Canad. J. Math. 17, 449–467 (1965).
Acknowledgements
We are indebted to S. Nurk for his multiple rounds of critique and suggestions that have improved the paper. We are also grateful to A. Mikheenko, B. Behsaz, L. Pu, and G. Tesler for their comments. This work is supported by NSF/MCB-BSF grant no. 1715911.
Ethics declarations
Competing interests
The authors declare no competing interests.
Additional information
Publisher's note: Springer Nature remains neutral with regard to jurisdictional claims in published maps and institutional affiliations.
Integrated supplementary information
Supplementary information
Supplementary Figures 1–4, Supplementary Tables 1 and 2, and Supplementary Notes 1–16
About this article
Cite this article
Kolmogorov, M., Yuan, J., Lin, Y. et al. Assembly of long, error-prone reads using repeat graphs. Nat Biotechnol 37, 540–546 (2019). https://doi.org/10.1038/s41587-019-0072-8
Received:

Accepted:

Published:

Issue Date:

DOI: https://doi.org/10.1038/s41587-019-0072-8