Abstract
Oral antibodies that interfere with gastrointestinal targets and can be manufactured at scale are needed. Here we show that a single-gene-encoded monomeric immunoglobulin A (IgA)-like antibody, composed of camelid variable single domain antibodies (VHH) fused to IgA Fc (mVHH-IgA), prevents infection by enterotoxigenic Escherichia coli (F4-ETEC) in piglets. The mVHH-IgA can be produced in soybean seeds or secreted from the yeast Pichia pastoris, freeze- or spray-dried and orally delivered within food.
This is a preview of subscription content
Access options
Subscribe to Journal
Get full journal access for 1 year
$99.00
only $8.25 per issue
All prices are NET prices.
VAT will be added later in the checkout.
Tax calculation will be finalised during checkout.
Rent or Buy article
Get time limited or full article access on ReadCube.
from$8.99
All prices are NET prices.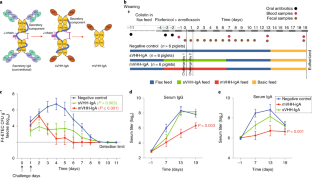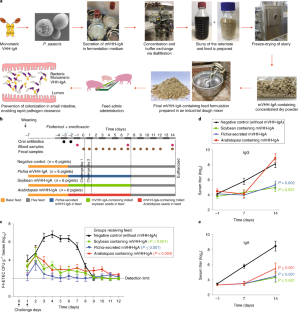 References
1.

Gagniere, J. et al. World J. Gastroenterol. 22, 501–518 (2016).

2.

Katsanos, K. H. & Papadakis, K. A. Gut Liver 11, 455–463 (2017).

3.

Förster, B., Chung, P. K., Crobach, M. J. T. & Kuijper, E. J. Front. Microbiol. 9, 1382 (2018).

4.

Kelly, D., Yang, L. & Pei, Z. Diseases 6, 109 (2018).

5.

Brandtzaeg, P. Front. Immunol. 4, 222 (2013).

6.

Corthésy, B. Curr. Pharm. Biotechnol. 4, 51–67 (2003).

7.

Moor, K. et al. Nature 544, 498–502 (2017).

8.

Strugnell, R. A. & Wijburg, O. L. C. Nat. Rev. Microbiol. 8, 656–667 (2010).

9.

Reinhart, D. & Kunert, R. Biotechnol. Lett. 37, 241–251 (2015).

10.

Virdi, V. et al. Proc. Natl Acad. Sci. USA 110, 11809–11814 (2013).

11.

Fairbrother, J. M., Nadeau, É. & Gyles, C. L. Anim. Health Res. Rev. 6, 17–39 (2005).

12.

Guerrant, R. L., Steiner, T. S., Lima, A. A. & Bobak, D. A. J. Infect. Dis. 179, S331–S337 (1999).

13.

Smart, R. D., Blum, M. & Wesseler, J. J. Agric. Econ. 68, 182–198 (2017).

14.

Ciofalo, V., Barton, N., Kreps, J., Coats, I. & Shanahan, D. Regul. Toxicol. Pharmacol. 45, 1–8 (2006).

15.

Raveendran, S. et al. Food Technol. Biotechnol. 56, 16–30 (2018).

16.

Moonens, K. et al. Vet. Res. 46, 14 (2015).

17.

Muyldermans, S. Annu. Rev. Biochem. 82, 775–797 (2013).

18.

Karimi, M., Inzé, D. & Depicker, A. Trends Plant Sci. 7, 193–195 (2002).

19.

Paz, M. M., Martinez, J. C., Kalvig, A. B., Fonger, T. M. & Wang, K. Plant Cell Rep. 25, 206–213 (2006).

20.

De Meyer, T. et al. Plant Biotechnol. J. 13, 938–947 (2015).

21.

Näätsaari, L. et al. PLoS ONE 7, e39720 (2012).

22.

Jacobs, P. P., Geysens, S., Vervecken, W., Contreras, R. & Callewaert, N. Nat. Protoc. 4, 58–70 (2009).

23.

Stals, I. et al. FEMS Microbiol. Lett. 303, 9–17 (2010).

24.

Goetstouwers, T. et al. PLoS ONE 9, e105013 (2014).

25.

Ericsson, U. B., Hallberg, B. M., DeTitta, G. T., Dekker, N. & Nordlund, P. Anal. Biochem. 357, 289–298 (2006).
Acknowledgements
We thank H. De Greve for advice with the anti-F4-ETEC VHHs and sharing purified antigen. We thank E. Van Lerberge and J. Nolf for overall technical support, particularly for upscaling seeds, antibody expression analysis and protein analysis. We thank S. Brabant for help with blood sampling and analysis of the seroconversion, R. Cooman for animal caretaking and management of the stables and U. Van Nguyen for performing the villous adhesion assay. We thank K. Wang of Iowa State University for the soybean transformation, J. Haustraete of the Protein Service facility of VIB for large-scale production of Pichia cultures and D. De Paepe and K. Coudyser of ILVO food pilot for lyophilization of Pichia spent medium. For access to weaned piglets we acknowledge the farms of K. Devolder and ILVO, and thank their resident animal husbandry teams. We are grateful to S. Millet for feed consultation and access to large industrial mixers for feed formulation at ILVO, and T. Moravec of the Institute of Experimental Botany Prague, J. Mar Björnsson of ORF Genetics and J. Van Huylenbroeck of ILVO for kindly leasing additional greenhouse space for scaling up soybean seeds. The authors would finally like to thank M. Vuylsteke and V. Storme for help with the statistical analysis and A. Bleys for help with editing the manuscript. This work was supported by an IWT-innovation fellowship (No. IM-140851) awarded to V.V., co-sponsored by AVEVE Biochem, AVEVE Group. J.P. received a PhD stipend from the Research Foundation Flanders (FWO project grant No. G0C9714N). B.L. has been supported by the European Research Council's consolidator grant awarded to N.C. (No. ERC-2013-CoG-616966). Overall we would like to acknowledge institutional funding and support from Ghent University and VIB.
Ethics declarations
Competing interests
E.V. is an employee of AVEVE Biochem. V.V., B.L., N.C. and A.D. are inventors on one or more patent applications related to the inventions reported in this publication. Research in the author's laboratories has been sponsored in part by the AVEVE Group.
Additional information
Publisher's note: Springer Nature remains neutral with regard to jurisdictional claims in published maps and institutional affiliations.
Integrated supplementary information
Supplementary information
Supplementary Figures 1–4 and Supplementary Tables 1–5
About this article
Cite this article
Virdi, V., Palaci, J., Laukens, B. et al. Yeast-secreted, dried and food-admixed monomeric IgA prevents gastrointestinal infection in a piglet model. Nat Biotechnol 37, 527–530 (2019). https://doi.org/10.1038/s41587-019-0070-x
Received:

Accepted:

Published:

Issue Date: