Abstract
Bisulfite sequencing has been the gold standard for mapping DNA modifications including 5-methylcytosine (5mC) and 5-hydroxymethylcytosine (5hmC) for decades1,2,3,4. However, this harsh chemical treatment degrades the majority of the DNA and generates sequencing libraries with low complexity2,5,6. Here, we present a bisulfite-free and base-level-resolution sequencing method, TET-assisted pyridine borane sequencing (TAPS), for detection of 5mC and 5hmC. TAPS combines ten-eleven translocation (TET) oxidation of 5mC and 5hmC to 5-carboxylcytosine (5caC) with pyridine borane reduction of 5caC to dihydrouracil (DHU). Subsequent PCR converts DHU to thymine, enabling a C-to-T transition of 5mC and 5hmC. TAPS detects modifications directly with high sensitivity and specificity, without affecting unmodified cytosines. This method is nondestructive, preserving DNA fragments over 10 kilobases long. We applied TAPS to the whole-genome mapping of 5mC and 5hmC in mouse embryonic stem cells and show that, compared with bisulfite sequencing, TAPS results in higher mapping rates, more even coverage and lower sequencing costs, thus enabling higher quality, more comprehensive and cheaper methylome analyses.
Relevant articles
Open Access articles citing this article.
Florian Noack

,

Silvia Vangelisti

…

Boyan Bonev

Nature Cell Biology Open Access 23 November 2023

Ruochen Liu

,

Erhu Zhao

…

Hongjuan Cui

Signal Transduction and Targeted Therapy Open Access 25 August 2023

Xinchao Zhang

,

Yue Zhang

…

Xu Wang

Signal Transduction and Targeted Therapy Open Access 11 August 2023
Access options
Access Nature and 54 other Nature Portfolio journals
Get Nature+, our best-value online-access subscription
$29.99 / 30 days
cancel any time
Subscribe to this journal
Receive 12 print issues and online access
$209.00 per year
only $17.42 per issue
Rent or buy this article
Prices vary by article type
from$1.95
to$39.95
Prices may be subject to local taxes which are calculated during checkout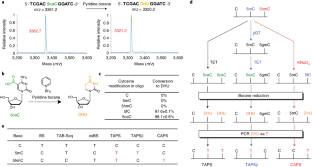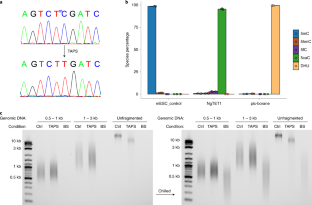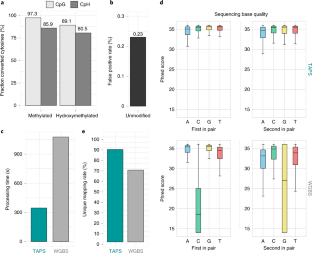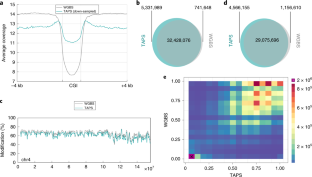 Data availability
All sequencing data are available through GEO Series accession code GSE112520. All relevant additional data have been published with the manuscript, either as part of the main text or in the Supplementary Information.
References
Lister, R. et al. Global epigenomic reconfiguration during mammalian brain development. Science 341, 1237905 (2013).

Raiber, E.-A., Hardisty, R., van Delft, P. & Balasubramanian, S. Mapping and elucidating the function of modified bases in DNA. Nat. Rev. Chem. 1, 0069 (2017).

Yu, M. et al. Base-resolution analysis of 5-hydroxymethylcytosine in the mammalian genome. Cell 149, 1368–1380 (2012).

Booth, M. J. et al. Quantitative sequencing of 5-methylcytosine and 5-hydroxymethylcytosine at single-base resolution. Science 336, 934–937 (2012).

Tanaka, K. & Okamoto, A. Degradation of DNA by bisulfite treatment. Bioorg. Med. Chem. Lett. 17, 1912–1915 (2007).

Olova, N. et al. Comparison of whole-genome bisulfite sequencing library preparation strategies identifies sources of biases affecting DNA methylation data. Genome Biol. 19, 33 (2018).

Li, E. & Zhang, Y. DNA methylation in mammals. Cold Spring Harb. Perspect. Biol. 6, a019133 (2014).

Tahiliani, M. et al. Conversion of 5-methylcytosine to 5-hydroxymethylcytosine in mammalian DNA by MLL partner TET1. Science 324, 930–935 (2009).

Ito, S. et al. Tet proteins can convert 5-methylcytosine to 5-formylcytosine and 5-carboxylcytosine. Science 333, 1300–1303 (2011).

Gal-Yam, E. N., Saito, Y., Egger, G. & Jones, P. A. Cancer epigenetics: modifications, screening, and therapy. Annu. Rev. Med. 59, 267–280 (2008).

Vasanthakumar, A. & Godley, L. A. 5-hydroxymethylcytosine in cancer: significance in diagnosis and therapy. Cancer Genet. 208, 167–177 (2015).

Chan, K. C. et al. Noninvasive detection of cancer-associated genome-wide hypomethylation and copy number aberrations by plasma DNA bisulfite sequencing. Proc. Natl Acad. Sci. USA 110, 18761–18768 (2013).

Song, C. X. et al. 5-Hydroxymethylcytosine signatures in cell-free DNA provide information about tumor types and stages. Cell Res. 27, 1231–1242 (2017).

Xia, B. et al. Bisulfite-free, base-resolution analysis of 5-formylcytosine at the genome scale. Nat. Methods 12, 1047–1050 (2015).

Zhu, C. et al. Single-cell 5-formylcytosine landscapes of mammalian early embryos and ESCs at single-base resolution. Cell Stem Cell 20, 720–731 e725 (2017).

Lu, X., Zhao, B. S. & He, C. TET family proteins: oxidation activity, interacting molecules, and functions in diseases. Chem. Rev. 115, 2225–2239 (2015).

He, Y. F. et al. Tet-mediated formation of 5-carboxylcytosine and its excision by TDG in mammalian DNA. Science 333, 1303–1307 (2011).

Sato, S., Sakamoto, T., Miyazawa, E. & Kikugawa, Y. One-pot reductive amination of aldehydes and ketones with alpha-picoline-borane in methanol, in water, and in neat conditions. Tetrahedron 60, 7899–7906 (2004).

Liu, J. & Doetsch, P. W. Escherichia coli RNA and DNA polymerase bypass of dihydrouracil: mutagenic potential via transcription and replication. Nucleic Acids Res. 26, 1707–1712 (1998).

Song, C. X. et al. Genome-wide profiling of 5-formylcytosine reveals its roles in epigenetic priming. Cell 153, 678–691 (2013).

Lu, X. et al. Chemical modification-assisted bisulfite sequencing (CAB-Seq) for 5-carboxylcytosine detection in DNA. J. Am. Chem. Soc. 135, 9315–9317 (2013).

Pais, J. E. et al. Biochemical characterization of a Naegleria TET-like oxygenase and its application in single molecule sequencing of 5-methylcytosine. Proc. Natl Acad. Sci. USA 112, 4316–4321 (2015).

Incarnato, D., Krepelova, A. & Neri, F. High-throughput single nucleotide variant discovery in E14 mouse embryonic stem cells provides a new reference genome assembly. Genomics 104, 121–127 (2014).

Holmes, E. E. et al. Performance evaluation of kits for bisulfite-conversion of DNA from tissues, cell lines, FFPE tissues, aspirates, lavages, effusions, plasma, serum, and urine. PLoS ONE. 9, e93933 (2014).

Krueger, F. & Andrews, S. R. Bismark: a flexible aligner and methylation caller for Bisulfite-Seq applications. Bioinformatics 27, 1571–1572 (2011).

Li, H. & Durbin, R. Fast and accurate short read alignment with Burrows–Wheeler transform. Bioinformatics 25, 1754–1760 (2009).

Illumina. Illumina Whole-genome Bisulfite Sequencing on the HiSeq 3000/HiSeq 4000 Systems https://www.illumina.com/content/dam/illumina-marketing/documents/products/appnotes/hiseq3000-hiseq4000-wgbs-application-note-770-2015-052.pdf (Illumina, 2016).

Wen, L. et al. Whole-genome analysis of 5-hydroxymethylcytosine and 5-methylcytosine at base resolution in the human brain. Genome Biol. 15, R49 (2014).00

Flusberg, B. A. et al. Direct detection of DNA methylation during single-molecule, real-time sequencing. Nat. Methods 7, 461–465 (2010).

Jain, M. et al. Nanopore sequencing and assembly of a human genome with ultra-long reads. Nat. Biotechnol. 36, 338–345 (2018).

Song, C. X. et al. Selective chemical labeling reveals the genome-wide distribution of 5-hydroxymethylcytosine. Nat. Biotechnol. 29, 68–72 (2011).

Schutsky, E. K. et al. Nondestructive, base-resolution sequencing of 5-hydroxymethylcytosine using a DNA deaminase. Nat. Biotechnol. 36, 1083–1090 (2018).

Smallwood, S. A. et al. Single-cell genome-wide bisulfite sequencing for assessing epigenetic heterogeneity. Nat. Methods 11, 817–820 (2014).

Luo, C. et al. Single-cell methylomes identify neuronal subtypes and regulatory elements in mammalian cortex. Science 357, 600–604 (2017).

Wu, H., Wu, X. & Zhang, Y. Base-resolution profiling of active DNA demethylation using MAB-seq and caMAB-seq. Nat. Protoc. 11, 1081–1100 (2016).

Illumina. Whole-genome Bisulfite Sequencing for Methylation Analysis https://support.illumina.com/content/dam/illumina-support/documents/documentation/chemistry_documentation/samplepreps_legacy/WGBS_for_Methylation_Analysis_Guide_15021861_B.pdf (Illumina, 2015).

ENCODE Project Consortium. An integrated encyclopedia of DNA elements in the human genome. Nature 489, 57–74 (2012).

Quinlan, A. R. & Hall, I. M. BEDTools: a flexible suite of utilities for comparing genomic features. Bioinformatics 26, 841–842 (2010).

Robinson, J. T. et al. Integrative genomics viewer. Nat. Biotechnol. 29, 24–26 (2011).

Huang, W., Li, L., Myers, J. R. & Marth, G. T. ART: a next-generation sequencing read simulator. Bioinformatics 28, 593–594 (2012).
Acknowledgements
We would like to acknowledge P. Spingardi, G. Berridge and B. Kessler for helping with the HPLC–MS/MS; P. Brennan and G.F. Ruda for helping with the NMR; T. Brown and A. H. El-Sagheer for the DNA synthesis; F. Howe, S. Kriaucionis and C. Goding for critical reading of this manuscript. This work was supported by the Ludwig Institute for Cancer Research. The C.-X.S. laboratory is also supported by Cancer Research UK (grant nos. C63763/A26394 and C63763/A27122), NIHR Oxford Biomedical Research Centre and Conrad N. Hilton Foundation. The views expressed are those of the authors and not necessarily those of the NHS, the NIHR or the Department of Health. F.Y., L.C. and Y.B. are supported by China Scholarship Council.
Ethics declarations
Competing interests
A patent application has been filed by Ludwig Institute for Cancer Research Ltd for the technology disclosed in this publication.
Additional information
Publisher's note: Springer Nature remains neutral with regard to jurisdictional claims in published maps and institutional affiliations.
Integrated supplementary information
Supplementary information
Supplementary Figures 1–15, Supplementary Tables 1–4 and Supplementary Notes 1–7
About this article
Cite this article
Liu, Y., Siejka-Zielińska, P., Velikova, G. et al. Bisulfite-free direct detection of 5-methylcytosine and 5-hydroxymethylcytosine at base resolution. Nat Biotechnol 37, 424–429 (2019). https://doi.org/10.1038/s41587-019-0041-2
Received:

Accepted:

Published:

Issue Date:

DOI: https://doi.org/10.1038/s41587-019-0041-2