Abstract
Genome editing using CRISPR–Cas9 works efficiently in plant cells1, but delivery of genome-editing machinery into the vast majority of crop varieties is not possible using established methods2. We co-opted the aberrant reproductive process of haploid induction (HI)3,4,5,6 to induce edits in nascent seeds of diverse monocot and dicot species. Our method, named HI-Edit, enables direct genomic modification of commercial crop varieties. HI-Edit was tested in field and sweet corn using a native haploid-inducer line4 and extended to dicots using an engineered CENH3 HI system7. We also recovered edited wheat embryos using Cas9 delivered by maize pollen. Our data indicate that a transient hybrid state precedes uniparental chromosome elimination in maize HI. Edited haploid plants lack both the haploid-inducer parental DNA and the editing machinery. Therefore, edited plants could be used in trait testing and directly integrated into commercial variety development.
Relevant articles
Open Access articles citing this article.
Alexander Mahlandt

,

Dipesh Kumar Singh

&

Raphael Mercier

Theoretical and Applied Genetics Open Access 18 May 2023

Zhimin Ma

,

Lijing Ma

&

Junhui Zhou

Molecular Horticulture Open Access 28 January 2023
Access options
Access Nature and 54 other Nature Portfolio journals
Get Nature+, our best-value online-access subscription
$29.99 / 30 days
cancel any time
Subscribe to this journal
Receive 12 print issues and online access
$209.00 per year
only $17.42 per issue
Rent or buy this article
Get just this article for as long as you need it
$39.95
Prices may be subject to local taxes which are calculated during checkout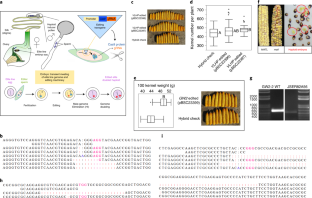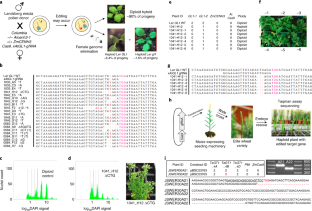 Data availability
The authors declare that all data supporting the findings of this study are available in the manuscript and supplementary materials. Sequences (Sanger sequencing) are provided in Supplementary Table 16.
References
Bortesi, L. & Fischer, R. The CRISPR/Cas9 system for plant genome editing and beyond. Biotechnol. Adv. 33, 41–52 (2015).

Lowe, K. et al. Morphogenic regulators Baby Boom and Wuschel improve monocot transformation. Plant Cell 28, 1998–2015 (2016).

Laurie, D. A. & Bennett, M. D. The production of haploid wheat plants from wheat × maize crosses. Theor. Appl. Genet. 76, 393–397 (1988).

Coe, E. H. A line of maize with high haploid frequency. Am. Nat. 93, 381–382 (1959).

Kasha, K. J. & Kao, K. N. High frequency haploid production in barley (Hordeum vulgare L.). Nature 225, 874–876 (1970).

Burke, L. G. et al. Maternal haploids of Nicotiana tabacum L. from seed. Science 206, 585 (1979).

Ravi, M. & Chan, S. W. L. Haploid plants produced by centromere-mediated genome elimination. Nature 464, 615–618 (2010).

Nuccio, M. L., Paul, M., Bate, N. J., Cohn, J. & Culter, S. R. Where are the drought tolerant crops? An assessment of more than two decades of plant biotechnology effort in crop improvement. Plant Sci. 273, 110–119 (2018).

Char, S. N. et al. An Agrobacterium-delivered CRISPR/Cas9 system for high-frequency targeted mutagenesis in maize. Plant Biotech. J. 15, 257–268 (2016).

Woo, J. W. et al. DNA-free genome editing in plants with preassembled CRISPR-Cas9 ribonucleoproteins. Nat. Biotechnol. 33, 1162–1164 (2015).

Chang, M.-T. & Coe, E. in Molecular Genetics Approaches to Maize Improvement (eds Kriz, A. L. & Larkins, B. A.) 127–142 (Springer, Heidelberg, 2009)

Kelliher, T. et al. MATRILINEAL, a sperm-specific phospholipase, triggers maize haploid induction. Nature 542, 105–109 (2017).

Yao et al. OsMATL mutation induces haploid seed formation in indica rice. Nat. Plants 4, 530–533 (2018).

Gilles, L. M. et al. Loss of pollen‐specific phospholipase NOT LIKE DAD triggers gynogenesis in maize. EMBO J. 36, 707–717 (2017).

Liu, C. et al. A 4-bp insertion at ZmPLA1 encoding a putative phospholipase A generates haploid induction in maize. Mol. Plant 10, 520–522 (2017).

Ingham, D. J., Beer, S., Money, S. & Hansen, G. Quantitative real time PCR assay for determining transgene copy number in transformed plants. Biotechniques 31, 132–140 (2001).

Tian, X. et al. Hetero-fertilization together with failed egg–sperm cell fusion supports single fertilization involved in in vivo haploid induction in maize. J. Exp. Bot. 69, 4689–4701 (2018).

Zhao, X., Xu, X., Xie, H., Chen, S. & Jin, W. Fertilization and uniparental chromosome elimination during crosses with maize haploid inducers. Plant Physiol. 163, 721–731 (2013).

Goday, C. & Esteban, M. R. Chromosome elimination in sciarid flies. Bioessays 23, 242–250 (2001).

Whipple, C. J. et al. GRASSY TILLERS1 promotes apical dominance in maize and responds to shade signals in the grasses. Proc. Natl Acad. Sci. USA 108, E506–E512 (2011).

Li, Q. et al. Relationship, evolutionary fate and function of two maize co-orthologs of rice GW2-associated with kernel size and weight. BMC Plant Biol. 10, 143 (2010).

Komatsuda, T. et al. Six rowed barley originated from a mutation in a homeodomain-leucine zipper I-class homeobox gene. Proc. Natl Acad. Sci. USA 104, 1424–1429 (2007).

Song, X.-J., Huang, W., Shi, M., Zhu, M.-Z. & Lin, H.-X. A QTL for rice grain width and weight encodes a previously unknown RING-type E3 ubiquitin ligase. Nat. Genet. 39, 623–630 (2007).

Del Toro-De León, G., García-Aguilar, M. & Gillmor, C. S. Non-equivalent contributions of maternal and paternal genomes to early plant embryogenesis. Nature 514, 624–627 (2014).

LeBlanc, C. et al. Increased efficiency of targeted mutagenesis by CRISPR/Cas9 in plants using heat stress. Plant J. 93, 377–386 (2018).

Kelliher, T. et al. Maternal haploids are preferentially induced by CENH3-tailswap transgenic complementation in maize. Front. Plant Sci. 7, 414 (2016).

Sanei, M., Pickering, R., Kumke, K., Nasuda, S. & Houben, A. Loss of centromeric histone H3 (CENH3) from centromeres precedes uniparental chromosome elimination in interspecific barley hybrids. Proc. Natl Acad. Sci. USA 108, E498–E505 (2011).

Maheshwari, S. et al. Centromere location in Arabidopsis is unaltered by extreme divergence in CENH3 protein sequence. Gen. Res. 27, 471–478 (2017).

Larkin, J. C. et al. Roles of the GLABROUS1 and TRANSPARENT TESTA GLABRA genes in Arabidopsis trichome development. Plant Cell 6, 1065–1076 (1994).

Mochida, K., Tsujimoto, H. & Sasakuma, T. Confocal analysis of chromosome behavior in wheat × maize zygotes. Genome 47, 199–205 (2004).

Kosicki, M., Tomberg, K. & Bradley, A. Repair of double-stranded breaks induced by CRISPR–Cas9 leads to large deletions and complex rearrangements. Nat. Biotech. 36, 765–771 (2018).

Borg, M. et al. The R2R3 MYB transcription factor DUO1 activates a male germline-specific regulon essential for sperm cell differentiation in Arabidopsis. Plant Cell 23, 534–549 (2011).

Sprunck, S. et al. Egg cell-secreted EC1 triggers sperm cell activation during double fertilization. Science 338, 1093–1097 (2012).

Zhong, H., et al. Advances in Agrobacterium-mediated maize transformation. in Maize. Methods in Molecular Biology Vol. 1676 (ed. Lagrimini L.) 41–59 (Humana, New York, 2018).

Cutler, S., et al. Hypersensitive ABA receptors. US Patent 20160194653 (2016).

Matzk, F. & Mahn, A. Improved techniques for haploid production in wheat using chromosome elimination. Plant Breed. 113, 125–129 (1994).

Clough, S. J. & Bent, A. F. Floral dip: a simplified method for Agrobacterium‐mediated transformation of Arabidopsis thaliana. Plant J. 16, 735–743 (1998).
Acknowledgements
We thank T. Liebler and H.P. Zhou for plant care, C. Fan for Taqman assay design, and K. Cox for sampling. We thank S. Elumalai, S. Nalapalli, H. Zhong, and A. Prairie for transformation and transgenic-plant production. We thank E. Bilyeu, R. Evans, A. Miller, and J. Bower for support with the SNP-based codominant marker analysis. Thanks to D. Bradley and P. Wu for the media preparations, and special thanks to J. Howell, D. Santeramo, and W. Liu for embryo extraction from maize elite inbred haploids, plant care, and data analysis. We thank I. Jepson, E. Dunder and L. Shi for lab space, personnel, and project support. Thanks to C. Leming, M. Dunn, and S. Miles, and M. Edwards for licensing and intellectual property guidance as well as Arabidopsis project support. Thanks to Y. Liu for the images of wheat spikes. Thanks to W. Wang, Y. Jiang, and M. Terry for assistance with plant growth and analysis. Thanks to V. Walbot, F. Altpeter, and K. Wang for reviewing the manuscript.
Ethics declarations
Competing interests
A patent covering the information in this manuscript was submitted on 4 December 2016.
Additional information
Publisher's note: Springer Nature remains neutral with regard to jurisdictional claims in published maps and institutional affiliations.
Integrated supplementary information
Supplementary information
Supplementary Figures 1–11 and Supplementary Tables 1–15
About this article
Cite this article
Kelliher, T., Starr, D., Su, X. et al. One-step genome editing of elite crop germplasm during haploid induction. Nat Biotechnol 37, 287–292 (2019). https://doi.org/10.1038/s41587-019-0038-x
Received:

Accepted:

Published:

Issue Date:

DOI: https://doi.org/10.1038/s41587-019-0038-x