Abstract
Selective differentiation of naive T cells into multipotent T cells is of great interest clinically for the generation of cell-based cancer immunotherapies. Cellular differentiation depends crucially on division state and time. Here we adapt a dye dilution assay for tracking cell proliferative history through mass cytometry and uncouple division, time and regulatory protein expression in single naive human T cells during their activation and expansion in a complex ex vivo milieu. Using 23 markers, we defined groups of proteins controlled predominantly by division state or time and found that undivided cells account for the majority of phenotypic diversity. We next built a map of cell state changes during naive T-cell expansion. By examining cell signaling on this map, we rationally selected ibrutinib, a BTK and ITK inhibitor, and administered it before T cell activation to direct differentiation toward a T stem cell memory (TSCM)-like phenotype. This method for tracing cell fate across division states and time can be broadly applied for directing cellular differentiation.
Access options
Subscribe to Journal
Get full journal access for 1 year
$259.00
only $21.58 per issue
All prices are NET prices.
VAT will be added later in the checkout.
Rent or Buy article
Get time limited or full article access on ReadCube.
from$8.99
All prices are NET prices.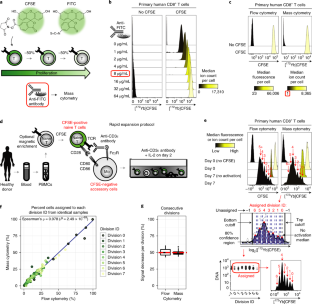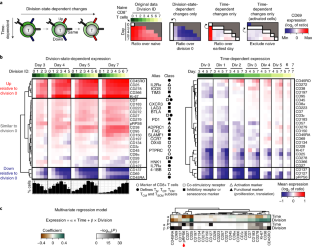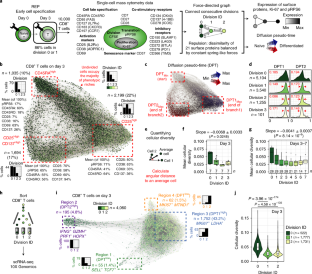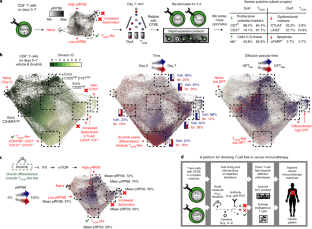 References
1.

Chang, J. T. et al. Asymmetric T lymphocyte division in the initiation of adaptive immune responses. Science 315, 1687–1691 (2007).

2.

Gerlach, C. et al. Heterogeneous differentiation patterns of individual CD8+ T cells. Science 340, 635–639 (2013).

3.

Tubo, N. J. et al. Most microbe-specific naïve CD4+ T cells produce memory cells during infection. Science 351, 511–514 (2016).

4.

Reiner, S. L. & Adams, W. C. Lymphocyte fate specification as a deterministic but highly plastic process. Nat. Rev. Immunol. 14, 699–704 (2014).

5.

Woodworth, M. B., Girskis, K. M. & Walsh, C. A. Building a lineage from single cells: genetic techniques for cell lineage tracking. Nat. Rev. Genet. 18, 230–244 (2017).

6.

Quah, B. J. & Parish, C. R. New and improved methods for measuring lymphocyte proliferation in vitro and in vivo using CFSE-like fluorescent dyes. J. Immunol. Methods 379, 1–14 (2012).

7.

Bendall, S. C. et al. Single-cell mass cytometry of differential immune and drug responses across a human hematopoietic continuum. Science 332, 687–696 (2011).

8.

Lyons, A. B. & Parish, C. R. Determination of lymphocyte division by flow cytometry. J. Immunol. Methods 171, 131–137 (1994).

9.

Quah, B. J., Lyons, A. B. & Parish, C. R. The use of CFSE-like dyes for measuring lymphocyte proliferation: experimental considerations and biological variables. Math. Model. Nat. Phenom. 7, 53–64 (2012).

10.

Li, Y. & Kurlander, R. J. Comparison of anti-CD3 and anti-CD28-coated beads with soluble anti-CD3 for expanding human T cells: differing impact on CD8 T cell phenotype and responsiveness to restimulation. J. Transl. Med. 8, 104 (2010).

11.

Apetoh, L. et al. Consensus nomenclature for CD8+ T cell phenotypes in cancer. Oncoimmunology 4, e998538 (2015).

12.

Gattinoni, L., Speiser, D. E., Lichterfeld, M. & Bonini, C. T memory stem cells in health and disease. Nat. Med. 23, 18–27 (2017).

13.

Rosenberg, S. A. & Restifo, N. P. Adoptive cell transfer as personalized immunotherapy for human cancer. Science 348, 62–68 (2015).

14.

Nish, S. A. et al. CD4+T cell effector commitment coupled to self-renewal by asymmetric cell divisions. J. Exp. Med. 214, 39–47 (2017).

15.

Jacomy, M., Venturini, T., Heymann, S. & Bastian, M. ForceAtlas2, a continuous graph layout algorithm for handy network visualization designed for the Gephi software. PLoS One 9, e98679 (2014).

16.

Samusik, N., Good, Z., Spitzer, M. H., Davis, K. L. & Nolan, G. P. Automated mapping of phenotype space with single-cell data. Nat. Methods 13, 493–496 (2016).

17.

Zunder, E. R., Lujan, E., Goltsev, Y., Wernig, M. & Nolan, G. P. A continuous molecular roadmap to iPSC reprogramming through progression analysis of single-cell mass cytometry. Cell Stem Cell 16, 323–337 (2015).

18.

Coifman, R. R. et al. Geometric diffusions as a tool for harmonic analysis and structure definition of data: diffusion maps. Proc. Natl Acad. Sci. USA 102, 7426–7431 (2005).

19.

Tibshirani, R. Regression shrinkage and selection via the lasso. J. R. Stat. Soc. Series B Stat. Methodol. 58, 267–288 (1996).

20.

Xu, L., Zhang, Y., Luo, G. & Li, Y. The roles of stem cell memory T cells in hematological malignancies. J. Hematol. Oncol. 8, 113 (2015).

21.

Sabatino, M. et al. Generation of clinical-grade CD19-specific CAR-modified CD8+memory stem cells for the treatment of human B-cell malignancies. Blood 128, 519–528 (2016).

22.

Dubovsky, J. A. et al. Ibrutinib is an irreversible molecular inhibitor of ITK driving a Th1-selective pressure in T lymphocytes. Blood 122, 2539–2549 (2013).

23.

Begum, J. et al. A method for evaluating the use of fluorescent dyes to track proliferation in cell lines by dye dilution. Cytometry A 83, 1085–1095 (2013).

24.

Marchingo, J. M. et al. Antigen affinity, costimulation, and cytokine inputs sum linearly to amplify T cell expansion. Science 346, 1123–1127 (2014).

25.

Salter, A. I. et al. Phosphoproteomic analysis of chimeric antigen receptor signaling reveals kinetic and quantitative differences that affect cell function. Sci. Signal. 11, eaat6753 (2018).

26.

Kalia, V. et al. Prolonged interleukin-2Rα expression on virus-specific CD8+T cells favors terminal-effector differentiation in vivo. Immunity 32, 91–103 (2010).

27.

Long, M. et al. Ibrutinib treatment improves T cell number and function in CLL patients. J. Clin. Invest. 127, 3052–3064 (2017).

28.

Turtle, C. J. et al. Durable molecular remissions in chronic lymphocytic leukemia treated with CD19-specific chimeric antigen receptor-modified T cells after failure of ibrutinib. J. Clin. Oncol. 35, 3010–3020 (2017).

29.

Fraietta, J. A. et al. Ibrutinib enhances chimeric antigen receptor T-cell engraftment and efficacy in leukemia. Blood 127, 1117–1127 (2016).

30.

Gill, S. et al. CD19 CAR-T cells combined with ibrutinib to induce complete remission in CLL. J. Clin. Oncol. 35(Suppl), 7509 (2017).

31.

Quah, B.J. & Parish, C.R. The use of carboxyfluorescein diacetate succinimidyl ester (CFSE) to monitor lymphocyte proliferation. J. Vis. Exp. https://doi.org/10.3791/2259 (2010).

32.

Advani, R. H. et al. Bruton tyrosine kinase inhibitor ibrutinib (PCI-32765) has significant activity in patients with relapsed/refractory B-cell malignancies. J. Clin. Oncol. 31, 88–94 (2013).

33.

Marostica, E. et al. Population pharmacokinetic model of ibrutinib, a Bruton tyrosine kinase inhibitor, in patients with B cell malignancies. Cancer Chemother. Pharmacol. 75, 111–121 (2015).

34.

Araki, K. et al. mTOR regulates memory CD8 T-cell differentiation. Nature 460, 108–112 (2009).

35.

Stenton, S. B., Partovi, N. & Ensom, M. H. Sirolimus: the evidence for clinical pharmacokinetic monitoring. Clin. Pharmacokinet. 44, 769–786 (2005).

36.

Fienberg, H. G., Simonds, E. F., Fantl, W. J., Nolan, G. P. & Bodenmiller, B. A platinum-based covalent viability reagent for single-cell mass cytometry. Cytometry A 81, 467–475 (2012).

37.

Zunder, E. R. et al. Palladium-based mass tag cell barcoding with a doublet-filtering scheme and single-cell deconvolution algorithm. Nat. Protoc. 10, 316–333 (2015).

38.

Finck, R. et al. Normalization of mass cytometry data with bead standards. Cytometry A 83, 483–494 (2013).

39.

Zheng, G. X. et al. Massively parallel digital transcriptional profiling of single cells. Nat. Commun. 8, 14049 (2017).

40.

Angerer, P. et al. destiny: diffusion maps for large-scale single-cell data in R. Bioinformatics 32, 1241–1243 (2016).

41.

Bates, D., Machler, M., Bolker, B. M. & Walker, S. C. Fitting linear mixed-effects models using lme4. J. Stat. Softw. 67, 1–48 (2015).

42.

Friedman, J., Hastie, T. & Tibshirani, R. Regularization paths for generalized linear models via coordinate descent. J. Stat. Softw. 33, 1–22 (2010).

43.

James, G., Witten, D., Hastie, T. & Tibshirani, R. An Introduction to Statistical Learning with Applications in R 6th edn (Springer Texts in Statistics, New York, 2015).
Acknowledgements
We thank V. Gonzalez Munoz for panel design; J. Coller, D. Wagh (Stanford Functional Genomics Facility) and A. K. Shalek (UCSF) for single-cell RNA-seq advice; and S. Bhate, L. F. Yankielowicz-Keren, M. H. Spitzer, P. F. Gherardini and N. Agaheepour for insightful discussions. Z.G. was supported by the NIH training grants 5T32AI007290-29, -30, -32, -33 and 2T32AI007290-31. G.P.N. was supported by NIH grants R01CA184968, 1R01GM10983601, 1R01NS08953301, 1R01CA19665701, R01HL120724, 1R21CA183660, R33CA0183692, 1R33CA183654-01, U19AI057229, 1U19AI100627, U54-UCA149145A, N01-HV-00242 HHSN26820100034C and 5UH2AR067676; NIH Northrop-Grumman Corporation subcontract 7500108142; FDA grant HHSF223201210194C; DOD grants OC110674 and W81XWH-14-1-0180; the NWCRA Entertainment Industry Foundation; and Bill and Melinda Gates Foundation grant OPP1113682. Z.G., G.P.N. and S.C.B. are members of the Parker Institute for Cancer Immunotherapy, which supported this work. S.C.B. was supported by a Damon Runyon Cancer Research Foundation Fellowship (DRG-2017-09); NIH 1DP2OD022550-01, 1R01AG056287-01, 1R01AG057915-01, 1-R00-GM104148-01, 1U24CA224309-01, 5U19AI116484-02 and U19 AI104209; and a Translational Research Award from the Stanford Cancer Institute. The Illumina HiSeq 4000 used here was purchased with NIH funds (award S10OD018220).
Ethics declarations
Competing interests
Z.G., G.P.N. and S.C.B. are inventors on intellectual property applications for engineering T cells using methods described in this study.
Additional information
Publisher's note: Springer Nature remains neutral with regard to jurisdictional claims in published maps and institutional affiliations.
Integrated supplementary information
Supplementary information
About this article
Cite this article
Good, Z., Borges, L., Vivanco Gonzalez, N. et al. Proliferation tracing with single-cell mass cytometry optimizes generation of stem cell memory-like T cells. Nat Biotechnol 37, 259–266 (2019). https://doi.org/10.1038/s41587-019-0033-2
Received:

Accepted:

Published:

Issue Date: