Abstract
Cell therapies have yielded durable clinical benefits for patients with cancer, but the risks associated with the development of therapies from manipulated human cells are understudied. For example, we lack a comprehensive understanding of the mechanisms of toxicities observed in patients receiving T cell therapies, including recent reports of encephalitis caused by reactivation of human herpesvirus 6 (HHV-6)1. Here, through petabase-scale viral genomics mining, we examine the landscape of human latent viral reactivation and demonstrate that HHV-6B can become reactivated in cultures of human CD4+ T cells. Using single-cell sequencing, we identify a rare population of HHV-6 'super-expressors' (about 1 in 300–10,000 cells) that possess high viral transcriptional activity, among research-grade allogeneic chimeric antigen receptor (CAR) T cells. By analysing single-cell sequencing data from patients receiving cell therapy products that are approved by the US Food and Drug Administration2 or are in clinical studies3,4,5, we identify the presence of HHV-6-super-expressor CAR T cells in patients in vivo. Together, the findings of our study demonstrate the utility of comprehensive genomics analyses in implicating cell therapy products as a potential source contributing to the lytic HHV-6 infection that has been reported in clinical trials1,6,7,8 and may influence the design and production of autologous and allogeneic cell therapies.
Access options
Access Nature and 54 other Nature Portfolio journals
Get Nature+, our best-value online-access subscription
$29.99 / 30 days
cancel any time
Subscribe to this journal
Receive 51 print issues and online access
$199.00 per year
only $3.90 per issue
Rent or buy this article
Prices vary by article type
from$1.95
to$39.95
Prices may be subject to local taxes which are calculated during checkout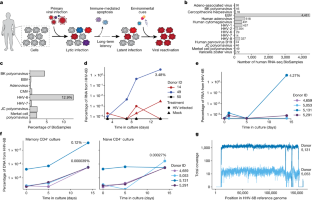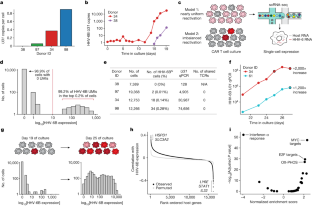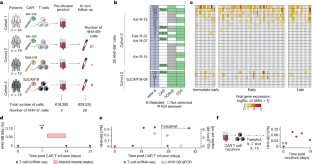 References
Spanjaart, A. M., van der Valk, F. M., van Rooijen, G., Brouwer, M. C. & Kersten, M. J. Confused about confusion. N. Engl. J. Med. 386, 80–87 (2022).

Haradhvala, N. J. et al. Distinct cellular dynamics associated with response to CAR-T therapy for refractory B-cell lymphoma. Nat. Med.28, 1848–1859 (2022).

Wilson, T. L. et al. Common trajectories of highly effective CD19-specific CAR T cells identified by endogenous T cell receptor lineages. Cancer Discov. https://doi.org/10.1158/2159-8290.CD-21-1508 (2022).

Talleur, A. et al. Preferential expansion of CD8+ CD19-CAR T cells postinfusion and the role of disease burden on outcome in pediatric B-ALL. Blood Adv. https://doi.org/10.1182/bloodadvances.2021006293 (2022).

Hu, Y. et al. Genetically modified CD7-targeting allogeneic CAR-T cell therapy with enhanced efficacy for relapsed/refractory CD7-positive hematological malignancies: a phase I clinical study. Cell Res. 32, 995–1007 (2022).

Locke, F. L. et al. Long-term safety and activity of axicabtagene ciloleucel in refractory large B-cell lymphoma (ZUMA-1): a single-arm, multicentre, phase 1–2 trial. Lancet Oncol. 20, 31–42 (2019).

Baird, J. H. et al. Immune reconstitution and infectious complications following axicabtagene ciloleucel therapy for large B-cell lymphoma. Blood Adv. 5, 143–155 (2021).

Maude, S. L. et al. Tisagenlecleucel in children and young adults with B-cell lymphoblastic leukemia. N. Engl. J. Med. 378, 439–448 (2018).

Cohen, J. I. Herpesvirus latency. J. Clin. Invest. 130, 3361–3369 (2020).

Traylen, C. M. et al. Virus reactivation: a panoramic view in human infections. Future Virol. 6, 451–463 (2011).

Düver, F. et al. Viral reactivations following hematopoietic stem cell transplantation in pediatric patients - a single center 11-year analysis. PLoS One 15, e0228451 (2020).

Grinde, B. Herpesviruses: latency and reactivation – viral strategies and host response. J. Oral Microbiol. 5, 22766 (2013).

Kampouri, E. et al. CMV and HHV-6 after chimeric antigen receptor (CAR)-T-cell immunotherapy for B-cell malignancies: a prospective study. Transplant. Cell. Ther. 29, S210–S211 (2023).

Labanieh, L. & Mackall, C. L. CAR immune cells: design principles, resistance and the next generation. Nature 614, 635–648 (2023).

Edgar, R. C. et al. Petabase-scale sequence alignment catalyses viral discovery. Nature 602, 142–147 (2022).

Leinonen, R., Sugawara, H. & Shumway, M., International Nucleotide Sequence Database Collaboration. The sequence read archive. Nucleic Acids Res. 39, D19–D21 (2011).

Hulo, C. et al. ViralZone: a knowledge resource to understand virus diversity. Nucleic Acids Res. 39, D576–D582 (2011).

LaMere, S. A., Thompson, R. C., Komori, H. K., Mark, A. & Salomon, D. R. Promoter H3K4 methylation dynamically reinforces activation-induced pathways in human CD4 T cells. Genes Immun. 17, 283–297 (2016).

Pellett, P. E. et al. Chromosomally integrated human herpesvirus 6: questions and answers. Rev. Med. Virol. 22, 144–155 (2012).

Ablashi, D. et al. Classification of HHV-6A and HHV-6B as distinct viruses. Arch. Virol. 159, 863–870 (2014).

Tang, H. et al. CD134 is a cellular receptor specific for human herpesvirus-6B entry. Proc. Natl Acad. Sci. USA 110, 9096–9099 (2013).

Shytaj, I. L. et al. Alterations of redox and iron metabolism accompany the development of HIV latency. EMBO J. 39, e102209 (2020).

Jones, A. C. et al. Personalized transcriptomics reveals heterogeneous immunophenotypes in children with viral bronchiolitis. Am. J. Respir. Crit. Care Med. 199, 1537–1549 (2019).

Holtan, S. G. et al. Stress responses, M2 macrophages, and a distinct microbial signature in fatal intestinal acute graft-versus-host disease. JCI Insight 5, e129762 (2019).

Qu, K. et al. Chromatin accessibility landscape of cutaneous T cell lymphoma and dynamic response to HDAC inhibitors. Cancer Cell 32, 27–41 (2017).

Reading, J. L. et al. Augmented expansion of Treg cells from healthy and autoimmune subjects via adult progenitor cell co-culture. Front. Immunol. 12, 716606 (2021).

Bost, P. et al. Host-viral infection maps reveal signatures of severe COVID-19 patients. Cell 181, 1475–1488 (2020).

Gravel, A. et al. Mapping the human herpesvirus 6B transcriptome. J. Virol. https://doi.org/10.1128/JVI.01335-20 (2021).

White, E. A. & Spector, D. H. in Human Herpesviruses: Biology, Therapy, and Immunoprophylaxis (eds Arvin, A. et al.) (Cambridge Univ. Press, 2007).

Wyżewski, Z., Gregorczyk, K. P., Szczepanowska, J. & Szulc-Dąbrowska, L. Functional role of Hsp60 as a positive regulator of human viral infection progression. Acta Virol. 62, 33–40 (2018).

Nguyen, N. N. T. et al. Hepatitis C virus modulates solute carrier family 3 member 2 for viral propagation. Sci. Rep. 8, 15486 (2018).

Pfaender, S. et al. LY6E impairs coronavirus fusion and confers immune control of viral disease. Nat. Microbiol. 5, 1330–1339 (2020).

Kriesel, J. D., Jones, B. B., Dahms, K. M. & Spruance, S. L. STAT1 binds to the herpes simplex virus type 1 latency-associated transcript promoter. J. Neurovirol. 10, 12–20 (2004).

Mesquita, P. M. M. et al. Role of interleukin 32 in human immunodeficiency virus reactivation and its link to human immunodeficiency virus–herpes simplex virus coinfection. J. Infect. Dis. 215, 614–622 (2016).

Lukhele, S., Boukhaled, G. M. & Brooks, D. G. Type I interferon signaling, regulation and gene stimulation in chronic virus infection. Semin. Immunol. 43, 101277 (2019).

Foo, J., Bellot, G., Pervaiz, S. & Alonso, S. Mitochondria-mediated oxidative stress during viral infection. Trends Microbiol. https://doi.org/10.1016/j.tim.2021.12.011 (2022).

Zerr, D. M. et al. A population-based study of primary human herpesvirus 6 infection. N. Engl. J. Med. 352, 768–776 (2005).

Zerr, D. M. et al. HHV-6 reactivation and its effect on delirium and cognitive functioning in hematopoietic cell transplantation recipients. Blood 117, 5243–5249 (2011).

Stenberg, K., Skog, S. & Tribukait, B. Concentration-dependent effects of foscarnet on the cell cycle. Antimicrob. Agents Chemother. 28, 802–806 (1985).

Panowski, S. H. et al. Preclinical development and evaluation of allogeneic CAR T cells targeting CD70 for the treatment of renal cell carcinoma. Cancer Res. 82, 2610–2624 (2022).

Telford, M., Navarro, A. & Santpere, G. Whole genome diversity of inherited chromosomally integrated HHV-6 derived from healthy individuals of diverse geographic origin. Sci. Rep. 8, 3472 (2018).

Deng, Q. et al. Characteristics of anti-CD19 CAR T cell infusion products associated with efficacy and toxicity in patients with large B cell lymphomas. Nat. Med. 26, 1878–1887 (2020).

Han, X. et al. Construction of a human cell landscape at single-cell level. Nature 581, 303–309 (2020).

Yazar, S. et al. Single-cell eQTL mapping identifies cell type–specific genetic control of autoimmune disease. Science 376, eabf3041 (2022).

Ciszewski, C. et al. Identification of a γc receptor antagonist that prevents reprogramming of human tissue-resident cytotoxic T cells by IL15 and IL21. Gastroenterology 158, 625–637 (2020).

Li, H. & Durbin, R. Fast and accurate long-read alignment with Burrows-Wheeler transform. Bioinformatics 26, 589–595 (2010).

Sommer, C. et al. Allogeneic FLT3 CAR T cells with an off-switch exhibit potent activity against AML and can be depleted to expedite bone marrow recovery. Mol. Ther. 28, 2237–2251 (2020).

Sánchez-Ponce, Y. et al. Simultaneous detection of beta and gamma human herpesviruses by multiplex qPCR reveals simple infection and coinfection episodes increasing risk for graft rejection in solid organ transplantation. Viruses 10, 730 (2018).

Bray, N., Pimentel, H., Melsted, P. & Pachter, L. Near-optimal RNA-seq quantification with kallisto. Nat. Biotechnol. 34, 525–527 (2016).

Melsted, P., Ntranos, V. & Pachter, L. The barcode, UMI, set format and BUStools. Bioinformatics 35, 4472–4473 (2019).

Zhang, H. et al. Fast alignment and preprocessing of chromatin profiles with Chromap. Nat. Commun. 12, 6566 (2021).

Yang, K. et al. T cell-derived lymphotoxin limits Th1 response during HSV-1 infection. Sci. Rep. 8, 17727 (2018).

Sharon, E., Volchek, L. & Frenkel, N. Human herpesvirus 6 (HHV-6) alters E2F1/Rb pathways and utilizes the E2F1 transcription factor to express viral genes. Proc. Natl Acad. Sci. USA 111, 451–456 (2014).

Hines, M. R. et al. Hemophagocytic lymphohistiocytosis-like toxicity (carHLH) after CD19-specific CAR T-cell therapy. Br. J. Haematol. 194, 701–707 (2021).

Heaton, H. et al. Souporcell: robust clustering of single-cell RNA-seq data by genotype without reference genotypes. Nat. Methods 17, 615–620 (2020).

Eraslan, G. et al. Single-nucleus cross-tissue molecular reference maps toward understanding disease gene function. Science 376, eabl4290 (2022).

Cao, J. et al. A human cell atlas of fetal gene expression. Science 370, eaba7721 (2020).

Calderon, D. et al. Landscape of stimulation-responsive chromatin across diverse human immune cells. Nat. Genet. 51, 1494–1505 (2019).

Richards, R. M. et al. NOT-gated CD93 CAR T cells effectively target AML with minimized endothelial cross-reactivity. Blood Cancer Discov. 2, 648–665 (2021).
Acknowledgements
We thank members of the laboratory of A.T.S. for helpful discussions; M. Green and G. Syal for assistance with public sequencing data; and S. Schell for assistance with clinical samples at St. Jude. C.A.L. is supported by a Stanford Science Fellowship, a Parker Institute for Cancer Immunotherapy Scholarship, a seed award from the Center for Human Systems Immunology and NIH K99 HG012076. A.T.S. is supported by the Burroughs Wellcome Fund Career Award for Medical Scientists, the Parker Institute for Cancer Immunotherapy, a Pew-Stewart Scholars for Cancer Research Award, a Cancer Research Institute Lloyd J. Old STAR Award and a Baxter Foundation Faculty Scholar Award. S.L. is supported by the NCI Research Specialist Award (R50CA251956). This work was supported by a sponsored research agreement with Allogene Therapeutics. Part of the analysis was carried out by the Center for Translational Immunology and Immunotherapy (CeTI2), which is supported by St. Jude Children's Research Hospital.
Ethics declarations
Competing interests
A.T.S. is a founder of Immunai and Cartography Biosciences and receives research funding from Allogene Therapeutics and Merck Research Laboratories. C.A.L. and L.S.L. are consultants to Cartography Biosciences. N.J.H. is a consultant for Constellation Pharmaceuticals. C.J.W. holds equity in BioNTech Inc and receives research funding from Pharmacyclics. G.G. receives research funds from IBM and Pharmacyclics, and is a founder of, consultant for and holder of private equity in Scorpion Therapeutics. M.V.M. is an inventor on patents related to CAR T cell therapies held by the University of Pennsylvania (some licensed to Novartis), holds equity in TCR2, Century Therapeutics, Genocea, Oncternal and Neximmune, has served as a consultant for multiple companies involved in cell therapies, receives research support from KitePharma and Moderna, and serves on the Board of Directors of 2Seventy Bio. M.J.K. has received research funding from Kite, a Gilead Company, as well as honoraria from Kite, a Gilead Company, Novartis, Takeda, Miltenyi Biotec, BMS/Celgene, Beigene and Adicet Bio. S.G. is a co-inventor on patent applications in the fields of cell or gene therapy for cancer, a consultant for TESSA Therapeutics and a member of the Data and Safety Monitoring Board of Immatics, and has received honoraria from Tidal, Catamaran Bio, Sanofi and Novartis within the past 2 years. J.C.C. and P.G.T. are named on patent applications in the fields of T cell or gene therapy for cancer. G.Y., J.P., R.S., W.L., A.S., A.M., Z.J.R., T.P. and H.D. are employees and shareholders of Allogene Therapeutics. A.K. is a scientific cofounder of Ravel Biotechnology Inc., is on the scientific advisory board of PatchBio Inc., SerImmune Inc., AINovo Inc., TensorBio Inc. and OpenTargets, is a consultant with Illumina Inc. and owns shares in DeepGenomics Inc., Immunai Inc. and Freenome Inc. R.G.M. is a cofounder of and holds equity in Link Cell Therapies and CARGO Therapeutics, and is a consultant for Lyell Immunopharma, NKarta, Arovella Pharmaceuticals, Innervate Radiopharmaceuticals, Aptorum Group, Gadeta, FATE Therapeutics (Data and Safety Monitoring Board) and Waypoint Bio. All other authors declare no competing interests.
Peer review
Peer review information
Nature thanks Artem Babaian, Joshua Hill and Richard O'Neil for their contribution to the peer review of this work. Peer reviewer reports are available.
Additional information
Publisher's note Springer Nature remains neutral with regard to jurisdictional claims in published maps and institutional affiliations.
Extended data figures and tables
Supplementary information
Supplementary Tables 1–8.
Rights and permissions
Springer Nature or its licensor (e.g. a society or other partner) holds exclusive rights to this article under a publishing agreement with the author(s) or other rightsholder(s); author self-archiving of the accepted manuscript version of this article is solely governed by the terms of such publishing agreement and applicable law.
About this article
Cite this article
Lareau, C.A., Yin, Y., Maurer, K. et al. Latent human herpesvirus 6 is reactivated in CAR T cells. Nature 623, 608–615 (2023). https://doi.org/10.1038/s41586-023-06704-2
Received:

Accepted:

Published:

Issue Date:

DOI: https://doi.org/10.1038/s41586-023-06704-2
Comments
By submitting a comment you agree to abide by our Terms and Community Guidelines. If you find something abusive or that does not comply with our terms or guidelines please flag it as inappropriate.