Abstract
Electrochemical synthesis can provide more sustainable routes to industrial chemicals1,2,3. Electrosynthetic oxidations may often be performed 'reagent-free', generating hydrogen (H2) derived from the substrate as the sole by-product at the counter electrode. Electrosynthetic reductions, however, require an external source of electrons. Sacrificial metal anodes are commonly used for small-scale applications4, but more sustainable options are needed at larger scale. Anodic water oxidation is an especially appealing option1,5,6, but many reductions require anhydrous, air-free reaction conditions. In such cases, H2 represents an ideal alternative, motivating the growing interest in the electrochemical hydrogen oxidation reaction (HOR) under non-aqueous conditions7,8,9,10,11,12. Here we report a mediated H2 anode that achieves indirect electrochemical oxidation of H2 by pairing thermal catalytic hydrogenation of an anthraquinone mediator with electrochemical oxidation of the anthrahydroquinone. This quinone-mediated H2 anode is used to support nickel-catalysed cross-electrophile coupling (XEC), a reaction class gaining widespread adoption in the pharmaceutical industry13,14,15. Initial validation of this method in small-scale batch reactions is followed by adaptation to a recirculating flow reactor that enables hectogram-scale synthesis of a pharmaceutical intermediate. The mediated H2 anode technology disclosed here offers a general strategy to support H2-driven electrosynthetic reductions.
Access options
Access Nature and 54 other Nature Portfolio journals
Get Nature+, our best-value online-access subscription
$29.99 / 30 days
cancel any time
Subscribe to this journal
Receive 51 print issues and online access
$199.00 per year
only $3.90 per issue
Rent or buy this article
Prices vary by article type
from$1.95
to$39.95
Prices may be subject to local taxes which are calculated during checkout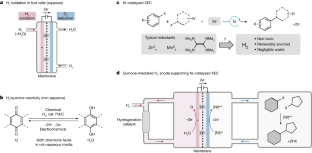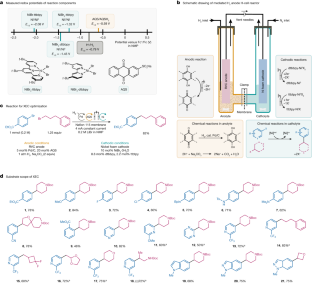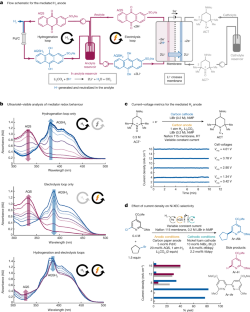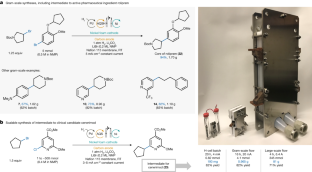 References
Cardoso, D. S. P., Šljukić, B., Santos, D. M. F. & Sequeira, C. A. C. Organic electrosynthesis: from laboratorial practice to industrial applications. Org. Process Res. Dev. 21, 1213–1226 (2017).

Pletcher, D. & Walsh, F. C. Industrial Electrochemistry 2nd edn, 298–311 (Kluwer, 1990).

Leech, M. C., Garcia, A. D., Petti, A., Dobbs, A. P. & Lam, K. Organic electrosynthesis: from academia to industry. React. Chem. Eng. 5, 977–990 (2020).

Klein, M. & Waldvogel, S. R. Counter electrode reactions—important stumbling blocks on the way to a working electro-organic synthesis. Angew. Chem. Int. Edn 61, e202204140 (2022).

Sherbo, R. S., Delima, R. S., Chiykowski, V. A., MacLeod, B. P. & Berlinguette, C. P. Complete electron economy by pairing electrolysis with hydrogenation. Nat. Catal. 1, 501–507 (2018).

Danly, D. E. Development and commercialization of the Monsanto electrochemical adiponitrile process. J. Electrochem. Soc. 131, 435C–442C (1984).

Barrette, W. C. & Sawyer, D. T. Determination of dissolved hydrogen and effects of media and electrode materials on the electrochemical oxidation of molecular hydrogen. Anal. Chem. 56, 653–657 (1984).

Ledezma-Yanez, I., Díaz-Morales, O., Figueiredo, M. C. & Koper, M. T. M. Hydrogen oxidation and hydrogen evolution on a platinum electrode in acetonitrile. ChemElectroChem. 2, 1612–1622 (2015).

Lazouski, N., Chung, M., Williams, K., Gala, M. L. & Manthiram, K. Non-aqueous gas diffusion electrodes for rapid ammonia synthesis from nitrogen and water-splitting-derived hydrogen. Nat. Catal. 3, 463–469 (2020).

Suryanto, B. H. R. et al. Nitrogen reduction to ammonia at high efficiency and rates based on a phosphonium proton shuttle. Science 372, 1187–1191 (2021).

Hodgetts, R. Y., Du, H.-L., Nguyen, T. D., MacFarlane, D. & Simonov, A. N. Electrocatalytic oxidation of hydrogen as an anode reaction for the Li-mediated N2 reduction to ammonia. ACS Catal. 12, 5231–5246 (2022).

Fu, X. et al. Continuous-flow electrosynthesis of ammonia by nitrogen reduction and hydrogen oxidation. Science 379, 707–712 (2023).

Goldfogel, M. J., Huang, L. & Weix, D. J. in Nickel Catalysis in Organic Synthesis (ed. Ogoshi, S.) 183–222 (Wiley, 2020).

Nimmagadda, S. K. et al. Development and execution of an Ni(II)-catalyzed reductive cross-coupling of substituted 2-chloropyridine and ethyl 3-chloropropanoate. Org. Process Res. Dev. 24, 1141–1148 (2020).

Beutner, G. L. et al. A process chemistry benchmark for sp2–sp3 cross couplings. J. Org. Chem. 86, 10380–10396 (2021).

Moulik, S., Vaishnavi, B. A., Nagar, H. & Sridhar, S. in Encyclopedia of Membranes (eds Drioli, E. & Giorno, L.) 1973–1983 (Springer, 2016).

Goor, G., Glenneberg, J., Jacobi, S., Dadabhoy, J., & Candido, E. in Ullmann's Encyclopedia of Industrial Chemistry (Wiley, 2019).

Huskinson, B. et al. A metal-free organic–inorganic aqueous flow battery. Nature 505, 195–198 (2014).

Kwabi, D. G., Ji, Y. & Aziz, M. J. Electrolyte lifetime in aqueous organic redox flow batteries: a critical review. Chem. Rev. 120, 6467–6489 (2020).

Anson, C. W. & Stahl, S. S. Mediated fuel cells: soluble redox mediators and their applications to electrochemical reduction of O2 and oxidation of H2, alcohols, biomass, and complex fuels. Chem. Rev. 120, 3749–3786 (2020).

Acemoglu, M., Baenziger, M., Krell, C. M. & Marterer, W. in Transition Metal-Catalyzed Couplings in Process Chemistry (eds Magano, J. & Dunetz, J. R.) 15–23 (Wiley, 2013).

Jennings, P. W., Pillsbury, D. G., Hall, J. L. & Brice, V. T. Carbon-carbon bond formation via organometallic electrochemistry. J. Org. Chem. 41, 719–722 (1976).

Conan, A., Sibille, S., d'Incan, E. & Périchon, J. Nickel-catalysed electroreductive coupling of α-halogenoesters with aryl or vinyl halides. J. Chem. Soc. Chem. Commun. 48–49 (1990).

Perkins, R. J., Pedro, D. J. & Hansen, E. C. Electrochemical nickel catalysis for sp2-sp3 cross-electrophile coupling reactions of unactivated alkyl halides. Org. Lett. 19, 3755–3758 (2017).

Li, H. et al. Ni-catalyzed electrochemical decarboxylative C–C couplings in batch and continuous flow. Org. Lett. 20, 1338–1341 (2018).

Perkins, R. J., Hughes, A. J., Weix, D. J. & Hansen, E. C. Metal-reductant-free electrochemical nickel-catalyzed couplings of aryl and alkyl bromides in acetonitrile. Org. Process Res. Dev. 23, 1746–1751 (2019).

DeLano, T. J. & Reisman, S. E. Enantioselective electroreductive coupling of alkenyl and benzyl halides via nickel catalysis. ACS Catal. 9, 6751–6754 (2019).

Jiao, K.-J. et al. Nickel-catalyzed electrochemical reductive relay cross-coupling of alkyl halides to aryl halides. Angew. Chem. Int. Edn 132, 6520–6524 (2020).

Franke, M. C. et al. Zinc-free, scalable reductive cross-electrophile coupling driven by electrochemistry in an undivided cell. ACS Catal. 12, 12617–12626 (2022).

Harwood, S. J. et al. Modular terpene synthesis enabled by mild electrochemical couplings. Science 375, 745–752 (2022).

Hamby, T. B., LaLama, M. J. & Sevov, C. S. Controlling Ni redox states by dynamic ligand exchange for electroreductive Csp3–Csp2 coupling. Science 376, 410–416 (2022).

Sanfilippo, D. & Rylander, P. N. Hydrogenation and dehydrogenation. Ullmann's Encyclopedia of Industrial Chemistry (Wiley, 2009).

Everson, D. A., Shrestha, R. & Weix, D. J. Nickel-catalyzed reductive cross-coupling of aryl halides with alkyl halides. J. Am. Chem. Soc. 132, 920–921 (2010).

Preger, Y. et al. Quinone-mediated electrochemical O2 reduction accessing high power density with an off-electrode Co-N/C catalyst. Joule 2, 2722–2731 (2018).

Preger, Y. et al. Anthraquinone-mediated fuel cell anode with an off-electrode heterogeneous catalyst accessing high power density when paired with a mediated cathode. ACS Energy Lett. 5, 1407–1412 (2020).

Zhu, J., Mix, E. & Winblad, B. The antidepressant and antiinflammatory effects of rolipram in the central nervous system. CNS Drug Rev. 7, 387–398 (2001).

Piali, L. et al. Cenerimod, a novel selective S1P1 receptor modulator with unique signaling properties. Pharmacol. Res. Perspect. 5, e00370 (2017).

Liu, Y., Li, P., Wang, Y. & Qiu, Y. Electroreductive cross-electrophile coupling (eXEC) reactions. Angew. Chem. Int. Edn 62, e202306679 (2023).

Yang, J., Qin, H., Yan, K., Cheng, X. & Wen, J. Advances in electrochemical hydrogenation since 2010. Adv. Synth. Catal. 363, 5407–5416 (2021).

Peters, B. K. et al. Scalable and safe synthetic organic electroreduction inspired by Li-ion battery chemistry. Science 363, 838–845 (2019).

Zamora Zeledón, J. A., Jackson, A., Stevens, M. B., Kamat, G. A. & Jaramillo, T. F. Methods—a practical approach to the reversible hydrogen electrode scale. J. Electrochem. Soc. 169, 066505 (2022).
Acknowledgements
The authors thank B. Armstrong (EPSE) and C. Nietupski (HPL) of Merck & Co., Inc. for valuable discussions, feedback and assistance in performing the large-scale implementation of this chemistry. The authors thank C. Salazar of UW-Madison for assistance with gas-uptake experiments and A. M. Norris and M. Boasso of Merck & Co., Inc. for assistance in the preparation of Extended Data Fig. 4. Financial support for development of the mediated H2 anode was provided by the Center for Molecular Electrocatalysis, an Energy Frontier Research Center, funded by the U.S. Department of Energy, Office of Science, Office of Basic Energy Sciences and Merck Sharp & Dohme LLC, a subsidiary of Merck & Co., Inc. The development of Ni-catalysed XEC reactions and their integration with the mediated H2 anode was supported by the NSF (PFI-RP 2122596). Spectroscopic instrumentation was partially supported by the NIH (1S10 OD020022-1) and the NSF (CHE-1048642).
Ethics declarations
Competing interests
A patent application describing a mediated H2 anode has been filed.
Peer review
Peer review information
Nature thanks Alastair Lennox and the other, anonymous, reviewer(s) for their contribution to the peer review of this work.
Additional information
Publisher's note Springer Nature remains neutral with regard to jurisdictional claims in published maps and institutional affiliations.
Extended data figures and tables
Supplementary information
Supplementary Methods, Supplementary Tables and the Supplementary Discussion
Rights and permissions
Springer Nature or its licensor (e.g. a society or other partner) holds exclusive rights to this article under a publishing agreement with the author(s) or other rightsholder(s); author self-archiving of the accepted manuscript version of this article is solely governed by the terms of such publishing agreement and applicable law.
About this article
Cite this article
Twilton, J., Johnson, M.R., Sidana, V. et al. Quinone-mediated hydrogen anode for non-aqueous reductive electrosynthesis. Nature 623, 71–76 (2023). https://doi.org/10.1038/s41586-023-06534-2
Received:

Accepted:

Published:

Issue Date:

DOI: https://doi.org/10.1038/s41586-023-06534-2
Comments
By submitting a comment you agree to abide by our Terms and Community Guidelines. If you find something abusive or that does not comply with our terms or guidelines please flag it as inappropriate.