Abstract
Craniosynostosis is a group of disorders of premature calvarial suture fusion. The identity of the calvarial stem cells (CSCs) that produce fusion-driving osteoblasts in craniosynostosis remains poorly understood. Here we show that both physiologic calvarial mineralization and pathologic calvarial fusion in craniosynostosis reflect the interaction of two separate stem cell lineages; a previously identified cathepsin K (CTSK) lineage CSC1 (CTSK+ CSC) and a separate discoidin domain-containing receptor 2 (DDR2) lineage stem cell (DDR2+ CSC) that we identified in this study. Deletion of Twist1, a gene associated with craniosynostosis in humans2,3, solely in CTSK+ CSCs is sufficient to drive craniosynostosis in mice, but the sites that are destined to fuse exhibit an unexpected depletion of CTSK+ CSCs and a corresponding expansion of DDR2+ CSCs, with DDR2+ CSC expansion being a direct maladaptive response to CTSK+ CSC depletion. DDR2+ CSCs display full stemness features, and our results establish the presence of two distinct stem cell lineages in the sutures, with both populations contributing to physiologic calvarial mineralization. DDR2+ CSCs mediate a distinct form of endochondral ossification without the typical haematopoietic marrow formation. Implantation of DDR2+ CSCs into suture sites is sufficient to induce fusion, and this phenotype was prevented by co-transplantation of CTSK+ CSCs. Finally, the human counterparts of DDR2+ CSCs and CTSK+ CSCs display conserved functional properties in xenograft assays. The interaction between these two stem cell populations provides a new biologic interface for the modulation of calvarial mineralization and suture patency.
Access options
Access Nature and 54 other Nature Portfolio journals
Get Nature+, our best-value online-access subscription
$29.99 / 30 days
cancel any time
Subscribe to this journal
Receive 51 print issues and online access
$199.00 per year
only $3.90 per issue
Rent or buy this article
Prices vary by article type
from$1.95
to$39.95
Prices may be subject to local taxes which are calculated during checkout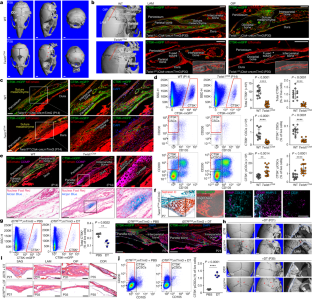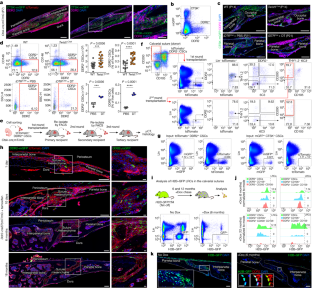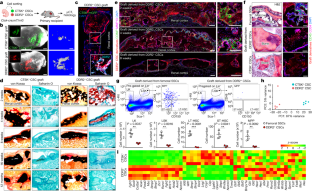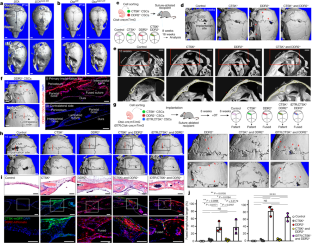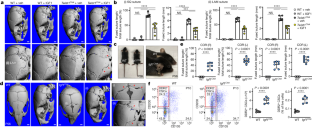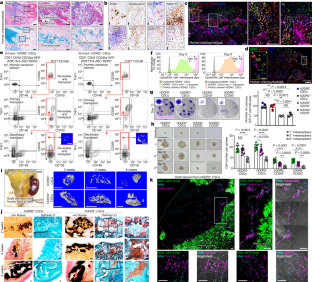 Data availability
RNA-seq data have been deposited at the Gene Expression Omnibus (GEO) under accession number GSE232652. Source data are provided with this paper.
References
Debnath, S. et al. Discovery of a periosteal stem cell mediating intramembranous bone formation. Nature 562, 133–139 (2018).

Howard, T. D. et al. Mutations in TWIST, a basic helix–loop–helix transcription factor, in Saethre-Chotzen syndrome. Nat. Genet. 15, 36–41 (1997).

el Ghouzzi, V. et al. Mutations of the TWIST gene in the Saethre-Chotzen syndrome. Nat. Genet. 15, 42–46 (1997).

Carver, E. A., Oram, K. F. & Gridley, T. Craniosynostosis inTwist heterozygous mice: a model for Saethre-Chotzen syndrome. Anat. Rec. 268, 90–92 (2002).

Menon, S. et al. Skeletal stem and progenitor cells maintain cranial suture patency and prevent craniosynostosis. Nat. Commun. 12, 4640 (2021).

Behr, B., Longaker, M. T. & Quarto, N. Craniosynostosis of coronal suture in Twist1+/− mice occurs through endochondral ossification recapitulating the physiological closure of posterior frontal suture. Front. Physiol. https://doi.org/10.3389/fphys.2011.00037 (2011).

Henry Goodnough, L. et al. Twist1 mediates repression of chondrogenesis by β-catenin to promote cranial bone progenitor specification. Development 139, 4428–4438 (2012).

He, F. & Soriano, P. Dysregulated PDGFRα signaling alters coronal suture morphogenesis and leads to craniosynostosis through endochondral ossification. Development 144, 4026–4036 (2017).

Binrayes, A., Ge, C., Mohamed, F. F. & Franceschi, R. T. Role of discoidin domain receptor 2 in craniofacial bone regeneration. J. Dent. Res. 100, 1359–1366 (2021).

Ge, C. et al. Discoidin receptor 2 controls bone formation and marrow adipogenesis. J. Bone Miner. Res. 31, 2193–2203 (2016).

Mohamed, F. F. et al. The collagen receptor, discoidin domain receptor 2, functions in Gli1-positive skeletal progenitors and chondrocytes to control bone development. Bone Res. 10, 11 (2022).

Méndez-Ferrer, S. et al. Mesenchymal and haematopoietic stem cells form a unique bone marrow niche. Nature 466, 829–834 (2010).

Chan, C. K. F. et al. Identification and specification of the mouse skeletal stem cell. Cell 160, 285–298 (2015).

Ono, N., Ono, W., Nagasawa, T. & Kronenberg, H. M. A subset of chondrogenic cells provides early mesenchymal progenitors in growing bones. Nat. Cell Biol. 16, 1157–1167 (2014).

Kanda, T., Sullivan, K. F. & Wahl, G. M. Histone–GFP fusion protein enables sensitive analysis of chromosome dynamics in living mammalian cells. Curr. Biol. 8, 377–385 (1998).

Foudi, A. et al. Analysis of histone 2B–GFP retention reveals slowly cycling hematopoietic stem cells. Nat. Biotechnol. 27, 84–90 (2009).

Blanpain, C., Lowry, W. E., Geoghegan, A., Polak, L. & Fuchs, E. Self-renewal, multipotency, and the existence of two cell populations within an epithelial stem cell niche. Cell 118, 635–648 (2004).

Wilson, A. et al. Hematopoietic stem cells reversibly switch from dormancy to self-renewal during homeostasis and repair. Cell 135, 1118–1129 (2008).

Chan, C. K. F. et al. Endochondral ossification is required for haematopoietic stem-cell niche formation. Nature 457, 490–494 (2009).

Greenbaum, A. et al. CXCL12 in early mesenchymal progenitors is required for haematopoietic stem-cell maintenance. Nature 495, 227–230 (2013).

Li, Y. et al. Murine embryonic stem cell differentiation is promoted by SOCS-3 and inhibited by the zinc finger transcription factor Klf4. Blood 105, 635–637 (2005).

Cartwright, P. et al. LIF/STAT3 controls ES cell self-renewal and pluripotency by a Myc-dependent mechanism. Development 132, 885–896 (2005).

Hallett, S. A. et al. Chondrocytes in the resting zone of the growth plate are maintained in a Wnt-inhibitory environment. eLife 10, e64513 (2021).

Zhao, H. et al. The suture provides a niche for mesenchymal stem cells of craniofacial bones. Nat. Cell Biol. 17, 386–396 (2015).

Maruyama, T., Jeong, J., Sheu, T.-J. & Hsu, W. Stem cells of the suture mesenchyme in craniofacial bone development, repair and regeneration. Nat. Commun. 7, 10526 (2016).

Wilk, K. et al. Postnatal calvarial skeletal stem cells expressing PRX1 reside exclusively in the calvarial sutures and are required for bone regeneration. Stem Cell Rep. 8, 933–946 (2017).

Alappat, S., Zhang, Z. Y. & Chen, Y. P. Msx homeobox gene family and craniofacial development. Cell Res. 13, 429–442 (2003).

Holmes, G. et al. Integrated transcriptome and network analysis reveals spatiotemporal dynamics of calvarial suturogenesis. Cell Rep. 32, 107871 (2020).

Klopocki, E. et al. Copy-number variations involving the IHH locus are associated with syndactyly and craniosynostosis. Am. J. Hum. Genet. 88, 70–75 (2011).

Twigg, S. R. F. & Wilkie, A. O. M. A genetic–pathophysiological framework for craniosynostosis. Am. J. Hum. Genet. 97, 359–377 (2015).

Wilkie, A. O. M., Johnson, D. & Wall, S. A. Clinical genetics of craniosynostosis. Curr. Opin. Pediatr. 29, 622–628 (2017).

Yu, M. et al. Cranial suture regeneration mitigates skull and neurocognitive defects in craniosynostosis. Cell 184, 243–256.e18 (2021).

Goodnough, L. H. et al. Twist1 mediates repression of chondrogenesis by β-catenin to promote cranial bone progenitor specification. Development 139, 4428–4438 (2012).

Chan, C. K. F. et al. Identification of the human skeletal stem cell. Cell 175, 43–56.e21 (2018).

Ambrosi, T. H. et al. Distinct skeletal stem cell types orchestrate long bone skeletogenesis. eLife 10, e66063 (2021).

Shu, H. S. et al. Tracing the skeletal progenitor transition during postnatal bone formation. Cell Stem Cell 28, 2122–2136.e3 (2021).

Sivaraj, K. K. et al. Regional specialization and fate specification of bone stromal cells in skeletal development. Cell Rep. 36, 109352 (2021).

Kreiborg, S. & Cohen, M. M. Characteristics of the infant Apert skull and its subsequent development. J. Craniofac. Genet. Dev. Biol. 10, 399–410 (1990).

Connerney, J. et al. Twist1 dimer selection regulates cranial suture patterning and fusion. Dev. Dyn. 235, 1334–1346 (2006).

Ko, J. M., Yang, J.-A., Jeong, S.-Y. & Yoon, S. H. Two children with Saethre-Chotzen syndrome confirmed by the TWIST1 gene analysis. J. Genet. Med. 8, 130–134 (2011).

Nakamura, T. et al. Estrogen prevents bone loss via estrogen receptor α and induction of Fas ligand in osteoclasts. Cell 130, 811–823 (2007).

Chen, Y.-T., Akinwunmi, P. O., Deng, J. M., Tam, O. H. & Behringer, R. R. Generation of a Twist1 conditional null allele in the mouse. Genesis 45, 588–592 (2007).

Nakashima, K. et al. The novel zinc finger-containing transcription factor osterix is required for osteoblast differentiation and bone formation. Cell 108, 17–29 (2002).

Peng, Y. et al. Increased transport of acetyl-CoA into the endoplasmic reticulum causes a progeria-like phenotype. Aging Cell 17, e12820 (2018).

Cowling, R. T. et al. Discoidin domain receptor 2 germline gene deletion leads to altered heart structure and function in the mouse. Am. J. Physiol. Heart. Circ. Physiol. 307, H773–H781 (2014).

Tumbar, T. et al. Defining the epithelial stem cell niche in skin. Science 303, 359–363 (2004).

Sun, J. et al. SLITRK5 is a negative regulator of hedgehog signaling in osteoblasts. Nat. Commun. 12, 4611 (2021).

Bok, S. et al. MEKK2 mediates aberrant ERK activation in neurofibromatosis type I. Nat. Commun. 11, 5704 (2020).

Love, M. I., Huber, W. & Anders, S. Moderated estimation of fold change and dispersion for RNA-seq data with DESeq2. Genome Biol. 15, 550 (2014).

Zhu, A., Ibrahim, J. G. & Love, M. I. Heavy-tailed prior distributions for sequence count data: removing the noise and preserving large differences. Bioinformatics 35, 2084–2092 (2019).

Huang, D. W., Sherman, B. T. & Lempicki, R. A. Systematic and integrative analysis of large gene lists using DAVID bioinformatics resources. Nat. Protoc. 4, 44–57 (2009).

Huang, D. W., Sherman, B. T. & Lempicki, R. A. Bioinformatics enrichment tools: paths toward the comprehensive functional analysis of large gene lists. Nucleic Acids Res. https://doi.org/10.1093/nar/gkn923 (2009).

Farmer, D. T. et al. The developing mouse coronal suture at single-cell resolution. Nat. Commun. 12, 4797 (2021).

Ayturk, U. M. et al. Single‐cell RNA sequencing of calvarial and long‐bone endocortical cells. J. Bone Miner. Res. 35, 1981–1991 (2020).
Acknowledgements
This research was supported by Basic Science Research Program through the National Research Foundation of Korea (NRF) funded by the Ministry of Education (NRF-2021R1A6A3A14038667 to S.B.); Arthritis Grant Program from the Arthritis National Research Foundation (ANRF) (1065843 to S.B.); National Institutes of Health (NIH) under awards DP5OD021351 and R01AR075585 (to M.B.G.); 1K99 DE031819-01 by NIDCR (to S.D.); 2T32AR071302-07 from NIAMS (to A.R.Y.); T32-AR078751 from NIAMS (to K.W.M.); R01DE029465 (to R.T.F.); JumpStart Research Career Development Award from Weill Cornell Medicine (to S.B. and S.D.); Study Abroad Scholarships from the Mogam Science Scholarship Foundation (to S.B.); Career Award for Medical Scientists from the Burroughs Welcome Foundation (to M.B.G.); the Pershing Square Sohn Cancer Research Alliance and the Maximizing Innovation in Neuroscience Discovery (MIND) Prize (to M.B.G.); ASBMR Career-Life Balance Initiative award (to S.D.); and Tri-Institutional Breakout Prize for Junior Investigators (to S.D.). This content is solely the responsibility of the authors and does not represent the official views of the National Institutes of Health. The authors thank K.-T. Kim for his support and mentorship; R. Xu, N. Li, Y. Niu, J. L. Zheng, E.-V. Kuyl, W. Zhang, S. Noh, B. He, L. Dizon, T. Zhang, S. Mukherjee and L. Cohen-Gould for technical support; R. R. Arbona, A. Rodriguez and G. Salvador for animal care; M. M. Buontempo, A. R. O'Connor for clinical specimen management; and the Center for Translational Pathology, Flow Cytometry Core, Genomics Resources Core, Optical Microscopy Core, the Citigroup Biomedical Imaging Core and the Research Animal Resource Center at Weill Cornell Medicine for their support.
Ethics declarations
Competing interests
The authors declare no competing interests.
Peer review
Peer review information
Nature thanks Andrei Chagin and the other, anonymous, reviewer(s) for their contribution to the peer review of this work.
Additional information
Publisher's note Springer Nature remains neutral with regard to jurisdictional claims in published maps and institutional affiliations.
Extended data figures and tables
Supplementary information
This file includes Supplementary Tables 1–3. Supplementary Table 1 includes information on craniofacial specimens collected for laboratory analysis. Supplementary Table 2 contains a list of genes comprising the CTSK+ CSC and DDR2+ CSC expression signatures used for scRNA-seq analysis. Supplementary Table 3 includes a list of the primer sequences used for RT–PCR analysis.
Rights and permissions
Springer Nature or its licensor (e.g. a society or other partner) holds exclusive rights to this article under a publishing agreement with the author(s) or other rightsholder(s); author self-archiving of the accepted manuscript version of this article is solely governed by the terms of such publishing agreement and applicable law.
About this article
Cite this article
Bok, S., Yallowitz, A.R., Sun, J. et al. A multi-stem cell basis for craniosynostosis and calvarial mineralization. Nature 621, 804–812 (2023). https://doi.org/10.1038/s41586-023-06526-2
Received:

Accepted:

Published:

Issue Date:

DOI: https://doi.org/10.1038/s41586-023-06526-2
This article is cited by
Andrei S. Chagin
Dana Trompet

Nature (2023)

Jun Sun
Lingling Hu
Matthew B. Greenblatt

Nature (2023)
Comments
By submitting a comment you agree to abide by our Terms and Community Guidelines. If you find something abusive or that does not comply with our terms or guidelines please flag it as inappropriate.