Abstract
Zygotic genome activation (ZGA) activates the quiescent genome to enable the maternal-to-zygotic transition1,2. However, the identity of transcription factors that underlie mammalian ZGA in vivo remains elusive. Here we show that OBOX, a PRD-like homeobox domain transcription factor family (OBOX1–OBOX8)3,4,5, are key regulators of mouse ZGA. Mice deficient for maternally transcribed Obox1/2/5/7 and zygotically expressed Obox3/4 had a two-cell to four-cell arrest, accompanied by impaired ZGA. The Obox knockout defects could be rescued by restoring either maternal and zygotic OBOX, which suggests that maternal and zygotic OBOX redundantly support embryonic development. Chromatin-binding analysis showed that Obox knockout preferentially affected OBOX-binding targets. Mechanistically, OBOX facilitated the 'preconfiguration' of RNA polymerase II, as the polymerase relocated from the initial one-cell binding targets to ZGA gene promoters and distal enhancers. Impaired polymerase II preconfiguration in Obox mutants was accompanied by defective ZGA and chromatin accessibility transition, as well as aberrant activation of one-cell polymerase II targets. Finally, ectopic expression of OBOX activated ZGA genes and MERVL repeats in mouse embryonic stem cells. These data thus demonstrate that OBOX regulates mouse ZGA and early embryogenesis.
Relevant articles
Open Access articles citing this article.
Fangnong Lai

,

Lijia Li

…

Wei Xie

Cell Research Open Access 07 November 2023
Access options
Access Nature and 54 other Nature Portfolio journals
Get Nature+, our best-value online-access subscription
$29.99 / 30 days
cancel any time
Subscribe to this journal
Receive 51 print issues and online access
$199.00 per year
only $3.90 per issue
Rent or buy this article
Prices vary by article type
from$1.95
to$39.95
Prices may be subject to local taxes which are calculated during checkout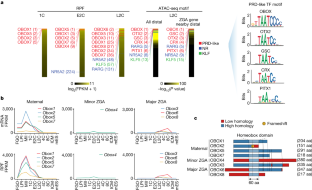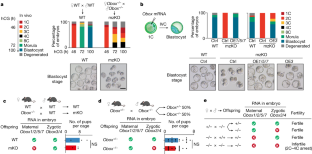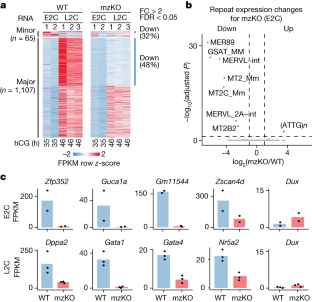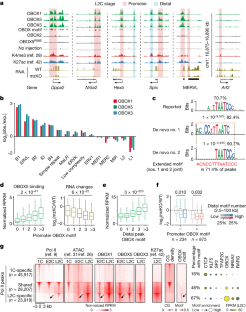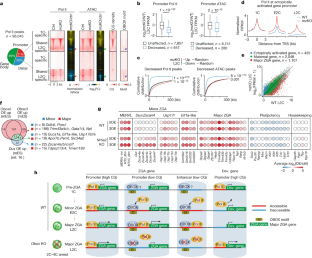 Data availability
All data are available within the article and its Supplementary Tables. All data have been deposited at GEO with accession no. GSE215813. Accession codes of the published data in GEO used in this study are as follows: RNA-seq of oocytes and early embryos and L2C H3K4me3, GSE71434; Ribo-lite data of oocytes and early embryos, GSE165782; RiboTag data of oocytes, GSE135525; total RNA-seq of oocytes and early embryos, GSE169632; 1C ATAC-seq, GSE169632; E2C and L2C ATAC-seq, GSE92605; Pol II stacc–seq of early embryos, GSE135457; L2C H3K27ac, GSE72784; RNA-seq of Dux-overexpressed and control mES cells, GSE85632; RNA-seq of Dux KO embryos, GSE121746 and GSE134832; RNA-seq of 2C-like cells and control mES cells, GSE75751; RNA-seq of Nr5a2 knockdown and control 2C embryos, GSE178661. Source data are provided with this paper.
Code availability
Software used to analyse these data are listed in Methods and are all publicly available.
References
Jukam, D., Shariati, S. A. M. & Skotheim, J. M. Zygotic genome activation in vertebrates. Dev. Cell 42, 316–332 (2017).

Lee, M. T., Bonneau, A. R. & Giraldez, A. J. Zygotic genome activation during the maternal-to-zygotic transition. Annu. Rev. Cell Dev. Biol. 30, 581–613 (2014).

Wilming, L. G., Boychenko, V. & Harrow, J. L. Comprehensive comparative homeobox gene annotation in human and mouse. Database (Oxford) 2015, bav091 (2015).

Rajkovic, A., Yan, C., Yan, W., Klysik, M. & Matzuk, M. M. Obox, a family of homeobox genes preferentially expressed in germ cells. Genomics 79, 711–717 (2002).

Royall, A. H., Maeso, I., Dunwell, T. L. & Holland, P. W. H. Mouse Obox and Crxos modulate preimplantation transcriptional profiles revealing similarity between paralogous mouse and human homeobox genes. EvoDevo 9, 2 (2018).

Aoki, F., Worrad, D. M. & Schultz, R. M. Regulation of transcriptional activity during the first and second cell cycles in the preimplantation mouse embryo. Dev. Biol. 181, 296–307 (1997).

Bouniol, C., Nguyen, E. & Debey, P. Endogenous transcription occurs at the 1-cell stage in the mouse embryo. Exp. Cell. Res. 218, 57–62 (1995).

Schulz, K. N. & Harrison, M. M. Mechanisms regulating zygotic genome activation. Nat. Rev. Genet. 20, 221–234 (2019).

Liu, B. et al. The landscape of RNA Pol II binding reveals a stepwise transition during ZGA. Nature 587, 139–144 (2020).

Liang, H. L. et al. The zinc-finger protein Zelda is a key activator of the early zygotic genome in Drosophila. Nature 456, 400–403 (2008).

Gaskill, M. M., Gibson, T. J., Larson, E. D. & Harrison, M. M. GAF is essential for zygotic genome activation and chromatin accessibility in the early Drosophila embryo. eLife 10, e66668 (2021).

Duan, J. et al. CLAMP and Zelda function together to promote Drosophila zygotic genome activation. eLife 10, e69937 (2021).

Lee, M. T. et al. Nanog, Pou5f1 and SoxB1 activate zygotic gene expression during the maternal-to-zygotic transition. Nature 503, 360–364 (2013).

Leichsenring, M., Maes, J., Mössner, R., Driever, W. & Onichtchouk, D. Pou5f1 transcription factor controls zygotic gene activation in vertebrates. Science 341, 1005–1009 (2013).

Miao, L. et al. The landscape of pioneer factor activity reveals the mechanisms of chromatin reprogramming and genome activation. Mol. Cell 82, 986–1002 (2022).

Hendrickson, P. G. et al. Conserved roles of mouse DUX and human DUX4 in activating cleavage-stage genes and MERVL/HERVL retrotransposons. Nat. Genet. 49, 925–934 (2017).

Whiddon, J. L., Langford, A. T., Wong, C. J., Zhong, J. W. & Tapscott, S. J. Conservation and innovation in the DUX4-family gene network. Nat. Genet. 49, 935–940 (2017).

De Iaco, A. et al. DUX-family transcription factors regulate zygotic genome activation in placental mammals. Nat. Genet. 49, 941–945 (2017).

Guo, M. et al. Precise temporal regulation of Dux is important for embryo development. Cell Res. 29, 956–959 (2019).

Chen, Z. & Zhang, Y. Loss of DUX causes minor defects in zygotic genome activation and is compatible with mouse development. Nat. Genet. 51, 947–951 (2019).

Gassler, J. et al. Zygotic genome activation by the totipotency pioneer factor Nr5a2. Science 378, 1305–1315 (2022).

Lai, F. et al. NR5A2 connects genome activation to the first lineage segregation in early mouse development. Preprint at bioRxiv https://doi.org/10.1101/2022.11.25.518012 (2022).

Festuccia, N. et al. Nr5a2 is essential for morula development. Preprint at bioRxiv https://doi.org/10.1101/2023.01.16.524255 (2022).

Zou, Z. et al. Translatome and transcriptome co-profiling reveals a role of TPRXs in human zygotic genome activation. Science 378, abo7923 (2022).

Xiong, Z. et al. Ultrasensitive Ribo-seq reveals translational landscapes during mammalian oocyte-to-embryo transition and pre-implantation development. Nat. Cell Biol. 24, 968–980 (2022).

Wu, J. et al. The landscape of accessible chromatin in mammalian preimplantation embryos. Nature 534, 652–657 (2016).

Berger, M. F. et al. Variation in homeodomain DNA binding revealed by high-resolution analysis of sequence preferences. Cell 133, 1266–1276 (2008).

Zhang, B. et al. Allelic reprogramming of the histone modification H3K4me3 in early mammalian development. Nature 537, 553–557 (2016).

Dai, X. X. et al. A combinatorial code for mRNA 3′-UTR-mediated translational control in the mouse oocyte. Nucleic Acids Res. 47, 328–340 (2019).

Luong, X. G., Daldello, E. M., Rajkovic, G., Yang, C. R. & Conti, M. Genome-wide analysis reveals a switch in the translational program upon oocyte meiotic resumption. Nucleic Acids Res. 48, 3257–3276 (2020).

Zhang, C., Wang, M., Li, Y. & Zhang, Y. Profiling and functional characterization of maternal mRNA translation during mouse maternal-to-zygotic transition. Sci. Adv. 8, eabj3967 (2022).

Svoboda, P. et al. RNAi and expression of retrotransposons MuERV-L and IAP in preimplantation mouse embryos. Dev. Biol. 269, 276–285 (2004).

Macfarlan, T. S. et al. Embryonic stem cell potency fluctuates with endogenous retrovirus activity. Nature 487, 57–63 (2012).

Sakashita, A. et al. Transcription of MERVL retrotransposons is required for preimplantation embryo development. Nat. Genet. 55, 484–495 (2023).

Chi, Y. I. Homeodomain revisited: a lesson from disease-causing mutations. Hum Genet 116, 433–444 (2005).

Katayama, S. et al. Phylogenetic and mutational analyses of human LEUTX, a homeobox gene implicated in embryogenesis. Sci. Rep. 8, 17421 (2018).

Fenouil, R. et al. CpG islands and GC content dictate nucleosome depletion in a transcription-independent manner at mammalian promoters. Genome Res. 22, 2399–2408 (2012).

Zheng, H. et al. Resetting epigenetic memory by reprogramming of histone modifications in mammals. Mol. Cell 63, 1066–1079 (2016).

Eckersley-Maslin, M. A. et al. MERVL/Zscan4 network activation results in transient genome-wide DNA demethylation of mESCs. Cell Rep. 17, 179–192 (2016).

Maeso, I. et al. Evolutionary origin and functional divergence of totipotent cell homeobox genes in eutherian mammals. BMC Biol. 14, 45 (2016).

Zhong, Y. F. & Holland, P. W. The dynamics of vertebrate homeobox gene evolution: gain and loss of genes in mouse and human lineages. BMC Evol. Biol. 11, 169 (2011).

Dahl, J. A. et al. Broad histone H3K4me3 domains in mouse oocytes modulate maternal-to-zygotic transition. Nature 537, 548–552 (2016).

Picelli, S. et al. Full-length RNA-seq from single cells using Smart-seq2. Nat. Protoc. 9, 171–181 (2014).

Buenrostro, J. D., Giresi, P. G., Zaba, L. C., Chang, H. Y. & Greenleaf, W. J. Transposition of native chromatin for fast and sensitive epigenomic profiling of open chromatin, DNA-binding proteins and nucleosome position. Nat. Methods 10, 1213–1218 (2013).

Kim, D., Paggi, J. M., Park, C., Bennett, C. & Salzberg, S. L. Graph-based genome alignment and genotyping with HISAT2 and HISAT-genotype. Nat. Biotechnol. 37, 907–915 (2019).

Pertea, M., Kim, D., Pertea, G. M., Leek, J. T. & Salzberg, S. L. Transcript-level expression analysis of RNA-seq experiments with HISAT, StringTie and Ballgown. Nat. Protoc. 11, 1650–1667 (2016).

Karolchik, D. et al. The UCSC Table Browser data retrieval tool. Nucleic Acids Res. 32, D493–D496 (2004).

Anders, S., Pyl, P. T. & Huber, W. HTSeq—a Python framework to work with high-throughput sequencing data. Bioinformatics 31, 166–169 (2015).

Boratyn, G. M., Thierry-Mieg, J., Thierry-Mieg, D., Busby, B. & Madden, T. L. Magic-BLAST, an accurate RNA-seq aligner for long and short reads. BMC Bioinformatics 20, 405 (2019).

Love, M. I., Huber, W. & Anders, S. Moderated estimation of fold change and dispersion for RNA-seq data with DESeq2. Genome Biol. 15, 550 (2014).

Huang da, W., Sherman, B. T. & Lempicki, R. A. Systematic and integrative analysis of large gene lists using DAVID bioinformatics resources. Nat. Protoc. 4, 44–57 (2009).

Liao, Y., Smyth, G. K. & Shi, W. featureCounts: an efficient general purpose program for assigning sequence reads to genomic features. Bioinformatics 30, 923–930 (2014).

Langmead, B. & Salzberg, S. L. Fast gapped-read alignment with Bowtie 2. Nat. Methods 9, 357–359 (2012).

Ramirez, F. et al. deepTools2: a next generation web server for deep-sequencing data analysis. Nucleic Acids Res. 44, W160–W165 (2016).

Kuhn, R. M., Haussler, D. & Kent, W. J. The UCSC genome browser and associated tools. Brief. Bioinform. 14, 144–161 (2013).

Zhang, Y. et al. Model-based analysis of ChIP-Seq (MACS). Genome Biol. 9, R137 (2008).

Quinlan, A. R. & Hall, I. M. BEDTools: a flexible suite of utilities for comparing genomic features. Bioinformatics 26, 841–842 (2010).

Yu, G., Wang, L. G. & He, Q. Y. ChIPseeker: an R/Bioconductor package for ChIP peak annotation, comparison and visualization. Bioinformatics 31, 2382–2383 (2015).

Heinz, S. et al. Simple combinations of lineage-determining transcription factors prime cis-regulatory elements required for macrophage and B cell identities. Mol. Cell 38, 576–589 (2010).

Madeira, F. et al. The EMBL-EBI search and sequence analysis tools APIs in 2019. Nucleic Acids Res. 47, W636–W641 (2019).

Cao, D.-S., Xiao, N., Xu, Q.-S. & Chen, A. F. Rcpi: R/Bioconductor package to generate various descriptors of proteins, compounds and their interactions. Bioinformatics 31, 279–281 (2015).

Letunic, I. & Bork, P. 20 years of the SMART protein domain annotation resource. Nucleic Acids Res. 46, D493–D496 (2018).

The UniProt Consortium. UniProt: the universal protein knowledgebase. Nucleic Acids Res. 46, 2699 (2018).
Acknowledgements
We thank members of the Schultz and Xie laboratories for discussion and comments during the OBOX study and preparation of the manuscript, and the Animal Center and Biocomputing Facility at Tsinghua University for their support. We thank H. Wang for advice on embryo culture. This work was funded by the National Natural Science Foundation of China (grant 31988101 to W.X.), the National Key R&D Program of China (nos. 2021YFA1100102 and 2019YFA0508900 to W.X.), the National Natural Science Foundation of China (nos. 31830047 and 31725018 to W.X.) and the Tsinghua-Peking Center for Life Sciences (W.X.). This work was also supported in part by NIH grant HD022681 (R.M.S.) and the Intramural Research Program of the NIH, National Institutes of Environmental Health Sciences grant 1ZIAES102985 (C.J.W.). S.J. and F.C. are supported by postdoctoral fellowships from the Tsinghua-Peking Center for Life Sciences. W.X. is a recipient of an HHMI International Research Scholar award and is a New Cornerstone Investigator.
Ethics declarations
Competing interests
The authors declare no competing interests.
Peer review
Peer review information
Nature thanks Joshua Brickman, Abdenour Soufi and the other, anonymous, reviewer(s) for their contribution to the peer review of this work.
Additional information
Publisher's note Springer Nature remains neutral with regard to jurisdictional claims in published maps and institutional affiliations.
Extended data figures and tables
Supplementary information
A guide to Supplementary Tables 1–13 (tables supplied separately).
Supplementary Tables 1–13—see Supplementary guide for full descriptions.
Rights and permissions
Springer Nature or its licensor (e.g. a society or other partner) holds exclusive rights to this article under a publishing agreement with the author(s) or other rightsholder(s); author self-archiving of the accepted manuscript version of this article is solely governed by the terms of such publishing agreement and applicable law.
About this article
Cite this article
Ji, S., Chen, F., Stein, P. et al. OBOX regulates mouse zygotic genome activation and early development. Nature 620, 1047–1053 (2023). https://doi.org/10.1038/s41586-023-06428-3
Received:

Accepted:

Published:

Issue Date:

DOI: https://doi.org/10.1038/s41586-023-06428-3
This article is cited by
Fangnong Lai
Lijia Li
Wei Xie

Cell Research (2023)
Comments
By submitting a comment you agree to abide by our Terms and Community Guidelines. If you find something abusive or that does not comply with our terms or guidelines please flag it as inappropriate.