Abstract
Sympathetic activation during cold exposure increases adipocyte thermogenesis via the expression of mitochondrial protein uncoupling protein 1 (UCP1)1. The propensity of adipocytes to express UCP1 is under a critical influence of the adipose microenvironment and varies between sexes and among various fat depots2,3,4,5,6,7. Here we report that mammary gland ductal epithelial cells in the adipose niche regulate cold-induced adipocyte UCP1 expression in female mouse subcutaneous white adipose tissue (scWAT). Single-cell RNA sequencing shows that glandular luminal epithelium subtypes express transcripts that encode secretory factors controlling adipocyte UCP1 expression under cold conditions. We term these luminal epithelium secretory factors 'mammokines'. Using 3D visualization of whole-tissue immunofluorescence, we reveal sympathetic nerve–ductal contact points. We show that mammary ducts activated by sympathetic nerves limit adipocyte UCP1 expression via the mammokine lipocalin 2. In vivo and ex vivo ablation of mammary duct epithelium enhance the cold-induced adipocyte thermogenic gene programme in scWAT. Since the mammary duct network extends throughout most of the scWAT in female mice, females show markedly less scWAT UCP1 expression, fat oxidation, energy expenditure and subcutaneous fat mass loss compared with male mice, implicating sex-specific roles of mammokines in adipose thermogenesis. These results reveal a role of sympathetic nerve-activated glandular epithelium in adipocyte UCP1 expression and suggest that mammary duct luminal epithelium has an important role in controlling glandular adiposity.
Access options
Access Nature and 54 other Nature Portfolio journals
Get Nature+, our best-value online-access subscription
$29.99 / 30 days
cancel any time
Subscribe to this journal
Receive 51 print issues and online access
$199.00 per year
only $3.90 per issue
Rent or buy this article
Prices vary by article type
from$1.95
to$39.95
Prices may be subject to local taxes which are calculated during checkout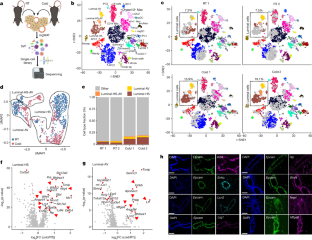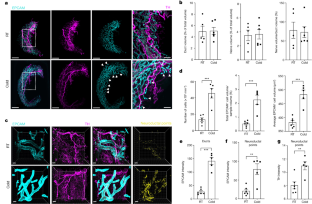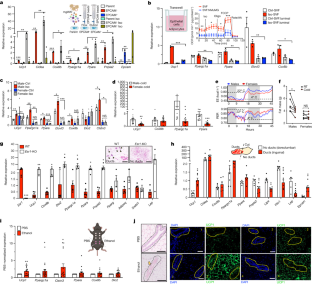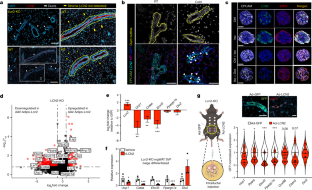 Data availability
Source data for all figures are provided with the paper. The scRNA-seq dataset (Fig. 1) generated for this paper has been uploaded to the Gene Expression Omnibus under accession number GSE231394. The bulk RNA-sequencing dataset (Fig. 4) generated for this paper has been uploaded to the GEO under accession number GSE121098 (GSM7287577–GSM7287584). Source data are provided with this paper.
References
Chi, J. et al. Three-dimensional adipose tissue imaging reveals regional variation in beige fat biogenesis and PRDM16-dependent sympathetic neurite density. Cell Metab. 27, 226–236.e3 (2018).

Zhang, F. et al. An adipose tissue atlas: an image-guided identification of human-like BAT and beige depots in rodents. Cell Metab. 27, 252–262.e3 (2018).

Rajbhandari, P. et al. IL-10 signaling remodels adipose chromatin architecture to limit thermogenesis and energy expenditure. Cell 172, 218–233.e17 (2018).

Knights, A. J., Wu, J. & Tseng, Y.-H. The heating microenvironment: intercellular cross talk within thermogenic adipose tissue. Diabetes 69, 1599 (2020).

Li, J. et al. Neurotensin is an anti-thermogenic peptide produced by lymphatic endothelial cells. Cell Metab. 33, 1449–1465.e6 (2021).

Hu, B. et al. γδ T cells and adipocyte IL-17RC control fat innervation and thermogenesis. Nature 578, 610–614 (2020).

Wang, Q. et al. IL-27 signalling promotes adipocyte thermogenesis and energy expenditure. Nature 600, 314–318 (2021).

Gjorevski, N. & Nelson, C. M. Integrated morphodynamic signalling of the mammary gland. Nat. Rev. Mol. Cell Biol. 12, 581–593 (2011).

McNally, S. & Martin, F. Molecular regulators of pubertal mammary gland development. Ann. Med. 43, 212–234 (2011).

Inman, J. L., Robertson, C., Mott, J. D. & Bissell, M. J. Mammary gland development: cell fate specification, stem cells and the microenvironment. Development 142, 1028–1042 (2015).

Wang, Q. A. & Scherer, P. E. Remodeling of murine mammary adipose tissue during pregnancy, lactation, and involution. J. Mammary Gland Biol. Neoplasia 24, 207–212 (2019).

Landskroner-Eiger, S., Park, J., Israel, D., Pollard, J. W. & Scherer, P. E. Morphogenesis of the developing mammary gland: stage-dependent impact of adipocytes. Dev. Biol. 344, 968–978 (2010).

Wang, Q. A. et al. Reversible de-differentiation of mature white adipocytes into preadipocyte-like precursors during lactation. Cell Metab. 28, 282–288.e3 (2018).

Bach, K. et al. Differentiation dynamics of mammary epithelial cells revealed by single-cell RNA sequencing. Nat. Commun. 8, 2128 (2017).

Li, C. M.-C. et al. Aging-associated alterations in mammary epithelia and stroma revealed by single-cell RNA sequencing. Cell Rep. 33, 108566 (2020).

Emont, M. P. et al. A single-cell atlas of human and mouse white adipose tissue. Nature 603, 926–933 (2022).

The Tabula Muris Consortium. Single-cell transcriptomics of 20 mouse organs creates a Tabula Muris. Nature 562, 367–372 (2018).

The Tabula Muris Consortium. A single-cell transcriptomic atlas characterizes ageing tissues in the mouse. Nature 583, 590–595 (2020).

Aryal, B. et al. Absence of ANGPTL4 in adipose tissue improves glucose tolerance and attenuates atherogenesis. JCI Insight 3, e97918 (2018).

Arner, E. et al. Ceruloplasmin is a novel adipokine which is overexpressed in adipose tissue of obese subjects and in obesity-associated cancer cells. PLoS ONE 9, e80274 (2014).

Chella Krishnan, K. et al. Sex-specific metabolic functions of adipose lipocalin-2. Mol. Metab. 30, 30–47 (2019).

Sun, W. Y. et al. Lipocalin-2 derived from adipose tissue mediates aldosterone-induced renal injury. JCI Insight 3, e120196 (2018).

Deis, J. A. et al. Adipose lipocalin 2 overexpression protects against age-related decline in thermogenic function of adipose tissue and metabolic deterioration. Mol. Metab. 24, 18–29 (2019).

Ishii, A. et al. Obesity-promoting and anti-thermogenic effects of neutrophil gelatinase-associated lipocalin in mice. Sci. Rep. 7, 15501 (2017).

Wang, G. X. et al. The brown fat-enriched secreted factor Nrg4 preserves metabolic homeostasis through attenuation of hepatic lipogenesis. Nat. Med. 20, 1436–1443 (2014).

Maffei, M., Barone, I., Scabia, G. & Santini, F. The multifaceted haptoglobin in the context of adipose tissue and metabolism. Endocr. Rev. 37, 403–416 (2016).

Kumar, K. G. et al. Identification of adropin as a secreted factor linking dietary macronutrient intake with energy homeostasis and lipid metabolism. Cell Metab. 8, 468–481 (2008).

Choi, C. H. J. et al. LRG1 is an adipokine that promotes insulin sensitivity and suppresses inflammation. eLife 11, e81559 (2022).

MacCannell, A., Futers, S., Moran, A., Whitehead, A. & Roberts, L. Lrg1 is a driver of brown adipose tissue dysfunction in obesity. FASEB J. https://doi.org/10.1096/fasebj.2021.35.S1.00285 (2021).

Rajbhandari, P. et al. Single cell analysis reveals immune cell-adipocyte crosstalk regulating the transcription of thermogenic adipocytes. eLife 8, e49501 (2019).

Gargiulo, L. et al. A novel effect of β-adrenergic receptor on mammary branching morphogenesis and its possible implications in breast cancer. J. Mammary Gland Biol. Neoplasia 22, 43–57 (2017).

Marchetti, B. et al. β-adrenergic receptors in the rat mammary gland during pregnancy and lactation: characterization, distribution, and coupling to adenylate cyclase. Endocrinology 126, 565–574 (1990).

Nedvetsky, P. I., Kwon, S. H., Debnath, J. & Mostov, K. E. Cyclic AMP regulates formation of mammary epithelial acini in vitro. Mol. Biol. Cell 23, 2973–2981 (2012).

Cao, Q., Jing, J., Cui, X., Shi, H. & Xue, B. Sympathetic nerve innervation is required for beigeing in white fat. Physiol. Rep. 7, e14031 (2019).

Jiang, H., Ding, X., Cao, Y., Wang, H. & Zeng, W. Dense intra-adipose sympathetic arborizations are essential for cold-induced beiging of mouse white adipose tissue. Cell Metab. 26, 686–692.e3 (2017).

Walker, M. R. et al. Alveolar progenitor cells in the mammary gland are dependent on the β4 integrin. Dev. Biol. 457, 13–19 (2020).

Feng, Y., Manka, D. R., Wagner, K.-U. & Khan, S. A. Estrogen receptor-α expression in the mammary epithelium is required for ductal and alveolar morphogenesis in mice. Proc. Natl Acad. Sci. USA 104, 14718–14723 (2007).

Lawson, D. A., Werb, Z., Zong, Y. & Goldstein, A. S. The cleared mammary fat pad transplantation assay for mammary epithelial organogenesis. Cold Spring Harb. Protoc. 2015, pdb.prot078071 (2015).

Dompmartin, A. et al. Radio-opaque ethylcellulose-ethanol is a safe and efficient sclerosing agent for venous malformations. Eur. Radiol. 21, 2647–2656 (2011).

Zhang, W. Y., Li, Z. S. & Jin, Z. D. Endoscopic ultrasound-guided ethanol ablation therapy for tumors. World J. Gastroenterol. 19, 3397–3403 (2013).

Kuang, M. et al. Ethanol ablation of hepatocellular carcinoma up to 5.0 cm by using a multipronged injection needle with high-dose strategy. Radiology 253, 552–561 (2009).

Kenyon, E. et al. Ductal tree ablation by local delivery of ethanol prevents tumor formation in an aggressive mouse model of breast cancer. Breast Cancer Res. 21, 129 (2019).

Horton, C., Liu, Y., Yu, C., Xie, Q. & Wang, Z. A. Luminal-contact-inhibition of epithelial basal stem cell multipotency in prostate organogenesis and homeostasis. Biol. Open 8, bio045724 (2019).

Parks, B. W. et al. Genetic control of obesity and gut microbiota composition in response to high-fat, high-sucrose diet in mice. Cell Metab. 17, 141–152 (2013).

Aibar, S. et al. SCENIC: single-cell regulatory network inference and clustering. Nat. Methods 14, 1083–1086 (2017).

Oakes, S. R. et al. The Ets transcription factor Elf5 specifies mammary alveolar cell fate. Genes Dev. 22, 581–586 (2008).

Centonze, A. et al. Heterotypic cell–cell communication regulates glandular stem cell multipotency. Nature 584, 608–613 (2020).

Bauters, D., Van Hul, M. & Lijnen, H. R. Macrophage elastase (MMP-12) in expanding murine adipose tissue. Biochim. Biophys. Acta 1830, 2954–2959 (2013).

Lee, J. T. et al. Macrophage metalloelastase (MMP12) regulates adipose tissue expansion, insulin sensitivity, and expression of inducible nitric oxide synthase. Endocrinology 155, 3409–3420 (2014).

Shao, M. et al. Zfp423 maintains white adipocyte identity through suppression of the beige cell thermogenic gene program. Cell Metab. 23, 1167–1184 (2016).

Gavalda-Navarro, A. et al. Lipopolysaccharide-binding protein is a negative regulator of adipose tissue browning in mice and humans. Diabetologia 59, 2208–2218 (2016).

Sun, W. et al. snRNA-seq reveals a subpopulation of adipocytes that regulates thermogenesis. Nature 587, 98–102 (2020).

Kiefer, F. W. et al. Retinaldehyde dehydrogenase 1 regulates a thermogenic program in white adipose tissue. Nat. Med. 18, 918–925 (2012).

Mina, A. I. et al. CalR: a web-based analysis tool for indirect calorimetry experiments. Cell Metab. 28, 656–666.e1 (2018).

Dobin, A. et al. STAR: ultrafast universal RNA-seq aligner. Bioinformatics 29, 15–21 (2013).

Kim, D., Langmead, B. & Salzberg, S. L. HISAT: a fast spliced aligner with low memory requirements. Nat. Methods 12, 357–360 (2015).

Love, M. I., Anders, S., Kim, V. & Huber, W. RNA-seq workflow: gene-level exploratory analysis and differential expression. F1000Res 4, 1070 (2015).

Hafemeister, C. & Satija, R. Normalization and variance stabilization of single-cell RNA-seq data using regularized negative binomial regression. Genome Biol. 20, 296 (2019).

Butler, A., Hoffman, P., Smibert, P., Papalexi, E. & Satija, R. Integrating single-cell transcriptomic data across different conditions, technologies, and species. Nat. Biotechnol. 36, 411–420 (2018).

Stuart, T. et al. Comprehensive integration of single-cell data. Cell 177, 1888–1902.e21 (2019).

McInnes, L., Healy, J. & Melville, J. UMAP: uniform manifold approximation and projection for dimension reduction. Preprint at https://arxiv.org/abs/1802.03426 (2018).

van der Maaten, L. & Hinton, G. Visualizing data using t-SNE. J. Mach. Learn. Res. 9, 2579–2605 (2008).

Blondel, V. D., Guillaume, J.-L., Lambiotte, R. & Lefebvre, E. Fast unfolding of communities in large networks. J. Stat. Mech. 2008, P10008 (2008).

Van de Sande, B. et al. A scalable SCENIC workflow for single-cell gene regulatory network analysis. Nat. Protoc. 15, 2247–2276 (2020).

Moerman, T. et al. GRNBoost2 and Arboreto: efficient and scalable inference of gene regulatory networks. Bioinformatics 35, 2159–2161 (2019).

Alvarsson, A. et al. Optical clearing and 3D analysis optimized for mouse and human pancreata. Bio Protoc. 11, e4103 (2021).

Jardé, T. et al. Wnt and neuregulin1/ErbB signalling extends 3D culture of hormone responsive mammary organoids. Nat. Commun. 7, 13207 (2016).
Acknowledgements
The authors thank former P.R. laboratory members S. Sadeh and S. Hart for technical assistance with metabolic chambers and RNAscope; P. Cohen and C. H. J. Choi at The Rockefeller University for the Lrg1-KO mice. LSFM and confocal microscopy were performed at the Microscopy and Advances Bioimaging Core at ISMMS. A.A. is supported by senior postdoctoral fellowship from the Charles H. Revson Foundation (grant no. 18-25), a fellowship from Sweden–America Foundation (Ernst O. Eks fond), and a postdoctoral scholarship from the Swedish Society for Medical Research (SSMF). S.A.S. is supported by American Diabetes Association Pathway to Stop Diabetes Grant ADA no. 1-17-ACE-31, NIH (R01NS097184, OT2OD024912 and R01DK124461) and Department of Defense (W81XWH-20-1-0345, W81XWH-20-1-0156). L.G. is supported by R00HL150234. A.J.L. is supported by NIH U01 AG070959 and U54 DK120342. X.Y. is supported by NIH R01 DK117850. P.R. is supported by R00DK114571, NIDDK-supported Einstein-Sinai Diabetes Research Center (DRC) Pilot and Feasibility Award, and Diabetes Action Research and Education Foundation (DREF) grant no. 501 (PR). P.W. is a member of the Human Islet and Adenovirus Core of the Einstein-Sinai Diabetes Research Center (ES-DRC) supported by NIHP30DK020541. The funders had no role in study design, data collection and interpretation, or the decision to submit the work for publication.
Ethics declarations
Competing interests
The authors declare no competing interests.
Peer review
Peer review information
Nature thanks the anonymous reviewer(s) for their contribution to the peer review of this work.
Additional information
Publisher's note Springer Nature remains neutral with regard to jurisdictional claims in published maps and institutional affiliations.
Extended data figures and tables
Supplementary information
Rights and permissions
Springer Nature or its licensor (e.g. a society or other partner) holds exclusive rights to this article under a publishing agreement with the author(s) or other rightsholder(s); author self-archiving of the accepted manuscript version of this article is solely governed by the terms of such publishing agreement and applicable law.
About this article
Cite this article
Patel, S., Sparman, N.Z.R., Arneson, D. et al. Mammary duct luminal epithelium controls adipocyte thermogenic programme. Nature 620, 192–199 (2023). https://doi.org/10.1038/s41586-023-06361-5
Received:

Accepted:

Published:

Issue Date:

DOI: https://doi.org/10.1038/s41586-023-06361-5
This article is cited by
Nature Reviews Endocrinology (2023)
Comments
By submitting a comment you agree to abide by our Terms and Community Guidelines. If you find something abusive or that does not comply with our terms or guidelines please flag it as inappropriate.