Abstract
Loss of the Y chromosome (LOY) is observed in multiple cancer types, including 10–40% of bladder cancers1,2,3,4,5,6, but its clinical and biological significance is unknown. Here, using genomic and transcriptomic studies, we report that LOY correlates with poor prognoses in patients with bladder cancer. We performed in-depth studies of naturally occurring LOY mutant bladder cancer cells as well as those with targeted deletion of Y chromosome by CRISPR–Cas9. Y-positive (Y+) and Y-negative (Y–) tumours grew similarly in vitro, whereas Y− tumours were more aggressive than Y+ tumours in immune-competent hosts in a T cell-dependent manner. High-dimensional flow cytometric analyses demonstrated that Y− tumours promote striking dysfunction or exhaustion of CD8+ T cells in the tumour microenvironment. These findings were validated using single-nuclei RNA sequencing and spatial proteomic evaluation of human bladder cancers. Of note, compared with Y+ tumours, Y− tumours exhibited an increased response to anti-PD-1 immune checkpoint blockade therapy in both mice and patients with cancer. Together, these results demonstrate that cancer cells with LOY mutations alter T cell function, promoting T cell exhaustion and sensitizing them to PD-1-targeted immunotherapy. This work provides insights into the basic biology of LOY mutation and potential biomarkers for improving cancer immunotherapy.
Relevant articles
Open Access articles citing this article.
Bhavisha Doshi

,

Sarah R. Athans

&

Anna Woloszynska

Oncogenesis Open Access 04 September 2023

My Anh Truong

,

Paula Cané-Gasull

&

Susanne M. A. Lens

Chromosome Research Open Access 29 August 2023

Francesco Del Giudice

,

Federico Belladelli

…

Michael L. Eisenberg

World Journal of Urology Open Access 07 August 2023
Access options
Access Nature and 54 other Nature Portfolio journals
Get Nature+, our best-value online-access subscription
$29.99 / 30 days
cancel any time
Subscribe to this journal
Receive 51 print issues and online access
$199.00 per year
only $3.90 per issue
Rent or buy this article
Prices vary by article type
from$1.95
to$39.95
Prices may be subject to local taxes which are calculated during checkout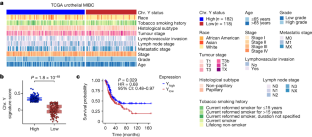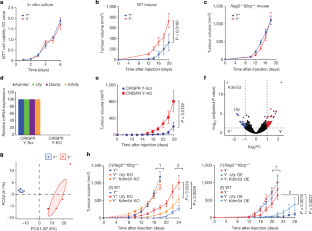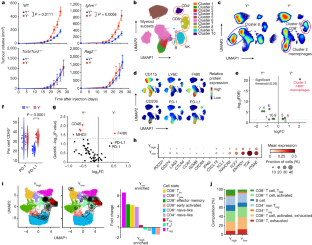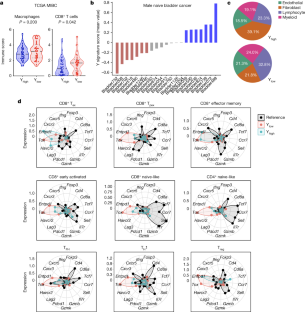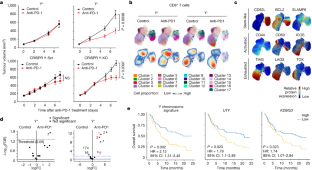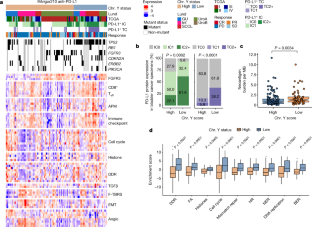 Data availability
The data supporting the findings of this study are available within the article, extended data and supplementary information files. RNA-seq and WES data are available at the Gene Expression Omnibus with accession reference GSE229233 and GSE230820. Source data are provided with this paper.
References
Caceres, A., Jene, A., Esko, T., Perez-Jurado, L. A. & Gonzalez, J. R. Extreme downregulation of chromosome Y and cancer risk in men. J. Natl Cancer Inst. 112, 913–920 (2020).

Kido, T. & Lau, Y. F. Roles of the Y chromosome genes in human cancers. Asian J. Androl. 17, 373–380 (2015).

Brown, D. W. & Machiela, M. J. Why Y? Downregulation of chromosome Y genes potentially contributes to elevated cancer risk. J. Natl Cancer Inst. 112, 871–872 (2020).

Panani, A. D. & Roussos, C. Sex chromosome abnormalities in bladder cancer: Y polysomies are linked to PT1-grade III transitional cell carcinoma. Anticancer Res. 26, 319–323 (2006).

Sauter, G. et al. Y chromosome loss detected by FISH in bladder cancer. Cancer Genet. Cytogenet. 82, 163–169 (1995).

Powell, I., Tyrkus, M. & Kleer, E. Apparent correlation of sex chromosome loss and disease course in urothelial cancer. Cancer Genet. Cytogenet. 50, 97–101 (1990).

Maan, A. A. et al. The Y chromosome: a blueprint for men's health? Eur. J. Hum. Genet. 25, 1181–1188 (2017).

Adikusuma, F., Williams, N., Grutzner, F., Hughes, J. & Thomas, P. Targeted deletion of an entire chromosome using CRISPR/Cas9. Mol. Ther. 25, 1736–1738 (2017).

Sano, S. et al. Hematopoietic loss of Y chromosome leads to cardiac fibrosis and heart failure mortality. Science 377, 292–297 (2022).

Forsberg, L. A. et al. Mosaic loss of chromosome Y in peripheral blood is associated with shorter survival and higher risk of cancer. Nat. Genet. 46, 624–628 (2014).

Fadl-Elmula, I. et al. Karyotypic characterization of urinary bladder transitional cell carcinomas. Genes Chromosomes Cancer 29, 256–265 (2000).

Sauter, G., Moch, H., Mihatsch, M. J. & Gasser, T. C. Molecular cytogenetics of bladder cancer progression. Eur. Urol. 33, 9–10 (1998).

Smeets, W., Pauwels, R., Laarakkers, L., Debruyne, F. & Geraedts, J. Chromosomal analysis of bladder cancer. III. Nonrandom alterations. Cancer Genet. Cytogenet. 29, 29–41 (1987).

Sauter, G. et al. DNA aberrations in urinary bladder cancer detected by flow cytometry and FISH. Urol. Res. 25, S37–S43 (1997).

Neuhaus, M. et al. Polysomies but not Y chromosome losses have prognostic significance in pTa/pT1 urinary bladder cancer. Hum. Pathol. 30, 81–86 (1999).

Siegel, R. L., Miller, K. D., Fuchs, H. E. & Jemal, A. Cancer statistics, 2021. CA Cancer J. Clin. 71, 7–33 (2021).

Johansson, S. L. & Cohen, S. M. Epidemiology and etiology of bladder cancer. Semin. Surg. Oncol. 13, 291–298 (1997).

Dumanski, J. P. et al. Smoking is associated with mosaic loss of chromosome Y. Science 347, 81–83 (2015).

Tabayoyong, W. & Gao, J. The emerging role of immunotherapy in advanced urothelial cancers. Curr. Opin. Oncol. 30, 172–180 (2018).

Rouanne, M. et al. Development of immunotherapy in bladder cancer: present and future on targeting PD(L)1 and CTLA-4 pathways. World J. Urol. 36, 1727–1740 (2018).

Prokop, J. W. & Deschepper, C. F. Chromosome Y genetic variants: impact in animal models and on human disease. Physiol. Genomics 47, 525–537 (2015).

Robertson, A. G. et al. Comprehensive molecular characterization of muscle-invasive bladder cancer. Cell 171, 540–556.e525 (2017).

Lindskrog, S. V. et al. An integrated multi-omics analysis identifies prognostic molecular subtypes of non-muscle-invasive bladder cancer. Nat. Commun. 12, 2301 (2021).

Gonzalez, J. R. et al. MADloy: robust detection of mosaic loss of chromosome Y from genotype-array-intensity data. BMC Bioinformatics 21, 533 (2020).

Summerhayes, I. C. & Franks, L. M. Effects of donor age on neoplastic transformation of adult mouse bladder epithelium in vitro. J. Natl Cancer Inst. 62, 1017–1023 (1979).

Chan, E., Patel, A., Heston, W. & Larchian, W. Mouse orthotopic models for bladder cancer research. BJU Int. 104, 1286–1291 (2009).

White-Gilbertson, S., Davis, M., Voelkel-Johnson, C. & Kasman, L. M. Sex differences in the MB49 syngeneic, murine model of bladder cancer. Bladder 3, e22 (2016).

Tu, M. M. et al. Targeting DDR2 enhances tumor response to anti-PD-1 immunotherapy. Sci. Adv. 5, eaav2437 (2019).

Sugiura, K. & Stock, C. C. The effect of 2,4,6-triethylenimino-s-triazine on the growth of a variety of mouse and rat tumors. Cancer 5, 979–991 (1952).

Gouin, K. H. 3rd et al. An N-cadherin 2 expressing epithelial cell subpopulation predicts response to surgery, chemotherapy and immunotherapy in bladder cancer. Nat. Commun. 12, 4906 (2021).

Becht, E. et al. Dimensionality reduction for visualizing single-cell data using UMAP. Nat. Biotechnol. 37, 38–44 (2019).

Hashimoto, M. et al. CD8 T cell exhaustion in chronic infection and cancer: opportunities for interventions. Annu. Rev. Med. 69, 301–318 (2018).

Kwon, H. et al. Androgen conspires with the CD8+ T cell exhaustion program and contributes to sex bias in cancer. Sci. Immunol. 7, eabq2630 (2022).

Mariathasan, S. et al. TGFβ attenuates tumour response to PD-L1 blockade by contributing to exclusion of T cells. Nature 554, 544–548 (2018).

Zhang, Q. et al. Mosaic loss of chromosome Y promotes leukemogenesis and clonal hematopoiesis. JCI Insight 7, e153768 (2022).

Minner, S. et al. Y chromosome loss is a frequent early event in urothelial bladder cancer. Pathology 42, 356–359 (2010).

Fabris, V. T. et al. Cytogenetic characterization of the murine bladder cancer model MB49 and the derived invasive line MB49-I. Cancer Genet. 205, 168–176 (2012).

Ler, L. D. et al. Loss of tumor suppressor KDM6A amplifies PRC2-regulated transcriptional repression in bladder cancer and can be targeted through inhibition of EZH2. Sci. Transl. Med. 9, eaai8312 (2017).

Walport, L. J. et al. Human UTY(KDM6C) is a male-specific N-methyl lysyl demethylase. J. Biol. Chem. 289, 18302–18313 (2014).

Li, N. et al. JARID1D is a suppressor and prognostic marker of prostate cancer invasion and metastasis. Cancer Res. 76, 831–843 (2016).

Seo, H. et al. TOX and TOX2 transcription factors cooperate with NR4A transcription factors to impose CD8+ T cell exhaustion. Proc. Natl Acad. Sci. USA 116, 12410–12415 (2019).

Khan, O. et al. TOX transcriptionally and epigenetically programs CD8+ T cell exhaustion. Nature 571, 211–218 (2019).

Thompson, D. J. et al. Genetic predisposition to mosaic Y chromosome loss in blood. Nature 575, 652–657 (2019).

Lattime, E. C., Gomella, L. G. & McCue, P. A. Murine bladder carcinoma cells present antigen to BCG-specific CD4+ T-cells. Cancer Res. 52, 4286–4290 (1992).

Tu, M. M. et al. Inhibition of the CCL2 receptor, CCR2, enhances tumor response to immune checkpoint therapy. Commun. Biol. 3, 720 (2020).

Song, N. J. et al. Treatment with soluble CD24 attenuates COVID-19-associated systemic immunopathology. J. Hematol. Oncol. 15, 5 (2022).

Richmond, C. S. et al. Glycogen debranching enzyme (AGL) is a novel regulator of non-small cell lung cancer growth. Oncotarget 9, 16718–16730 (2018).

Martin, M. Cutadapt removes adapter sequences from high-throughput sequencing reads. EMBnet J. 17, 10–12 (2011).

Dobin, A. et al. STAR: ultrafast universal RNA-seq aligner. Bioinformatics 29, 15–21 (2013).

Li, B. & Dewey, C. N. RSEM: accurate transcript quantification from RNA-Seq data with or without a reference genome. BMC Bioinformatics 12, 323 (2011).

Ewels, P., Magnusson, M., Lundin, S. & Kaller, M. MultiQC: summarize analysis results for multiple tools and samples in a single report. Bioinformatics 32, 3047–3048 (2016).

Love, M. I., Huber, W. & Anders, S. Moderated estimation of fold change and dispersion for RNA-seq data with DESeq2. Genome Biol. 15, 550 (2014).

DePristo, M. A. et al. A framework for variation discovery and genotyping using next-generation DNA sequencing data. Nat. Genet. 43, 491–498 (2011).

Hernandez, S. et al. Challenges and opportunities for immunoprofiling using a spatial high-plex technology: the NanoString GeoMx((R)) digital spatial profiler. Front. Oncol. 12, 890410 (2022).

Hänzelmann, S., Castelo, R. & Guinney, J. GSVA: gene set variation analysis for microarray and RNA-seq data. BMC Bioinformatics 14, 7 (2013).

Wolf, F. A., Angerer, P. & Theis, F. J. SCANPY: large-scale single-cell gene expression data analysis. Genome Biol. 19, 15 (2018).

Rosenberg, J. E. et al. Atezolizumab in patients with locally advanced and metastatic urothelial carcinoma who have progressed following treatment with platinum-based chemotherapy: a single-arm, multicentre, phase 2 trial. Lancet 387, 1909–1920 (2016).

Hedegaard, J. et al. Comprehensive transcriptional analysis of early-stage urothelial carcinoma. Cancer Cell 30, 27–42 (2016).

Becht, E. et al. Estimating the population abundance of tissue-infiltrating immune and stromal cell populations using gene expression. Genome Biol. 17, 218 (2016).

Andreatta, M. et al. Interpretation of T cell states from single-cell transcriptomics data using reference atlases. Nat. Commun. 12, 2965 (2021).

Bassez, A. et al. A single-cell map of intratumoral changes during anti-PD1 treatment of patients with breast cancer. Nat. Med. 27, 820–832 (2021).

Daud, A. I. et al. Tumor immune profiling predicts response to anti-PD-1 therapy in human melanoma. J. Clin. Invest. 126, 3447–3452 (2016).

Gros, A. et al. PD-1 identifies the patient-specific CD8+ tumor-reactive repertoire infiltrating human tumors. J. Clin. Invest. 124, 2246–2259 (2014).

Miller, B. C. et al. Subsets of exhausted CD8+ T cells differentially mediate tumor control and respond to checkpoint blockade. Nat. Immunol. 20, 326–336 (2019).

Siddiqui, I. et al. Intratumoral Tcf1+PD-1+CD8+ T cells with stem-like properties promote tumor control in response to vaccination and checkpoint blockade immunotherapy. Immunity 50, 195–211.e110 (2019).

Thommen, D. S. et al. A transcriptionally and functionally distinct PD-1+CD8+ T cell pool with predictive potential in non-small-cell lung cancer treated with PD-1 blockade. Nat. Med. 24, 994–1004 (2018).

Kumagai, S. et al. The PD-1 expression balance between effector and regulatory T cells predicts the clinical efficacy of PD-1 blockade therapies. Nat. Immunol. 21, 1346–1358 (2020).

Nielsen, M. & Andreatta, M. NetMHCpan-3.0; improved prediction of binding to MHC class I molecules integrating information from multiple receptor and peptide length datasets. Genome Med. 8, 33 (2016).
Acknowledgements
This work was supported in part by NIH P01CA278732 and R01CA143971 to D.T. and NIH R01CA262069, R01CA262388 and R01AI077283 to Z.L. J.M.S. and T.D.G. were supported by the Ohio State University Comprehensive Cancer Center's Tumor Immunology T32 (2T32CA09223-16A1) post-doctoral fellowship award. We thank K. Walsh for providing the LOY gRNA plasmids, and N.-J. Song and B. Riesenberg for development of the 'all immune phenotyping' flow antibody panel. We acknowledge resources from the Immune Monitoring and Discovery Platform and the Pelotonia Institute for Immuno-Oncology at OSU Comprehensive Cancer Center (P30CA016058).
Ethics declarations
Competing interests
Z.L. reports personal consultation fees from Alphamab, HanchorBio, Henlius, Heat Biologic and Ikonisys outside the submitted work. All other authors declare no competing interests.
Peer review
Peer review information
Nature thanks Mitchell Machiela, Soichi Sano and the other, anonymous, reviewer(s) for their contribution to the peer review of this work.
Additional information
Publisher's note Springer Nature remains neutral with regard to jurisdictional claims in published maps and institutional affiliations.
Extended data figures and tables
Supplementary information
Rights and permissions
Springer Nature or its licensor (e.g. a society or other partner) holds exclusive rights to this article under a publishing agreement with the author(s) or other rightsholder(s); author self-archiving of the accepted manuscript version of this article is solely governed by the terms of such publishing agreement and applicable law.
About this article
Cite this article
Abdel-Hafiz, H.A., Schafer, J.M., Chen, X. et al. Y chromosome loss in cancer drives growth by evasion of adaptive immunity. Nature 619, 624–631 (2023). https://doi.org/10.1038/s41586-023-06234-x
Received:

Accepted:

Published:

Issue Date:

DOI: https://doi.org/10.1038/s41586-023-06234-x
Comments
By submitting a comment you agree to abide by our Terms and Community Guidelines. If you find something abusive or that does not comply with our terms or guidelines please flag it as inappropriate.