Abstract
Although organic–inorganic hybrid materials have played indispensable roles as mechanical1,2,3,4, optical5,6, electronic7,8 and biomedical materials9,10,11, isolated organic–inorganic hybrid molecules (at present limited to covalent compounds12,13) are seldom used to prepare hybrid materials, owing to the distinct behaviours of organic covalent bonds14 and inorganic ionic bonds15 in molecular construction. Here we integrate typical covalent and ionic bonds within one molecule to create an organic–inorganic hybrid molecule, which can be used for bottom-up syntheses of hybrid materials. A combination of the organic covalent thioctic acid (TA) and the inorganic ionic calcium carbonate oligomer (CCO) through an acid–base reaction provides a TA–CCO hybrid molecule with the representative molecular formula TA2Ca(CaCO3)2. Its dual reactivity involving copolymerization of the organic TA segment and inorganic CCO segment generates the respective covalent and ionic networks. The two networks are interconnected through TA–CCO complexes to form a covalent–ionic bicontinuous structure within the resulting hybrid material, poly(TA–CCO), which unifies paradoxical mechanical properties. The reversible binding of Ca2+–CO32− bonds in the ionic network and S–S bonds in the covalent network ensures material reprocessability with plastic-like mouldability while preserving thermal stability. The coexistence of ceramic-like, rubber-like and plastic-like behaviours within poly(TA–CCO) goes beyond current classifications of materials to generate an 'elastic ceramic plastic'. The bottom-up creation of organic–inorganic hybrid molecules provides a feasible pathway for the molecular engineering of hybrid materials, thereby supplementing the classical methodology used for the manufacture of organic–inorganic hybrid materials.
Access options
Access Nature and 54 other Nature Portfolio journals
Get Nature+, our best-value online-access subscription
$29.99 / 30 days
cancel any time
Subscribe to this journal
Receive 51 print issues and online access
$199.00 per year
only $3.90 per issue
Rent or buy this article
Prices vary by article type
from$1.95
to$39.95
Prices may be subject to local taxes which are calculated during checkout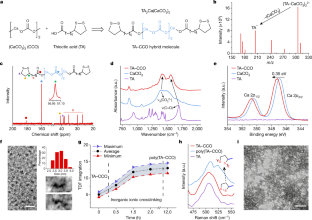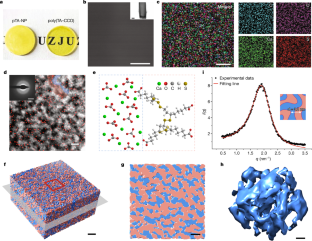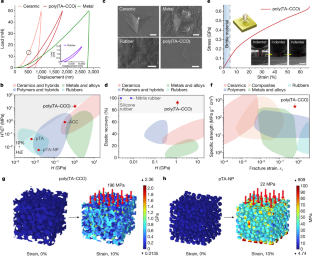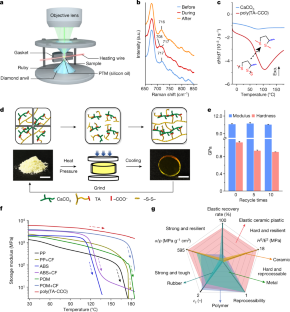 Data availability
All the relevant data are available from the corresponding authors on reasonable request. Source data are provided with this paper.
References
Kinloch, I. A., Suhr, J., Lou, J., Young, R. J. & Ajayan, P. M. Composites with carbon nanotubes and graphene: an outlook. Science 362, 547–553 (2018).

Zou, H., Wu, S. & Shen, J. Polymer/silica nanocomposites: preparation, characterization, properties, and applications. Chem. Rev. 108, 3893–3957 (2008).

Picker, A. et al. Mesocrystalline calcium silicate hydrate: a bioinspired route toward elastic concrete materials. Sci. Adv. 3, e1701216 (2017).

Li, C. et al. Fiber-based biopolymer processing as a route toward sustainability. Adv. Mater. 34, e2105196 (2022).

Pansare, A. V. et al. In situ nanoparticle embedding for authentication of epoxy composites. Adv. Mater. 30, e1801523 (2018).

Xu, W. J. et al. Molecular dynamics of flexible polar cations in a variable confined space: toward exceptional two-step nonlinear optical switches. Adv. Mater. 28, 5886–5890 (2016).

Huang, X., Qi, X., Boey, F. & Zhang, H. Graphene-based composites. Chem. Soc. Rev. 41, 666–686 (2012).

Vijayakanth, T., Liptrot, D. J., Gazit, E., Boomishanka, R. & Bowen, C. R. Recent advances in organic and organic–inorganic hybrid materials for piezoelectric mechanical energy harvesting. Adv. Funct. Mater. 32, 2109492 (2022).

Park, W. et al. Advanced hybrid nanomaterials for biomedical applications. Prog. Mater. Sci. 114, 100686 (2020).

Kim, Y. C. et al. Printable organometallic perovskite enables large-area, low-dose X-ray imaging. Nature 550, 87–91 (2017).

Kumar, S. et al. Recent advances and remaining challenges for polymeric nanocomposites in healthcare applications. Prog. Polym. Sci. 80, 1–38 (2018).

Sanchez, C., Belleville, P., Popall, M. & Nicole, L. Applications of advanced hybrid organic–inorganic nanomaterials: from laboratory to market. Chem. Soc. Rev. 40, 696–753 (2011).

Spange, S. & Grund, S. Nanostructured organic–inorganic composite materials by twin polymerization of hybrid monomers. Adv. Mater. 21, 2111–2116 (2009).

Lewis, G. N. The atom and the molecule. J. Am. Chem. Soc. 38, 762–785 (2002).

Kossel, W. Über molekülbildung als frage des atombaus. Ann. Phys. 354, 229–362 (1916).

Sanchez, C., Shea, K. J. & Kitagawa, S. Recent progress in hybrid materials science. Chem. Soc. Rev. 40, 471–472 (2011).

Thanh, N. T., Maclean, N. & Mahiddine, S. Mechanisms of nucleation and growth of nanoparticles in solution. Chem. Rev. 114, 7610–7630 (2014).

De Yoreo, J. J. & Vekilov, P. G. Principles of crystal nucleation and growth. Rev. Mineral. Geochem. 54, 57–93 (2003).

Nielsen, M. H., Aloni, S. & De Yoreo, J. J. In situ TEM imaging of CaCO3 nucleation reveals coexistence of direct and indirect pathways. Science 345, 1158–1162 (2014).

Markovic, G. & Visakh, P. M. Recent Developments in Polymer Macro, Micro and Nano Blends (Woodhead Publishing, 2017).

Laine, R. M., Choi, J. & Lee, I. Organic–inorganic nanocomposites with completely defined interfacial interactions. Adv. Mater. 13, 800–803 (2001).

Sun, S. T., Mao, L. B., Lei, Z. Y., Yu, S. H. & Cölfen, H. Hydrogels from amorphous calcium carbonate and polyacrylic acid: bio-inspired materials for "mineral plastics". Angew. Chem. Int. Ed. 55, 11765–11769 (2016).

Liu, Z. et al. Crosslinking ionic oligomers as conformable precursors to calcium carbonate. Nature 574, 394–398 (2019).

Thomas, R. C. & Reed, L. J. Disulfide polymers of DL-α-lipoic acid. J. Am. Chem. Soc. 78, 6148–6149 (2002).

Michel, F. M. et al. Structural characteristics of synthetic amorphous calcium carbonate. Chem. Mater. 20, 4720–4728 (2008).

Dang, C. et al. Transparent, highly stretchable, rehealable, sensing, and fully recyclable ionic conductors fabricated by one‐step polymerization based on a small biological molecule. Adv. Funct. Mater. 29, 1902467 (2019).

Zhang, Q. et al. Exploring a naturally tailored small molecule for stretchable, self-healing, and adhesive supramolecular polymers. Sci. Adv. 4, eaat8192 (2018).

Calvo-Correas, T. et al. Advanced and traditional processing of thermoplastic polyurethane waste. Polym. Degrad. Stab. 198, 109880 (2022).

Inazu, M. et al. Dynamic hetero-metallic bondings visualized by sequential atom imaging. Nat. Commun. 13, 2968 (2022).

Teubner, M. & Strey, R. Origin of the scattering peak in microemulsions. J. Chem. Phys. 87, 3195–3200 (1987).

Mihailescu, M. et al. Dynamics of bicontinuous microemulsion phases with and without amphiphilic block-copolymers. J. Chem. Phys. 115, 9563–9577 (2001).

Bates, F. S. et al. Polymeric bicontinuous microemulsions. Phys. Rev. Lett. 79, 849–852 (1997).

Seo, M. & Hillmyer, M. A. Reticulated nanoporous polymers by controlled polymerization-induced microphase separation. Science 336, 1422–1425 (2012).

Yamamoto, K., Ito, E., Fukaya, S. & Takagi, H. Phase-separated conetwork structure induced by radical copolymerization of poly(dimethylsiloxane)-α,ω-diacrylate and N,N-dimethylacrylamide. Macromolecules 42, 9561–9567 (2009).

Zok, F. W. & Miserez, A. Property maps for abrasion resistance of materials. Acta Mater. 55, 6365–6371 (2007).

Field, J. S., Swain, M. V. & Dukino, R. D. Determination of fracture toughness from the extra penetration produced by indentation-induced pop-in. J. Mater. Res. 18, 1412–1419 (2011).

Musil, J. Flexible hard nanocomposite coatings. RSC Adv. 5, 60482–60495 (2015).

CES Edupack 2023 (Granta Design, 2023).

Li, J. et al. Deformation behavior of nanoporous gold based composite in compression: a finite element analysis. Compos. Struct. 211, 229–235 (2019).

Griffiths, E., Wilmers, J., Bargmann, S. & Reddy, B. D. Nanoporous metal based composites: giving polymers strength and making metals move. J. Mech. Phys. Solids 137, 103848 (2020).

Madhukar, M. S. & Drzal, L. T. Fiber-matrix adhesion and its effect on composite mechanical properties: I. Inplane and interlaminar shear behavior of graphite/epoxy composites. J. Compos. Mater. 25, 932–957 (2016).

Li, T. Q., Zhang, M. Q., Zhang, K. & Zeng, H. M. The dependence of the fracture toughness of thermoplastic composite laminates on interfacial interaction. Compos. Sci. Technol. 60, 465–476 (2000).

Chen, Q., Chasiotis, I., Chen, C. & Roy, A. Nanoscale and effective mechanical behavior and fracture of silica nanocomposites. Compos. Sci. Technol. 68, 3137–3144 (2008).

Zhang, X. & Waymouth, R. M. 1,2-dithiolane-derived dynamic, covalent materials: cooperative self-assembly and reversible cross-linking. J. Am. Chem. Soc. 139, 3822–3833 (2017).

Mu, Z. et al. Pressure-driven fusion of amorphous particles into integrated monoliths. Science 372, 1466–1470 (2021).

Sun, J. Y. et al. Highly stretchable and tough hydrogels. Nature 489, 133–136 (2012).

Biellmann, C. & Gillet, P. High-pressure and high-temperature behaviour of calcite, aragonite and dolomite: a Raman spectroscopic study. Eur. J. Mineral. 4, 389–394 (1992).

Huang, S. et al. Covalent adaptable liquid crystal networks enabled by reversible ring-opening cascades of cyclic disulfides. J. Am. Chem. Soc. 143, 12543–12551 (2021).

Steudel, R., Passlack-Stephan, S. & Holdt, G. Thermal polymerization and depolymerization reactions of 10 sulfur allotropes studied by HPLC and DSC. Z. Anorg. Allg. Chem. 517, 7–42 (1984).

Schyns, Z. O. G. & Shaver, M. P. Mechanical recycling of packaging plastics: a review. Macromol. Rapid Commun. 42, e2000415 (2021).

Kojima, Y., Kawanobe, A., Yasue, T. & Arai, Y. Synthesis of amorphous calcium carbonate and its crystallization. J. Ceram. Soc. Jpn. 101, 1145–1152 (1993).

Faatz, M., Gröhn, F. & Wegner, G. Amorphous calcium carbonate: synthesis and potential intermediate in biomineralization. Adv. Mater. 16, 996–1000 (2004).

Koga, N., Nakagoe, Y. & Tanaka, H. Crystallization of amorphous calcium carbonate. Thermochim. Acta 318, 239–244 (1998).

Oshida, K. et al. Analysis of pore structure of activated carbon fibers using high resolution transmission electron microscopy and image processing. J. Mater. Res. 10, 2507–2517 (2011).

Mastronarde, D. N. & Held, S. R. Automated tilt series alignment and tomographic reconstruction in IMOD. J. Struct. Biol. 197, 102–113 (2017).

Pettersen, E. F. et al. UCSF Chimera—a visualization system for exploratory research and analysis. J. Comput. Chem. 25, 1605–1612 (2004).

Juhás, P., Davis, T., Farrow, C. L. & Billinge, S. J. L. PDFgetX3: a rapid and highly automatable program for processing powder diffraction data into total scattering pair distribution functions. J. Appl. Crystallogr. 46, 560–566 (2013).

Xi, Y., Lankone, R. S., Sung, L. P. & Liu, Y. Tunable thermo-reversible bicontinuous nanoparticle gel driven by the binary solvent segregation. Nat. Commun. 12, 910 (2021).

Schubert, K. V., Strey, R., Kline, S. R. & Kaler, E. W. Small angle neutron scattering near Lifshitz lines: transition from weakly structured mixtures to microemulsions. J. Chem. Phys. 101, 5343–5355 (1994).

Oliver, W. C. & Pharr, G. M. An improved technique for determining hardness and elastic modulus using load and displacement sensing indentation experiments. J. Mater. Res. 7, 1564–1583 (2011).

Pryor, R. W. Multiphysics Modeling Using COMSOL: A First Principles Approach (Jones and Bartlett, 2009).

Lu, T. & Chen, F. Multiwfn: a multifunctional wavefunction analyzer. J. Comput. Chem. 33, 580–592 (2012).

Choi, C. et al. Light-mediated synthesis and reprocessing of dynamic bottlebrush elastomers under ambient conditions. J. Am. Chem. Soc. 143, 9866–9871 (2021).

Liu, Y., Jia, Y., Wu, Q. & Moore, J. S. Architecture-controlled ring-opening polymerization for dynamic covalent poly(disulfide)s. J. Am. Chem. Soc. 141, 17075–17080 (2019).

Cai, C., Wu, S., Tan, Z., Li, F. & Dong, S. On-site supramolecular adhesion to wet and soft surfaces via solvent exchange. ACS Appl. Mater. Interfaces 13, 53083–53090 (2021).
Acknowledgements
We thank S. Chang and J. Guo for assistance with 3D cryo-TEM tomography reconstruction and FIB-SEM in the Center of Cryo-Electron Microscopy (CCEM), Zhejiang University. We thank the Chemistry Instrumentation Center, Zhejiang University for characterization support, including Y. Qiu for help with SAXS and GPC data analysis; F. Chen for assistance with electron microscopy; Y. Liu for assistance with NMR; Q. He for help with MS; G. Lan for GC-MS analysis; and D. Shi and X. Hu for in situ heating XRD analysis. We thank L. Xu for assistance with DSC and DMA at the State Key Laboratory of Chemical Engineering, Zhejiang University. We thank Y. Li at the University of California, Santa Barbara, for discussions. We thank Ansys for providing software support and Shanghai AIYU Information Technology Co., Ltd for the service support. We acknowledge funding support from the National Natural Science Foundation of China (22022511, 22275161), the National Key Research and Development Program of China (2020YFA0710400) and the Fundamental Research Funds for the Central Universities (226-2022-00022, 2021FZZX001-04).
Ethics declarations
Competing interests
The authors declare no competing interests.
Peer review
Peer review information
Nature thanks Jesus Maria Garcia Martinez and the other, anonymous, reviewer(s) for their contribution to the peer review of this work.
Additional information
Publisher's note Springer Nature remains neutral with regard to jurisdictional claims in published maps and institutional affiliations.
Extended data figures and tables
Supplementary information
This file contains Supplementary Notes 1–5, Supplementary Figs. 1–4 and Supplementary Tables 1–3.
In situ deformation and recovery process of silicone rubber and poly(TA–CCO). Both silicone rubber and poly(TA–CCO) exhibit a high degree of elastic recovery after unloading. But at the same load, the silicone rubber was deformed nearly 40 times more than poly(TA–CCO), demonstrating the hard but elastic properties of poly(TA–CCO).
Rights and permissions
Springer Nature or its licensor (e.g. a society or other partner) holds exclusive rights to this article under a publishing agreement with the author(s) or other rightsholder(s); author self-archiving of the accepted manuscript version of this article is solely governed by the terms of such publishing agreement and applicable law.
About this article
Cite this article
Fang, W., Mu, Z., He, Y. et al. Organic–inorganic covalent–ionic molecules for elastic ceramic plastic. Nature 619, 293–299 (2023). https://doi.org/10.1038/s41586-023-06117-1
Received:

Accepted:

Published:

Issue Date:

DOI: https://doi.org/10.1038/s41586-023-06117-1
This article is cited by
Yanhua Sang
Kexin Qin
Zhaoming Liu

Nano Research (2023)
Comments
By submitting a comment you agree to abide by our Terms and Community Guidelines. If you find something abusive or that does not comply with our terms or guidelines please flag it as inappropriate.