Abstract
Cancer cells rewire metabolism to favour the generation of specialized metabolites that support tumour growth and reshape the tumour microenvironment1,2. Lysine functions as a biosynthetic molecule, energy source and antioxidant3,4,5, but little is known about its pathological role in cancer. Here we show that glioblastoma stem cells (GSCs) reprogram lysine catabolism through the upregulation of lysine transporter SLC7A2 and crotonyl-coenzyme A (crotonyl-CoA)-producing enzyme glutaryl-CoA dehydrogenase (GCDH) with downregulation of the crotonyl-CoA hydratase enoyl-CoA hydratase short chain 1 (ECHS1), leading to accumulation of intracellular crotonyl-CoA and histone H4 lysine crotonylation. A reduction in histone lysine crotonylation by either genetic manipulation or lysine restriction impaired tumour growth. In the nucleus, GCDH interacts with the crotonyltransferase CBP to promote histone lysine crotonylation. Loss of histone lysine crotonylation promotes immunogenic cytosolic double-stranded RNA (dsRNA) and dsDNA generation through enhanced H3K27ac, which stimulates the RNA sensor MDA5 and DNA sensor cyclic GMP–AMP synthase (cGAS) to boost type I interferon signalling, leading to compromised GSC tumorigenic potential and elevated CD8+ T cell infiltration. A lysine-restricted diet synergized with MYC inhibition or anti-PD-1 therapy to slow tumour growth. Collectively, GSCs co-opt lysine uptake and degradation to shunt the production of crotonyl-CoA, remodelling the chromatin landscape to evade interferon-induced intrinsic effects on GSC maintenance and extrinsic effects on immune response.
Access options
Access Nature and 54 other Nature Portfolio journals
Get Nature+, our best-value online-access subscription
$29.99 / 30 days
cancel any time
Subscribe to this journal
Receive 51 print issues and online access
$199.00 per year
only $3.90 per issue
Rent or buy this article
Prices vary by article type
from$1.95
to$39.95
Prices may be subject to local taxes which are calculated during checkout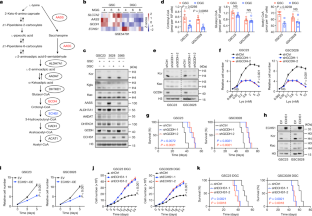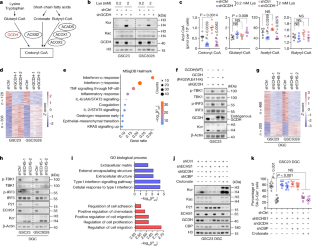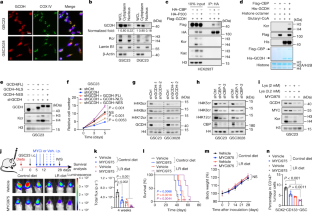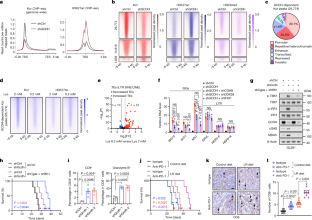 Similar content being viewed by others
Data availability
RNA-seq data for three pairs of GSCs and DGCs are from the GEO (GSE54791). RNA-seq data for 44 GSC and 9 NSC lines are from the GEO (GSE119834). Matched pairs of GSCs and DGCs H3K27ac ChIP–seq data are from the GEO (GSE129438). GSCs and NSCs H3K27ac ChIP–seq are from the GEO (GSE119755). scRNA-seq and snRNA-seq data are publicly available at the Broad Institute Single-Cell Portal (https://singlecell.broadinstitute.org/single_cell/study/SCP503). Original western blots are provided in the Supplementary Information. All metabolomics data are provided in the Supplementary Tables and Source Data. Raw sequencing data and processed data generated in this study are available at the GEO under accession number GSE208618. Source data are provided with this paper.
References
Gimple, R. C., Yang, K., Halbert, M. E., Agnihotri, S. & Rich, J. N. Brain cancer stem cells: resilience through adaptive plasticity and hierarchical heterogeneity. Nat. Rev. Cancer 22, 497–514 (2022).

Wang, W. & Zou, W. Amino acids and their transporters in T cell immunity and cancer therapy. Mol. Cell 80, 384–395 (2020).

Lieu, E. L., Nguyen, T., Rhyne, S. & Kim, J. Amino acids in cancer. Exp. Mol. Med. 52, 15–30 (2020).

Olin-Sandoval, V. et al. Lysine harvesting is an antioxidant strategy and triggers underground polyamine metabolism. Nature 572, 249–253 (2019).

Wu, Z. et al. TPO-induced metabolic reprogramming drives liver metastasis of colorectal cancer CD110+ tumor-initiating cells. Cell Stem Cell 17, 47–59 (2015).

Jackson, C. M., Choi, J. & Lim, M. Mechanisms of immunotherapy resistance: lessons from glioblastoma. Nat. Immunol. 20, 1100–1109 (2019).

Singh, S. K. et al. Identification of human brain tumour initiating cells. Nature 432, 396–401 (2004).

Bao, S. et al. Glioma stem cells promote radioresistance by preferential activation of the DNA damage response. Nature 444, 756–760 (2006).

Maddocks, O. D. K. et al. Modulating the therapeutic response of tumours to dietary serine and glycine starvation. Nature 544, 372–376 (2017).

Gao, X. et al. Dietary methionine influences therapy in mouse cancer models and alters human metabolism. Nature 572, 397–401 (2019).

Fang, Y. et al. Histone crotonylation promotes mesoendodermal commitment of human embryonic stem cells. Cell Stem Cell 28, 748–763 (2021).

Dai, S. K. et al. Histone crotonylation regulates neural stem cell fate decisions by activating bivalent promoters. EMBO Rep. 22, e52023 (2021).

Minet, P. et al. Clinical and biochemical outcome of a patient with pyridoxine-dependent epilepsy treated by triple therapy (pyridoxine supplementation, lysine-restricted diet, and arginine supplementation). Acta Neurol. Belg. 121, 1669–1675 (2021).

Kava, M. P. et al. Beneficial outcome of early dietary lysine restriction as an adjunct to pyridoxine therapy in a child with pyridoxine dependant epilepsy due to Antiquitin deficiency. JIMD Rep. 54, 9–15 (2020).

Zinnanti, W. J. et al. A diet-induced mouse model for glutaric aciduria type I. Brain 129, 899–910 (2006).

Biagosch, C. et al. Elevated glutaric acid levels in Dhtkd1-/Gcdh- double knockout mice challenge our current understanding of lysine metabolism. Biochim. Biophys. Acta Mol. Basis Dis. 1863, 2220–2228 (2017).

Suva, M. L. et al. Reconstructing and reprogramming the tumor-propagating potential of glioblastoma stem-like cells. Cell 157, 580–594 (2014).

Su, A. et al. The folate cycle enzyme MTHFR is a critical regulator of cell response to MYC-targeting therapies. Cancer Discov. 10, 1894–1911 (2020).

Okada, M. et al. Targeting folate metabolism is selectively cytotoxic to glioma stem cells and effectively cooperates with differentiation therapy to eliminate tumor-initiating cells in glioma xenografts. Int. J. Mol. Sci. 22, 11633 (2021).

Wang, X. et al. Targeting pyrimidine synthesis accentuates molecular therapy response in glioblastoma stem cells. Sci. Transl. Med. 11, eaau4972 (2019).

Wang, X. et al. Purine synthesis promotes maintenance of brain tumor initiating cells in glioma. Nat. Neurosci. 20, 661–673 (2017).

Hajji, N. et al. Arginine deprivation alters microglial polarity and synergizes with radiation to eradicate non-arginine-auxotrophic glioblastoma tumors. J. Clin. Invest. 132, e142137 (2022).

Mack, S. C. et al. Chromatin landscapes reveal developmentally encoded transcriptional states that define human glioblastoma. J. Exp. Med. 216, 1071–1090 (2019).

The Cancer Genome Atlas Research Network. Comprehensive genomic characterization defines human glioblastoma genes and core pathways. Nature 455, 1061–1068 (2008).

Richards, L. M. et al. Gradient of developmental and injury response transcriptional states defines functional vulnerabilities underpinning glioblastoma heterogeneity. Nat. Cancer 2, 157–173 (2021).

Sabari, B. R. et al. Intracellular crotonyl-CoA stimulates transcription through p300-catalyzed histone crotonylation. Mol. Cell 58, 203–215 (2015).

Liu, X. et al. MOF as an evolutionarily conserved histone crotonyltransferase and transcriptional activation by histone acetyltransferase-deficient and crotonyltransferase-competent CBP/p300. Cell Discov. 3, 17016 (2017).

Tang, X. et al. Short-chain enoyl-CoA hydratase mediates histone crotonylation and contributes to cardiac homeostasis. Circulation 143, 1066–1069 (2021).

Tan, M. et al. Identification of 67 histone marks and histone lysine crotonylation as a new type of histone modification. Cell 146, 1016–1028 (2011).

Vanpouille-Box, C., Demaria, S., Formenti, S. C. & Galluzzi, L. Cytosolic DNA sensing in organismal tumor control. Cancer Cell 34, 361–378 (2018).

Chen, Y. G. & Hur, S. Cellular origins of dsRNA, their recognition and consequences. Nat. Rev. Mol. Cell Biol. 23, 286–301 (2022).

Miller, K. N. et al. Cytoplasmic DNA: sources, sensing, and role in aging and disease. Cell 184, 5506–5526 (2021).

Keyser, B. et al. Disease-causing missense mutations affect enzymatic activity, stability and oligomerization of glutaryl-CoA dehydrogenase (GCDH). Hum. Mol. Genet. 17, 3854–3863 (2008).

Qin, Q. et al. Lisa: inferring transcriptional regulators through integrative modeling of public chromatin accessibility and ChIP-seq data. Genome Biol. 21, 32 (2020).

Roberts, T. C. et al. Quantification of nascent transcription by bromouridine immunocapture nuclear run-on RT-qPCR. Nat. Protoc. 10, 1198–1211 (2015).

Han, H. et al. Small-molecule MYC inhibitors suppress tumor growth and enhance immunotherapy. Cancer Cell 36, 483–497 (2019).

Mehdipour, P. et al. Epigenetic therapy induces transcription of inverted SINEs and ADAR1 dependency. Nature 588, 169–173 (2020).

Zhang, S. M. et al. KDM5B promotes immune evasion by recruiting SETDB1 to silence retroelements. Nature 598, 682–687 (2021).

Charoentong, P. et al. Pan-cancer immunogenomic analyses reveal genotype-immunophenotype relationships and predictors of response to checkpoint blockade. Cell Rep. 18, 248–262 (2017).

Gravendeel, L. A. et al. Intrinsic gene expression profiles of gliomas are a better predictor of survival than histology. Cancer Res. 69, 9065–9072 (2009).

Chiappinelli, K. B. et al. Inhibiting DNA methylation causes an interferon response in cancer via dsRNA including endogenous retroviruses. Cell 162, 974–986 (2015).

Sheng, W. et al. LSD1 ablation stimulates anti-tumor immunity and enables checkpoint blockade. Cell 174, 549–563 (2018).

Griffin, G. K. et al. Epigenetic silencing by SETDB1 suppresses tumour intrinsic immunogenicity. Nature 595, 309–314 (2021).

Llorens-Bobadilla, E. et al. Single-cell transcriptomics reveals a population of dormant neural stem cells that become activated upon brain injury. Cell Stem Cell 17, 329–340 (2015).

Snyder, N. W. et al. Production of stable isotope-labeled acyl-coenzyme A thioesters by yeast stable isotope labeling by essential nutrients in cell culture. Anal. Biochem. 474, 59–65 (2015).

Frey, A. J. et al. LC-quadrupole/Orbitrap high-resolution mass spectrometry enables stable isotope-resolved simultaneous quantification and 13C-isotopic labeling of acyl-coenzyme A thioesters. Anal. Bioanal. Chem. 408, 3651–3658 (2016).

Trefely, S., Ashwell, P. & Snyder, N. W. FluxFix: automatic isotopologue normalization for metabolic tracer analysis. BMC Bioinform. 17, 485 (2016).

Zhang, D. et al. Metabolic regulation of gene expression by histone lactylation. Nature 574, 575–580 (2019).

Chen, Y., Kwon, S. W., Kim, S. C. & Zhao, Y. Integrated approach for manual evaluation of peptides identified by searching protein sequence databases with tandem mass spectra. J. Proteome Res. 4, 998–1005 (2005).

Criscione, S. W., Zhang, Y., Thompson, W., Sedivy, J. M. & Neretti, N. Transcriptional landscape of repetitive elements in normal and cancer human cells. BMC Genom. 15, 583 (2014).

Zheng, R. et al. Cistrome Data Browser: expanded datasets and new tools for gene regulatory analysis. Nucleic Acids Res. 47, D729–D735 (2019).

Li, T. et al. TIMER2.0 for analysis of tumor-infiltrating immune cells. Nucleic Acids Res. 48, W509–W514 (2020).
Acknowledgements
We thank the staff at the Metabolomics and Lipidomics Core for MS analysis; the members of the Biospecimen Core for histology analysis; the staff at the Flow Cytometry Core Facility in University of Pittsburgh; and S. J. Mullett for technical support in metabolomics. This work was supported by start-up funds from the University of Pittsburgh (to J.N.R.). H.Y. is supported by Hillman Fellow for Innovative Cancer Research Program; Y.Z. by the Nancy and Leonard Florsheim family fund and NIH grants GM135504, AR078555 and CA251677; N.W.S. by NIH grant R01GM132261; and J.N.R. by NIH grants R35CA197718, R01CA238662 and R01NS103434.
Ethics declarations
Competing interests
Y.Z. is a founder, board member, advisor to and listed as an inventor on patents licensed to PTM Bio and Maponos Therapeutics. The other authors declare no competing interests.
Peer review
Peer review information
Nature thanks Matthew Hirschey, Mario Suva and the other, anonymous, reviewer(s) for their contribution to the peer review of this work.
Additional information
Publisher's note Springer Nature remains neutral with regard to jurisdictional claims in published maps and institutional affiliations.
Extended data figures and tables
Supplementary information
Supplementary Figs. 1–9 and the legends for Supplementary Tables 1–13.
Rights and permissions
Springer Nature or its licensor (e.g. a society or other partner) holds exclusive rights to this article under a publishing agreement with the author(s) or other rightsholder(s); author self-archiving of the accepted manuscript version of this article is solely governed by the terms of such publishing agreement and applicable law.
About this article
Cite this article
Yuan, H., Wu, X., Wu, Q. et al. Lysine catabolism reprograms tumour immunity through histone crotonylation. Nature 617, 818–826 (2023). https://doi.org/10.1038/s41586-023-06061-0
Received:

Accepted:

Published:

Issue Date:

DOI: https://doi.org/10.1038/s41586-023-06061-0
Comments
By submitting a comment you agree to abide by our Terms and Community Guidelines. If you find something abusive or that does not comply with our terms or guidelines please flag it as inappropriate.