Abstract
The combination of optical time transfer and optical clocks opens up the possibility of large-scale free-space networks that connect both ground-based optical clocks and future space-based optical clocks. Such networks promise better tests of general relativity1,2,3, dark-matter searches4 and gravitational-wave detection5. The ability to connect optical clocks to a distant satellite could enable space-based very long baseline interferometry6,7, advanced satellite navigation8, clock-based geodesy2,9,10 and thousandfold improvements in intercontinental time dissemination11,12. Thus far, only optical clocks have pushed towards quantum-limited performance13. By contrast, optical time transfer has not operated at the analogous quantum limit set by the number of received photons. Here we demonstrate time transfer with near quantum-limited acquisition and timing at 10,000 times lower received power than previous approaches14,15,16,17,18,19,20,21,22,23,24. Over 300 km between mountaintops in Hawaii with launched powers as low as 40 µW, distant sites are synchronized to 320 attoseconds. This nearly quantum-limited operation is critical for long-distance free-space links in which photons are few and amplification costly: at 4.0 mW transmit power, this approach can support 102 dB link loss, more than sufficient for future time transfer to geosynchronous orbits.
Access options
Access Nature and 54 other Nature Portfolio journals
Get Nature+, our best-value online-access subscription
$29.99 / 30 days
cancel any time
Subscribe to this journal
Receive 51 print issues and online access
$199.00 per year
only $3.90 per issue
Rent or buy this article
Prices vary by article type
from$1.95
to$39.95
Prices may be subject to local taxes which are calculated during checkout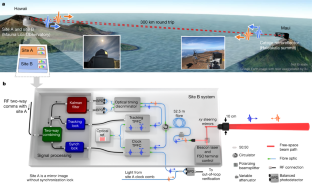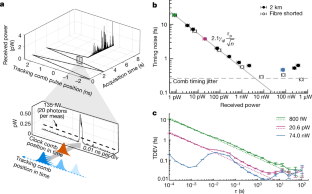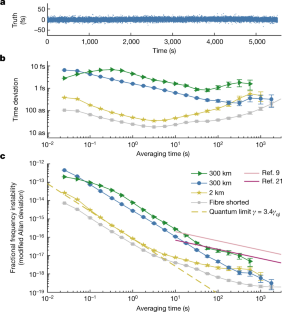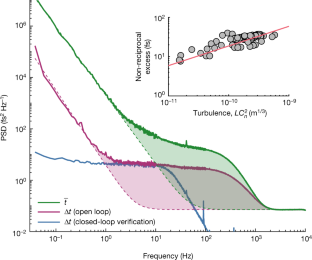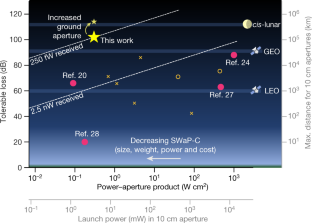 Code availability
The algorithms necessary to perform this experiment are described between the main text and the Methods.
References
Derevianko, A. et al. Fundamental physics with a state-of-the-art optical clock in space. Quantum Sci. Technol. 7, 044002 (2022).

Mehlstäubler, T. E., Grosche, G., Lisdat, C., Schmidt, P. O. & Denker, H. Atomic clocks for geodesy. Rep. Prog. Phys. 81, 064401 (2018).

Altschul, B. et al. Quantum tests of the Einstein equivalence principle with the STE-QUEST space mission. Adv. Space Res. 55, 501–524 (2015).

Derevianko, A. & Pospelov, M. Hunting for topological dark matter with atomic clocks. Nat. Phys. 10, 933–936 (2014).

Kolkowitz, S. et al. Gravitational wave detection with optical lattice atomic clocks. Phys. Rev. D 94, 124043 (2016).

The Event Horizon Telescope Collaboration. First M87 event horizon telescope results. II. Array and instrumentation. Astrophys. J. Lett. 875, L2 (2019).

Kurczynski, P. et al. The Event Horizon Explorer mission concept. In Proc. Space Telescopes and Instrumentation 2022: Optical, Infrared, and Millimeter Wave (eds Coyle, L. E. et al.) Vol. 12180, 215–224 (SPIE, 2022).

Warren, Z. & Fields, R. Optical crosslinks and satellite synchronization for GNSS, communications, and beyond. GPS Solut. 26, 64 (2022).

Takamoto, M. et al. Test of general relativity by a pair of transportable optical lattice clocks. Nat. Photonics https://doi.org/10.1038/s41566-020-0619-8 (2020).

Lisdat, C. et al. A clock network for geodesy and fundamental science. Nat. Commun. 7, 12443 (2016).

Riehle, F. Towards a redefinition of the second based on optical atomic clocks. C.R. Phys. 16, 506–515 (2015).

Bize, S. The unit of time: present and future directions. C.R. Phys. 20, 153–168 (2019).

Itano, W. M. et al. Quantum projection noise: population fluctuations in two-level systems. Phys. Rev. A 47, 3554–3570 (1993).

Giorgetta, F. R. et al. Optical two-way time and frequency transfer over free space. Nat. Photonics 7, 434–438 (2013).

Deschênes, J.-D. et al. Synchronization of distant optical clocks at the femtosecond level. Phys. Rev. X 6, 021016 (2016).

Bergeron, H. et al. Tight real-time synchronization of a microwave clock to an optical clock across a turbulent air path. Optica 3, 441 (2016).

Sinclair, L. C. et al. Synchronization of clocks through 12 km of strongly turbulent air over a city. Appl. Phys. Lett. 109, 151104 (2016).

Sinclair, L. C. et al. Comparing optical oscillators across the air to milliradians in phase and 10-17 in frequency. Phys. Rev. Lett. 120, 050801 (2018).

Bergeron, H. et al. Femtosecond time synchronization of optical clocks off of a flying quadcopter. Nat. Commun. 10, 1819 (2019).

Bodine, M. I. et al. Optical time-frequency transfer across a free-space, three-node network. APL Photonics 5, 076113 (2020).

Boulder Atomic Clock Optical Network (BACON) Collaboration. et al. Frequency ratio measurements at 18-digit accuracy using an optical clock network. Nature 591, 564–569 (2021).

Ellis, J. L. et al. Scaling up frequency-comb-based optical time transfer to long terrestrial distances. Phys. Rev. Appl. 15, 034002 (2021).

Shen, Q. et al. Experimental simulation of time and frequency transfer via an optical satellite–ground link at 10-18 instability. Optica 8, 471–476 (2021).

Shen, Q. et al. Free-space dissemination of time and frequency with 10−19 instability over 113 km. Nature 610, 661–666 (2022).

Fujieda, M. et al. Carrier-phase two-way satellite frequency transfer over a very long baseline. Metrologia 51, 253 (2014).

Djerroud, K. et al. Coherent optical link through the turbulent atmosphere. Opt. Lett. 35, 1479–1481 (2010).

Kang, H. J. et al. Free-space transfer of comb-rooted optical frequencies over an 18 km open-air link. Nat. Commun. 10, 4438 (2019).

Gozzard, D. R. et al. Ultrastable free-space laser links for a global network of optical atomic clocks. Phys. Rev. Lett. 128, 020801 (2022).

Caldwell, E. D., Sinclair, L. C., Newbury, N. R. & Deschenes, J.-D. The time-programmable frequency comb and its use in quantum-limited ranging. Nature 610, 667–673 (2022).

Shapiro, J. H. Reciprocity of the turbulent atmosphere. J. Opt. Soc. Am. 61, 492–495 (1971).

Andrews, L. C. & Phillips, R. L. Laser Beam Propagation through Random Media (SPIE, 2005).

Sinclair, L. C. et al. Optical phase noise from atmospheric fluctuations and its impact on optical time-frequency transfer. Phys. Rev. A 89, 023805 (2014).

Liu, C. H. & Yeh, K. C. Pulse spreading and wandering in random media. Radio Sci. 14, 925–931 (1979).

Young, C. Y. in Free-Space Laser Communication and Laser Imaging II Vol. 4821 (eds Ricklin, J. & Voelz, D. G.) 74–81 (SPIE, 2002).

Stahl, H. P., Stephens, K. R., Henrichs, T., Smart, C. & Prince, F. A. Single-variable parametric cost models for space telescopes. OE 49, 073006 (2010).

Abich, K. et al. In-orbit performance of the GRACE follow-on laser ranging interferometer. Phys. Rev. Lett. 123, 031101 (2019).

Świerad, D. et al. Ultra-stable clock laser system development towards space applications. Sci. Rep. 6, 33973 (2016).

Numata, K. et al. Progress and plans for a U.S. laser system for the LISA mission. In Proc. International Conference on Space Optics—ICSO 2018(eds Cugny, B. et al.) Vol. 11180, 152–159 (SPIE, 2019).

Swann, W. C. et al. Measurement of the impact of turbulence anisoplanatism on precision free-space optical time transfer. Phys. Rev. A 99, 023855 (2019).

Robert, C., Conan, J.-M. & Wolf, P. Impact of turbulence on high-precision ground-satellite frequency transfer with two-way coherent optical links. Phys. Rev. A 93, 033860 (2016).

Stuhl, B. K. Atmospheric refraction corrections in ground-to-satellite optical time transfer. Opt. Express 29, 13706 (2021).

Francis, S. P. et al. Weak-light phase tracking with a low cycle slip rate. Opt. Lett., OL 39, 5251–5254 (2014).

Tønnes, M. B. K. et al. Coherent fiber links operated for years: effect of missing data. Metrologia 59, 065004 (2022).

Kuwahara, T. et al. Laser data downlink system of micro-satellite RISESAT. In Proc. Small Satellite Conference https://digitalcommons.usu.edu/smallsat/2013/all2013/57 (2013).

Kolev, D. et al. Status update on laser communication activities in NICT. In Proc. 2022 IEEE International Conference on Space Optical Systems and Applications (ICSOS) 36–39 (IEEE, 2022).

Carrasco-Casado, A. & Mata-Calvo, R. in Springer Handbook of Optical Networks (eds. Mukherjee, B. et al.) 1057–1103 (Springer, 2020).

Robinson, B. S. et al. TeraByte InfraRed Delivery (TBIRD): a demonstration of large-volume direct-to-Earth data transfer from low-Earth orbit. In Proc. Free-Space Laser Communication and Atmospheric Propagation XXX (eds Boroson, D. M. & Hemmati, H.) Vol. 10524, 253–258 (SPIE, 2018).

Wright, M. W., Kovalik, J., Morris, J., Abrahamson, M. & Biswas, A. LEO-to-ground optical communications link using adaptive optics correction on the OPALS downlink. In Proc. Free-Space Laser Communication and Atmospheric Propagation XXVIII (eds Boroson, D. M. & Hemmati, H.) Vol. 9739, 973904 (International Society for Optics and Photonics, 2016).

Gregory, M. et al. Commercial optical inter-satellite communication at high data rates. Opt. Eng. 51, 031202 (2012).

Swann, W. C. et al. Low-loss reciprocal optical terminals for two-way time-frequency transfer. Appl. Opt. 56, 9406–9413 (2017).
Acknowledgements
We acknowledge comments from T. Bothwell, F. Giorgetta and B. Washburn. We acknowledge technical assistance from S. Syed, M. Bodine, H. Leopardi, T. Wright, M. Martinsen, D. Kuniyuki, S. Baumann, the NOAA Mauna Loa Observatory and the Haleakala MEES Observatory. We acknowledge the Air Force Office of Scientific Research (grant no. MIPR F4FGA02152G001), Air Force Research Laboratory (grant no. FA9453-16-D-0004), NSF QLCI Award (grant no. OMA – 2016244), NSF GRFP (grant no. DGE 1650115), OSD and DARPA DSO through a CRADA with Vector Atomic and NIST for funding. Approved for public release; distribution is unlimited. Approval no. AFRL-2022-5993.
Ethics declarations
Competing interests
The authors declare no competing interests.
Peer review
Peer review information
Nature thanks David Gozzard and Jungwon Kim and the other, anonymous, reviewer(s) for their contribution to the peer review of this work. Peer reviewer reports are available.
Additional information
Publisher's note Springer Nature remains neutral with regard to jurisdictional claims in published maps and institutional affiliations.
Extended data figures and tables
Supplementary information
This file contains Supplementary Figs.1–2 and Discussion.
About this article
Cite this article
Caldwell, E.D., Deschenes, JD., Ellis, J. et al. Quantum-limited optical time transfer for future geosynchronous links. Nature 618, 721–726 (2023). https://doi.org/10.1038/s41586-023-06032-5
Received:

Accepted:

Published:

Issue Date:

DOI: https://doi.org/10.1038/s41586-023-06032-5
Comments
By submitting a comment you agree to abide by our Terms and Community Guidelines. If you find something abusive or that does not comply with our terms or guidelines please flag it as inappropriate.