Abstract
Circadian rhythms influence many behaviours and diseases1,2. They arise from oscillations in gene expression caused by repressor proteins that directly inhibit transcription of their own genes. The fly circadian clock offers a valuable model for studying these processes, wherein Timeless (Tim) plays a critical role in mediating nuclear entry of the transcriptional repressor Period (Per) and the photoreceptor Cryptochrome (Cry) entrains the clock by triggering Tim degradation in light2,3. Here, through cryogenic electron microscopy of the Cry–Tim complex, we show how a light-sensing cryptochrome recognizes its target. Cry engages a continuous core of amino-terminal Tim armadillo repeats, resembling how photolyases recognize damaged DNA, and binds a C-terminal Tim helix, reminiscent of the interactions between light-insensitive cryptochromes and their partners in mammals. The structure highlights how the Cry flavin cofactor undergoes conformational changes that couple to large-scale rearrangements at the molecular interface, and how a phosphorylated segment in Tim may impact clock period by regulating the binding of Importin-α and the nuclear import of Tim–Per4,5. Moreover, the structure reveals that the N terminus of Tim inserts into the restructured Cry pocket to replace the autoinhibitory C-terminal tail released by light, thereby providing a possible explanation for how the long–short Tim polymorphism adapts flies to different climates6,7.
Access options
Access Nature and 54 other Nature Portfolio journals
Get Nature+, our best-value online-access subscription
$29.99 / 30 days
cancel any time
Subscribe to this journal
Receive 51 print issues and online access
$199.00 per year
only $3.90 per issue
Rent or buy this article
Get just this article for as long as you need it
$39.95
Prices may be subject to local taxes which are calculated during checkout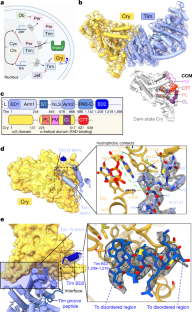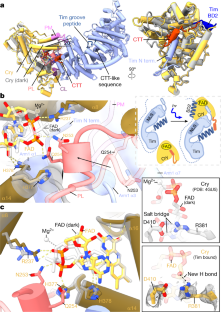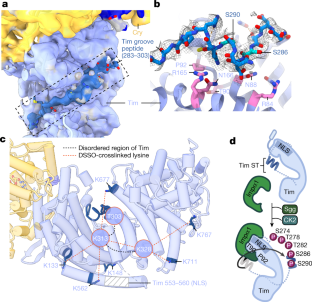 Data availability
The cryo-EM density maps and the atomic model for Tim–Cry have been deposited in the Electron Microscopy Data Bank (EMD-27335) and the PDB (8DD7), respectively. The mass spectrometry proteomics data have been deposited to the ProteomeXchange Consortium through the PRIDE partner repository with the dataset identifier PXD034054. All other data are contained within the Supplementary Information. Reagents are available from the authors upon request.
Code availability
No custom computer code was used in the study.
References
Takahashi, J. S. Transcriptional architecture of the mammalian circadian clock. Nat. Rev. Genet. 18, 164–179 (2017).

Crane, B. R. & Young, M. W. Interactive features of proteins composing eukaryotic circadian clocks. Ann. Rev. Biochem. 83, 191–219 (2014).

Foley, L. E. & Emery, P. Drosophila cryptochrome: variations in blue. J. Biol. Rhythms 35, 16–27 (2020).

Top, D., Harms, E., Syed, S., Adams, E. L. & Saez, L. GSK-3 and CK2 kinases converge on Timeless to regulate the master clock. Cell Rep. 16, 357–367 (2016).

Jang, A. R., Moravcevic, K., Saez, L., Young, M. W. & Sehgal, A. Drosophila TIM binds Importin α1, and acts as an adapter to transport PER to the nucleus. PLOS Genet. 11 e004974 (2015).

Tauber, E. et al. Natural selection favors a newly derived timeless allele in Drosophila melanogaster. Science 316, 1895–1898 (2007).

Deppisch, P. et al. Adaptation of Drosophila melanogaster to long photoperiods of high-latitude summers is facilitated by the ls-timeless allele. J. Biol. Rhythms 37, 185–201 (2022).

Lin, F. J., Song, W., Meyer-Bernstein, E., Naidoo, N. & Sehgal, A. Photic signaling by cryptochrome in the Drosophila circadian system. Mol. Cell. Biol. 21, 7287–7294 (2001).

Chaves, I. et al. The cryptochromes: blue light photoreceptors in plants and animals. Annu. Rev. Plant Biol. 62, 335–364 (2011).

Ozturk, N. Phylogenetic and functional classification of the photolyase/cryptochrome family. Photochem. Photobiol. 93, 104–111 (2017).

Parico, G. C. G. et al. The human CRY1 tail controls circadian timing by regulating its association with CLOCK:BMAL1. Proc. Natl Acad. Sci. USA 117, 27971–27979 (2020).

Berndt, A. et al. A novel photoreaction mechanism for the circadian blue light photoreceptor Drosophila cryptochrome. J. Biol. Chem. 282, 13011–13021 (2007).

Vaidya, A. T. et al. Flavin reduction activates Drosophila cryptochrome. Proc. Natl Acad. Sci. USA 110, 20455–20460 (2013).

Ozturk, N., Selby, C. P., Annayev, Y., Zhong, D. & Sancar, A. Reaction mechanism of Drosophila cryptochrome. Proc. Natl Acad. Sci. USA 108, 516–521 (2011).

Lin, C. F., Top, D., Manahan, C. C., Young, M. W. & Crane, B. R. Circadian clock activity of cryptochrome relies on tryptophan-mediated photoreduction. Proc. Natl Acad. Sci. USA 115, 3822–3827 (2018).

Lin, C., Schneps, C. M., Chandrasekaran, S., Ganguly, A. & Crane, B. R. Mechanistic insight into light-dependent recognition of Timeless by Drosophila Cryptochrome. Structure 30, 851–861 (2022).

Chandrasekaran, S. et al. Tuning flavin environment to detect and control light-induced conformational switching in Drosophila cryptochrome. Commun. Biol. 4, 249 (2021).

Ganguly, A. et al. Changes in active site histidine hydrogen bonding trigger cryptochrome activation. Proc. Natl Acad. Sci. USA 113, 10073–10078 (2016).

Koh, K., Zheng, X. Z. & Sehgal, A. JETLAG resets the Drosophila circadian clock by promoting light-induced degradation of TIMELESS. Science 312, 1809–1812 (2006).

Peschel, N., Chen, K. F., Szabo, G. & Stanewsky, R. Light-dependent interactions between the Drosophila circadian clock factors Cryptochrome, Jetlag, and Timeless. Curr. Biol. 19, 241–247 (2009).

Yu, D. et al. Optogenetic activation of intracellular antibodies for direct modulation of endogenous proteins. Nat. Methods 16, 1095–1100 (2019).

Gil, A. A. et al. Optogenetic control of protein binding using light-switchable nanobodies. Nat. Commun. 11, 4044 (2020).

Busza, A., Emery-Le, M., Rosbash, M. & Emery, P. Roles of the two Drosophila CRYPTOCHROME structural domains in circadian photoreception. Science 304, 1503–1506 (2004).

Dissel, S. et al. A constitutively active cryptochrome in Drosophila melanogaster. Nat. Neurosci. 7, 834–840 (2004).

Hemsley, M. J. et al. Linear motifs in the C-terminus of D-melanogaster cryptochrome. Biochem. Biophys. Res. Commun. 355, 531–537 (2007).

Vodovar, N., Clayton, J. D., Costa, R., Odell, M. & Kyriacou, C. P. The Drosophila clock protein Timeless is a member of the Arm/HEAT family. Curr. Biol. 12, R610–R611 (2002).

Holzer, S. et al. Crystal structure of the N-terminal domain of human Timeless and its interaction with Tipin. Nucleic Acids Res. 45, 5555–5563 (2017).

Zoltowski, B. D. et al. Structure of full-length Drosophila cryptochrome. Nature 480, 396–399 (2011).

Levy, C. et al. Updated structure of Drosophila cryptochrome. Nature 495, E3–E4 (2013).

Czarna, A. et al. Structures of Drosophila cryptochrome and mouse cryptochrome1 provide insight into circadian function. Cell 153, 1394–1405 (2013).

Sandrelli, F. et al. A molecular basis for natural selection at the timeless locus in Drosophila melanogaster. Science 316, 1898–1900 (2007).

Jumper, J. et al. Highly accurate protein structure prediction with AlphaFold. Nature 596, 583–589 (2021).

Kurien, P. et al. TIMELESS mutation alters phase responsiveness and causes advanced sleep phase. Proc. Natl Acad. Sci. USA 116, 12045–12053 (2019).

Schmalen, I. et al. Interaction of circadian clock proteins CRY1 and PER2 is modulated by zinc binding and disulfide bond formation. Cell 157, 1203–1215 (2014).

Fribourgh, J. L. et al. Dynamics at the serine loop underlie differential affinity of cryptochromes for CLOCK:BMAL1 to control circadian timing. Elife 9, e55275 (2020).

Nangle, S. N. et al. Molecular assembly of the Period-Cryptochrome circadian transcriptional repressor complex. Elife 3, e03674 (2014).

Engelen, E. et al. Mammalian TIMELESS is involved in period determination and DNA damage-dependent phase advancing of the circadian clock. PLoS ONE 8, e56623 (2013).

Baretic, D. et al. Cryo-EM structure of the fork protection complex bound to CMG at a replication fork. Mol. Cell 78, 926–940 (2020).

Xie, S. et al. Timeless interacts with PARP-1 to promote homologous recombination repair. Mol. Cell 60, 163–176 (2015).

Stanewsky, R. et al. The cry(b) mutation identifies cryptochrome as a circadian photoreceptor in Drosophila. Cell 95, 681–692 (1998).

Wang, Y. J., Veglia, G., Zhong, D. P. & Gao, J. L. Activation mechanism of Drosophila cryptochrome through an allosteric switch. Sci. Adv. 7, eabg3815 (2021).

Berntsson, O. et al. Photoactivation of Drosophila melanogaster cryptochrome through sequential conformational transitions. Sci. Adv. 5, eaaw1531 (2019).

Glas, A. F., Schneider, S., Maul, M. J., Hennecke, U. & Carell, T. Crystal structure of the T(6-4)C lesion in complex with a (6-4) DNA photolyase and repair of UV-induced (6-4) and Dewar photolesions. Chemistry 15, 10387–10396 (2009).

Nangle, S., Xing, W. M. & Zheng, N. Crystal structure of mammalian cryptochrome in complex with a small molecule competitor of its ubiquitin ligase. Cell Res. 23, 1417–1419 (2013).

Rosensweig, C. et al. An evolutionary hotspot defines functional differences between CRYPTOCHROMES. Nat. Commun. 9, 1138 (2018).

Tewari, R., Bailes, E., Bunting, K. A. & Coates, J. C. Armadillo-repeat protein functions: questions for little creatures. Trends Cell Biol. 20, 470–481 (2010).

Choi, H. J. et al. A conserved phosphorylation switch controls the interaction between cadherin and β-catenin in vitro and in vivo. Dev. Cell 33, 82–93 (2015).

Goldfarb, D. S., Corbett, A. H., Mason, D. A., Harreman, M. T. & Adam, S. A. Importin α: a multipurpose nuclear-transport receptor. Trends Cell Biol. 14, 505–514 (2004).

Catimel, B. et al. Biophysical characterization of interactions involving importin-α during nuclear import. J. Biol. Chem. 276, 34189–34198 (2001).

Harreman, M. T., Hodel, M. R., Fanara, P., Hodel, A. E. & Corbett, A. H. The auto-inhibitory function of importin α is essential in vivo. J. Biol. Chem. 278, 5854–5863 (2003).

Muok, A. R. et al. Engineered chemotaxis core signaling units indicate a constrained kinase-off state. Sci. Signal. 13, eabc1328 (2020).

Zheng, S. Q. et al. MotionCor2: anisotropic correction of beam-induced motion for improved cryo-electron microscopy. Nat. Methods 14, 331–332 (2017).

Scheres, S. H. RELION: implementation of a Bayesian approach to cryo-EM structure determination. J. Struct. Biol. 180, 519–530 (2012).

Punjani, A., Rubinstein, J. L., Fleet, D. J. & Brubaker, M. A. cryoSPARC: algorithms for rapid unsupervised cryo-EM structure determination. Nat. Methods 14, 290–296 (2017).

Bepler, T. et al. Positive-unlabeled convolutional neural networks for particle picking in cryo-electron micrographs. Nat. Methods 16, 1153–1160 (2019).

Pettersen, E. F. et al. UCSF ChimeraX: structure visualization for researchers, educators, and developers. Protein Sci. 30, 70–82 (2021).

Croll, T. I. ISOLDE: a physically realistic environment for model building into low-resolution electron-density maps. Acta Crystallogr. D 74, 519–530 (2018).

Morin, A. et al. Collaboration gets the most out of software. Elife 2, e01456 (2013).

Emsley, P., Lohkamp, B., Scott, W. G. & Cowtan, K. Features and development of Coot. Acta Crystallogr. D 66, 486–501 (2010).

Liebschner, D. et al. Macromolecular structure determination using X-rays, neutrons and electrons: recent developments in Phenix. Acta Crystallogr. D 75, 861–877 (2019).

Chen, V. B. et al. MolProbity: all-atom structure validation for macromolecular crystallography. Acta Crystallogr. D 66, 12–21 (2010).

Pintilie, G. et al. Measurement of atom resolvability in cryo-EM maps with Q-scores. Nat. Methods 17, 328–334 (2020).

Kallberg, M. et al. Template-based protein structure modeling using the RaptorX web server. Nat. Protoc. 7, 1511–1522 (2012).

Holm, L. & Laakso, L. M. Dali server update. Nucleic Acids Res. 44, W351–W355 (2016).
Acknowledgements
We thank Q. Fu and S. Zhang of the Proteomics and Metabolomics Facility of Cornell University for providing the mass spectrometry data; K. Spoth and M. Silvestry-Ramos for help with electron microscopy instrumentation; Y. Li for suggesting use of the ALFA tag and experimental assistance; G. Merz, T.-T. Nguyen and C. Aplin for general aid; and R. Cerione and M. Young for helpful feedback. Figure 1a, the inset in Fig. 2b, Fig. 4d and Supplementary Fig. 1 were created with BioRender.com. This work was supported by NIH grants R35GM122535 to B.R.C. and 1S10 OD017992-01 for the Orbitrap Fusion mass spectrometer. This work made use of the Cornell Center for Materials Research Shared Facilities that are supported through the NSF (DMR-1719875).
Ethics declarations
Competing interests
The authors declare no competing interests.
Peer review
Peer review information
Nature thanks Amita Sehgal, Sebastian Westenhoff and the other, anonymous, reviewer(s) for their contribution to the peer review of this work. Peer reviewer reports are available.
Additional information
Publisher's note Springer Nature remains neutral with regard to jurisdictional claims in published maps and institutional affiliations.
Extended data figures and tables
Supplementary information
Rights and permissions
Springer Nature or its licensor (e.g. a society or other partner) holds exclusive rights to this article under a publishing agreement with the author(s) or other rightsholder(s); author self-archiving of the accepted manuscript version of this article is solely governed by the terms of such publishing agreement and applicable law.
About this article
Cite this article
Lin, C., Feng, S., DeOliveira, C.C. et al. Cryptochrome–Timeless structure reveals circadian clock timing mechanisms. Nature 617, 194–199 (2023). https://doi.org/10.1038/s41586-023-06009-4
Received:

Accepted:

Published:

Issue Date:

DOI: https://doi.org/10.1038/s41586-023-06009-4
Comments
By submitting a comment you agree to abide by our Terms and Community Guidelines. If you find something abusive or that does not comply with our terms or guidelines please flag it as inappropriate.