Abstract
Loss of the PTEN tumour suppressor is one of the most common oncogenic drivers across all cancer types1. PTEN is the major negative regulator of PI3K signalling. The PI3Kβ isoform has been shown to play an important role in PTEN-deficient tumours, but the mechanisms underlying the importance of PI3Kβ activity remain elusive. Here, using a syngeneic genetically engineered mouse model of invasive breast cancer driven by ablation of both Pten and Trp53 (which encodes p53), we show that genetic inactivation of PI3Kβ led to a robust anti-tumour immune response that abrogated tumour growth in syngeneic immunocompetent mice, but not in immunodeficient mice. Mechanistically, PI3Kβ inactivation in the PTEN-null setting led to reduced STAT3 signalling and increased the expression of immune stimulatory molecules, thereby promoting anti-tumour immune responses. Pharmacological PI3Kβ inhibition also elicited anti-tumour immunity and synergized with immunotherapy to inhibit tumour growth. Mice with complete responses to the combined treatment displayed immune memory and rejected tumours upon re-challenge. Our findings demonstrate a molecular mechanism linking PTEN loss and STAT3 activation in cancer and suggest that PI3Kβ controls immune escape in PTEN-null tumours, providing a rationale for combining PI3Kβ inhibitors with immunotherapy for the treatment of PTEN-deficient breast cancer.
Relevant articles
Open Access articles citing this article.
Antonino Glaviano

,

Aaron S. C. Foo

…

Alan P. Kumar

Molecular Cancer Open Access 18 August 2023
Access options
Access Nature and 54 other Nature Portfolio journals
Get Nature+, our best-value online-access subscription
$29.99 / 30 days
cancel any time
Subscribe to this journal
Receive 51 print issues and online access
$199.00 per year
only $3.90 per issue
Rent or buy this article
Prices vary by article type
from$1.95
to$39.95
Prices may be subject to local taxes which are calculated during checkout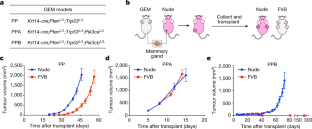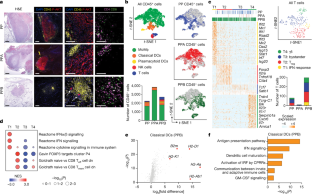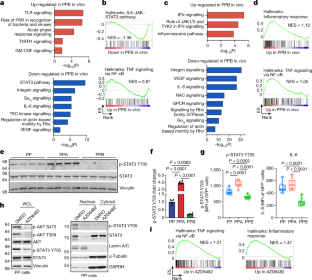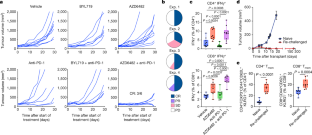 Data availability
Transcriptomic data for bulk RNA-seq and scRNA-seq have been deposited at the Gene Expression Omnibus (GEO) under accession numbers GSE225064 and GSE224906. The scRNA-seq data has also been uploaded to the Single Cell Portal under accession number SCP2118. Source data are provided with this paper.
Code availability
Custom-made R code used for CyCIF analysis is available for download from Zenodo (https://doi.org/10.5281/zenodo.7675466). All R code used to generate figures in the manuscript can be made available upon reasonable request.
References
Lawrence, M. S. et al. Discovery and saturation analysis of cancer genes across 21 tumour types. Nature 505, 495–501 (2014).

Dong, Y. et al. PTEN functions as a melanoma tumor suppressor by promoting host immune response. Oncogene 33, 4632–4642 (2014).

Li, S. et al. The tumor suppressor PTEN has a critical role in antiviral innate immunity. Nat. Immunol. 17, 241–249 (2016).

George, S. et al. Loss of PTEN is associated with resistance to anti-PD-1 checkpoint blockade therapy in metastatic uterine leiomyosarcoma. Immunity 46, 197–204 (2017).

Parsa, A. T. et al. Loss of tumor suppressor PTEN function increases B7-H1 expression and immunoresistance in glioma. Nat. Med. 13, 84–88 (2007).

Peng, W. et al. Loss of PTEN promotes resistance to T cell-mediated immunotherapy. Cancer Discov. 6, 202–216 (2016).

Jia, S. et al. Essential roles of PI(3)K-p110β in cell growth, metabolism and tumorigenesis. Nature 454, 776–779 (2008).

Ni, J. et al. Functional characterization of an isoform-selective inhibitor of PI3K-p110β as a potential anticancer agent. Cancer Discov. 2, 425–433 (2012).

Wee, S. et al. PTEN-deficient cancers depend on PIK3CB. Proc. Natl Acad. Sci. USA 105, 13057–13062 (2008).

Wang, Q. et al. Spatially distinct roles of class Ia PI3K isoforms in the development and maintenance of PTEN hamartoma tumor syndrome. Genes Dev. 27, 1568–1580 (2013).

Network, C. G. A. Comprehensive molecular portraits of human breast tumours. Nature 490, 61–70 (2012).

Szabo, P. A. et al. Single-cell transcriptomics of human T cells reveals tissue and activation signatures in health and disease. Nat. Commun. 10, 4706–4716 (2019).

Zemmour, D. et al. Single-cell gene expression reveals a landscape of regulatory T cell phenotypes shaped by the TCR. Nat. Immunol. 19, 291–301 (2018).

Fu, C. & Jiang, A. Dendritic cells and CD8 T cell immunity in tumor microenvironment. Front. Immunol. 9, 3059 (2018).

Azizi, E. et al. Single-cell map of diverse immune phenotypes in the breast tumor microenvironment. Cell 174, 1293–1308.e1236 (2018).

Schridde, A. et al. Tissue-specific differentiation of colonic macrophages requires TGFβ receptor-mediated signaling. Mucosal Immunol. 10, 1387–1399 (2017).

Tuit, S. et al. Transcriptional signature derived from murine tumor-associated macrophages correlates with poor outcome in breast cancer patients. Cell Rep. 29, 1221–1235.e1225 (2019).

Spranger, S. et al. Up-regulation of PD-L1, IDO, and Tregs in the melanoma tumor microenvironment is driven by CD8+ T cells. Sci. Transl. Med. 5, 200ra116 (2013).

Iwabuchi, R. et al. Introduction of human Flt3-L and GM-CSF into humanized mice enhances the reconstitution and maturation of myeloid dendritic cells and the development of Foxp3+CD4+ T cells. Front. Immunol. 9, 1042 (2018).

Menezes, S. et al. The heterogeneity of Ly6Chi monocytes controls their differentiation into iNOS+ macrophages or monocyte-derived dendritic cells. Immunity 45, 1205–1218 (2016).

Yu, H., Pardoll, D. & Jove, R. STATs in cancer inflammation and immunity: a leading role for STAT3. Nat. Rev. Cancer 9, 798–809 (2009).

Lien, E. C., Dibble, C. C. & Toker, A. PI3K signaling in cancer: beyond AKT. Curr. Opin. Cell Biol. 45, 62–71 (2017).

Guryanova, OlgaA. et al. Nonreceptor tyrosine kinase BMX maintains self-renewal and tumorigenic potential of glioblastoma stem cells by activating STAT3. Cancer Cell 19, 498–511 (2011).

Hart, J. R., Liao, L., Yates, J. R. & Vogt, P. K. Essential role of Stat3 in PI3K-induced oncogenic transformation. Proc. Natl Acad. Sci. USA 108, 13247–13252 (2011).

Liu, F. et al. Discovery of a selective irreversible BMX inhibitor for prostate cancer. ACS Chem. Biol. 8, 1423–1428 (2013).

Horn, L. A., Fousek, K. & Palena, C. Tumor plasticity and resistance to immunotherapy. Trends Cancer 6, 432–441 (2020).

Spranger, S., Bao, R. & Gajewski, T. F. Melanoma-intrinsic β-catenin signalling prevents anti-tumour immunity. Nature 523, 231–235 (2015).

Tauriello, D. V. F. et al. TGFβ drives immune evasion in genetically reconstituted colon cancer metastasis. Nature 554, 538–543 (2018).

Sopasakis, V. R. et al. Specific roles of the p110α isoform of phosphatidylinsositol 3-kinase in hepatic insulin signaling and metabolic regulation. Cell Metab. 11, 220–230 (2010).

Schmit, F. et al. PI3K isoform dependence of PTEN-deficient tumors can be altered by the genetic context. Proc. Natl Acad. Sci. USA 111, 6395–6400 (2014).

Wang, Q. et al. PI3K-p110α mediates resistance to HER2-targeted therapy in HER2+, PTEN-deficient breast cancers. Oncogene 35, 3607–3612 (2016).

Liu, P. et al. Oncogenic PIK3CA-driven mammary tumors frequently recur via PI3K pathway-dependent and PI3K pathway-independent mechanisms. Nat. Med. 17, 1116–1120 (2011).

Wang, Q. et al. STING agonism reprograms tumor-associated macrophages and overcomes resistance to PARP inhibition in BRCA1-deficient models of breast cancer. Nat. Commun. 13, 3022 (2022).

Minami, A., Nakanishi, A., Ogura, Y., Kitagishi, Y. & Matsuda, S. Connection between tumor suppressor BRCA1 and PTEN in damaged DNA repair. Front. Oncol. 4, 318 (2014).

Halbrook, C. J. et al. Macrophage-released pyrimidines inhibit gemcitabine therapy in pancreatic cancer. Cell Metab. 29, 1390–1399.e1396 (2019).

Olson, O. C., Kim, H., Quail, D. F., Foley, E. A. & Joyce, J. A. Tumor-associated macrophages suppress the cytotoxic activity of antimitotic agents. Cell Rep. 19, 101–113 (2017).

Toso, A. et al. Enhancing chemotherapy efficacy in Pten-deficient prostate tumors by activating the senescence-associated antitumor immunity. Cell Rep. 9, 75–89 (2014).

Noh, K. H. et al. Activation of Akt as a mechanism for tumor immune evasion. Mol. Ther. 17, 439–447 (2009).

Lee, H. et al. A requirement of STAT3 DNA binding precludes Th-1 immunostimulatory gene expression by NF-κB in tumors. Cancer Res. 71, 3772–3780 (2011).

Kaneda, M. M. et al. PI3Kγ is a molecular switch that controls immune suppression. Nature 539, 437–442 (2016).

Kalinsky, K. et al. Ipatasertib in patients with tumors with AKT mutations: results from the NCI-MATCH ECOG-ACRIN Trial (EAY131) sub-protocol Z1K. Eur. J. Cancer 174, S8–S9 (2022).

Juric, D. et al. Phosphatidylinositol 3-kinase α-selective inhibition with alpelisib (BYL719) in PIK3CA-altered solid tumors: results from the first-in-human study. J. Clin. Oncol. 36, 1291–1299 (2018).

Juric, D. et al. Convergent loss of PTEN leads to clinical resistance to a PI(3)Kα inhibitor. Nature 518, 240–244 (2015).

Choudhury, A. D. et al. A phase i study investigating AZD8186, a potent and selective inhibitor of PI3Kβ/δ, in patients with advanced solid tumors. Clin. Cancer Res. 28, 2257–2269 (2022).

Dumbrava, E. E. et al. Phase I/II study of the selective PI3Kβ inhibitor GSK2636771 in combination with pembrolizumab in patients (pts) with metastatic castration-resistant prostate cancer (mCRPC) and PTEN loss. J. Clin. Oncol. 40, 5052–5052 (2022).

Jung, M. et al. SO-10: an open-label, multi-centre, phase Ib/II study of PI3Kβ selective inhibitor GSK2636771 administered in combination with paclitaxel in patients with advanced gastric cancer having alterations in PI3K/Akt pathway. Ann. Oncol. 32, S206 (2021).

Mateo, J. et al. A first-time-in-human study of GSK2636771, a phosphoinositide 3 kinase beta-selective inhibitor, in patients with advanced solid tumors. Clin. Cancer Res. 23, 5981–5992 (2017).

Lu, X. et al. Effective combinatorial immunotherapy for castration-resistant prostate cancer. Nature 543, 728–732 (2017).

Simond, A. M., Rao, T., Zuo, D., Zhao, J. J. & Muller, W. J. ErbB2-positive mammary tumors can escape PI3K-p110α loss through downregulation of the Pten tumor suppressor. Oncogene 36, 6059–6066 (2017).

Reardon, D. A. et al. Glioblastoma eradication following immune checkpoint blockade in an orthotopic, immunocompetent model. Cancer Immunol. Res. 4, 124–135 (2016).

Palechor-Ceron, N. et al. Radiation induces diffusible feeder cell factor(s) that cooperate with ROCK inhibitor to conditionally reprogram and immortalize epithelial cells. Am. J. Pathol. 183, 1862–1870 (2013).

Takahashi, K. & Yamanaka, S. Induction of pluripotent stem cells from mouse embryonic and adult fibroblast cultures by defined factors. Cell 126, 663–676 (2006).

Lin, J.-R. et al. Highly multiplexed immunofluorescence imaging of human tissues and tumors using t-CyCIF and conventional optical microscopes. eLife 7, e31657 (2018).

Gierahn, T. M. et al. Seq-Well: portable, low-cost RNA sequencing of single cells at high throughput. Nat. Methods 14, 395–398 (2017).

Hughes, T. K. et al. Highly efficient, massively-parallel single-cell RNA-seq reveals cellular states and molecular features of human skin pathology. Preprint at bioRxiv https://doi.org/10.1101/689273 (2019).

Macosko, E. Z. et al. Highly parallel genome-wide expression profiling of individual cells using nanoliter droplets. Cell 161, 1202–1214 (2015).

Butler, A., Hoffman, P., Smibert, P., Papalexi, E. & Satija, R. Integrating single-cell transcriptomic data across different conditions, technologies, and species. Nat. Biotechnol. 36, 411–420 (2018).

Goel, S. et al. CDK4/6 inhibition triggers anti-tumour immunity. Nature 548, 471–475 (2017).

Krämer, A., Green, J., Pollard, J. & Tugendreich, S. Causal analysis approaches in Ingenuity Pathway Analysis. Bioinformatics 30, 523–530 (2014).

Subramanian, A. et al. Gene set enrichment analysis: a knowledge-based approach for interpreting genome-wide expression profiles. Proc. Natl Acad. Sci. USA 102, 15545–15550 (2005).

Cerami, E. et al. The cBio cancer genomics portal: an open platform for exploring multidimensional cancer genomics data. Cancer Discov. 2, 401–404 (2012).

Gao, J. et al. Integrative analysis of complex cancer genomics and clinical profiles using the cBioPortal. Sci. Signal. 6, e2004088 (2013).
Acknowledgements
The authors thank J. Agudo, R. T. Bronson, L. Ding, M. Kearns, S. Lazo, B. Li, Z. Lin, H. Lu, J. Ni, C. Olson and J. Brugge for experimental assistance and scientific discussions; the laboratories of S. Santagata and P. Sorger and members of the Laboratory of Systems Pharmacology for assistance with tCyCIF; and E. Cahn and the Breast Cancer Advocacy Group (BCAG) at the Dana-Farber/Harvard Cancer Center (DF/HCC) for discussions on patient issues and needs. The authors thank the Dale Family Foundation for their charitable contributions; the DF/HCC Breast SPORE: Specialized Program of Research Excellence (SPORE), an NCI-funded programme, grant 1P50CA168504, for their contributions in the collection and distribution of biospecimens used for establishing PDX models. The content is solely the responsibility of the authors and does not necessarily represent the official views of the National Institutes of Health/NCI. This work was supported in part by grants from The Susan G. Komen Foundation PDF16376814 (J.S.B.), Friends of Dana-Farber Cancer Institute (J.S.B.), Cancer Research Institute (Qiwei Wang), Friends of Dana-Farber Cancer Institute (Qiwei Wang), Department of Defense Breast Cancer Research Program Breakthrough Award HT9425-23-1-0026 (Qiwei Wang), Terri Brodeur Breast Cancer Foundation (S.K.), Program Project Grant in Breast and Gynecologic Cancers from DFCI Susan F. Smith Center for Women's Cancers (G.J.F.), Pew-Stewart Scholars Program for Cancer Research (A.K.S.), Sloan Fellowship in Chemistry (A.K.S.), Breast Cancer Research Foundation (J.J.Z.), and NIH P50 CA101942 (G.J.F.), P50CA206963 (G.J.F.), 1DP2GM119419 (A.K.S.), 1U54CA217377 (A.K.S.), P50 CA168504 (T.M.R. and J.J.Z), CA231945 (T.M.R.) and CA210057 (J.J.Z).
Ethics declarations
Competing interests
J.S.B. is a scientific consultant for Geode Therapeutics Inc. J.S.B., G.J.F., T.M.R. and J.J.Z. are co-inventors of DFCI 2180.001 (DFS-166.25) related to this work. Qiwei Wang is a scientific consultant for Crimson Biopharm Inc. Qi Wang is currently an employee at Geode Therapeutics Inc. S.P. is currently an employee at Takeda Pharmaceuticals. S.X. is currently an employee at HiFiBiO Therapeutics. T.V. is currently an employee at MarvelBiome Inc. G.J.F. has patents and pending royalties on the PD-1–PD-L1 pathway from Roche, Merck MSD, Bristol-Myers-Squibb, Merck KGA, Boehringer-Ingelheim, AstraZeneca, Dako, Leica, Mayo Clinic, Eli Lilly and Novartis.  G.J.F. has served on advisory boards for Roche, Bristol-Myers-Squibb, Xios, Origimed, Triursus, iTeos, NextPoint, IgM, Jubilant, Trillium, IOME, Geode, Bright Peak, and GV20. G.J.F. has equity in Nextpoint, Triursus, Xios, iTeos, IgM, Trillium, Invaria, Geode and GV20. H.-J.K. is currently an employee at Genentech. A.K.S. has received compensation for consulting and/or SAB membership from Merck, Honeycomb Biotechnologies, Cellarity, Repertoire Immune Medicines, Hovione, Third Rock Ventures, Ochre Bio, FL82, Empress Therapeutics, Relation Therapeutics, Senda Biosciences, IntrECate biotherapeutics, Santa Ana Bio, and Dahlia Biosciences unrelated to this work. T.M.R. is a SAB member for Shiftbio and K2B Therapeutics and is a co-founder of Geode Therapeutics Inc. J.J.Z. is a co-founder and board director of Crimson Biotech Inc. and Geode Therapeutics Inc. All other authors declare no competing interests.
Peer review
Peer review information
Nature thanks Emilio Hirsch, Maurizio Scaltriti and Judith Varner for their contribution to the peer review of this work. Peer review reports are available.
Additional information
Publisher's note Springer Nature remains neutral with regard to jurisdictional claims in published maps and institutional affiliations.
Extended data figures and tables
Supplementary information
Rights and permissions
Springer Nature or its licensor (e.g. a society or other partner) holds exclusive rights to this article under a publishing agreement with the author(s) or other rightsholder(s); author self-archiving of the accepted manuscript version of this article is solely governed by the terms of such publishing agreement and applicable law.
About this article
Cite this article
Bergholz, J.S., Wang, Q., Wang, Q. et al. PI3Kβ controls immune evasion in PTEN-deficient breast tumours. Nature 617, 139–146 (2023). https://doi.org/10.1038/s41586-023-05940-w
Received:

Accepted:

Published:

Issue Date:

DOI: https://doi.org/10.1038/s41586-023-05940-w
This article is cited by
Anghesom Ghebremedhin
Judith A. Varner

Nature (2023)

Antonino Glaviano
Aaron S. C. Foo
Alan P. Kumar

Molecular Cancer (2023)
Comments
By submitting a comment you agree to abide by our Terms and Community Guidelines. If you find something abusive or that does not comply with our terms or guidelines please flag it as inappropriate.