Abstract
Quantum emitters coupled to optical resonators are quintessential systems for exploring fundamental phenomena in cavity quantum electrodynamics (cQED)1 and are commonly used in quantum devices acting as qubits, memories and transducers2. Many previous experimental cQED studies have focused on regimes in which a small number of identical emitters interact with a weak external drive3,4,5,6, such that the system can be described with simple, effective models. However, the dynamics of a disordered, many-body quantum system subject to a strong drive have not been fully explored, despite its importance and potential in quantum applications7,8,9,10. Here we study how a large, inhomogeneously broadened ensemble of solid-state emitters coupled with high cooperativity to a nanophotonic resonator behaves under strong excitation. We discover a sharp, collectively induced transparency (CIT) in the cavity reflection spectrum, resulting from quantum interference and collective response induced by the interplay between driven inhomogeneous emitters and cavity photons. Furthermore, coherent excitation within the CIT window leads to highly nonlinear optical emission, spanning from fast superradiance to slow subradiance11. These phenomena in the many-body cQED regime enable new mechanisms for achieving slow light12 and frequency referencing, pave a way towards solid-state superradiant lasers13 and inform the development of ensemble-based quantum interconnects9,10.
Access options
Access Nature and 54 other Nature Portfolio journals
Get Nature+, our best-value online-access subscription
$29.99 / 30 days
cancel any time
Subscribe to this journal
Receive 51 print issues and online access
$199.00 per year
only $3.90 per issue
Rent or buy this article
Get just this article for as long as you need it
$39.95
Prices may be subject to local taxes which are calculated during checkout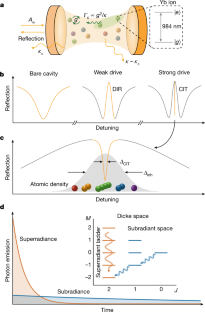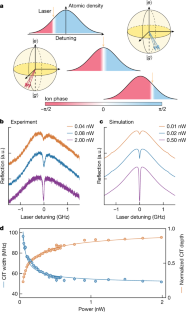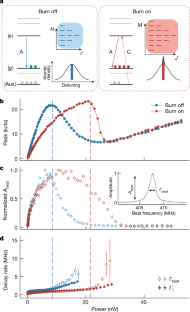 Data availability
The data that support the findings of this study are available from the corresponding authors on reasonable request.
References
Haroche, S. & Kleppner, D. Cavity quantum electrodynamics. Phys. Today 42, 24–30 (1989).

Awschalom, D. D., Hanson, R., Wrachtrup, J. & Zhou, B. B. Quantum technologies with optically interfaced solid-state spins. Nat. Photon. 12, 516–527 (2018).

Walther, H., Varcoe, B. T., Englert, B.-G. & Becker, T. Cavity quantum electrodynamics. Rep. Prog. Phys. 69, 1325 (2006).

Thompson, R., Rempe, G. & Kimble, H. Observation of normal-mode splitting for an atom in an optical cavity. Phys. Rev. Lett. 68, 1132 (1992).

Englund, D. et al. Controlling cavity reflectivity with a single quantum dot. Nature 450, 857–861 (2007).

Lukin, D. M. et al. Two-emitter multimode cavity quantum electrodynamics in thin-film silicon carbide photonics. Phys. Rev. X 13, 011005 (2023).

Kurucz, Z., Wesenberg, J. H. & Mølmer, K. Spectroscopic properties of inhomogeneously broadened spin ensembles in a cavity. Phys. Rev. A 83, 053852 (2011).

Diniz, I. et al. Strongly coupling a cavity to inhomogeneous ensembles of emitters: potential for long-lived solid-state quantum memories. Phys. Rev. A 84, 063810 (2011).

Afzelius, M. & Simon, C. Impedance-matched cavity quantum memory. Phys. Rev. A 82, 022310 (2010).

Williamson, L. A., Chen, Y.-H. & Longdell, J. J. Magneto-optic modulator with unit quantum efficiency. Phys. Rev. Lett. 113, 203601 (2014).

Dicke, R. H. Coherence in spontaneous radiation processes. Phys. Rev. 93, 99–110 (1954).

Novikova, I., Walsworth, R. L. & Xiao, Y. Electromagnetically induced transparency-based slow and stored light in warm atoms. Laser Photonics Rev. 6, 333–353 (2012).

Bohnet, J. G. et al. A steady-state superradiant laser with less than one intracavity photon. Nature 484, 78–81 (2012).

Blais, A., Grimsmo, A. L., Girvin, S. M. & Wallraff, A. Circuit quantum electrodynamics. Rev. Mod. Phys. 93, 025005 (2021).

Duan, L.-M. & Kimble, H. J. Scalable photonic quantum computation through cavity-assisted interactions. Phys. Rev. Lett. 92, 127902 (2004).

Dordević, T. et al. Entanglement transport and a nanophotonic interface for atoms in optical tweezers. Science 373, 1511–1514 (2021).

Mücke, M. et al. Electromagnetically induced transparency with single atoms in a cavity. Nature 465, 755–758 (2010).

Keller, M., Lange, B., Hayasaka, K., Lange, W. & Walther, H. Continuous generation of single photons with controlled waveform in an ion-trap cavity system. Nature 431, 1075–1078 (2004).

Kimble, H. J. The quantum internet. Nature 453, 1023–1030 (2008).

Reiserer, A. & Rempe, G. Cavity-based quantum networks with single atoms and optical photons. Rev. Mod. Phys. 87, 1379–1418 (2015).

Yoshie, T. et al. Vacuum Rabi splitting with a single quantum dot in a photonic crystal nanocavity. Nature 432, 200–203 (2004).

Mlynek, J. A., Abdumalikov, A. A., Eichler, C. & Wallraff, A. Observation of Dicke superradiance for two artificial atoms in a cavity with high decay rate. Nat. Commun. 5, 5186 (2014).

Mirhosseini, M. et al. Cavity quantum electrodynamics with atom-like mirrors. Nature 569, 692–697 (2019).

Evans, R. E. et al. Photon-mediated interactions between quantum emitters in a diamond nanocavity. Science 362, 662–665 (2018).

Norcia, M. A. et al. Cavity-mediated collective spin-exchange interactions in a strontium superradiant laser. Science 361, 259–262 (2018).

Angerer, A. et al. Superradiant emission from colour centres in diamond. Nat. Phys. 14, 1168–1172 (2018).

Periwal, A. et al. Programmable interactions and emergent geometry in an array of atom clouds. Nature 600, 630–635 (2021).

Blaha, M., Johnson, A., Rauschenbeutel, A. & Volz, J. Beyond the Tavis-Cummings model: revisiting cavity QED with ensembles of quantum emitters. Phys. Rev. A 105, 013719 (2022).

Temnov, V. V. & Woggon, U. Superradiance and subradiance in an inhomogeneously broadened ensemble of two-level systems coupled to a low-Q cavity. Phys. Rev. Lett. 95, 243602 (2005).

Greiner, C., Boggs, B. & Mossberg, T. W. Superradiant emission dynamics of an optically thin material sample in a short-decay-time optical cavity. Phys. Rev. Lett. 85, 3793–3796 (2000).

Thiel, C., Böttger, T. & Cone, R. Rare-earth-doped materials for applications in quantum information storage and signal processing. J. Lumin. 131, 353–361 (2011).

Zhong, T., Rochman, J., Kindem, J. M., Miyazono, E. & Faraon, A. High quality factor nanophotonic resonators in bulk rare-earth doped crystals. Opt. Express 24, 536–544 (2016).

Businger, M. et al. Non-classical correlations over 1250 modes between telecom photons and 979-nm photons stored in 171Yb3+:Y2SiO5. Nat. Commun. 13, 6438 (2022).

Lauk, N. et al. Perspectives on quantum transduction. Quant. Sci. Technol. 5, 020501 (2020).

Kindem, J. M. et al. Characterization of 171Yb3+:YVO4 for photonic quantum technologies. Phys. Rev. B 98, 024404 (2018).

Reitz, M., Sommer, C. & Genes, C. Cooperative quantum phenomena in light-matter platforms. PRX Quantum 3, 010201 (2022).

Qin, H., Ding, M. & Yin, Y. Induced transparency with optical cavities. Adv. Photonics Res. 1, 2000009 (2020).

Waks, E. & Vuckovic, J. Dipole induced transparency in drop-filter cavity-waveguide systems. Phys. Rev. Lett. 96, 153601 (2006).

King, G. G. G., Barnett, P. S., Bartholomew, J. G., Faraon, A. & Longdell, J. J. Probing strong coupling between a microwave cavity and a spin ensemble with Raman heterodyne spectroscopy. Phys. Rev. B 103, 214305 (2021).

Tavis, M. & Cummings, F. W. Exact solution for an N-molecule—radiation-field Hamiltonian. Phys. Rev. 170, 379–384 (1968).

Cipris, A. et al. Subradiance with saturated atoms: population enhancement of the long-lived states. Phys. Rev. Lett. 126, 103604 (2021).

Glicenstein, A., Ferioli, G., Browaeys, A. & Ferrier-Barbut, I. From superradiance to subradiance: exploring the many-body Dicke ladder. Opt. Lett. 47, 1541–1544 (2022).

Shen, Z. & Dogariu, A. Subradiant directional memory in cooperative scattering. Nat. Photon. 16, 148–153 (2022).

Ferioli, G., Glicenstein, A., Henriet, L., Ferrier-Barbut, I. & Browaeys, A. Storage and release of subradiant excitations in a dense atomic cloud. Phys. Rev. X 11, 021031 (2021).

Verstraete, F., Wolf, M. M. & Ignacio Cirac, J. Quantum computation and quantum-state engineering driven by dissipation. Nat. Phys. 5, 633–636 (2009).

Kastoryano, M. J., Reiter, F. & Sørensen, A. S. Dissipative preparation of entanglement in optical cavities. Phys. Rev. Lett. 106, 090502 (2011).

Lewis-Swan, R. J. et al. Cavity-QED quantum simulator of dynamical phases of a Bardeen-Cooper-Schrieffer superconductor. Phys. Rev. Lett. 126, 173601 (2021).

Gross, M. & Haroche, S. Superradiance: an essay on the theory of collective spontaneous emission. Phys. Rep. 93, 301–396 (1982).

Bartholomew, J. G. et al. On-chip coherent microwave-to-optical transduction mediated by ytterbium in YVO4. Nat. Commun. 11, 3266 (2020).

Shcherbatenko, M. et al. Potential of a superconducting photon counter for heterodyne detection at the telecommunication wavelength. Opt. Express 24, 30474–30484 (2016).

Zhang, Y., Zhang, Y.-X. & Mølmer, K. Monte-Carlo simulations of superradiant lasing. New J. Phys. 20, 112001 (2018).
Acknowledgements
We thank A. Ruskuc, T. Xie, C.-J. Wu, O. Vendrell and R. Finkelstein for discussion. This work was supported by the US Department of Energy, Office of Science, National Quantum Information Science Research Centers, Co-design Center for Quantum Advantage (contract number DE-SC0012704), Institute for Quantum Information and Matter, an NSF Physics Frontiers Center (PHY-1733907) with support from the Moore Foundation and by the Office of Naval Research awards no. N00014-19-1-2182 and N00014-22-1-2422 and the Army Research Office MURI programme (W911NF2010136). The device nanofabrication was performed in the Kavli Nanoscience Institute at the California Institute of Technology. M.L. acknowledges the support from the Eddleman Graduate Fellowship. R.F. acknowledges the support from the JASSO Graduate Scholarship. J.R. acknowledges the support from the Natural Sciences and Engineering Research Council of Canada (NSERC) (PGSD3-502844-2017). J.C. acknowledges support from the IQIM Postdoctoral Fellowship.
Ethics declarations
Competing interests
The authors declare no competing interests.
Peer review
Peer review information
Nature thanks the anonymous reviewers for their contribution to the peer review of this work. Peer reviewer reports are available.
Additional information
Publisher's note Springer Nature remains neutral with regard to jurisdictional claims in published maps and institutional affiliations.
Extended data figures and tables
Supplementary information
This file contains Supplementary Sections 1–7 and the Supplementary References. Sections 1–7 also include Supplementary Table 1 and Supplementary Figs. 1–10.
Rights and permissions
Springer Nature or its licensor (e.g. a society or other partner) holds exclusive rights to this article under a publishing agreement with the author(s) or other rightsholder(s); author self-archiving of the accepted manuscript version of this article is solely governed by the terms of such publishing agreement and applicable law.
About this article
Cite this article
Lei, M., Fukumori, R., Rochman, J. et al. Many-body cavity quantum electrodynamics with driven inhomogeneous emitters. Nature 617, 271–276 (2023). https://doi.org/10.1038/s41586-023-05884-1
Received:

Accepted:

Published:

Issue Date:

DOI: https://doi.org/10.1038/s41586-023-05884-1
This article is cited by
Mohamed Baghdad
Pierre-Antoine Bourdel
Romain Long

Nature Physics (2023)
Comments
By submitting a comment you agree to abide by our Terms and Community Guidelines. If you find something abusive or that does not comply with our terms or guidelines please flag it as inappropriate.