Abstract
Non-enveloped viruses require cell lysis to release new virions from infected cells, suggesting that these viruses require mechanisms to induce cell death. Noroviruses are one such group of viruses, but there is no known mechanism that causes norovirus infection-triggered cell death and lysis1,2,3. Here we identify a molecular mechanism of norovirus-induced cell death. We found that the norovirus-encoded NTPase NS3 contains an N-terminal four-helix bundle domain homologous to the membrane-disruption domain of the pseudokinase mixed lineage kinase domain-like (MLKL). NS3 has a mitochondrial localization signal and thus induces cell death by targeting mitochondria. Full-length NS3 and an N-terminal fragment of the protein bound the mitochondrial membrane lipid cardiolipin, permeabilized the mitochondrial membrane and induced mitochondrial dysfunction. Both the N-terminal region and the mitochondrial localization motif of NS3 were essential for cell death, viral egress from cells and viral replication in mice. These findings suggest that noroviruses have acquired a host MLKL-like pore-forming domain to facilitate viral egress by inducing mitochondrial dysfunction.
Access options
Access Nature and 54 other Nature Portfolio journals
Get Nature+, our best-value online-access subscription
$29.99 / 30 days
cancel any time
Subscribe to this journal
Receive 51 print issues and online access
$199.00 per year
only $3.90 per issue
Rent or buy this article
Get just this article for as long as you need it
$39.95
Prices may be subject to local taxes which are calculated during checkout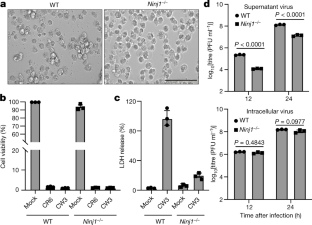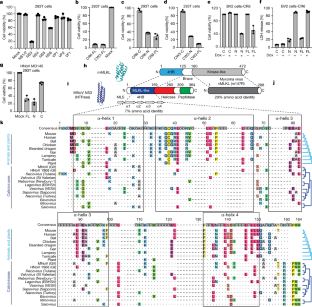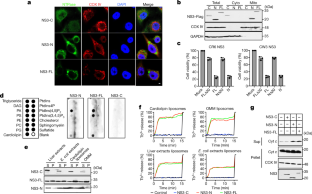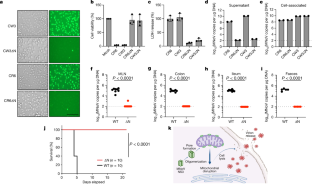 Data availability
All data are available in the main paper, supplementary information and via figshare https://doi.org/10.6084/m9.figshare.21586098. All reagents are available from the authors under a material transfer agreement with University of Texas Southwestern Medical Center. Source data are provided with this paper.
References
Karst, S. M., Wobus, C. E., Goodfellow, I. G., Green, K. Y. & Virgin, H. W. Advances in norovirus biology. Cell Host Microbe 15, 668–680 (2014).

Glass, R. I., Parashar, U. D. & Estes, M. K. Norovirus gastroenteritis. N. Engl. J. Med. 361, 1776–1785 (2009).

Karst, S. M. & Tibbetts, S. A. Recent advances in understanding norovirus pathogenesis: norovirus pathogenesis. J. Med. Virol. 88, 1837–1843 (2016).

Elde, N. C. & Malik, H. S. The evolutionary conundrum of pathogen mimicry. Nat. Rev. Microbiol. 7, 787–797 (2009).

Jorgensen, I., Rayamajhi, M. & Miao, E. A. Programmed cell death as a defence against infection. Nat. Rev. Immunol. 17, 151–164 (2017).

Jorgensen, I. & Miao, E. A. Pyroptotic cell death defends against intracellular pathogens. Immunol. Rev. 265, 130–142 (2015).

McFadden, N. et al. Norovirus regulation of the innate immune response and apoptosis occurs via the product of the alternative open reading frame 4. PLoS Pathog. 7, e1002413 (2011).

Furman, L. M. et al. Cysteine protease activation and apoptosis in murine norovirus infection. Virol. J. 6, 139–139 (2009).

Bok, K., Prikhodko, V. G., Green, K. Y. & Sosnovtsev, S. V. Apoptosis in murine norovirus-infected RAW264.7 cells is associated with downregulation of survivin. J. Virol. 83, 3647–3656 (2009).

Dubois, H. et al. Nlrp3 inflammasome activation and gasdermin D-driven pyroptosis are immunopathogenic upon gastrointestinal norovirus infection. PLoS Pathog. 15, e1007709 (2019).

Santiana, M. et al. Vesicle-cloaked virus clusters are optimal units for inter-organismal viral transmission. Cell Host Microbe 24, 208–220.e8 (2018).

Kayagaki, N. et al. NINJ1 mediates plasma membrane rupture during lytic cell death. Nature 591, 131–136 (2021).

Wobus, C. E. et al. Replication of norovirus in cell culture reveals a tropism for dendritic cells and macrophages. PLoS Biol. 2, e432 (2004).

Degterev, A. et al. Chemical inhibitor of nonapoptotic cell death with therapeutic potential for ischemic brain injury. Nat. Chem. Biol. 1, 112–119 (2005).

Hildebrand, J. M. et al. Activation of the pseudokinase MLKL unleashes the four-helix bundle domain to induce membrane localization and necroptotic cell death. Proc. Natl Acad. Sci. USA 111, 15072–15077 (2014).

Sun, L. et al. Mixed lineage kinase domain-like protein mediates necrosis signaling downstream of RIP3 kinase. Cell 148, 213–227 (2012).

Yen, J.-B. et al. Identification and characterization of human norovirus NTPase regions required for lipid droplet localization, cellular apoptosis, and interaction with the viral p22 protein. Microbiol. Spectr. 9, e00422-21 (2021).

Yen, J.-B. et al. Subcellular localization and functional characterization of GII.4 norovirus-encoded NTPase. J. Virol. 92, e01824-17 (2018).

Han, K. R. et al. Nucleotide triphosphatase and RNA chaperone activities of murine norovirus NS3. J. Gen. Virol. 99, 1482–1493 (2018).

Li, T.-F. et al. Human norovirus NS3 has RNA helicase and chaperoning activities. J. Virol. 92, e01606-17 (2018).

Cotton, B. T. et al. The norovirus NS3 protein is a dynamic lipid- and microtubule-associated protein involved in viral RNA replication. J. Virol. 91, e02138-16 (2017).

Thorne, L. G. & Goodfellow, I. G. Norovirus gene expression and replication. J. Gen. Virol. 95, 278–291 (2014).

Campillay-Véliz, C. P. et al. Human norovirus proteins: implications in the replicative cycle, pathogenesis, and the host immune response. Front. Immunol. 11, 961 (2020).

Jones, M. K. et al. Enteric bacteria promote human and mouse norovirus infection of B cells. Science 346, 755–759 (2014).

Wang, H. et al. Mixed lineage kinase domain-like protein MLKL causes necrotic membrane disruption upon phosphorylation by RIP3. Mol. Cell 54, 133–146 (2014).

Murphy, J. M. et al. The pseudokinase MLKL mediates necroptosis via a molecular switch mechanism. Immunity 39, 443–453 (2013).

Green, K. Y. et al. A predominant role for Norwalk-like viruses as agents of epidemic gastroenteritis in Maryland nursing homes for the elderly. J. Infect. Dis. 185, 133–146 (2002).

Armenteros, J. J. A., Sønderby, C. K., Sønderby, S. K., Nielsen, H. & Winther, O. DeepLoc: prediction of protein subcellular localization using deep learning. Bioinformatics 33, 3387–3395 (2017).

Chu, C. T. et al. Cardiolipin externalization to the outer mitochondrial membrane acts as an elimination signal for mitophagy in neuronal cells. Nat. Cell Biol. 15, 1197–1205 (2013).

Liu, J. et al. Role of phospholipid scramblase 3 in the regulation of tumor necrosis factor-α-induced apoptosis. Biochemistry 47, 4518–4529 (2008).

Yunus, M. A., Chung, L. M. W., Chaudhry, Y., Bailey, D. & Goodfellow, I. Development of an optimized RNA-based murine norovirus reverse genetics system. J. Virol. Methods 169, 112–118 (2010).

Nice, T. J., Strong, D. W., McCune, B. T., Pohl, C. S. & Virgin, H. W. A single-amino-acid change in murine norovirus NS1/2 is sufficient for colonic tropism and persistence. J. Virol. 87, 327–334 (2012).

Karst, S. M., Wobus, C. E., Lay, M., Davidson, J. & Virgin, H. W. IV STAT1-dependent innate immunity to a Norwalk-like virus. Science 299, 1575–1578 (2003).

Rogers, C. et al. Gasdermin pores permeabilize mitochondria to augment caspase-3 activation during apoptosis and inflammasome activation. Nat. Commun. 10, 1689 (2019).

Bock, F. J. & Tait, S. W. G. Mitochondria as multifaceted regulators of cell death. Nat. Rev. Mol. Cell Bio. 21, 85–100 (2020).

Evavold, C. L. et al. Control of gasdermin D oligomerization and pyroptosis by the Ragulator–Rag–mTORC1 pathway. Cell 184, 4495–4511.e19 (2021).

Petrie, E. J. et al. Viral MLKL homologs subvert necroptotic cell death by sequestering cellular RIPK3. Cell Rep. 28, 3309–3319.e5 (2019).

Palmer, S., Chappidi, S., Pinkham, C. & Hancks, D. C. Evolutionary profile for (host and viral) MLKL indicates its activities as a battlefront for extensive counteradaptation. Mol. Biol. Evol. 38, msab256 (2021).

Farag, N. S., Breitinger, U., Breitinger, H. G. & Azizi, M. A. E. Viroporins and inflammasomes: key to understand virus-induced inflammation. Int. J. Biochem. Cell Biol. 122, 105738 (2020).

Nieva, J. L., Madan, V. & Carrasco, L. Viroporins: structure and biological functions. Nat. Rev. Microbiol. 10, 563–574 (2012).

Mahdi, L. K. et al. Discovery of a family of mixed lineage kinase domain-like proteins in plants and their role in innate immune signaling. Cell Host Microbe 28, 813–824.e6 (2020).

Durbin, J. E., Hackenmiller, R., Simon, M. C. & Levy, D. E. Targeted disruption of the mouse Stat1 gene results in compromised innate immunity to viral disease. Cell 84, 443–450 (1996).

He, S. et al. Receptor interacting protein kinase-3 determines cellular necrotic response to TNF-α. Cell 137, 1100–1111 (2009).

Ward, V. K. et al. Recovery of infectious murine norovirus using Pol II-driven expression of full-length cDNA. Proc. Natl Acad. Sci. USA 104, 11050–11055 (2007).

Orchard, R. C. et al. Discovery of a proteinaceous cellular receptor for a norovirus. Science 353, 933–936 (2016).

Baert, L. et al. Detection of murine norovirus by using plaque assay, transfection assay, and real-time reverse transcription–PCR before and after heat exposure. Appl. Environ. Microbiol. 74, 543–546 (2008).

Hwang, S. et al. Murine norovirus: propagation, quantification, and genetic manipulation. Curr. Protoc. Microbiol. 33, 15K.2.1–15K.2.61 (2014).

Sanjana, N. E., Shalem, O. & Zhang, F. Improved vectors and genome-wide libraries for CRISPR screening. Nat. Methods 11, 783–784 (2014).

Vinjé, J. et al. ICTV virus taxonomy profile: Caliciviridae. J. Gen. Virol. 100, 1469–1470 (2019).

Jumper, J. et al. Highly accurate protein structure prediction with AlphaFold. Nature 596, 583–589 (2021).
Acknowledgements
The authors thank Z. G. Wang for providing the pLVX-TRE3G vector; J. Rizo-Rey, Z. G. Wang and K. Yang for helpful discussions and technical assistance; and members of the Reese laboratory for technical assistance. T.A.R. is supported by grants from the NIH (R01AI130020-01A1, U19AI142784), CPRIT (RP200118), and the Pew Scholars Program. D.C.H. is funded by a 1R35GM142689-01 and a Recruitment of First-Time, Tenure-Track Faculty from Cancer Prevention & Research Institute of Texas Award (RR 170047).
Ethics declarations
Competing interests
The authors declare no competing interests.
Peer review
Peer review information
Nature thanks the anonymous reviewer(s) for their contribution to the peer review of this work. Peer review reports are available.
Additional information
Publisher's note Springer Nature remains neutral with regard to jurisdictional claims in published maps and institutional affiliations.
Extended data figures and tables
Supplementary information
This file contains Supplementary Fig. 1 with uncropped gel source data and Supplementary Tables 1, 2 and 3.
Rights and permissions
Springer Nature or its licensor (e.g. a society or other partner) holds exclusive rights to this article under a publishing agreement with the author(s) or other rightsholder(s); author self-archiving of the accepted manuscript version of this article is solely governed by the terms of such publishing agreement and applicable law.
About this article
Cite this article
Wang, G., Zhang, D., Orchard, R.C. et al. Norovirus MLKL-like protein initiates cell death to induce viral egress. Nature 616, 152–158 (2023). https://doi.org/10.1038/s41586-023-05851-w
Received:

Accepted:

Published:

Issue Date:

DOI: https://doi.org/10.1038/s41586-023-05851-w
This article is cited by
Nature Reviews Microbiology (2023)
Comments
By submitting a comment you agree to abide by our Terms and Community Guidelines. If you find something abusive or that does not comply with our terms or guidelines please flag it as inappropriate.