Abstract
Gastrointestinal (GI) discomfort is a hallmark of most gut disorders and represents an important component of chronic visceral pain1. For the growing population afflicted by irritable bowel syndrome, GI hypersensitivity and pain persist long after tissue injury has resolved2. Irritable bowel syndrome also exhibits a strong sex bias, afflicting women three times more than men1. Here, we focus on enterochromaffin (EC) cells, which are rare excitable, serotonergic neuroendocrine cells in the gut epithelium3,4,5. EC cells detect and transduce noxious stimuli to nearby mucosal nerve endings3,6 but involvement of this signalling pathway in visceral pain and attendant sex differences has not been assessed. By enhancing or suppressing EC cell function in vivo, we show that these cells are sufficient to elicit hypersensitivity to gut distension and necessary for the sensitizing actions of isovalerate, a bacterial short-chain fatty acid associated with GI inflammation7,8. Remarkably, prolonged EC cell activation produced persistent visceral hypersensitivity, even in the absence of an instigating inflammatory episode. Furthermore, perturbing EC cell activity promoted anxiety-like behaviours which normalized after blockade of serotonergic signalling. Sex differences were noted across a range of paradigms, indicating that the EC cell–mucosal afferent circuit is tonically engaged in females. Our findings validate a critical role for EC cell–mucosal afferent signalling in acute and persistent GI pain, in addition to highlighting genetic models for studying visceral hypersensitivity and the sex bias of gut pain.
Access options
Access Nature and 54 other Nature Portfolio journals
Get Nature+, our best-value online-access subscription
$29.99 / 30 days
cancel any time
Subscribe to this journal
Receive 51 print issues and online access
$199.00 per year
only $3.90 per issue
Rent or buy this article
Get just this article for as long as you need it
$39.95
Prices may be subject to local taxes which are calculated during checkout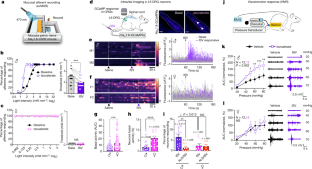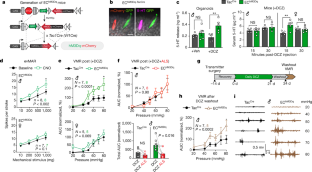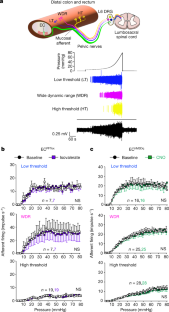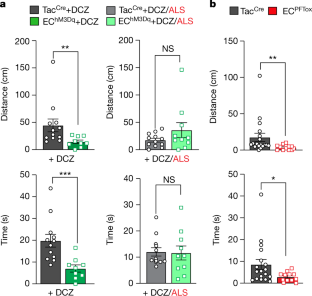 References
Enck, P. et al. Irritable bowel syndrome. Nat. Rev. Dis. Primers 2, 16014 (2016).

Grundy, L., Erickson, A. & Brierley, S. M. Visceral pain. Annu. Rev. Physiol. 81, 261–284 (2019).

Bellono, N. W. et al. Enterochromaffin cells are gut chemosensors that couple to sensory neural pathways. Cell 170, 185–198 (2017).

Racke, K. & Schworer, H. Characterization of the role of calcium and sodium channels in the stimulus secretion coupling of 5-hydroxytryptamine release from porcine enterochromaffin cells. Naunyn Schmiedebergs Arch. Pharmacol. 347, 1–8 (1993).

Strege, P. R. et al. Sodium channel NaV1.3 is important for enterochromaffin cell excitability and serotonin release. Sci. Rep. 7, 15650 (2017).

Gershon, M. D. Serotonin is a sword and a shield of the bowel: serotonin plays offense and defense. Trans. Am. Clin. Climatol. Assoc. 123, 268–280 (2012).

Koh, A., De Vadder, F., Kovatcheva-Datchary, P. & Bäckhed, F. From dietary fiber to host physiology: short-chain fatty acids as key bacterial metabolites. Cell 165, 1332–1345 (2016).

Farup, P. G., Rudi, K. & Hestad, K. Faecal short-chain fatty acids—a diagnostic biomarker for irritable bowel syndrome? BMC Gastroenterol. 16, 51 (2016).

Gribble, F. M. & Reimann, F. Enteroendocrine cells: chemosensors in the intestinal epithelium. Annu. Rev. Physiol. 78, 277–299 (2016).

Gribble, F. M. & Reimann, F. Function and mechanisms of enteroendocrine cells and gut hormones in metabolism. Nat. Rev. Endocrinol. 15, 226–237 (2019).

Liddle, R. A. Neuropods. Cell Mol. Gastroenterol. Hepatol. 7, 739–747 (2019).

Kaelberer, M. M. et al. A gut–brain neural circuit for nutrient sensory transduction. Science 361, eaat5236 (2018).

Treichel, A. J. et al. Specialized mechanosensory epithelial cells in mouse gut intrinsic tactile sensitivity. Gastroenterology 162, 535–547 (2022).

Nozawa, K. et al. TRPA1 regulates gastrointestinal motility through serotonin release from enterochromaffin cells. Proc. Natl Acad. Sci. USA 106, 3408–3413 (2009).

Mawe, G. M. & Hoffman, J. M. Serotonin signalling in the gut—functions, dysfunctions and therapeutic targets. Nat. Rev. Gastroenterol. Hepatol. 10, 473–486 (2013).

Osteen, J. D. et al. Selective spider toxins reveal a role for the NaV1.1 channel in mechanical pain. Nature 534, 494–499 (2016).

Sadeghi, M. et al. Contribution of membrane receptor signalling to chronic visceral pain. Int. J. Biochem. Cell Biol. 98, 10–23 (2018).

Lu, V. B., Gribble, F. M. & Reimann, F. Free fatty acid receptors in enteroendocrine cells. Endocrinology 159, 2826–2835 (2018).

Mars, R. A. T. et al. Longitudinal multi-omics reveals subset-specific mechanisms underlying irritable bowel syndrome. Cell 182, 1460–1473 (2020).

Alcaino, C. et al. A population of gut epithelial enterochromaffin cells is mechanosensitive and requires Piezo2 to convert force into serotonin release. Proc. Natl Acad. Sci. USA 115, e7632–e7641 (2018).

Wang, F. et al. Mechanosensitive ion channel Piezo2 is important for enterochromaffin cell response to mechanical forces. J. Physiol. 595, 79–91 (2017).

Brierley, S. M., Jones, R. C. 3rd, Gebhart, G. F. & Blackshaw, L. A. Splanchnic and pelvic mechanosensory afferents signal different qualities of colonic stimuli in mice. Gastroenterology 127, 166–178 (2004).

Daou, I. et al. Remote optogenetic activation and sensitization of pain pathways in freely moving mice. J. Neurosci. 33, 18631–18640 (2013).

Kim, J. C. et al. Linking genetically defined neurons to behavior through a broadly applicable silencing allele. Neuron 63, 305–315 (2009).

Jensen, P. et al. Redefining the serotonergic system by genetic lineage. Nat. Neurosci. 11, 417–419 (2008).

Erspamer, V. & Asero, B. Identification of enteramine, the specific hormone of the enterochromaffin cell system, as 5-hydroxytryptamine. Nature 169, 800–801 (1952).

Spohn, S. N. & Mawe, G. M. Non-conventional features of peripheral serotonin signalling—the gut and beyond. Nat. Rev. Gastroenterol. Hepatol. 14, 412–420 (2017).

Brierley, S. M., Hibberd, T. J. & Spencer, N. J. Spinal afferent innervation of the colon and rectum. Front. Cell Neurosci. 12, 467 (2018).

Uhlig, F. et al. Identification of a quorum sensing-dependent communication pathway mediating bacteria–gut–brain cross talk. iScience 23, 101695 (2020).

Makadia, P. A. et al. Optogenetic activation of colon epithelium of the mouse produces high-frequency bursting in extrinsic colon afferents and engages visceromotor responses. J. Neurosci. 38, 5788–5798 (2018).

Grundy, L. et al. Chronic linaclotide treatment reduces colitis-induced neuroplasticity and reverses persistent bladder dysfunction. JCI Insight 3, e121841 (2018).

Najjar, S. A. et al. Optogenetic inhibition of the colon epithelium reduces hypersensitivity in a mouse model of inflammatory bowel disease. Pain 162, 1126–1134 (2021).

Jones, R. C. 3rd, Xu, L. & Gebhart, G. F. The mechanosensitivity of mouse colon afferent fibers and their sensitization by inflammatory mediators require transient receptor potential vanilloid 1 and acid-sensing ion channel 3. J. Neurosci. 25, 10981–10989 (2005).

Castro, J. et al. Activation of pruritogenic TGR5, MrgprA3, and MrgprC11 on colon-innervating afferents induces visceral hypersensitivity. JCI Insight 4, e131712 (2019).

Fothergill, L. J. & Furness, J. B. Diversity of enteroendocrine cells investigated at cellular and subcellular levels: the need for a new classification scheme. Histochem. Cell Biol. 150, 693–702 (2018).

Koo, A., Fothergill, L. J., Kuramoto, H. & Furness, J. B. 5-HT containing enteroendocrine cells characterised by morphologies, patterns of hormone co-expression, and relationships with nerve fibres in the mouse gastrointestinal tract. Histochem. Cell Biol. 155, 623–636 (2021).

Lumsden, A. L. et al. Sugar responses of human enterochromaffin cells depend on gut region, sex, and body mass. Nutrients 11, 234 (2019).

Bohórquez, D. V. et al. Neuroepithelial circuit formed by innervation of sensory enteroendocrine cells. J. Clin. Invest. 125, 782–786 (2015).

Brenner, D. M. & Sayuk, G. S. Current US Food and Drug Administration-approved pharmacologic therapies for the treatment of irritable bowel syndrome with diarrhea. Adv. Ther. 37, 83–96 (2020).

Bradesi, S. et al. Dual role of 5-HT3 receptors in a rat model of delayed stress-induced visceral hyperalgesia. Pain 130, 56–65 (2007).

Miranda, A., Peles, S., McLean, P. G. & Sengupta, J. N. Effects of the 5-HT3 receptor antagonist, alosetron, in a rat model of somatic and visceral hyperalgesia. Pain 126, 54–63 (2006).

El-Ayache, N. & Galligan, J. J. 5-HT3 receptor signaling in serotonin transporter-knockout rats: a female sex-specific animal model of visceral hypersensitivity. Am. J. Physiol. Gastrointest. Liver Physiol. 316, G132–G143 (2019).

Hicks, G. A. et al. Excitation of rat colonic afferent fibres by 5-HT(3) receptors. J. Physiol. 544, 861–869 (2002).

Ji, Y., Tang, B. & Traub, R. J. The visceromotor response to colorectal distention fluctuates with the estrous cycle in rats. Neuroscience 154, 1562–1567 (2008).

Gustafsson, J. K. & Greenwood-Van Meerveld, B. Amygdala activation by corticosterone alters visceral and somatic pain in cycling female rats. Am. J. Physiol. Gastrointest. Liver Physiol. 300, G1080–G1085 (2011).

Ji, Y., Murphy, A. Z. & Traub, R. J. Estrogen modulates the visceromotor reflex and responses of spinal dorsal horn neurons to colorectal stimulation in the rat. J. Neurosci. 23, 3908–3915 (2003).

Balasuriya, G. K., Hill-Yardin, E. L., Gershon, M. D. & Bornstein, J. C. A sexually dimorphic effect of cholera toxin: rapid changes in colonic motility mediated via a 5-HT3 receptor-dependent pathway in female C57Bl/6 mice. J. Physiol. 594, 4325–4338 (2016).

Törnblom, H. & Drossman, D. A. Psychopharmacologic therapies for irritable bowel syndrome. Gastroenterol. Clin. North Am. 50, 655–669 (2021).

Galligan, J. J. et al. Visceral hypersensitivity in female but not in male serotonin transporter knockout rats. Neurogastroenterol. Motil. 25, e373–e381 (2013).

Wang, Y. C. et al. The ETS oncogene family transcription factor FEV identifies serotonin-producing cells in normal and neoplastic small intestine. Endocr. Relat. Cancer 17, 283–291 (2010).

Hennessy, M. L. et al. Activity of Tachykinin1-expressing Pet1 raphe neurons modulates the respiratory chemoreflex. J. Neurosci. 37, 1807–1819 (2017).

Madison, B. B. et al. Cis elements of the villin gene control expression in restricted domains of the vertical (crypt) and horizontal (duodenum, cecum) axes of the intestine. J. Biol. Chem. 277, 33275–33283 (2002).

Salvatierra, J. et al. NaV1.1 inhibition can reduce visceral hypersensitivity. JCI Insight 3, e121000 (2018).

Hockley, J. R. F. et al. Single-cell RNAseq reveals seven classes of colonic sensory neuron. Gut 68, 633–644 (2019).

Cantu, D. A. et al. EZcalcium: open-source toolbox for analysis of calcium imaging data. Front. Neural Circuits 14, 25 (2020).

Schindelin, J. et al. Fiji: an open-source platform for biological-image analysis. Nat. Methods 9, 676–682 (2012).

Sato, T. et al. Single Lgr5 stem cells build crypt–villus structures in vitro without a mesenchymal niche. Nature 459, 262–265 (2009).

Becker, L. et al. Age-dependent shift in macrophage polarisation causes inflammation-mediated degeneration of enteric nervous system. Gut 67, 827–836 (2018).

Li, Z. S., Schmauss, C., Cuenca, A., Ratcliffe, E. & Gershon, M. D. Physiological modulation of intestinal motility by enteric dopaminergic neurons and the D2 receptor: analysis of dopamine receptor expression, location, development, and function in wild-type and knock-out mice. J. Neurosci. 26, 2798–2807 (2006).
Acknowledgements
We thank J. Poblete for expert assistance with animal husbandry and genotyping; the Garvan Institute, Australia, for genotyping services; the Preclinical, Imaging and Research Laboratories (SAHMRI) for the use of their small animal facility; and the University of South Australia and the UCSF Nikon Imaging Core for use of their confocal imaging facilities. We thank K. Yackle and all members of our groups for many helpful suggestions and critical comments and N. Bellono for strategic contributions in the early stages of this project. We thank B. Yu for assistance in transmitter surgeries and animal care. This work was supported by NIH training grant T32 DK007762 and postdoctoral fellowship from the A.P. Giannini Foundation (R.D.M.) and the Damon Runyon Cancer Research Foundation (K.K.T.), a Simons Foundation Autism Research Initiative Pilot Award (514791 to D.J.), a Rainin Foundation Innovator Award (20191150 to D.J.), grants from the US National Institutes of Health (HEAL-SPARC Initiative U01NS113869 to H.A.I., D.J. and S.M.B., R35 NS105038 to D.J., R01 DK121657 and GCRLE0320 to H.A.I., and R03 DK121061 and R01 DK128346 to J.R.B.), National Health and Medical Research Council of Australia (NHMRC) Investigator Leadership Grant (APP2008727 to S.M.B.), an NHMRC Development Grant (APP2014250 to S.M.B), an NHMRC Ideas Grant (APP1181448 to J.C.) and the Hospital Research Foundation PhD scholarship (SAPhD000242018 to J.M.).
Ethics declarations
Competing interests
The authors declare no competing interests.
Peer review
Peer review information
Nature thanks the anonymous reviewers for their contribution to the peer review of this work.
Additional information
Publisher's note Springer Nature remains neutral with regard to jurisdictional claims in published maps and institutional affiliations.
Extended data figures and tables
Supplementary information
Rights and permissions
Springer Nature or its licensor (e.g. a society or other partner) holds exclusive rights to this article under a publishing agreement with the author(s) or other rightsholder(s); author self-archiving of the accepted manuscript version of this article is solely governed by the terms of such publishing agreement and applicable law.
About this article
Cite this article
Bayrer, J.R., Castro, J., Venkataraman, A. et al. Gut enterochromaffin cells drive visceral pain and anxiety. Nature 616, 137–142 (2023). https://doi.org/10.1038/s41586-023-05829-8
Received:

Accepted:

Published:

Issue Date:

DOI: https://doi.org/10.1038/s41586-023-05829-8
Comments
By submitting a comment you agree to abide by our Terms and Community Guidelines. If you find something abusive or that does not comply with our terms or guidelines please flag it as inappropriate.