Abstract
While motor cortical circuits contain information related to specific movement parameters1, long-range inputs also have a critical role in action execution2,3. Thalamic projections can shape premotor activity2,3,4,5,6 and have been suggested7 to mediate the selection of short, stereotyped actions comprising more complex behaviours8. However, the mechanisms by which thalamus interacts with motor cortical circuits to execute such movement sequences remain unknown. Here we find that thalamic drive engages a specific subpopulation of premotor neurons within the zebra finch song nucleus HVC (proper name) and that these inputs are critical for the progression between vocal motor elements (that is, 'syllables'). In vivo two-photon imaging of thalamic axons in HVC showed robust song-related activity, and online perturbations of thalamic function caused song to be truncated at syllable boundaries. We used thalamic stimulation to identify a sparse set of thalamically driven neurons within HVC, representing ~15% of the premotor neurons within that network. Unexpectedly, this population of putative thalamorecipient neurons is robustly active immediately preceding syllable onset, leading to the possibility that thalamic input can initiate individual song components through selectively targeting these 'starter cells'. Our findings highlight the motor thalamus as a director of cortical dynamics in the context of an ethologically relevant behavioural sequence.
Access options
Access Nature and 54 other Nature Portfolio journals
Get Nature+, our best-value online-access subscription
$29.99 / 30 days
cancel any time
Subscribe to this journal
Receive 51 print issues and online access
$199.00 per year
only $3.90 per issue
Rent or buy this article
Get just this article for as long as you need it
$39.95
Prices may be subject to local taxes which are calculated during checkout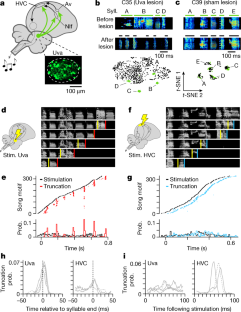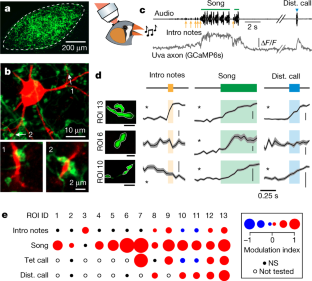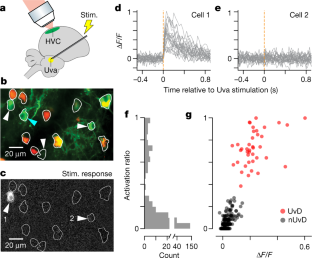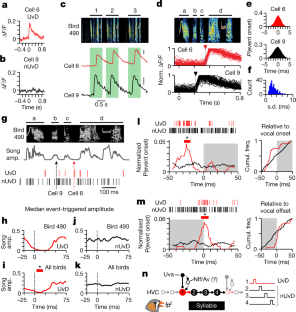 Data availability
The data that support the findings of this study are available from the corresponding author upon request.
References
Shenoy, K. V., Sahani, M. & Churchland, M. M. Cortical control of arm movements: a dynamical systems perspective. Annu. Rev. Neurosci. 36, 337–359 (2013).

Inagaki, H. K. et al. A midbrain–thalamus–cortex circuit reorganizes cortical dynamics to initiate movement. Cell 185, 1065–1081 (2022).

Dacre, J. et al. A cerebellar–thalamocortical pathway drives behavioral context-dependent movement initiation. Neuron 109, 2326–2338 (2021).

Guo, Z. V. et al. Maintenance of persistent activity in a frontal thalamocortical loop. Nature 545, 181–186 (2017).

Gaidica, M., Hurst, A., Cyr, C. & Leventhal, D. K. Distinct populations of motor thalamic neurons encode action initiation, action selection, and movement vigor. J. Neurosci. 38, 6563–6573 (2018).

Sauerbrei, B. A. et al. Cortical pattern generation during dexterous movement is input-driven. Nature 577, 386–391 (2020).

Logiaco, L., Abbott, L. F. & Escola, S. Thalamic control of cortical dynamics in a model of flexible motor sequencing. Cell Rep. 35, 109090 (2021).

Tanji, J. Sequential organization of multiple movements: involvement of cortical motor areas. Annu. Rev. Neurosci. 24, 631–651 (2001).

Glaze, C. M. & Troyer, T. W. Temporal structure in zebra finch song: implications for motor coding. J. Neurosci. 26, 991–1005 (2006).

Cynx, J. Experimental determination of a unit of song production in the zebra finch (Taeniopygia guttata). J. Comp. Psychol. 104, 3–10 (1990).

Okubo, T. S., Mackevicius, E. L., Payne, H. L., Lynch, G. F. & Fee, M. S. Growth and splitting of neural sequences in songbird vocal development. Nature 528, 352–357 (2015).

Coleman, M. J. & Vu, E. T. Recovery of impaired songs following unilateral but not bilateral lesions of nucleus uvaeformis of adult zebra finches. J. Neurobiol. 63, 70–89 (2005).

Coleman, M. J., Roy, A., Wild, J. M. & Mooney, R. Thalamic gating of auditory responses in telencephalic song control nuclei. J. Neurosci. 27, 10024–10036 (2007).

Danish, H. H., Aronov, D. & Fee, M. S. Rhythmic syllable-related activity in a songbird motor thalamic nucleus necessary for learned vocalizations. PLoS ONE 12, e0169568 (2017).

Williams, H. & Vicario, D. S. Temporal patterning of song production: participation of nucleus uvaeformis of the thalamus. J. Neurobiol. 24, 903–912 (1993).

Elmaleh, M., Kranz, D., Asensio, A. C., Moll, F. W. & Long, M. A. Sleep replay reveals premotor circuit structure for a skilled behavior. Neuron 109, 3851–3861 (2021).

Nottebohm, F., Kelley, D. B. & Paton, J. A. Connections of vocal control nuclei in the canary telencephalon. J. Comp. Neurol. 207, 344–357 (1982).

Akutagawa, E. & Konishi, M. New brain pathways found in the vocal control system of a songbird. J. Comp. Neurol. 518, 3086–3100 (2010).

Mooney, R. & Prather, J. F. The HVC microcircuit: the synaptic basis for interactions between song motor and vocal plasticity pathways. J. Neurosci. 25, 1952–1964 (2005).

Egger, R. et al. Local axonal conduction shapes the spatiotemporal properties of neural sequences. Cell 183, 537–548 (2020).

Kornfeld, J. et al. EM connectomics reveals axonal target variation in a sequence-generating network. eLife 6, e24364 (2017).

Long, M. A. & Fee, M. S. Using temperature to analyse temporal dynamics in the songbird motor pathway. Nature 456, 189–194 (2008).

Picardo, M. A. et al. Population-level representation of a temporal sequence underlying song production in the zebra finch. Neuron 90, 866–876 (2016).

Hahnloser, R. H., Kozhevnikov, A. A. & Fee, M. S. An ultra-sparse code underlies the generation of neural sequences in a songbird. Nature 419, 65–70 (2002).

Kozhevnikov, A. A. & Fee, M. S. Singing-related activity of identified HVC neurons in the zebra finch. J Neurophysiol. 97, 4271–4283 (2007).

Hamaguchi, K., Tanaka, M. & Mooney, R. A distributed recurrent network contributes to temporally precise vocalizations. Neuron 91, 680–693 (2016).

Andalman, A. S., Foerster, J. N. & Fee, M. S. Control of vocal and respiratory patterns in birdsong: dissection of forebrain and brainstem mechanisms using temperature. PLoS ONE 6, e25461 (2011).

Schmidt, M. F. Pattern of interhemispheric synchronization in HVc during singing correlates with key transitions in the song pattern. J. Neurophysiol. 90, 3931–3949 (2003).

Valverde, S. et al. Deep brain stimulation-guided optogenetic rescue of parkinsonian symptoms. Nat. Commun. 11, 2388 (2020).

Lymer, J., Prescott, I. A. & Levy, R. Microstimulation-induced inhibition of thalamic reticular nucleus in non-human primates. Exp. Brain Res. 237, 1511–1520 (2019).

Arfin, S. K., Long, M. A., Fee, M. S. & Sarpeshkar, R. Wireless neural stimulation in freely behaving small animals. J. Neurophysiol. 102, 598–605 (2009).

Vu, E. T., Mazurek, M. E. & Kuo, Y. C. Identification of a forebrain motor programming network for the learned song of zebra finches. J. Neurosci. 14, 6924–6934 (1994).

Ashmore, R. C., Wild, J. M. & Schmidt, M. F. Brainstem and forebrain contributions to the generation of learned motor behaviors for song. J. Neurosci. 25, 8543–8554 (2005).

Roberts, T. F. et al. Identification of a motor-to-auditory pathway important for vocal learning. Nat. Neurosci. 20, 978–986 (2017).

Fee, M. S., Kozhevnikov, A. A. & Hahnloser, R. H. Neural mechanisms of vocal sequence generation in the songbird. Ann. NY Acad. Sci. 1016, 153–170 (2004).

Scharff, C., Kirn, J. R., Grossman, M., Macklis, J. D. & Nottebohm, F. Targeted neuronal death affects neuronal replacement and vocal behavior in adult songbirds. Neuron 25, 481–492 (2000).

Zhao, W., Garcia-Oscos, F., Dinh, D. & Roberts, T. F. Inception of memories that guide vocal learning in the songbird. Science 366, 83–89 (2019).

Cardin, J. A., Raksin, J. N. & Schmidt, M. F. Sensorimotor nucleus NIf is necessary for auditory processing but not vocal motor output in the avian song system. J. Neurophysiol. 93, 2157–2166 (2005).

Otchy, T. M. et al. Acute off-target effects of neural circuit manipulations. Nature 528, 358–363 (2015).

Vyssotski, A. L., Stepien, A. E., Keller, G. B. & Hahnloser, R. H. A neural code that is isometric to vocal output and correlates with its sensory consequences. PLoS Biol. 14, e2000317 (2016).

Kosche, G., Vallentin, D. & Long, M. A. Interplay of inhibition and excitation shapes a premotor neural sequence. J. Neurosci. 35, 1217–1227 (2015).

Cannon, J., Kopell, N., Gardner, T. & Markowitz, J. Neural sequence generation using spatiotemporal patterns of inhibition. PLoS Comput. Biol. 11, e1004581 (2015).

Miri, A. et al. Spatial gradients and multidimensional dynamics in a neural integrator circuit. Nat. Neurosci. 14, 1150–1159 (2011).

Reinke, H. & Wild, J. M. Identification and connections of inspiratory premotor neurons in songbirds and budgerigar. J. Comp. Neurol. 391, 147–163 (1998).

Schmidt, M. F. & Wild, J. M. The respiratory–vocal system of songbirds: anatomy, physiology, and neural control. Prog. Brain Res. 212, 297–335 (2014).

Johnson, M. D. & Ojemann, G. A. The role of the human thalamus in language and memory: evidence from electrophysiological studies. Brain Cogn. 42, 218–230 (2000).

Jurgens, U. Neural pathways underlying vocal control. Neurosci. Biobehav. Rev. 26, 235–258 (2002).

Pattinson, K. T. et al. Determination of the human brainstem respiratory control network and its cortical connections in vivo using functional and structural imaging. Neuroimage 44, 295–305 (2009).

Wild, J. M. Visual and somatosensory inputs to the avian song system via nucleus uvaeformis (Uva) and a comparison with the projections of a similar thalamic nucleus in a nonsongbird, Columba livia. J. Comp. Neurol. 349, 512–535 (1994).

During, D. N. et al. Fast retrograde access to projection neuron circuits underlying vocal learning in songbirds. Cell Rep. 33, 108364 (2020).

Pologruto, T. A., Sabatini, B. L. & Svoboda, K. ScanImage: flexible software for operating laser scanning microscopes. Biomed. Eng. Online 2, 13 (2003).

Dombeck, D. A., Harvey, C. D., Tian, L., Looger, L. L. & Tank, D. W. Functional imaging of hippocampal place cells at cellular resolution during virtual navigation. Nat. Neurosci. 13, 1433–1440 (2010).

Kollmorgen, S., Hahnloser, R. H. R. & Mante, V. Nearest neighbours reveal fast and slow components of motor learning. Nature 577, 526–530 (2020).

Pachitariu, M., Steinmetz, N., Kadir, S., Carandini, M. & Kenneth, D. H. Kilosort: realtime spike-sorting for extracellular electrophysiology with hundreds of channels. Preprint at bioRxiv https://doi.org/10.1101/061481 (2016).

Rossant, C. et al. Spike sorting for large, dense electrode arrays. Nat. Neurosci. 19, 634–641 (2016).

Guizar-Sicairos, M., Thurman, S. T. & Fienup, J. R. Efficient subpixel image registration algorithms. Opt. Lett. 33, 156–158 (2008).

Pnevmatikakis, E. A. & Giovannucci, A. NoRMCorre: an online algorithm for piecewise rigid motion correction of calcium imaging data. J. Neurosci. Methods 291, 83–94 (2017).

Katlowitz, K. A., Picardo, M. A. & Long, M. A. Stable sequential activity underlying the maintenance of a precisely executed skilled behavior. Neuron 98, 1133–1140 (2018).
Acknowledgements
We thank A. Banerjee, D. Jin, N. Nikbakht, A. Nieder, L. Veit, C. Bischof and members of the Long laboratory for comments on earlier versions of this manuscript. We thank J. Moore for technical advice on fluorescence quantification. A. Paulson provided technical assistance. This research was supported by R01 NS075044 (M.A.L.), F31 NS116933 (M.E.) and Simons Collaboration on the Global Brain (M.A.L.).
Ethics declarations
Competing interests
The authors declare no competing interests.
Peer review
Peer review information
Nature thanks Melissa Coleman and the other, anonymous, reviewer(s) for their contribution to the peer review of this work. Peer reviewer reports are available.
Additional information
Publisher's note Springer Nature remains neutral with regard to jurisdictional claims in published maps and institutional affiliations.
Extended data figures and tables
Supplementary information
HVC activity during song. Imaged neurons expressing GCaMP6 show consistent activity during the performance of six repeated song motifs. Reponses are shown in real time. Neurons projecting to Area X are labelled with a red retrograde tracer (Methods).
Rights and permissions
Springer Nature or its licensor (e.g. a society or other partner) holds exclusive rights to this article under a publishing agreement with the author(s) or other rightsholder(s); author self-archiving of the accepted manuscript version of this article is solely governed by the terms of such publishing agreement and applicable law.
About this article
Cite this article
Moll, F.W., Kranz, D., Corredera Asensio, A. et al. Thalamus drives vocal onsets in the zebra finch courtship song. Nature 616, 132–136 (2023). https://doi.org/10.1038/s41586-023-05818-x
Received:

Accepted:

Published:

Issue Date:

DOI: https://doi.org/10.1038/s41586-023-05818-x
This article is cited by
Nature Reviews Neuroscience (2023)
Comments
By submitting a comment you agree to abide by our Terms and Community Guidelines. If you find something abusive or that does not comply with our terms or guidelines please flag it as inappropriate.