Abstract
The nucleolus is the most prominent membraneless condensate in the nucleus. It comprises hundreds of proteins with distinct roles in the rapid transcription of ribosomal RNA (rRNA) and efficient processing within units comprising a fibrillar centre and a dense fibrillar component and ribosome assembly in a granular component1. The precise localization of most nucleolar proteins and whether their specific localization contributes to the radial flux of pre-rRNA processing have remained unknown owing to insufficient resolution in imaging studies2,3,4,5. Therefore, how these nucleolar proteins are functionally coordinated with stepwise pre-rRNA processing requires further investigation. Here we screened 200 candidate nucleolar proteins using high-resolution live-cell microscopy and identified 12 proteins that are enriched towards the periphery of the dense fibrillar component (PDFC). Among these proteins, unhealthy ribosome biogenesis 1 (URB1) is a static, nucleolar protein that ensures 3′ end pre-rRNA anchoring and folding for U8 small nucleolar RNA recognition and the subsequent removal of the 3′ external transcribed spacer (ETS) at the dense fibrillar component–PDFC boundary. URB1 depletion leads to a disrupted PDFC, uncontrolled pre-rRNA movement, altered pre-rRNA conformation and retention of the 3′ ETS. These aberrant 3′ ETS-attached pre-rRNA intermediates activate exosome-dependent nucleolar surveillance, resulting in decreased 28S rRNA production, head malformations in zebrafish and delayed embryonic development in mice. This study provides insight into functional sub-nucleolar organization and identifies a physiologically essential step in rRNA maturation that requires the static protein URB1 in the phase-separated nucleolus.
Access options
Access Nature and 54 other Nature Portfolio journals
Get Nature+, our best-value online-access subscription
$29.99 per month
cancel any time
Subscribe to this journal
Receive 51 print issues and online access
$199.00 per year
only $3.90 per issue
Rent or buy this article
Get just this article for as long as you need it
$39.95
Prices may be subject to local taxes which are calculated during checkout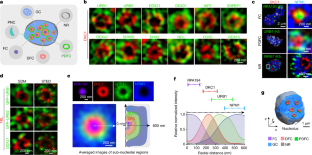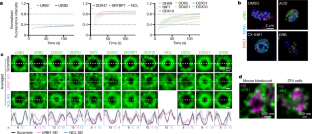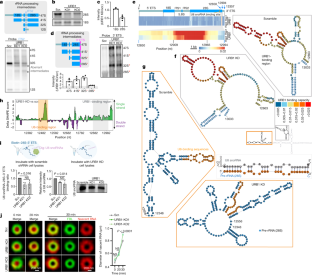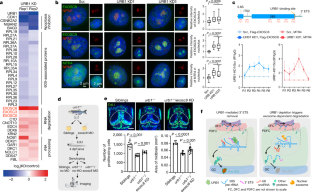 References
Lafontaine, D. L. J., Riback, J. A., Bascetin, R. & Brangwynne, C. P. The nucleolus as a multiphase liquid condensate. Nat. Rev. Mol. Cell Bio. 22, 165–182 (2021).

Thul, P. J. et al. A subcellular map of the human proteome. Science 356, eaal3321 (2017).

Huh, W. K. et al. Global analysis of protein localization in budding yeast. Nature 425, 686–691 (2003).

Yao, R. W. et al. Nascent pre-rRNA sorting via phase separation drives the assembly of dense fibrillar components in the human nucleolus. Mol. Cell 76, 767–783.e711 (2019).

Wu, M. et al. lncRNA SLERT controls phase separation of FC/DFCs to facilitate Pol I transcription. Science 373, 547–555 (2021).

Boisvert, F. M., van Koningsbruggen, S., Navascues, J. & Lamond, A. I. The multifunctional nucleolus. Nat. Rev. Mol. Cell Biol. 8, 574–585 (2007).

Andersen, J. S. et al. Nucleolar proteome dynamics. Nature 433, 77–83 (2005).

Andersen, J. S. et al. Directed proteomic analysis of the human nucleolus. Curr. Biol. 12, 1–11 (2002).

Frottin, F. et al. The nucleolus functions as a phase-separated protein quality control compartment. Science 365, 342–347 (2019).

Scherl, A. et al. Functional proteomic analysis of human nucleolus. Mol. Biol. Cell 13, 4100–4109 (2002).

Hu, R. et al. ZNF668 functions as a tumor suppressor by regulating p53 stability and function in breast cancer. Cancer Res. 71, 6524–6534 (2011).

Guo, D. C. et al. Loss-of-function mutations in YY1AP1 lead to grange syndrome and a fibromuscular dysplasia-like vascular disease. Am. J. Hum. Genet. 100, 21–30 (2017).

Stenstrom, L. et al. Mapping the nucleolar proteome reveals a spatiotemporal organization related to intrinsic protein disorder. Mol. Syst. Biol. 16, e9469 (2020).

Cuylen, S. et al. Ki-67 acts as a biological surfactant to disperse mitotic chromosomes. Nature 535, 308–312 (2016).

Meszaros, B., Erdos, G. & Dosztanyi, Z. IUPred2A: context-dependent prediction of protein disorder as a function of redox state and protein binding. Nucleic Acids Res. 46, W329–W337 (2018).

Feric, M. et al. Coexisting liquid phases underlie nucleolar subcompartments. Cell 165, 1686–1697 (2016).

Grob, A., Colleran, C. & McStay, B. Construction of synthetic nucleoli in human cells reveals how a major functional nuclear domain is formed and propagated through cell division. Genes Dev. 28, 220–230 (2014).

Drygin, D. et al. Anticancer activity of CX-3543: a direct inhibitor of rRNA biogenesis. Cancer Res. 69, 7653–7661 (2009).

Granick, D. Nucleolar necklaces in chick embryo fibroblast cells. I. Formation of necklaces by dichlororibobenzimidazole and other adenosine analogues that decrease RNA synthesis and degrade preribosomes. J. Cell Biol. 65, 398–417 (1975).

Mnaimneh, S. et al. Exploration of essential gene functions via titratable promoter alleles. Cell 118, 31–44 (2004).

Dez, C. et al. Npa1p, a component of very early pre-60S ribosomal particles, associates with a subset of small nucleolar RNPs required for peptidyl transferase center modification. Mol. Cell. Biol. 24, 6324–6337 (2004).

Narla, A. & Ebert, B. L. Ribosomopathies: human disorders of ribosome dysfunction. Blood 115, 3196–3205 (2010).

Tafforeau, L. et al. The complexity of human ribosome biogenesis revealed by systematic nucleolar screening of Pre-rRNA processing factors. Mol. Cell 51, 539–551 (2013).

Zubradt, M. et al. DMS-MaPseq for genome-wide or targeted RNA structure probing in vivo. Nat. Methods 14, 75–82 (2017).

Peculis, B. A. & Steitz, J. A. Sequence and structural elements critical for U8 snRNP function in Xenopus oocytes are evolutionarily conserved. Genes Dev. 8, 2241–2255 (1994).

Badrock, A. P. et al. Analysis of U8 snoRNA variants in zebrafish reveals how bi-allelic variants cause leukoencephalopathy with calcifications and cysts. Am. J. Hum. Genet. 106, 694–706 (2020).

Leone, S., Bar, D., Slabber, C. F., Dalcher, D. & Santoro, R. The RNA helicase DHX9 establishes nucleolar heterochromatin, and this activity is required for embryonic stem cell differentiation. EMBO Rep. 18, 1248–1262 (2017).

Calo, E. et al. RNA helicase DDX21 coordinates transcription and ribosomal RNA processing. Nature 518, 249–253 (2015).

Bond, A. T., Mangus, D. A., He, F. & Jacobson, A. Absence of Dbp2p alters both nonsense-mediated mRNA decay and rRNA processing. Mol. Cell. Biol. 21, 7366–7379 (2001).

Martin, R., Straub, A. U., Doebele, C. & Bohnsack, M. T. DExD/H-box RNA helicases in ribosome biogenesis. RNA Biol. 10, 4–18 (2013).

Thomson, E., Ferreira-Cerca, S. & Hurt, E. Eukaryotic ribosome biogenesis at a glance. J. Cell Sci. 126, 4815–4821 (2013).

Farley-Barnes, K. I. et al. Diverse regulators of human ribosome biogenesis discovered by changes in nucleolar number. Cell Rep. 22, 1923–1934 (2018).

Schmid, M. & Jensen, T. H. The nuclear RNA exosome and its cofactors. Adv. Exp. Med. Biol. 1203, 113–132 (2019).

Wasmuth, E. V., Januszyk, K. & Lima, C. D. Structure of an Rrp6–RNA exosome complex bound to poly(A) RNA. Nature 511, 435–439 (2014).

Dez, C., Houseley, J. & Tollervey, D. Surveillance of nuclear-restricted pre-ribosomes within a subnucleolar region of Saccharomyces cerevisiae. EMBO J. 25, 2662–2662 (2006).

Lafontaine, D. L. J. A. 'Garbage can' for ribosomes: how eukaryotes degrade their ribosomes. Trends Biochem. Sci 35, 267–277 (2010).

Lu, Z. et al. RNA duplex map in living cells reveals higher-order transcriptome structure. Cell 165, 1267–1279 (2016).

Dunn, K. W., Kamocka, M. M. & McDonald, J. H. A practical guide to evaluating colocalization in biological microscopy. Am. J. Physiol. Cell Physiol. 300, C723–C742 (2011).

Liu, C. X. et al. Structure and degradation of circular RNAs regulate PKR activation in innate immunity. Cell 177, 865–880.e821 (2019).

Walker, M. B. & Kimmel, C. B. A two-color acid-free cartilage and bone stain for zebrafish larvae. Biotech. Histochem. 82, 23–28 (2007).

Shen, B. et al. Efficient genome modification by CRISPR–Cas9 nickase with minimal off-target effects. Nat. Methods 11, 399–402 (2014).

Thisse, C. & Thisse, B. High-resolution in situ hybridization to whole-mount zebrafish embryos. Nat. Protoc. 3, 59–69 (2008).

Oka, Y. & Sato, T. N. Whole-mount single molecule FISH method for zebrafish embryo. Sci. Rep. 5, 8571 (2015).

Cordero, P., Kladwang, W., VanLang, C. C. & Das, R. Quantitative dimethyl sulfate mapping for automated RNA secondary structure inference. Biochemistry 51, 7037–7039 (2012).

Deigan, K. E., Li, T. W., Mathews, D. H. & Weeks, K. M. Accurate SHAPE-directed RNA structure determination. Proc. Natl Acad. Sci. USA 106, 97–102 (2009).
Acknowledgements
We thank members of the Chen laboratory for discussions; J. Zhang, B.-Y. Zou and J.-G. Li for supporting our experiments; and the core facilities of Zhejiang University Medical Center and Liangzhu Laboratory, and Optofem Technology for technical support with STED. This study was supported by the CAS Project for Young Scientists in Basic Research (YSBR-009), the National Key R&D Program of China (2021YFA1100203), the Shanghai Municipal Commission for Science and Technology (20JC1410300), the National Natural Science Foundation of China (NSFC) (31830108, 31821004, and 31725009), the Center for Excellence in Molecular Cell Science (CEMCS) (2020DF03), the HHMI International Program (55008728) and the Xplorer Prize to L.-L.C.
Ethics declarations
Competing interests
The authors declare no competing interests.
Peer review
Peer review information
Nature thanks Jean-Denis Beaudoin, Prasanth Kannanganattu and Denis Lafontaine for their contribution to the peer review of this work.
Additional information
Publisher's note Springer Nature remains neutral with regard to jurisdictional claims in published maps and institutional affiliations.
Extended data figures and tables
Supplementary information
Rights and permissions
Springer Nature or its licensor (e.g. a society or other partner) holds exclusive rights to this article under a publishing agreement with the author(s) or other rightsholder(s); author self-archiving of the accepted manuscript version of this article is solely governed by the terms of such publishing agreement and applicable law.
About this article
Cite this article
Shan, L., Xu, G., Yao, RW. et al. Nucleolar URB1 ensures 3′ ETS rRNA removal to prevent exosome surveillance. Nature 615, 526–534 (2023). https://doi.org/10.1038/s41586-023-05767-5
Received:

Accepted:

Published:

Issue Date:

DOI: https://doi.org/10.1038/s41586-023-05767-5
Comments
By submitting a comment you agree to abide by our Terms and Community Guidelines. If you find something abusive or that does not comply with our terms or guidelines please flag it as inappropriate.