Abstract
The meninges are densely innervated by nociceptive sensory neurons that mediate pain and headache1,2. Bacterial meningitis causes life-threatening infections of the meninges and central nervous system, affecting more than 2.5 million people a year3,4,5. How pain and neuroimmune interactions impact meningeal antibacterial host defences are unclear. Here we show that Nav1.8+ nociceptors signal to immune cells in the meninges through the neuropeptide calcitonin gene-related peptide (CGRP) during infection. This neuroimmune axis inhibits host defences and exacerbates bacterial meningitis. Nociceptor neuron ablation reduced meningeal and brain invasion by two bacterial pathogens: Streptococcus pneumoniae and Streptococcus agalactiae. S. pneumoniae activated nociceptors through its pore-forming toxin pneumolysin to release CGRP from nerve terminals. CGRP acted through receptor activity modifying protein 1 (RAMP1) on meningeal macrophages to polarize their transcriptional responses, suppressing macrophage chemokine expression, neutrophil recruitment and dural antimicrobial defences. Macrophage-specific RAMP1 deficiency or pharmacological blockade of RAMP1 enhanced immune responses and bacterial clearance in the meninges and brain. Therefore, bacteria hijack CGRP–RAMP1 signalling in meningeal macrophages to facilitate brain invasion. Targeting this neuroimmune axis in the meninges can enhance host defences and potentially produce treatments for bacterial meningitis.
Access options
Access Nature and 54 other Nature Portfolio journals
Get Nature+, our best-value online-access subscription
$29.99 per month
cancel any time
Subscribe to this journal
Receive 51 print issues and online access
$199.00 per year
only $3.90 per issue
Rent or buy this article
Get just this article for as long as you need it
$39.95
Prices may be subject to local taxes which are calculated during checkout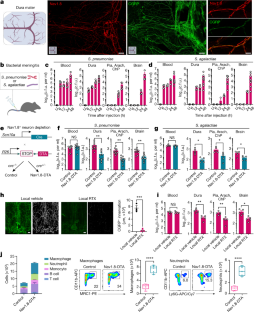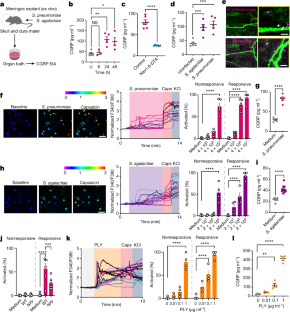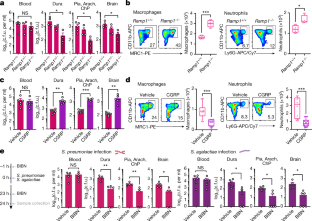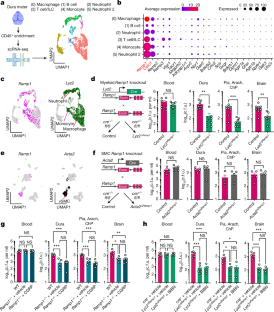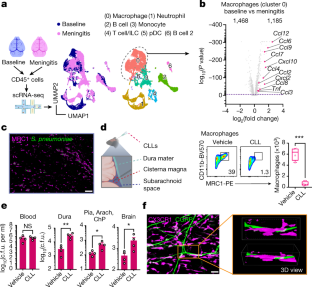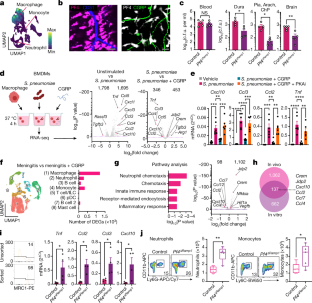 Data availability
All scRNA-seq datasets and bulk RNA-seq datasets generated and analysed during this study have been deposited into the NCBI Gene Expression Omnibus database under accession number GSE221681. The reference mouse genome mm10 v.2020-A can be accessed under the assembly number GRCm38. Raw imaging or other datasets from this paper will be made available upon request to the corresponding author.
References
Levy, D., Labastida-Ramirez, A. & MaassenVanDenBrink, A. Current understanding of meningeal and cerebral vascular function underlying migraine headache. Cephalalgia 39, 1606–1622 (2019).

Burstein, R., Zhang, X., Levy, D., Aoki, K. R. & Brin, M. F. Selective inhibition of meningeal nociceptors by botulinum neurotoxin type A: therapeutic implications for migraine and other pains. Cephalalgia 34, 853–869 (2014).

van de Beek, D. et al. Clinical features and prognostic factors in adults with bacterial meningitis. N. Engl. J. Med. 351, 1849–1859 (2004).

Schiess, N., Groce, N. E. & Dua, T. The impact and burden of neurological sequelae following bacterial meningitis: a narrative review. Microorganisms 9, 900 (2021).

Ostergaard, C., Konradsen, H. B. & Samuelsson, S. Clinical presentation and prognostic factors of Streptococcus pneumoniae meningitis according to the focus of infection. BMC Infect. Dis. 5, 93 (2005).

Doran, K. S. & Nizet, V. Molecular pathogenesis of neonatal group B streptococcal infection: no longer in its infancy. Mol. Microbiol. 54, 23–31 (2004).

Basbaum, A. I., Bautista, D. M., Scherrer, G. & Julius, D. Cellular and molecular mechanisms of pain. Cell 139, 267–284 (2009).

Pinho-Ribeiro, F. A., Verri, W. A. Jr. & Chiu, I. M. Nociceptor sensory neuron-immune interactions in pain and inflammation. Trends Immunol. 38, 5–19 (2017).

Fitzpatrick, Z. et al. Gut-educated IgA plasma cells defend the meningeal venous sinuses. Nature 587, 472–476 (2020).

Van Hove, H. et al. A single-cell atlas of mouse brain macrophages reveals unique transcriptional identities shaped by ontogeny and tissue environment. Nat. Neurosci. 22, 1021–1035 (2019).

Rustenhoven, J. et al. Functional characterization of the dural sinuses as a neuroimmune interface. Cell 184, 1000–1016.e27 (2021).

Rua, R. et al. Infection drives meningeal engraftment by inflammatory monocytes that impairs CNS immunity. Nat. Immunol. 20, 407–419 (2019).

Rebejac, J. et al. Meningeal macrophages protect against viral neuroinfection. Immunity 55, 2103–2117.e10 (2022).

Lampl, C., Yazdi, K., Buzath, A. & Klingler, D. Migraine-like headache in bacterial meningitis. Cephalalgia 20, 738–739 (2000).

Abrahamsen, B. et al. The cell and molecular basis of mechanical, cold, and inflammatory pain. Science 321, 702–705 (2008).

Strassman, A. M. & Levy, D. Response properties of dural nociceptors in relation to headache. J. Neurophysiol. 95, 1298–1306 (2006).

Arkless, K., Argunhan, F. & Brain, S. D. CGRP discovery and timeline. Handb. Exp. Pharmacol. 255, 1–12 (2019).

Dando, S. J. et al. Pathogens penetrating the central nervous system: infection pathways and the cellular and molecular mechanisms of invasion. Clin. Microbiol. Rev. 27, 691–726 (2014).

Baral, P. et al. Nociceptor sensory neurons suppress neutrophil and γδ T cell responses in bacterial lung infections and lethal pneumonia. Nat. Med. 24, 417–426 (2018).

Pinho-Ribeiro, F. A. et al. Blocking neuronal signaling to immune cells treats streptococcal invasive infection. Cell 173, 1083–1097.e22 (2018).

McCoy, E. S. et al. Peptidergic CGRPα primary sensory neurons encode heat and itch and tonically suppress sensitivity to cold. Neuron 78, 138–151 (2013).

Rea, B. J. et al. Peripherally administered calcitonin gene-related peptide induces spontaneous pain in mice: implications for migraine. Pain 159, 2306–2317 (2018).

Blake, K. J. et al. Staphylococcus aureus produces pain through pore-forming toxins and neuronal TRPV1 that is silenced by QX-314. Nat. Commun. 9, 37 (2018).

Braun, J. S. et al. Pneumococcal pneumolysin and H2O2 mediate brain cell apoptosis during meningitis. J. Clin. Invest. 109, 19–27 (2002).

Wellmer, A. et al. Decreased virulence of a pneumolysin-deficient strain of Streptococcus pneumoniae in murine meningitis. Infect. Immun. 70, 6504–6508 (2002).

Doran, K. S., Liu, G. Y. & Nizet, V. Group B streptococcal β-hemolysin/cytolysin activates neutrophil signaling pathways in brain endothelium and contributes to development of meningitis. J. Clin. Invest. 112, 736–744 (2003).

Jusek, G., Reim, D., Tsujikawa, K. & Holzmann, B. Deficiency of the CGRP receptor component RAMP1 attenuates immunosuppression during the early phase of septic peritonitis. Immunobiology 217, 761–767 (2012).

van Furth, A. M. et al. High levels of interleukin 10 and tumor necrosis factor α in cerebrospinal fluid during the onset of bacterial meningitis. Clin. Infect. Dis. 21, 220–222 (1995).

Olesen, J. et al. Calcitonin gene-related peptide receptor antagonist BIBN 4096 BS for the acute treatment of migraine. N. Engl. J. Med. 350, 1104–1110 (2004).

Brioschi, S. et al. Heterogeneity of meningeal B cells reveals a lymphopoietic niche at the CNS borders. Science 373, eabf9277 (2021).

McKinsey, G. L. et al. A new genetic strategy for targeting microglia in development and disease. eLife 9, e54590 (2020).

Harzenetter, M. D. et al. Negative regulation of TLR responses by the neuropeptide CGRP is mediated by the transcriptional repressor ICER. J. Immunol. 179, 607–615 (2007).

Maruyama, K. et al. Nociceptors boost the resolution of fungal osteoinflammation via the TRP channel–CGRP–Jdp2 axis. Cell Rep. 19, 2730–2742 (2017).

De Vlaminck, K. et al. Differential plasticity and fate of brain-resident and recruited macrophages during the onset and resolution of neuroinflammation. Immunity 55, 2085–2102.e9 (2022).

Hoffmann, O. et al. Triptans reduce the inflammatory response in bacterial meningitis. J. Cereb. Blood Flow Metab. 22, 988–996 (2002).

Strausbaugh, H. J. et al. Painful stimulation suppresses joint inflammation by inducing shedding of l-selectin from neutrophils. Nat. Med. 5, 1057–1061 (1999).

Sterner-Kock, A. et al. Neonatal capsaicin treatment increases the severity of ozone-induced lung injury. Am. J. Respir. Crit. Care Med. 153, 436–443 (1996).

Hoeffel, G. et al. Sensory neuron-derived TAFA4 promotes macrophage tissue repair functions. Nature 594, 94–99 (2021).

Smith, P. G. & Liu, M. Impaired cutaneous wound healing after sensory denervation in developing rats: effects on cell proliferation and apoptosis. Cell Tissue Res. 307, 281–291 (2002).

Liu, Z. et al. Calcitonin gene-related peptide prevents blood–brain barrier injury and brain edema induced by focal cerebral ischemia reperfusion. Regul. Pept. 171, 19–25 (2011).

Zhai, L. et al. Endogenous calcitonin gene-related peptide suppresses ischemic brain injuries and progression of cognitive decline. J. Hypertens. 36, 876–891 (2018).

Saloman, J. L. et al. Ablation of sensory neurons in a genetic model of pancreatic ductal adenocarcinoma slows initiation and progression of cancer. Proc. Natl Acad. Sci. USA 113, 3078–3083 (2016).

Balood, M. et al. Nociceptor neurons affect cancer immunosurveillance. Nature 611, 405–412 (2022).

Riol-Blanco, L. et al. Nociceptive sensory neurons drive interleukin-23-mediated psoriasiform skin inflammation. Nature 510, 157–161 (2014).

Zhang, S. et al. Nonpeptidergic neurons suppress mast cells via glutamate to maintain skin homeostasis. Cell 184, 2151–2166.e16 (2021).

Berg, R. M. et al. Circulating levels of vasoactive peptides in patients with acute bacterial meningitis. Intensive Care Med. 35, 1604–1608 (2009).

Serezani, C. H., Ballinger, M. N., Aronoff, D. M. & Peters-Golden, M. Cyclic AMP: master regulator of innate immune cell function. Am. J. Respir. Cell Mol. Biol. 39, 127–132 (2008).

Gabanyi, I. et al. Neuro-immune interactions drive tissue programming in intestinal macrophages. Cell 164, 378–391 (2016).

Matheis, F. et al. Adrenergic signaling in muscularis macrophages limits infection-induced neuronal loss. Cell 180, 64–78.e16 (2020).

Cugurra, A. et al. Skull and vertebral bone marrow are myeloid cell reservoirs for the meninges and CNS parenchyma. Science 373, eabf7844 (2021).

Malley, R. et al. Recognition of pneumolysin by Toll-like receptor 4 confers resistance to pneumococcal infection. Proc. Natl Acad. Sci. USA 100, 1966–1971 (2003).

Mu, R. et al. Identification of CiaR regulated genes that promote group B streptococcal virulence and interaction with brain endothelial cells. PLoS ONE 11, e0153891 (2016).

Doran, K. S., Chang, J. C., Benoit, V. M., Eckmann, L. & Nizet, V. Group B streptococcal β-hemolysin/cytolysin promotes invasion of human lung epithelial cells and the release of interleukin-8. J. Infect. Dis. 185, 196–203 (2002).

Toda, G., Yamauchi, T., Kadowaki, T. & Ueki, K. Preparation and culture of bone marrow-derived macrophages from mice for functional analysis. STAR Protoc. 2, 100246 (2021).

Alves de Lima, K. et al. Meningeal γδ T cells regulate anxiety-like behavior via IL-17a signaling in neurons. Nat. Immunol. 21, 1421–1429 (2020).

Louveau, A. et al. Structural and functional features of central nervous system lymphatic vessels. Nature 523, 337–341 (2015).

Argunhan, F. et al. Calcitonin gene-related peptide protects against cardiovascular dysfunction independently of nitric oxide in vivo. Hypertension 77, 1178–1190 (2021).

Hafemeister, C. & Satija, R. Normalization and variance stabilization of single-cell RNA-seq data using regularized negative binomial regression. Genome Biol. 20, 296 (2019).

Hao, Y. et al. Integrated analysis of multimodal single-cell data. Cell 184, 3573–3587.e29 (2021).

Jordao, M. J. C. et al. Single-cell profiling identifies myeloid cell subsets with distinct fates during neuroinflammation. Science 363, eaat7554 (2019).

Alquicira-Hernandez, J. & Powell, J. E. Nebulosa recovers single cell gene expression signals by kernel density estimation. Bioinformatics https://doi.org/10.1093/bioinformatics/btab003 (2021).

Yang, N. J. et al. Anthrax toxins regulate pain signaling and can deliver molecular cargoes into ANTXR2+ DRG sensory neurons. Nat. Neurosci. 25, 168–179 (2022).

Hohlbaum, K., Corte, G. M., Humpenoder, M., Merle, R. & Thone-Reineke, C. Reliability of the mouse grimace scale in C57BL/6JRj mice. Animals (Basel) 10, 1648 (2020).

Langford, D. J. et al. Coding of facial expressions of pain in the laboratory mouse. Nat. Methods 7, 447–449 (2010).

Whittaker, A. L., Liu, Y. & Barker, T. H. Methods used and application of the mouse grimace scale in biomedical research 10 years on: a scoping review. Animals (Basel) 11, 673 (2021).

Deng, L. et al. The group B streptococcal surface antigen I/II protein, BspC, interacts with host vimentin to promote adherence to brain endothelium and inflammation during the pathogenesis of meningitis. PLoS Pathog. 15, e1007848 (2019).

Ekici, M. A. et al. Effect of etanercept and lithium chloride on preventing secondary tissue damage in rats with experimental diffuse severe brain injury. Eur. Rev. Med. Pharmacol. Sci. 18, 10–27 (2014).

Zille, M. et al. Visualizing cell death in experimental focal cerebral ischemia: promises, problems, and perspectives. J. Cereb. Blood Flow Metab. 32, 213–231 (2012).

Schindelin, J. et al. Fiji: an open-source platform for biological-image analysis. Nat. Methods 9, 676–682 (2012).

Mook-Kanamori, B., Geldhoff, M., Troost, D., van der Poll, T. & van de Beek, D. Characterization of a pneumococcal meningitis mouse model. BMC Infect. Dis. 12, 71 (2012).
Acknowledgements
We thank R. Malley for providing the S. pneumoniae strains used in this study; N. C. El-Ali, N. Weeks and staff at the Harvard University Bauer Core Facility for technical support; M. R. Wessels, D. E. Higgins, M. Lehtinin, H. Xu, T. M. Cunha and members of the Chiu Lab for helpful discussions; J. Buenrostro and R. Shrestha for computational advice; S. Lin, N. M. Gilette, K. Lezgiyeva, S. J. Sannajust, E. Erhard, O. Clancy and A. Prystupa for technical help and analysis; A. Frey for manuscript feedback; and J. L. Gibbs for mentorship. This work was supported by National Institutes of Health grants R01AI130019 and R01DK127257 to I.M.C.; Burroughs Wellcome fund, the Kenneth Rainin Foundation, the Food Allergy Science Initiative, Fairbairn Lyme Initiative to I.M.C.; 2R01NS078263 and 5R01NS115972 to D.L.; P50MH112491 to the Conte Center; R01NS116716 to K.S.D; and T32GM007753 to D.V.N. K.H. was supported by the Harvard Medical School Undergraduate Immunology Summer Program.
Ethics declarations
Competing interests
I.M.C. and F.A.P-R. are named inventors on US patent application 2021/0145937A1, 'Methods and compositions for treating a microbial infection', which includes targeting CGRP and its receptors to treat infections. The Chiu Lab receives research support from Abbvie/Allergan and Moderna.
Peer review
Peer review information
Nature thanks Victor Nizet and the other, anonymous, reviewer(s) for their contribution to the peer review of this work.
Additional information
Publisher's note Springer Nature remains neutral with regard to jurisdictional claims in published maps and institutional affiliations.
Extended data figures and tables
Supplementary information
Supplementary Fig. 1. Gating strategy for flow cytometry. a, Gating strategy used in Figs. 1j, 3b,d, 5d and 6i–j, and in Extended Data Figs. 3a,b, 5a,b, 9c,d and 10f. Cells were separated from debris by FSC-A versus SSC-A. Singlets were gated in SSC-A versus SSC-H. Live cells were separated by DAPI exclusion (DAPI– population). Immune cells were identified by positive staining for CD45. Myeloid subpopulations were identified as neutrophils (CD11b+Ly6G+ population), macrophages (Ly6G–CD11b+MRC1+ population) and monocytes (Ly6G–MRC1–CD11b+Ly6C+ population). Lymphoid subpopulations were identified as B cells (CD11b–CD19+ population) and T cells (CD11b–CD3+ population). b, The gating strategy used to quantify meningeal immune cells in Extended Data Fig. 3d and meningeal phagocytes in Extended Data Fig. 9b included additional gating for dendritic cells (b, green dashed line) before quantification of monocytes. This gating strategy was used to quantify neutrophils (CD11b+Ly6G+ population), macrophages (Ly6G–CD11b+MRC1+ population), dendritic cells (Ly6G–MRC1–CD11c+ population) and monocytes (Ly6G–MRC1–CD11c–Ly6C+ population). Lymphoid subpopulations were identified as B cells (CD11b–CD19+ population) and T cells (CD11b–CD3+ population). Supplementary Fig. 2. Gating strategy for flow cytometry of blood and spleen. a–d, Gating strategy used in Extended Data Fig. 3c. a, Gating strategies for detection of myeloid cells in the blood. b, Gating strategies for detection of myeloid cells in the spleen. c, Gating strategies for detection of lymphocytes in the blood. d, Gating strategies for detection of lymphocytes in the spleen.
Table listing specific information on figure panels, type of sample measured, groups compared and P values.
Rights and permissions
Springer Nature or its licensor (e.g. a society or other partner) holds exclusive rights to this article under a publishing agreement with the author(s) or other rightsholder(s); author self-archiving of the accepted manuscript version of this article is solely governed by the terms of such publishing agreement and applicable law.
About this article
Cite this article
Pinho-Ribeiro, F.A., Deng, L., Neel, D.V. et al. Bacteria hijack a meningeal neuroimmune axis to facilitate brain invasion. Nature 615, 472–481 (2023). https://doi.org/10.1038/s41586-023-05753-x
Received:

Accepted:

Published:

Issue Date:

DOI: https://doi.org/10.1038/s41586-023-05753-x
This article is cited by
Nagela G. Zanluqui
Dorian B. McGavern

Nature (2023)
Comments
By submitting a comment you agree to abide by our Terms and Community Guidelines. If you find something abusive or that does not comply with our terms or guidelines please flag it as inappropriate.