Abstract
The segmented body plan of vertebrates is established during somitogenesis, a well-studied process in model organisms; however, the details of this process in humans remain largely unknown owing to ethical and technical limitations. Despite recent advances with pluripotent stem cell-based approaches1,2,3,4,5, models that robustly recapitulate human somitogenesis in both space and time remain scarce. Here we introduce a pluripotent stem cell-derived mesoderm-based 3D model of human segmentation and somitogenesis—which we termed 'axioloid'—that captures accurately the oscillatory dynamics of the segmentation clock and the morphological and molecular characteristics of sequential somite formation in vitro. Axioloids show proper rostrocaudal patterning of forming segments and robust anterior–posterior FGF–WNT signalling gradients and retinoic acid signalling components. We identify an unexpected critical role of retinoic acid signalling in the stabilization of forming segments, indicating distinct, but also synergistic effects of retinoic acid and extracellular matrix on the formation and epithelialization of somites. Comparative analysis demonstrates marked similarities of axioloids to the human embryo, further validated by the presence of a Hox code in axioloids. Finally, we demonstrate the utility of axioloids for studying the pathogenesis of human congenital spine diseases using induced pluripotent stem cells with mutations in HES7 and MESP2. Our results indicate that axioloids represent a promising platform for the study of axial development and disease in humans.
Access options
Access Nature and 54 other Nature Portfolio journals
Get Nature+, our best-value online-access subscription
$29.99 / 30 days
cancel any time
Subscribe to this journal
Receive 51 print issues and online access
$199.00 per year
only $3.90 per issue
Rent or buy this article
Get just this article for as long as you need it
$39.95
Prices may be subject to local taxes which are calculated during checkout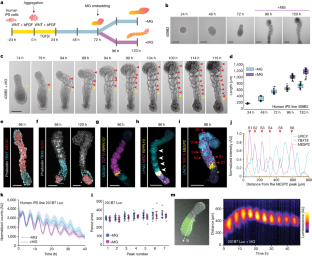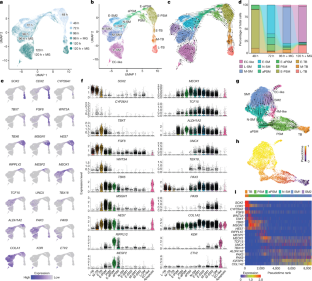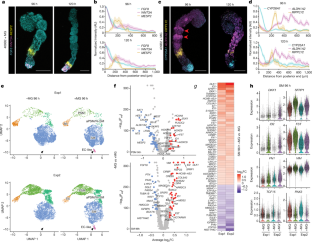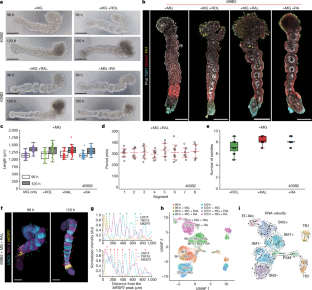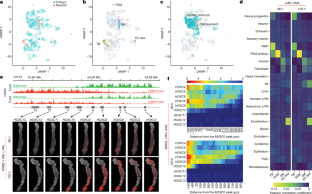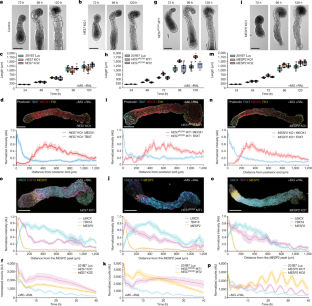 Data availability
All scRNA-seq data and CUT&Tag data used for this study have been deposited in the NCBI Gene Expression Omnibus under accession number GSE199576.  Source data are provided with this paper.
References
Matsuda, M. et al. Recapitulating the human segmentation clock with pluripotent stem cells. Nature 580, 124–129 (2020).

van den Brink, S. C. et al. Single-cell and spatial transcriptomics reveal somitogenesis in gastruloids. Nature 582, 405–409 (2020).

Veenvliet, J. V. et al. Mouse embryonic stem cells self-organize into trunk-like structures with neural tube and somites. Science 370, eaba4937 (2020).

Diaz-Cuadros, M. et al. In vitro characterization of the human segmentation clock. Nature 580, 113–118 (2020).

Moris, N. et al. An in vitro model of early anteroposterior organization during human development. Nature 582, 410–415 (2020).

Chu, L. F. et al. An in vitro human segmentation clock model derived from embryonic stem cells. Cell Rep. 28, 2247–2255.e2245 (2019).

Wilson, V., Rashbass, P. & Beddington, R. S. Chimeric analysis of T (Brachyury) gene function. Development 117, 1321–1331 (1993).

McGrew, M. J., Dale, J. K., Fraboulet, S. & Pourquie, O. The lunatic Fringe gene is a target of the molecular clock linked to somite segmentation in avian embryos. Curr. Biol. 8, 979–982 (1998).

Prince, V. E. et al. Zebrafish lunatic fringe demarcates segmental boundaries. Mech. Dev. 105, 175–180 (2001).

Evrard, Y. A., Lun, Y., Aulehla, A., Gan, L. & Johnson, R. L. lunatic fringe is an essential mediator of somite segmentation and patterning. Nature 394, 377–381 (1998).

Neidhardt, L. M., Kispert, A. & Herrmann, B. G. A mouse gene of the paired-related homeobox class expressed in the caudal somite compartment and in the developing vertebral column, kidney and nervous system. Dev. Genes Evol. 207, 330–339 (1997).

Kraus, F., Haenig, B. & Kispert, A. Cloning and expression analysis of the mouse T-box gene Tbx18. Mech. Dev. 100, 83–86 (2001).

Pourquie, O. The segmentation clock: converting embryonic time into spatial pattern. Science 301, 328–330 (2003).

Holley, S. A., Geisler, R. & Nusslein-Volhard, C. Control of her1 expression during zebrafish somitogenesis by a delta-dependent oscillator and an independent wave-front activity. Genes Dev 14, 1678–1690 (2000).

Saga, Y. & Takeda, H. The making of the somite: molecular events in vertebrate segmentation. Nat. Rev. Genet. 2, 835–845 (2001).

Bessho, Y. et al. Dynamic expression and essential functions of Hes7 in somite segmentation. Genes Dev. 15, 2642–2647 (2001).

Palmeirim, I., Henrique, D., Ish-Horowicz, D. & Pourquie, O. Avian hairy gene expression identifies a molecular clock linked to vertebrate segmentation and somitogenesis. Cell 91, 639–648 (1997).

Ishimatsu, K., Takamatsu, A. & Takeda, H. Emergence of traveling waves in the zebrafish segmentation clock. Development 137, 1595–1599 (2010).

Cooke, J. & Zeeman, E. C. A clock and wavefront model for control of the number of repeated structures during animal morphogenesis. J. Theor. Biol. 58, 455–476 (1976).

Kondrashov, N. et al. Ribosome-mediated specificity in Hox mRNA translation and vertebrate tissue patterning. Cell 145, 383–397 (2011).

Olivera-Martinez, I., Harada, H., Halley, P. A. & Storey, K. G. Loss of FGF-dependent mesoderm identity and rise of endogenous retinoid signalling determine cessation of body axis elongation. PLoS Biol. 10, e1001415 (2012).

Diez del Corral, R. et al. Opposing FGF and retinoid pathways control ventral neural pattern, neuronal differentiation, and segmentation during body axis extension. Neuron 40, 65–79 (2003).

Olivera-Martinez, I. & Storey, K. G. Wnt signals provide a timing mechanism for the FGF-retinoid differentiation switch during vertebrate body axis extension. Development 134, 2125–2135 (2007).

Moreno, T. A. & Kintner, C. Regulation of segmental patterning by retinoic acid signaling during Xenopus somitogenesis. Dev. Cell 6, 205–218 (2004).

Dubrulle, J., McGrew, M. J. & Pourquie, O. FGF signaling controls somite boundary position and regulates segmentation clock control of spatiotemporal Hox gene activation. Cell 106, 219–232 (2001).

Aulehla, A. et al. Wnt3a plays a major role in the segmentation clock controlling somitogenesis. Dev. Cell 4, 395–406 (2003).

Aulehla, A. et al. A beta-catenin gradient links the clock and wavefront systems in mouse embryo segmentation. Nat. Cell Biol. 10, 186–193 (2008).

Gyllborg, D. et al. Hybridization-based in situ sequencing (HybISS) for spatially resolved transcriptomics in human and mouse brain tissue. Nucleic Acids Res. 48, e112 (2020).

Aulehla, A. & Pourquie, O. Signaling gradients during paraxial mesoderm development. Cold Spring Harb. Perspect. Biol. 2, a000869 (2010).

Vermot, J. et al. Retinoic acid controls the bilateral symmetry of somite formation in the mouse embryo. Science 308, 563–566 (2005).

Sato, Y. et al. Notch mediates the segmental specification of angioblasts in somites and their directed migration toward the dorsal aorta in avian embryos. Dev. Cell 14, 890–901 (2008).

Jacob, M., Christ, B., Jacob, H. J. & Poelmann, R. E. The role of fibronectin and laminin in development and migration of the avian Wolffian duct with reference to somitogenesis. Anat. Embryol. 183, 385–395 (1991).

Mills, C. L., Ariyo, O., Yamada, K. M., Lash, J. W. & Bellairs, R. Evidence for the involvement of receptors for fibronectin in the promotion of chick tail segmentation. Anat. Embryol. 182, 425–434 (1990).

Page, M. Changing patterns of cytokeratins and vimentin in the early chick embryo. Development 105, 97–107 (1989).

Burgess, R., Rawls, A., Brown, D., Bradley, A. & Olson, E. N. Requirement of the paraxis gene for somite formation and musculoskeletal patterning. Nature 384, 570–573 (1996).

Wiggan, O., Fadel, M. P. & Hamel, P. A. Pax3 induces cell aggregation and regulates phenotypic mesenchymal-epithelial interconversion. J. Cell Sci. 115, 517–529 (2002).

Rowton, M. et al. Regulation of mesenchymal-to-epithelial transition by PARAXIS during somitogenesis. Dev. Dyn. 242, 1332–1344 (2013).

Vermot, J. & Pourquie, O. Retinoic acid coordinates somitogenesis and left-right patterning in vertebrate embryos. Nature 435, 215–220 (2005).

Xu, Y. et al. A single-cell transcriptome atlas of human early embryogenesis. Preprint at bioRxiv https://doi.org/10.1101/2021.11.30.470583 (2022).

Stuart, T. et al. Comprehensive integration of single-cell data. Cell 177, 1888–1902.e1821 (2019).

Nguyen, P. D. et al. Haematopoietic stem cell induction by somite-derived endothelial cells controlled by meox1. Nature 512, 314–318 (2014).

Pardanaud, L. & Dieterlen-Lievre, F. Manipulation of the angiopoietic/hemangiopoietic commitment in the avian embryo. Development 126, 617–627 (1999).

Lippmann, E. S. et al. Deterministic HOX patterning in human pluripotent stem cell-derived neuroectoderm. Stem Cell Rep. 4, 632–644 (2015).

Beccari, L. et al. Multi-axial self-organization properties of mouse embryonic stem cells into gastruloids. Nature 562, 272–276 (2018).

Matsumiya, M., Tomita, T., Yoshioka-Kobayashi, K., Isomura, A. & Kageyama, R. ES cell-derived presomitic mesoderm-like tissues for analysis of synchronized oscillations in the segmentation clock. Development 145, dev156836 (2018).

Wahl, M. B., Deng, C., Lewandoski, M. & Pourquie, O. FGF signaling acts upstream of the NOTCH and WNT signaling pathways to control segmentation clock oscillations in mouse somitogenesis. Development 134, 4033–4041 (2007).

Dubrulle, J. & Pourquie, O. fgf8 mRNA decay establishes a gradient that couples axial elongation to patterning in the vertebrate embryo. Nature 427, 419–422 (2004).

Boulet, A. M. & Capecchi, M. R. Signaling by FGF4 and FGF8 is required for axial elongation of the mouse embryo. Dev. Biol. 371, 235–245 (2012).

Sparrow, D. B., Guillen-Navarro, E., Fatkin, D. & Dunwoodie, S. L. Mutation of HAIRY-AND-ENHANCER-OF-SPLIT-7 in humans causes spondylocostal dysostosis. Hum. Mol. Genet. 17, 3761–3766 (2008).

Whittock, N. V. et al. Mutated MESP2 causes spondylocostal dysostosis in humans. Am. J. Hum. Genet. 74, 1249–1254 (2004).

Takahashi, Y. et al. Mesp2 initiates somite segmentation through the Notch signalling pathway. Nat. Genet. 25, 390–396 (2000).

Takahashi, Y. et al. Transcription factors Mesp2 and Paraxis have critical roles in axial musculoskeletal formation. Dev. Dyn. 236, 1484–1494 (2007).

Sanaki-Matsumiya, M. et al. Periodic formation of epithelial somites from human pluripotent stem cells. Nat. Commun. 13, 2325 (2022).

Budjan, C. et al. Paraxial mesoderm organoids model development of human somites. eLife 11, e68925 (2022).

Cooper, F. et al. Rostrocaudal patterning and neural crest differentiation of human pre-neural spinal cord progenitors in vitro. Stem Cell Rep. 17, 894–910 (2022).

Grosswendt, S. et al. Epigenetic regulator function through mouse gastrulation. Nature 584, 102–108 (2020).

Okita, K. et al. A more efficient method to generate integration-free human iPS cells. Nat. Methods 8, 409–412 (2011).

Takahashi, K. et al. Induction of pluripotent stem cells from adult human fibroblasts by defined factors. Cell 131, 861–872 (2007).

Yamanaka, Y., Hamidi, S., Ericsson, R., Munira, S. & Alev, C. Derivation of axioloids, an in vitro model of somitogenesis and axial development from human pluripotent stem cells. Protoc. Exch. https://doi.org/10.21203/rs.3.pex-2114/v1 (2023).

Cork, R. J. & Gasser, R. F. The Virtual Human Embryo Project: a resource for the study of human embryology. FASEB J. 26, 14.14 (2012).

Sharpe, J. et al. Optical projection tomography as a tool for 3D microscopy and gene expression studies. Science 296, 541–545 (2002).

Kerwin, J. et al. 3 dimensional modelling of early human brain development using optical projection tomography. BMC Neurosci. 5, 27 (2004).

Kerwin, J. et al. The HUDSEN Atlas: a three-dimensional (3D) spatial framework for studying gene expression in the developing human brain. J. Anat. 217, 289–299 (2010).

Gering, D. T. et al. An integrated visualization system for surgical planning and guidance using image fusion and an open MR. J. Magn. Reson. Imaging 13, 967–975 (2001).

Hama, H. et al. ScaleS: an optical clearing palette for biological imaging. Nat. Neurosci. 18, 1518–1529 (2015).

Choi, H. M. T. et al. Third-generation in situ hybridization chain reaction: multiplexed, quantitative, sensitive, versatile, robust. Development 145, dev165753 (2018).

Masamizu, Y. et al. Real-time imaging of the somite segmentation clock: revelation of unstable oscillators in the individual presomitic mesoderm cells. Proc. Natl Acad. Sci. USA 103, 1313–1318 (2006).

Isomura, A., Ogushi, F., Kori, H. & Kageyama, R. Optogenetic perturbation and bioluminescence imaging to analyze cell-to-cell transfer of oscillatory information. Genes Dev. 31, 524–535 (2017).

Schindelin, J. et al. Fiji: an open-source platform for biological-image analysis. Nat. Methods 9, 676–682 (2012).

Kaya-Okur, H. S. et al. CUT&Tag for efficient epigenomic profiling of small samples and single cells. Nat. Commun. 10, 1930 (2019).

Martin, M. Cutadapt removes adapter sequences from high-throughput sequencing reads. EMBnet.journal 17, 10–12 (2011).

Langmead, B. & Salzberg, S. L. Fast gapped-read alignment with Bowtie 2. Nat. Methods 9, 357–359 (2012).

Li, H. et al. The Sequence Alignment/Map format and SAMtools. Bioinformatics 25, 2078–2079 (2009).

Quinlan, A. R. & Hall, I. M. BEDTools: a flexible suite of utilities for comparing genomic features. Bioinformatics 26, 841–842 (2010).

Ramírez, F. et al. deepTools2: a next generation web server for deep-sequencing data analysis. Nucleic Acids Res. 44, W160–W165 (2016).

Wolock, S. L., Lopez, R. & Klein, A. M. Scrublet: computational identification of cell doublets in single-cell transcriptomic data. Cell Syst. 8, 281–291.e289 (2019).

Hao, Y. et al. Integrated analysis of multimodal single-cell data. Cell 184, 3573–3587.e3529 (2021).

Butler, A., Hoffman, P., Smibert, P., Papalexi, E. & Satija, R. Integrating single-cell transcriptomic data across different conditions, technologies, and species. Nat. Biotechnol. 36, 411–420 (2018).

Hafemeister, C. & Satija, R. Normalization and variance stabilization of single-cell RNA-seq data using regularized negative binomial regression. Genome Biol. 20, 296 (2019).

Bray, N. L., Pimentel, H., Melsted, P. & Pachter, L. Near-optimal probabilistic RNA-seq quantification. Nat. Biotechnol. 34, 525–527 (2016).

Bergen, V., Lange, M., Peidli, S., Wolf, F. A. & Theis, F. J. Generalizing RNA velocity to transient cell states through dynamical modeling. Nat. Biotechnol. 38, 1408–1414 (2020).
Acknowledgements
The authors thank G. Sheng, K.T. Kim and S. Goulas for critical reading and constructive suggestions for the manuscript; members of the single cell core facility (SignAC) at ASHBi and S. Terakura for help with scRNA-seq experiments; K. Terai and other members of the Matsuda laboratory at Kyoto University for help with bioluminescence live-imaging experiments; members of the iCeMS Analysis Center and Y. Tomoda and S. Kihara from the CiRA imaging core facility for support with microscopy and high content live imaging; Y. Imoto from ASHBi for help with computational analysis and graph generation; Y. Arai and members of the ASHBi office for administrative support. This work was supported by Naito Foundation Scientific Research Grant to C.A.; Takeda Science Foundation Grant to C.A.; Japan Agency for Medical Research and Development (AMED) grant number JP20bm0704050 to C.A.; the ISHIZUE 2020 of Kyoto University Research Development Program to C.A.; JST FOREST Program (Grant Number JPMJFR206C) to T.Y.; JST, CREST (grant number JPMJCR2023) to T.Y.; AMED-CREST (grant numbers JP22gm1310002 and JP22gm1310011) to T.Y.; the ASHBi Fusion Research Program to K.Y.-K., Y.Y., K.S., T.Y. and C.A. The human embryonic and fetal material was provided by the Joint MRC / Wellcome (MR/R006237/1) Human Developmental Biology Resource (www.hdbr.org). N.M is supported by the Francis Crick Institute, which receives its core funding from Cancer Research UK (FC011181), the UK Medical Research Council (FC011181) and the Wellcome Trust (FC011181), and a Royal Society research grant (RGS\R2\212082). A.M.-A., N.M. and C.A. were additionally supported by the UK Medical Research Council and Japanese Agency for Medical Research and Development AMED (MR/V005367/2). ASHBi is supported by the World Premier International Research Center Initiative (WPI), MEXT, Japan.
Ethics declarations
Competing interests
Y.Y., S.H., S.M. and C.A., together with Kyoto University, have filed a provisional patent application (US63/326,611) covering the generation and use of axioloids. The other authors declare no competing interests.
Peer review
Peer review information
Nature thanks Jesse Veenvliet and the other, anonymous, reviewer(s) for their contribution to the peer review of this work.
Additional information
Publisher's note Springer Nature remains neutral with regard to jurisdictional claims in published maps and institutional affiliations.
Extended data figures and tables
Supplementary information
Rights and permissions
Springer Nature or its licensor (e.g. a society or other partner) holds exclusive rights to this article under a publishing agreement with the author(s) or other rightsholder(s); author self-archiving of the accepted manuscript version of this article is solely governed by the terms of such publishing agreement and applicable law.
About this article
Cite this article
Yamanaka, Y., Hamidi, S., Yoshioka-Kobayashi, K. et al. Reconstituting human somitogenesis in vitro. Nature 614, 509–520 (2023). https://doi.org/10.1038/s41586-022-05649-2
Received:

Accepted:

Published:

Issue Date:

DOI: https://doi.org/10.1038/s41586-022-05649-2
Comments
By submitting a comment you agree to abide by our Terms and Community Guidelines. If you find something abusive or that does not comply with our terms or guidelines please flag it as inappropriate.