Abstract
Correlating atomic configurations—specifically, degree of disorder (DOD)—of an amorphous solid with properties is a long-standing riddle in materials science and condensed matter physics, owing to difficulties in determining precise atomic positions in 3D structures1,2,3,4,5. To this end, 2D systems provide insight to the puzzle by allowing straightforward imaging of all atoms6,7. Direct imaging of amorphous monolayer carbon (AMC) grown by laser-assisted depositions has resolved atomic configurations, supporting the modern crystallite view of vitreous solids over random network theory8. Nevertheless, a causal link between atomic-scale structures and macroscopic properties remains elusive. Here we report facile tuning of DOD and electrical conductivity in AMC films by varying growth temperatures. Specifically, the pyrolysis threshold temperature is the key to growing variable-range-hopping conductive AMC with medium-range order (MRO), whereas increasing the temperature by 25 °C results in AMC losing MRO and becoming electrically insulating, with an increase in sheet resistance of 109 times. Beyond visualizing highly distorted nanocrystallites embedded in a continuous random network, atomic-resolution electron microscopy shows the absence/presence of MRO and temperature-dependent densities of nanocrystallites, two order parameters proposed to fully describe DOD. Numerical calculations establish the conductivity diagram as a function of these two parameters, directly linking microstructures to electrical properties. Our work represents an important step towards understanding the structure–property relationship of amorphous materials at the fundamental level and paves the way to electronic devices using 2D amorphous materials.
Access options
Access Nature and 54 other Nature Portfolio journals
Get Nature+, our best-value online-access subscription
$29.99 / 30 days
cancel any time
Subscribe to this journal
Receive 51 print issues and online access
$199.00 per year
only $3.90 per issue
Rent or buy this article
Prices vary by article type
from$1.95
to$39.95
Prices may be subject to local taxes which are calculated during checkout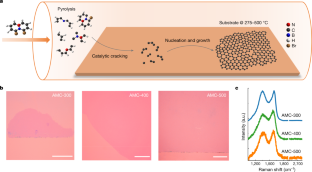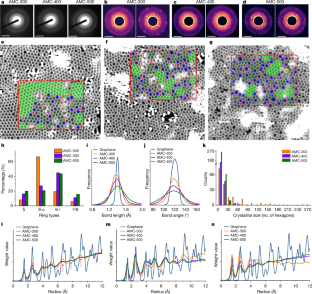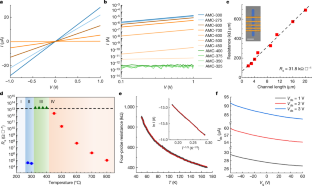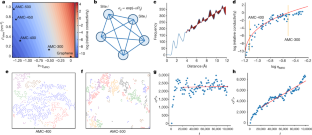 Data availability
All related data generated and/or analysed in this study are available from the corresponding author on reasonable request.
References
Zallen, R. The Physics of Amorphous Solids (Wiley, 1983).

Miracle, D. B. A structural model for metallic glasses. Nat. Mater. 3, 697–702 (2004).

Sheng, H. W., Luo, W. K., Alamgir, F. M., Bai, J. M. & Ma, E. Atomic packing and short-to-medium-range order in metallic glasses. Nature 439, 419–425 (2006).

Greer, A. L. in Physical Metallurgy 5th edn (eds Laughlin, D. E. & Hono, K.) 305–385 (Elsevier, 2014).

Ma, E. Tuning order in disorder. Nat. Mater. 14, 547–552 (2015).

Joo, W. J. et al. Realization of continuous Zachariasen carbon monolayer. Sci. Adv. 3, e1601821 (2017).

Hong, S. et al. Ultralow-dielectric-constant amorphous boron nitride. Nature 582, 511–514 (2020).

Toh, C. T. et al. Synthesis and properties of free-standing monolayer amorphous carbon. Nature 577, 199–203 (2020).

Tilley, R. J. D. Crystals and Crystal Structures (Wiley, 2006).

Schorr, S. & Weidenthaler, C. (eds) Crystallography in Materials Science: From Structure-Property Relationships to Engineering (De Gruyter, 2021).

Yang, Y. et al. Determining the three-dimensional atomic structure of an amorphous solid. Nature 592, 60–64 (2021).

Kotakoski, J., Krasheninnikov, A. V., Kaiser, U. & Meyer, J. C. From point defects in graphene to two-dimensional amorphous carbon. Phys. Rev. Lett. 106, 105505 (2011).

Eder, F. R., Kotakoski, J., Kaiser, U. & Meyer, J. C. A journey from order to disorder - atom by atom transformation from graphene to a 2D carbon glass. Sci. Rep. 4, 4060 (2014).

Huang, P. Y. et al. Imaging atomic rearrangements in two-dimensional silica glass: watching silica's dance. Science 342, 224–227 (2013).

Li, X. et al. Large-area synthesis of high-quality and uniform graphene films on copper foils. Science 324, 1312–1314 (2009).

Reina, A. et al. Large area, few-layer graphene films on arbitrary substrates by chemical vapor deposition. Nano Lett. 9, 30–35 (2009).

Nandamuri, G., Roumimov, S. & Solanki, R. Chemical vapor deposition of graphene films. Nanotechnology 21, 145604 (2010).

Sun, Z. et al. Growth of graphene from solid carbon sources. Nature 468, 549–552 (2010).

Cai, J. et al. Atomically precise bottom-up fabrication of graphene nanoribbons. Nature 466, 470–473 (2010).

Kolmer, M. et al. Rational synthesis of atomically precise graphene nanoribbons directly on metal oxide surfaces. Science 369, 571–575 (2020).

Yazyev, O. V. A guide to the design of electronic properties of graphene nanoribbons. Acc. Chem. Res. 46, 2319–2328 (2013).

Jang, J. et al. Low-temperature-grown continuous graphene films from benzene by chemical vapor deposition at ambient pressure. Sci. Rep. 5, 17955 (2015).

Choi, J. H. et al. Drastic reduction in the growth temperature of graphene on copper via enhanced London dispersion force. Sci. Rep. 3, 1925 (2013).

Wu, T. et al. Continuous graphene films synthesized at low temperatures by introducing coronene as nucleation seeds. Nanoscale 5, 5456–5461 (2013).

Zhang, P. F. et al. Parent B2N2‐perylenes with different BN orientations. Angew. Chem. Int. Ed. 60, 23313–23319 (2021).

Malard, L. M., Pimenta, M. A., Dresselhaus, G. & Dresselhaus, M. S. Raman spectroscopy in graphene. Phys. Rep. 473, 51–87 (2009).

Zachariasen, W. H. The atomic arrangement in glass. J. Am. Chem. Soc. 54, 3841–3851 (1932).

Egami, T. & Billinge, S. J. Underneath the Bragg Peaks: Structural Analysis of Complex Materials (Elsevier, 2003).

Xu, Z. et al. Electrical conductivity, chemistry, and bonding alternations under graphene oxide to graphene transition as revealed by in situ TEM. ACS Nano 5, 4401–4406 (2011).

Wang, W. H., Dong, C. & Shek, C. H. Bulk metallic glasses. Mater. Sci. Eng. R Rep. 44, 45–89 (2004).

Mott, N. F. & Davis, E. A. Electronic Processes in Non-crystalline Materials (Oxford Univ. Press, 2012).

Kaiser, A. B., Gomez-Navarro, C., Sundaram, R. S., Burghard, M. & Kern, K. Electrical conduction mechanism in chemically derived graphene monolayers. Nano Lett. 9, 1787–1792 (2009).

Ambegaokar, V., Halperin, B. I. & Langer, J. S. Hopping conductivity in disordered systems. Phys. Rev. B 4, 2612–2620 (1971).

Kapko, V., Drabold, D. A. & Thorpe, M. F. Electronic structure of a realistic model of amorphous graphene. Phys. Status Solidi B 247, 1197–1200 (2010).

Thapa, R., Ugwumadu, C., Nepal, K., Trembly, J. & Drabold, D. A. Ab initio simulation of amorphous graphite. Phys. Rev. Lett. 128, 236402 (2022).

Mott, N. F. Conduction in non-crystalline materials. III. Localized states in a pseudogap and near extremities of conduction and valence bands. Philos. Mag. 19, 835–852 (1969).

Tuan, D. V. et al. Insulating behavior of an amorphous graphene membrane. Phys. Rev. B 86, 121408(R) (2012).

Li, Y., Inam, F., Kumar, A., Thorpe, M. F. & Drabold, D. A. Pentagonal puckering in a sheet of amorphous graphene. Phys. Status Solidi B 248, 2082–2086 (2011).

Liu, L. et al. Heteroepitaxial growth of two-dimensional hexagonal boron nitride templated by graphene edges. Science 343, 163–167 (2014).

Imada, I., Fujimori, A. & Tokura, Y. Metal-insulator transitions. Rev. Mod. Phys. 70, 1039–1263 (1998).

Siegrist, T. et al. Disorder-induced localization in crystalline phase-change materials. Nat. Mater. 10, 202–208 (2011).

Krivanek, O. L. et al. Atom-by-atom structural and chemical analysis by annular dark-field electron microscopy. Nature 464, 571–574 (2010).

Kresse, G. & Furthmuller, J. Efficient iterative schemes for ab initio total-energy calculations using a plane-wave basis set. Phys. Rev. B 54, 11169–11186 (1996).

Kresse, G. & Joubert, D. From ultrasoft pseudopotentials to the projector augmented-wave method. Phys. Rev. B 59, 1758–1775 (1999).

Perdew, J. P., Burke, K. & Ernzerhof, M. Generalized gradient approximation made simple. Phys. Rev. Lett. 77, 3865–3868 (1996).

Grimme, S., Antony, J., Ehrlich, S. & Krieg, H. A consistent and accurate ab initio parametrization of density functional dispersion correction (DFT-D) for the 94 elements H-Pu. J. Chem. Phys. 132, 154104 (2010).
Acknowledgements
This work was supported by the National Key R&D Program of China (2021YFA1400500, 2018YFA0305800, 2019YFA0307800, 2020YFF01014700, 2017YFA0206300), the National Natural Science Foundation of China (U1932153, 51872285, 11974001, 22075001, 11974024, 11874359, 92165101, 11974388, 51991344), the Beijing Natural Science Foundation (2192022, Z190011), the Beijing Outstanding Young Scientist Program (BJJWZYJH01201914430039), the Key-Area Research and Development Program of Guangdong Province (2019B010934001), the Strategic Priority Research Program of Chinese Academy of Sciences under grant no. XDB33000000 and the Key Research Program of Frontier Sciences, CAS (QYZDB-SSW-JSC019). J.C. is grateful for the support of the Beijing Natural Science Foundation (JQ22001). L.W. is grateful for the support from the Youth Innovation Promotion Association of CAS (2020009). A portion of this work was performed at the Steady High Magnetic Field Facilities, High Magnetic Field Laboratory, Chinese Academy of Sciences and supported by the High Magnetic Field Laboratory of Anhui Province. Computational resources were provided by the Peking University supercomputing platform, Shanghai Supercomputer Center and the TianHe-1A supercomputer.
Ethics declarations
Competing interests
The authors declare no competing interests.
Peer review
Peer review information
Nature thanks David Drabold, Jannik Meyer, Hyeon Suk Shin and Chee-Tat Toh for their contribution to the peer review of this work.
Additional information
Publisher's note Springer Nature remains neutral with regard to jurisdictional claims in published maps and institutional affiliations.
Extended data figures and tables
Supplementary information
Rights and permissions
Springer Nature or its licensor (e.g. a society or other partner) holds exclusive rights to this article under a publishing agreement with the author(s) or other rightsholder(s); author self-archiving of the accepted manuscript version of this article is solely governed by the terms of such publishing agreement and applicable law.
About this article
Cite this article
Tian, H., Ma, Y., Li, Z. et al. Disorder-tuned conductivity in amorphous monolayer carbon. Nature 615, 56–61 (2023). https://doi.org/10.1038/s41586-022-05617-w
Received:

Accepted:

Published:

Issue Date:

DOI: https://doi.org/10.1038/s41586-022-05617-w
Comments
By submitting a comment you agree to abide by our Terms and Community Guidelines. If you find something abusive or that does not comply with our terms or guidelines please flag it as inappropriate.