Abstract
Majorana bound states constitute one of the simplest examples of emergent non-Abelian excitations in condensed matter physics. A toy model proposed by Kitaev shows that such states can arise at the ends of a spinless p-wave superconducting chain1. Practical proposals for its realization2,3 require coupling neighbouring quantum dots (QDs) in a chain through both electron tunnelling and crossed Andreev reflection4. Although both processes have been observed in semiconducting nanowires and carbon nanotubes5,6,7,8, crossed-Andreev interaction was neither easily tunable nor strong enough to induce coherent hybridization of dot states. Here we demonstrate the simultaneous presence of all necessary ingredients for an artificial Kitaev chain: two spin-polarized QDs in an InSb nanowire strongly coupled by both elastic co-tunnelling (ECT) and crossed Andreev reflection (CAR). We fine-tune this system to a sweet spot where a pair of poor man's Majorana states is predicted to appear. At this sweet spot, the transport characteristics satisfy the theoretical predictions for such a system, including pairwise correlation, zero charge and stability against local perturbations. Although the simple system presented here can be scaled to simulate a full Kitaev chain with an emergent topological order, it can also be used imminently to explore relevant physics related to non-Abelian anyons.
Access options
Access Nature and 54 other Nature Portfolio journals
Get Nature+, our best-value online-access subscription
$29.99 per month
cancel any time
Subscribe to this journal
Receive 51 print issues and online access
$199.00 per year
only $3.90 per issue
Rent or buy this article
Get just this article for as long as you need it
$39.95
Prices may be subject to local taxes which are calculated during checkout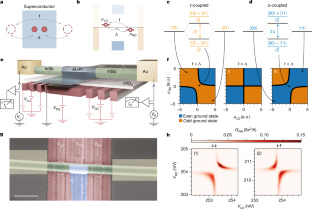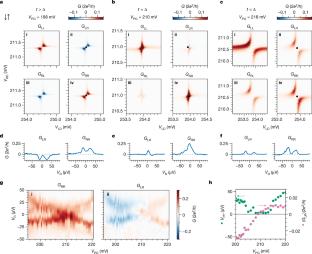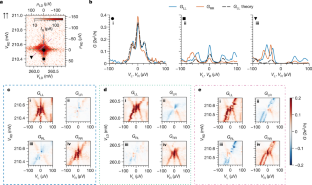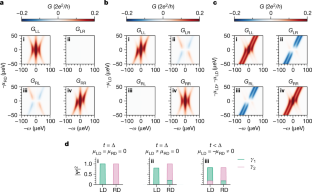 References
Kitaev, A. Y. Unpaired Majorana fermions in quantum wires. Phys.-Uspekhi 44, 131 (2001).

Sau, J. D. & Das Sarma, S. Realizing a robust practical Majorana chain in a quantum-dot-superconductor linear array. Nat. Commun. 3, 964 (2012).

Leijnse, M. & Flensberg, K. Parity qubits and poor man's Majorana bound states in double quantum dots. Phys. Rev. B 86, 134528 (2012).

Recher, P., Sukhorukov, E. V. & Loss, D. Andreev tunneling, Coulomb blockade, and resonant transport of nonlocal spin-entangled electrons. Phys. Rev. B 63, 165314 (2001).

Hofstetter, L., Csonka, S., Nygård, J. & Schönenberger, C. Cooper pair splitter realized in a two-quantum-dot Y-junction. Nature 461, 960–963 (2009).

Herrmann, L. G. et al. Carbon nanotubes as Cooper-pair beam splitters. Phys. Rev. Lett. 104, 026801 (2010).

Das, A. et al. High-efficiency Cooper pair splitting demonstrated by two-particle conductance resonance and positive noise cross-correlation. Nat. Commun. 3, 1165 (2012).

Schindele, J., Baumgartner, A. & Schönenberger, C. Near-unity Cooper pair splitting efficiency. Phys. Rev. Lett. 109, 157002 (2012).

Nayak, C., Simon, S. H., Stern, A., Freedman, M. & Das Sarma, S. Non-Abelian anyons and topological quantum computation. Rev. Mod. Phys. 80, 1083–1159 (2008).

Kitaev, A. Y. Fault-tolerant quantum computation by anyons. Ann. Phys. 303, 2–30 (2003).

Mourik, V. et al. Signatures of Majorana fermions in hybrid superconductor-semiconductor nanowire devices. Science 336, 1003–1007 (2012).

Deng, M. T. et al. Majorana bound state in a coupled quantum-dot hybrid-nanowire system. Science 354, 1557–1562 (2016).

Fornieri, A. et al. Evidence of topological superconductivity in planar Josephson junctions. Nature 569, 89–92 (2019).

Ren, H. et al. Topological superconductivity in a phase-controlled Josephson junction. Nature 569, 93–98 (2019).

Vaitiekėnas, S. et al. Flux-induced topological superconductivity in full-shell nanowires. Science 367, eaav3392 (2020).

Kells, G., Meidan, D. & Brouwer, P. W. Near-zero-energy end states in topologically trivial spin-orbit coupled superconducting nanowires with a smooth confinement. Phys. Rev. B 86, 100503 (2012).

Prada, E., San-Jose, P. & Aguado, R. Transport spectroscopy of NS nanowire junctions with Majorana fermions. Phys. Rev. B 86, 180503 (2012).

Pikulin, D. I., Dahlhaus, J. P., Wimmer, M., Schomerus, H. & Beenakker, C. W. J. A zero-voltage conductance peak from weak antilocalization in a Majorana nanowire. New J. Phys. 14, 125011 (2012).

Liu, C.-X., Sau, J. D., Stanescu, T. D. & Das Sarma, S. Andreev bound states versus Majorana bound states in quantum dot-nanowire-superconductor hybrid structures: trivial versus topological zero-bias conductance peaks. Phys. Rev. B 96, 075161 (2017).

Vuik, A., Nijholt, B., Akhmerov, A. & Wimmer, M. Reproducing topological properties with quasi-Majorana states. SciPost Phys. 7, 061 (2019).

Pan, H. & Das Sarma, S. Physical mechanisms for zero-bias conductance peaks in Majorana nanowires. Phys. Rev. Res. 2, 013377 (2020).

Wiel, W. Gvd et al. Electron transport through double quantum dots. Rev. Mod. Phys. 75, 1–22 (2003).

Choi, M.-S., Bruder, C. & Loss, D. Spin-dependent Josephson current through double quantum dots and measurement of entangled electron states. Phys. Rev. B 62, 13569 (2000).

Liu, C.-X., Wang, G., Dvir, T. & Wimmer, M. Tunable superconducting coupling of quantum dots via Andreev bound states in semiconductor-superconductor nanowires. Preprint at https://arxiv.org/abs/2203.00107 (2022).

Wang, G. et al. Singlet and triplet Cooper pair splitting in superconducting-semiconducting hybrid nanowires. Nature 612, 448–453 (2022).

Bordin, A. et al. Controlled crossed Andreev reflection and elastic co-tunneling mediated by Andreev bound states. Preprint at https://arxiv.org/abs/2212.02274 (2022).

Beckmann, D. & Löhneysen, H. V. Experimental evidence for crossed Andreev reflection. AIP Conf. Proc. 850, 875–876 (2006).

Gramich, J., Baumgartner, A. & Schönenberger, C. Andreev bound states probed in three-terminal quantum dots. Phys. Rev. B 96, 195418 (2017).

Danon, J. et al. Nonlocal conductance spectroscopy of Andreev bound states: symmetry relations and BCS charges. Phys. Rev. Lett. 124, 036801 (2020).

Ménard, G. C. et al. Conductance-matrix symmetries of a three-terminal hybrid device. Phys. Rev. Lett. 124, 036802 (2020).

Pan, H. & Das Sarma, S. Disorder effects on Majorana zero modes: Kitaev chain versus semiconductor nanowire. Phys. Rev. B 103, 224505 (2021).

Heedt, S. et al. Shadow-wall lithography of ballistic superconductor–semiconductor quantum devices. Nat. Commun. 12, 4914 (2021).

Borsoi, F. et al. Single-shot fabrication of semiconducting–superconducting nanowire devices. Adv. Funct. Mater. 31, 2102388 (2021).

Mazur, G. P. et al. Spin-mixing enhanced proximity effect in aluminum-based superconductor–semiconductor hybrids. Adv. Mater. 34, 2202034 (2022).

Martinez, E. A. et al. Measurement circuit effects in three-terminal electrical transport measurements. Preprint at https://doi.org/10.48550/arXiv.2104.02671 (2021).

Hanson, R., Kouwenhoven, L. P., Petta, J. R., Tarucha, S. & Vandersypen, L. M. K. Spins in few-electron quantum dots. Rev. Mod. Phys. 79, 1217–1265 (2007).

Datta, S. Quantum Transport: Atom to Transistor (Cambridge Univ. Press, 2005).

Kouwenhoven, L. P., Austing, D. G. & Tarucha, S. Few-electron quantum dots. Rep. Prog. Phys. 64, 701–736 (2001).
Acknowledgements
This work has been supported by the Dutch Organisation for Scientific Research (NWO), a subsidy for Top Consortia for Knowledge and Innovation (TKl toeslag), Microsoft Corporation Station Q and support from the European Union's Horizon 2020 research and innovation programme under grant agreement no. 828948, project AndQC. We thank G. de Lange, S. Goswami, D. Xu, D. Loss and J. Klinovaja for helpful discussions.
Ethics declarations
Competing interests
The authors declare no competing interests.
Peer review
Peer review information
Nature thanks Sumanta Tewari, Hongqi Xu and the other, anonymous, reviewer(s) for their contribution to the peer review of this work. Peer reviewer reports are available.
Additional information
Publisher's note Springer Nature remains neutral with regard to jurisdictional claims in published maps and institutional affiliations.
Extended data figures and tables
Supplementary information
Rights and permissions
Springer Nature or its licensor (e.g. a society or other partner) holds exclusive rights to this article under a publishing agreement with the author(s) or other rightsholder(s); author self-archiving of the accepted manuscript version of this article is solely governed by the terms of such publishing agreement and applicable law.
About this article
Cite this article
Dvir, T., Wang, G., van Loo, N. et al. Realization of a minimal Kitaev chain in coupled quantum dots. Nature 614, 445–450 (2023). https://doi.org/10.1038/s41586-022-05585-1
Received:

Accepted:

Published:

Issue Date:

DOI: https://doi.org/10.1038/s41586-022-05585-1
Comments
By submitting a comment you agree to abide by our Terms and Community Guidelines. If you find something abusive or that does not comply with our terms or guidelines please flag it as inappropriate.