Abstract
Cognate tRNAs deliver specific amino acids to translating ribosomes according to the standard genetic code, and three codons with no cognate tRNAs serve as stop codons. Some protists have reassigned all stop codons as sense codons, neglecting this fundamental principle1,2,3,4. Here we analyse the in-frame stop codons in 7,259 predicted protein-coding genes of a previously undescribed trypanosomatid, Blastocrithidia nonstop. We reveal that in this species in-frame stop codons are underrepresented in genes expressed at high levels and that UAA serves as the only termination codon. Whereas new tRNAsGlu fully cognate to UAG and UAA evolved to reassign these stop codons, the UGA reassignment followed a different path through shortening the anticodon stem of tRNATrpCCA from five to four base pairs (bp). The canonical 5-bp tRNATrp recognizes UGG as dictated by the genetic code, whereas its shortened 4-bp variant incorporates tryptophan also into in-frame UGA. Mimicking this evolutionary twist by engineering both variants from B. nonstop, Trypanosoma brucei and Saccharomyces cerevisiae and expressing them in the last two species, we recorded a significantly higher readthrough for all 4-bp variants. Furthermore, a gene encoding B. nonstop release factor 1 acquired a mutation that specifically restricts UGA recognition, robustly potentiating the UGA reassignment. Virtually the same strategy has been adopted by the ciliate Condylostoma magnum. Hence, we describe a previously unknown, universal mechanism that has been exploited in unrelated eukaryotes with reassigned stop codons.
Access options
Access Nature and 54 other Nature Portfolio journals
Get Nature+, our best-value online-access subscription
$29.99 / 30 days
cancel any time
Subscribe to this journal
Receive 51 print issues and online access
$199.00 per year
only $3.90 per issue
Rent or buy this article
Get just this article for as long as you need it
$39.95
Prices may be subject to local taxes which are calculated during checkout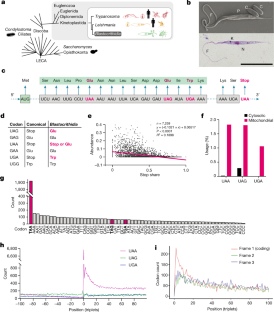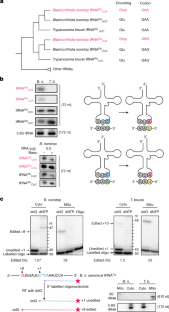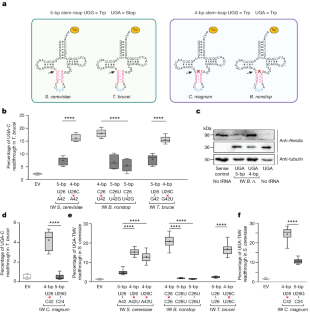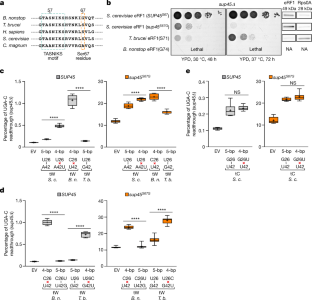 Data availability
All data generated during this study are included in this published article (and its Supplementary Information files). The MS data have been deposited to the ProteomeXchange Consortium through the PRIDE54 partner repository with the dataset identifier PXD033324. The high-throughput sequencing datasets were deposited in the National Center for Biotechnology Information under the number PRJNA790628 and in Figshare55. Additional data and analyses are available in Figshare56. Source data are provided with this paper.
Code availability
Custom computer code that was written for this project is publicly available on Zenodo57.
References
Záhonová, K., Kostygov, A. Y., Ševčíková, T., Yurchenko, V. & Eliáš, M. An unprecedented non-canonical nuclear genetic code with all three termination codons reassigned as sense codons. Curr. Biol. 26, 2364–2369 (2016).

Bachvaroff, T. R. A precedented nuclear genetic code with all three termination codons reassigned as sense codons in the syndinean Amoebophrya sp. ex Karlodinium veneficum. PLoS ONE 14, e0212912 (2019).

Swart, E. C., Serra, V., Petroni, G. & Nowacki, M. Genetic codes with no dedicated stop codon: context-dependent translation termination. Cell 166, 691–702 (2016).

Heaphy, S. M., Mariotti, M., Gladyshev, V. N., Atkins, J. F. & Baranov, P. V. Novel ciliate genetic code variants including the reassignment of all three stop codons to sense codons in Condylostoma magnum. Mol. Biol. Evol. 33, 2885–2889 (2016).

Sella, G. & Ardell, D. H. The coevolution of genes and genetic codes: Crick's frozen accident revisited. J. Mol. Evol. 63, 297–313 (2006).

Koonin, E. V. & Novozhilov, A. S. Origin and evolution of the genetic code: the universal enigma. IUBMB Life 61, 99–111 (2009).

Lobanov, A. V. et al. Position-dependent termination and widespread obligatory frameshifting in Euplotes translation. Nat. Struct. Mol. Biol. 24, 61–68 (2017).

Shulgina, Y. & Eddy, S. R. A computational screen for alternative genetic codes in over 250,000 genomes. eLife 10, e71402 (2021).

Keeling, P. J. Evolution of the genetic code. Curr. Biol. 26, R851–R853 (2016).

Baranov, P. V., Atkins, J. F. & Yordanova, M. M. Augmented genetic decoding: global, local and temporal alterations of decoding processes and codon meaning. Nat. Rev. Genet. 16, 517–529 (2015).

Keeling, P. J. & Leander, B. S. Characterisation of a non-canonical genetic code in the oxymonad Streblomastix strix. J. Mol. Biol. 326, 1337–1349 (2003).

Karpov, S. A. et al. Obligately phagotrophic aphelids turned out to branch with the earliest-diverging fungi. Protist 164, 195–205 (2013).

Lozupone, C. A., Knight, R. D. & Landweber, L. F. The molecular basis of nuclear genetic code change in ciliates. Curr. Biol. 11, 65–74 (2001).

Sanchez-Silva, R., Villalobo, E., Morin, L. & Torres, A. A new noncanonical nuclear genetic code: translation of UAA into glutamate. Curr. Biol. 13, 442–447 (2003).

Osawa, S. & Jukes, T. H. Codon reassignment (codon capture) in evolution. J. Mol. Evol. 28, 271–278 (1989).

Schultz, D. W. & Yarus, M. Transfer RNA mutation and the malleability of the genetic code. J. Mol. Biol. 235, 1377–1380 (1994).

Sengupta, S. & Higgs, P. G. A unified model of codon reassignment in alternative genetic codes. Genetics 170, 831–840 (2005).

Lukeš, J. et al. Trypanosomatids are much more than just trypanosomes: clues from the expanded family tree. Trends Parasitol. 34, 466–480 (2018).

Maslov, D. A. et al. Recent advances in trypanosomatid research: genome organization, expression, metabolism, taxonomy and evolution. Parasitology 146, 1–27 (2019).

He, F. & Jacobson, A. Nonsense-mediated mRNA decay: degradation of defective transcripts is only part of the story. Annu. Rev. Genet. 49, 339–366 (2015).

Baejen, C. et al. Transcriptome maps of mRNP biogenesis factors define pre-mRNA recognition. Mol. Cell 55, 745–757 (2014).

Kini, H. K., Silverman, I. M., Ji, X., Gregory, B. D. & Liebhaber, S. A. Cytoplasmic poly(A) binding protein-1 binds to genomically encoded sequences within mammalian mRNAs. RNA 22, 61–74 (2016).

Sladic, R. T., Lagnado, C. A., Bagley, C. J. & Goodall, G. J. Human PABP binds AU-rich RNA via RNA-binding domains 3 and 4. Eur. J. Biochem. 271, 450–457 (2004).

Alfonzo, J. D., Blanc, V., Estevez, A. M., Rubio, M. A. & Simpson, L. C to U editing of the anticodon of imported mitochondrial tRNA(Trp) allows decoding of the UGA stop codon in Leishmania tarentolae. EMBO J. 18, 7056–7062 (1999).

Wohlgamuth-Benedum, J. M. et al. Thiolation controls cytoplasmic tRNA stability and acts as a negative determinant for tRNA editing in mitochondria. J. Biol. Chem. 284, 23947–23953 (2009).

Paris, Z. et al. A mitochondrial cytidine deaminase is responsible for C to U editing of tRNA(Trp) to decode the UGA codon in Trypanosoma brucei. RNA Biol. 18, 278–286 (2021).

Hirsh, D. Tryptophan transfer RNA as the UGA suppressor. J. Mol. Biol. 58, 439–458 (1971).

Nenarokova, A. & Paris, Z. tRNAseq analysis of Blastocrithidia nonstop. figshare https://doi.org/10.6084/m9.figshare.17934200.v2 (2022).

Chan, P. P. & Lowe, T. M. tRNAscan-SE: searching for tRNA genes in genomic sequences. Methods Mol. Biol. 1962, 1–14 (2019).

Laslett, D. & Canback, B. ARAGORN, a program to detect tRNA genes and tmRNA genes in nucleotide sequences. Nucleic Acids Res. 32, 11–16 (2004).

Van Haute, L., Powell, C. A. & Minczuk, M. Dealing with an unconventional genetic code in mitochondria: the biogenesis and pathogenic defects of the 5-formylcytosine modification in mitochondrial tRNA(Met). Biomolecules 7, 24 (2017).

Agris, P. F. et al. Celebrating wobble decoding: half a century and still much is new. RNA Biol 15, 537–553 (2018).

Beznosková, P., Gunisová, S. & Valášek, L. S. Rules of UGA-N decoding by near-cognate tRNAs and analysis of readthrough on short uORFs in yeast. RNA 22, 456–466 (2016).

Beznosková, P., Pavlíková, Z., Zeman, J., Echeverria Aitken, C. & Valášek, L. S. Yeast applied readthrough inducing system (YARIS): an in vivo assay for the comprehensive study of translational readthrough. Nucleic Acids Res. 47, 6339–6350 (2019).

Pineyro, D., Torres, A. G. & de Pouplana, L. R. In Fungal RNA Biology (eds Sesma, A. & von der Haar, T.) 233–267 (Springer, 2014).

Matheisl, S., Berninghausen, O., Becker, T. & Beckmann, R. Structure of a human translation termination complex. Nucleic Acids Res. 43, 8615–8626 (2015).

Brown, A., Shao, S., Murray, J., Hegde, R. S. & Ramakrishnan, V. Structural basis for stop codon recognition in eukaryotes. Nature 524, 493–496 (2015).

Blanchet, S. et al. New insights into stop codon recognition by eRF1. Nucleic Acids Res. 43, 3298–3308 (2015).

Eliseev, B., Kryuchkova, P., Alkalaeva, E. & Frolova, L. A single amino acid change of translation termination factor eRF1 switches between bipotent and omnipotent stop-codon specificity. Nucleic Acids Res. 39, 599–608 (2011).

Xue, H., Shen, W., Giege, R. & Wong, J. T. Identity elements of tRNA(Trp). Identification and evolutionary conservation. J. Biol. Chem. 268, 9316–9322 (1993).

Ulmasov, B., Topin, A., Chen, Z., He, S. H. & Folk, W. R. Identity elements and aminoacylation of plant tRNATrp. Nucleic Acids Res. 26, 5139–5141 (1998).

Sekine, S. et al. Major identity determinants in the "augmented D helix" of tRNA(Glu) from Escherichia coli. J. Mol. Biol. 256, 685–700 (1996).

Robertson, W. E. et al. Sense codon reassignment enables viral resistance and encoded polymer synthesis. Science 372, 1057–1062 (2021).

Grybchuk, D. et al. Viral discovery and diversity in trypanosomatid protozoa with a focus on relatives of the human parasite Leishmania. Proc. Natl Acad. Sci. USA 115, E506–E515 (2018).

Chin, J. W. Expanding and reprogramming the genetic code. Nature 550, 53–60 (2017).

Wang, J. et al. AAV-delivered suppressor tRNA overcomes a nonsense mutation in mice. Nature 604, 343–348 (2022).

Janssen, B. D., Diner, E. J. & Hayes, C. S. Analysis of aminoacyl- and peptidyl-tRNAs by gel electrophoresis. Methods Mol. Biol. 905, 291–309 (2012).

Grentzmann, G., Ingram, J. A., Kelly, P. J., Gesteland, R. F. & Atkins, J. F. A dual-luciferase reporter system for studying recoding signals. RNA 4, 479–486 (1998).

Muhlrad, D. & Parker, R. Recognition of yeast mRNAs as "nonsense containing" leads to both inhibition of mRNA translation and mRNA degradation: implications for the control of mRNA decapping. Mol. Biol. Cell 10, 3971–3978 (1999).

Loughran, G., Howard, M. T., Firth, A. E. & Atkins, J. F. Avoidance of reporter assay distortions from fused dual reporters. RNA 23, 1285–1289 (2017).

Ross, R., Cao, X., Yu, N. & Limbach, P. A. Sequence mapping of transfer RNA chemical modifications by liquid chromatography tandem mass spectrometry. Methods 107, 73–78 (2016).

Beznosková, P. et al. Translation initiation factors eIF3 and HCR1 control translation termination and stop codon read-through in yeast cells. PLoS Genet. 9, e1003962 (2013).

Kouba, T. et al. Small ribosomal protein RPS0 stimulates translation initiation by mediating 40S-binding of eIF3 via its direct contact with the eIF3a/TIF32 subunit. PLoS ONE 7, e40464 (2012).

Perez-Riverol, Y. et al. The PRIDE database resources in 2022: a hub for mass spectrometry-based proteomics evidences. Nucleic Acids Res. 50, D543–D552 (2022).

Nenarokova, A., Záhonová, K. & Nenarokov, S. The high-throughput sequencing datasets. figshare https://doi.org/10.6084/m9.figshare.21401541 (2022).

Nenarokova, A., Záhonová, K. & Nenarokov, S. Additional data and analyses. figshare https://figshare.com/projects/tRNA_anticodon_stem_length_variations_are_critical_for_stop_codon_reassignment/129167 (2022).

Nenarokov, S. & Nenarokova, A. Seraff/blasto: annotator & utilities for Blastocrithidia project (v1.0.2). Zenodo https://doi.org/10.5281/zenodo.7116082 (2022).

Potěšil, D. MS analysis of B. nonstop proteins. figshare https://doi.org/10.6084/m9.figshare.20105417.v2 (2022).
Acknowledgements
We thank M. Tesařová (Institute of Parasitology) for help with electron microscopy, O. Namy (Université Paris-Sud) for providing the eRF1 mutant strains, and D. Potěšil and Z. Zdráhal (CEITEC) for help with MS analyses. This work was supported by the Czech Science Foundation grants 18-15962S and 22-14356S (to J.L. and V.Y.), 20-11585S (to Z. Paris) and 20-00579S (to L.S.V.), the Charles University Grant Agency project GAUK 1192819 (to Z. Pavlíková), the Czech Ministry of Education ERD Funds 16_0000759 (to V.Y., Z. Paris and J.L.), the Gordon and Betty Moore Foundation GBMF no. 9354 (to J.L.) and the Praemium Academiae grant provided by the Czech Academy of Sciences (to L.S.V.). Supporting services were supplied by the project LM2018140, ERD Funds 18_046/0015974 and Czech BioImaging LM2018129.
Ethics declarations
Competing interests
The authors declare no competing interests.
Peer review
Peer review information
Nature thanks Pavel Baranov, Olivier Namy and the other, anonymous, reviewer(s) for their contribution to the peer review of this work. Peer reviewer reports are available.
Additional information
Publisher's note Springer Nature remains neutral with regard to jurisdictional claims in published maps and institutional affiliations.
Extended data figures and tables
Supplementary information
Rights and permissions
Springer Nature or its licensor (e.g. a society or other partner) holds exclusive rights to this article under a publishing agreement with the author(s) or other rightsholder(s); author self-archiving of the accepted manuscript version of this article is solely governed by the terms of such publishing agreement and applicable law.
About this article
Cite this article
Kachale, A., Pavlíková, Z., Nenarokova, A. et al. Short tRNA anticodon stem and mutant eRF1 allow stop codon reassignment. Nature 613, 751–758 (2023). https://doi.org/10.1038/s41586-022-05584-2
Received:

Accepted:

Published:

Issue Date:

DOI: https://doi.org/10.1038/s41586-022-05584-2
This article is cited by
Pavel V. Baranov
John F. Atkins

Nature (2023)
Comments
By submitting a comment you agree to abide by our Terms and Community Guidelines. If you find something abusive or that does not comply with our terms or guidelines please flag it as inappropriate.