Abstract
Phytohormone signalling pathways have an important role in defence against pathogens mediated by cell-surface pattern recognition receptors and intracellular nucleotide-binding leucine-rich repeat class immune receptors1,2 (NLR). Pathogens have evolved counter-defence strategies to manipulate phytohormone signalling pathways to dampen immunity and promote virulence3. However, little is known about the surveillance of pathogen interference of phytohormone signalling by the plant innate immune system. The pepper (Capsicum chinense) NLR Tsw, which recognizes the effector nonstructural protein NSs encoded by tomato spotted wilt orthotospovirus (TSWV), contains an unusually large leucine-rich repeat (LRR) domain. Structural modelling predicts similarity between the LRR domain of Tsw and those of the jasmonic acid receptor COI1, the auxin receptor TIR1 and the strigolactone receptor partner MAX2. This suggested that NSs could directly target hormone receptor signalling to promote infection, and that Tsw has evolved a LRR resembling those of phytohormone receptors LRR to induce immunity. Here we show that NSs associates with COI1, TIR1 and MAX2 through a common repressor—TCP21—which interacts directly with these phytohormone receptors. NSs enhances the interaction of COI1, TIR1 or MAX2 with TCP21 and blocks the degradation of corresponding transcriptional repressors to disable phytohormone-mediated host immunity to the virus. Tsw also interacts directly with TCP21 and this interaction is enhanced by viral NSs. Downregulation of TCP21 compromised Tsw-mediated defence against TSWV. Together, our findings reveal that a pathogen effector targets TCP21 to inhibit phytohormone receptor function, promoting virulence, and a plant NLR protein has evolved to recognize this interference as a counter-virulence strategy, thereby activating immunity.
Relevant articles
Open Access articles citing this article.
Rui Qiao

,

Linhao Ge

…

Fangfang Li

Phytopathology Research Open Access 29 August 2023

Phytopathology Research Open Access 21 August 2023

Sheng Yang

,

Weiwei Cai

…

Shuilin He

Nature Communications Open Access 25 July 2023
Access options
Access Nature and 54 other Nature Portfolio journals
Get Nature+, our best-value online-access subscription
$29.99 / 30 days
cancel any time
Subscribe to this journal
Receive 51 print issues and online access
$199.00 per year
only $3.90 per issue
Rent or buy this article
Prices vary by article type
from$1.95
to$39.95
Prices may be subject to local taxes which are calculated during checkout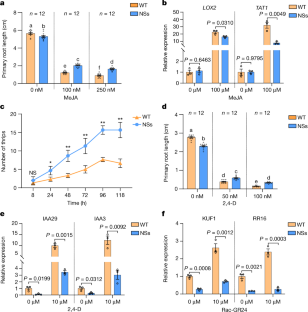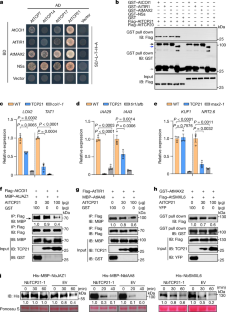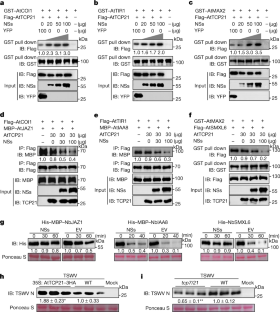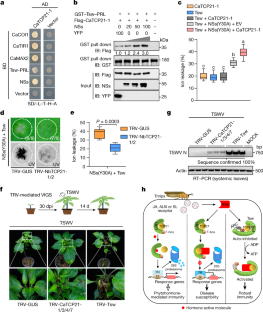 Data availability
Full versions of all gels and blots are provided in Supplementary Fig. 1.  Source data are provided with this paper.
References
Zhou, J. M. & Zhang, Y. Plant immunity: danger perception and signalling. Cell 181, 978–989 (2020).

Jones, J. D., Vance, R. E. & Dangl, J. L. Intracellular innate immune surveillance devices in plants and animals. Science 354, aaf6395 (2016).

Kazan, K. & Lyons, R. Intervention of phytohormone pathways by pathogen effectors. Plant Cell 26, 2285–2309 (2014).

Jones, J. D. & Dangl, J. L. The plant immune system. Nature 444, 323–329 (2006).

Saur, I. M. L., Panstruga, R. & Schulze-Lefert, P. NOD-like receptor-mediated plant immunity: from structure to cell death. Nat. Rev. Immunol. 21, 305–318 (2021).

Cui, H., Tsuda, K. & Parker, J. E. Effector-triggered immunity: from pathogen perception to robust defence. Annu. Rev. Plant Biol. 66, 487–511 (2015).

Yuan, M. et al. Pattern-recognition receptors are required for NLR-mediated plant immunity. Nature 592, 105–109 (2021).

Ngou, B. P. M., Ahn, H. K., Ding, P. & Jones, J. D. G. Mutual potentiation of plant immunity by cell-surface and intracellular receptors. Nature 592, 110–115 (2021).

Monteiro, F. & Nishimura, M. T. Structural, functional, and genomic diversity of plant NLR Proteins: an evolved resource for rational engineering of plant immunity. Annu. Rev. Phytopathol. 56, 243–267 (2018).

Berens, M. L., Berry, H. M., Mine, A., Argueso, C. T. & Tsuda, K. Evolution of hormone signalling networks in plant defence. Annu. Rev. Phytopathol. 55, 401–425 (2017).

Mockaitis, K. & Estelle, M. Auxin receptors and plant development: a new signalling paradigm. Annu. Rev. Cell Dev. Biol. 24, 55–80 (2008).

Browse, J. Jasmonate passes muster: a receptor and targets for the defence hormone. Annu. Rev. Plant Biol. 60, 183–205 (2009).

Waters, M. T., Gutjahr, C., Bennett, T. & Nelson, D. C. Strigolactone signalling and evolution. Annu. Rev. Plant Biol. 68, 291–322 (2017).

Sheard, L. B. et al. Jasmonate perception by inositol-phosphate-potentiated COI1–JAZ co-receptor. Nature 468, 400–405 (2010).

Kepinski, S. & Leyser, O. The Arabidopsis F-box protein TIR1 is an auxin receptor. Nature 435, 446–451 (2005).

Dharmasiri, N., Dharmasiri, S. & Estelle, M. The F-box protein TIR1 is an auxin receptor. Nature 435, 441–445 (2005).

Zhou, F. et al. D14–SCF(D3)-dependent degradation of D53 regulates strigolactone signalling. Nature 504, 406–410 (2013).

Nelson, D. C. et al. F-box protein MAX2 has dual roles in karrikin and strigolactone signalling in Arabidopsis thaliana. Proc. Natl Acad.Sci. USA 108, 8897–8902 (2011).

Scholthof, K. B. et al. Top 10 plant viruses in molecular plant pathology. Mol. Plant Pathol. 12, 938–954 (2011).

Kim, S. B. et al. Divergent evolution of multiple virus-resistance genes from a progenitor in Capsicum spp. New Phytol. 213, 886–899 (2017).

Yan, J. et al. Dynamic perception of jasmonates by the F-box protein COI1. Mol. Plant 11, 1237–1247 (2018).

Shabek, N. et al. Structural plasticity of D3–D14 ubiquitin ligase in strigolactone signalling. Nature 563, 652–656 (2018).

Arite, T. et al. d14, a strigolactone-insensitive mutant of rice, shows an accelerated outgrowth of tillers. Plant Cell Physiol. 50, 1416–1424 (2009).

Abe, S. et al. Carlactone is converted to carlactonoic acid by MAX1 in Arabidopsis and its methyl ester can directly interact with AtD14 in vitro. Proc. Natl Acad. Sci. USA 111, 18084–18089 (2014).

Staswick, P. E., Su, W. & Howell, S. H. Methyl jasmonate inhibition of root growth and induction of a leaf protein are decreased in an Arabidopsis thaliana mutant. Proc. Natl Acad. Sci. USA 89, 6837–6840 (1992).

Eliasson, L., Bertell, G. & Bolander, E. Inhibitory action of auxin on root elongation not mediated by ethylene. Plant Physiol. 91, 310–314 (1989).

Ruyter-Spira, C. et al. Physiological effects of the synthetic strigolactone analog GR24 on root system architecture in Arabidopsis: another belowground role for strigolactones? Plant Physiol. 155, 721–734 (2011).

Zhou, Y. et al. TCP transcription factors regulate shade avoidance via directly mediating the expression of both PHYTOCHROME INTERACTING FACTORs and auxin biosynthetic genes. Plant Physiol. 176, 1850–1861 (2018).

Zhang, G. et al. TCP7 functions redundantly with several class I TCPs and regulates endoreplication in Arabidopsis. J. Integr. Plant Biol. 61, 1151–1170 (2019).

Wang, L. et al. Transcriptional regulation of strigolactone signalling in Arabidopsis. Nature 583, 277–281 (2020).

Thines, B. et al. JAZ repressor proteins are targets of the SCF(COI1) complex during jasmonate signalling. Nature 448, 661–665 (2007).

Niemeyer, M. et al. Flexibility of intrinsically disordered degrons in AUX/IAA proteins reinforces auxin co-receptor assemblies. Nat. Commun. 11, 2277 (2020).

Bucher, E., Sijen, T., De Haan, P., Goldbach, R. & Prins, M. Negative-strand tospoviruses and tenuiviruses carry a gene for a suppressor of gene silencing at analogous genomic positions. J. Virol. 77, 1329–1336 (2003).

de Ronde, D. et al. Analysis of tomato spotted wilt virus NSs protein indicates the importance of the N-terminal domain for avirulence and RNA silencing suppression. Mol. Plant Pathol. 15, 185–195 (2014).

Margaria, P., Ciuffo, M., Pacifico, D. & Turina, M. Evidence that the nonstructural protein of tomato spotted wilt virus is the avirulence determinant in the interaction with resistant pepper carrying the TSW gene. Mol. Plant Microbe Interact. 20, 547–558 (2007).

Szemenyei, H., Hannon, M. & Long, J. A. TOPLESS mediates auxin-dependent transcriptional repression during Arabidopsis embryogenesis. Science 319, 1384–1386 (2008).

Pauwels, L. et al. NINJA connects the co-repressor TOPLESS to jasmonate signalling. Nature 464, 788–791 (2010).

Xu, X. et al. Strigolactones positively regulate defence against root-knot nematodes in tomato. J. Exp. Bot. 70, 1325–1337 (2019).

Marzec, M. Strigolactones as part of the plant defence system. Trends. Plant Sci. 21, 900–903 (2016).

Xie, D. X., Feys, B. F., James, S., Nieto-Rostro, M. & Turner, J. G. COI1: an Arabidopsis gene required for jasmonate-regulated defence and fertility. Science 280, 1091–1094 (1998).

Zhang, F. et al. Structural basis of JAZ repression of MYC transcription factors in jasmonate signalling. Nature 525, 269–273 (2015).

Calderon Villalobos, L. I. et al. A combinatorial TIR1/AFB–Aux/IAA co-receptor system for differential sensing of auxin. Nat. Chem. Biol. 8, 477–485 (2012).

Hua, Z. & Vierstra, R. D. The cullin–RING ubiquitin-protein ligases. Annu. Rev. Plant Biol. 62, 299–334 (2011).

Chen, H. et al. Firefly luciferase complementation imaging assay for protein–protein interactions in plants. Plant Physiol. 146, 368–376 (2008).

Hu, C. D., Chinenov, Y. & Kerppola, T. K. Visualization of interactions among bZIP and Rel family proteins in living cells using bimolecular fluorescence complementation. Mol. Cell 9, 789–798 (2002).

Zhu, M. et al. The intracellular immune receptor Sw-5b confers broad-spectrum resistance to tospoviruses through recognition of a conserved 21-amino acid viral effector epitope. Plant Cell 29, 2214–2232 (2017).

Liu, Y., Schiff, M., Marathe, R. & Dinesh-Kumar, S. P. Tobacco Rar1, EDS1 and NPR1/NIM1 like genes are required for N-mediated resistance to tobacco mosaic virus. Plant J. 30, 415–429 (2002).

Zhang, Y. et al. A highly efficient agrobacterium-mediated method for transient gene expression and functional studies in multiple plant species. Plant Commun. 1, 100028 (2020).

Maris, P. C., Joosten, N. N., Goldbach, R. W. & Peters, D. Tomato spotted wilt virus infection improves host suitability for its vector Frankliniella occidentalis. Phytopathology 94, 706–711 (2004).

Xu, M. et al. Dynamic transcriptional profiles of Arabidopsis thaliana Infected by tomato spotted wilt virus. Phytopathology 110, 153–163 (2020).
Acknowledgements
We thank J. Li for providing Arabidopsis mutant max2-1 seeds; D. Xie and S. Song for the coi1-1 seeds; D. Yang for the tir1/afb seeds; S. Cui for the tcp7/21 seeds; H. Zhao for B. cinerea strain B05.10; M. Turina for the C. chinense PI 152225 seeds and NSs-RB-272 construct; M. Deng for the C. annum fasciculatum seeds; S. Wang for the C. annum CM334 seeds; and Dr. Xin Shun Ding for critical reading of the manuscript. This work was supported by National Natural Science Foundation of China (31925032, 32220103008 and 31870143), the Youth Science and Technology Innovation Program, 333 Project and Funds from the Independent Innovation of Agricultural Science and Technology of Jiangsu Province (CX(22)2039) to X.T. NLR work in the S.P.D.-K. laboratory is supported by NSF-IOS-1354434 and NSF-IOS-1339185. The funders had no role in the study design, data collection and analysis, decision to publish, or preparation of the manuscript.
Ethics declarations
Competing interests
The authors declare no competing interests.
Peer review
Peer review information
Nature thanks Kenichi Tsuda, Xiufang Xin and the other, anonymous, reviewer(s) for their contribution to the peer review of this work.
Additional information
Publisher's note Springer Nature remains neutral with regard to jurisdictional claims in published maps and institutional affiliations.
Extended data figures and tables
Supplementary information
This file contains all uncropped blots and gel images.
This file contains Supplementary Tables 1 and 2.
Rights and permissions
Springer Nature or its licensor (e.g. a society or other partner) holds exclusive rights to this article under a publishing agreement with the author(s) or other rightsholder(s); author self-archiving of the accepted manuscript version of this article is solely governed by the terms of such publishing agreement and applicable law.
About this article
Cite this article
Chen, J., Zhao, Y., Luo, X. et al. NLR surveillance of pathogen interference with hormone receptors induces immunity. Nature 613, 145–152 (2023). https://doi.org/10.1038/s41586-022-05529-9
Received:

Accepted:

Published:

Issue Date:

DOI: https://doi.org/10.1038/s41586-022-05529-9
Comments
By submitting a comment you agree to abide by our Terms and Community Guidelines. If you find something abusive or that does not comply with our terms or guidelines please flag it as inappropriate.