Abstract
Exercise exerts a wide range of beneficial effects for healthy physiology1. However, the mechanisms regulating an individual's motivation to engage in physical activity remain incompletely understood. An important factor stimulating the engagement in both competitive and recreational exercise is the motivating pleasure derived from prolonged physical activity, which is triggered by exercise-induced neurochemical changes in the brain. Here, we report on the discovery of a gut–brain connection in mice that enhances exercise performance by augmenting dopamine signalling during physical activity. We find that microbiome-dependent production of endocannabinoid metabolites in the gut stimulates the activity of TRPV1-expressing sensory neurons and thereby elevates dopamine levels in the ventral striatum during exercise. Stimulation of this pathway improves running performance, whereas microbiome depletion, peripheral endocannabinoid receptor inhibition, ablation of spinal afferent neurons or dopamine blockade abrogate exercise capacity. These findings indicate that the rewarding properties of exercise are influenced by gut-derived interoceptive circuits and provide a microbiome-dependent explanation for interindividual variability in exercise performance. Our study also suggests that interoceptomimetic molecules that stimulate the transmission of gut-derived signals to the brain may enhance the motivation for exercise.
Access options
Subscribe to Nature+
Get immediate online access to Nature and 55 other Nature journal
Subscribe to Journal
Get full journal access for 1 year
$199.00
only $3.90 per issue
All prices are NET prices.
VAT will be added later in the checkout.
Tax calculation will be finalised during checkout.
Buy article
Get time limited or full article access on ReadCube.
$32.00
All prices are NET prices.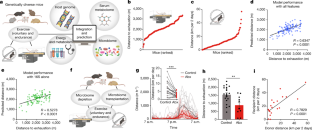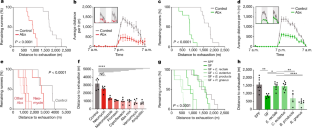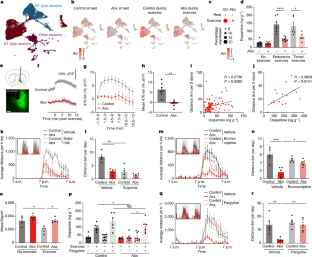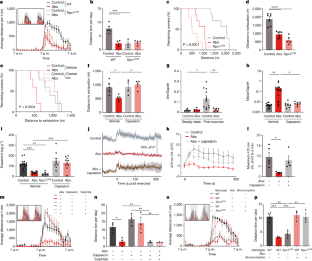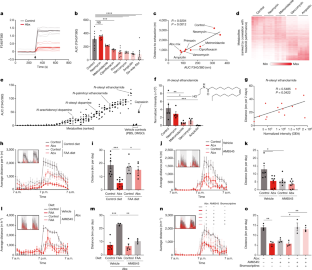 References
Neufer, P. D. et al. Understanding the cellular and molecular mechanisms of physical activity-induced health benefits. Cell Metab. 22, 4–11 (2015).

Hawley, J. A., Hargreaves, M., Joyner, M. J. & Zierath, J. R. Integrative biology of exercise. Cell 159, 738–749 (2014).

Churchill, G. A., Gatti, D. M., Munger, S. C. & Svenson, K. L. The diversity outbred mouse population. Mamm. Genome 23, 713–718 (2012).

Kelly, S. A. & Pomp, D. Genetic determinants of voluntary exercise. Trends Genet. 29, 348–357 (2013).

Scheiman, J. et al. Meta-omics analysis of elite athletes identifies a performance-enhancing microbe that functions via lactate metabolism. Nat. Med. 25, 1104–1109 (2019).

Okamoto, T. et al. Microbiome potentiates endurance exercise through intestinal acetate production. Am. J. Physiol. Endocrinol. Metab. 316, E956–E966 (2019).

Hsu, Y. J. et al. Effect of intestinal microbiota on exercise performance in mice. J. Strength. Cond. Res. 29, 552–558 (2015).

Nay, K. et al. Gut bacteria are critical for optimal muscle function: a potential link with glucose homeostasis. Am. J. Physiol. Endocrinol. Metab. 317, E158–E171 (2019).

Lundberg, S. M. et al. From local explanations to global understanding with explainable AI for trees. Nat. Mach. Intell. 2, 56–67 (2020).

Lahiri, S. et al. The gut microbiota influences skeletal muscle mass and function in mice. Sci. Transl. Med. 11, eaan566 (2019).

Almagro, B. J., Saenz-Lopez, P., Fierro-Suero, S. & Conde, C. Perceived performance, intrinsic motivation and adherence in athletes. Int. J. Environ. Res. Public Health 17, 9441 (2020).

Friend, D. M. et al. Basal ganglia dysfunction contributes to physical inactivity in obesity. Cell Metab. 25, 312–321 (2017).

Fernandes, M. F. et al. Leptin suppresses the rewarding effects of running via STAT3 signaling in dopamine neurons. Cell Metab. 22, 741–749 (2015).

Tong, J. et al. Brain monoamine oxidase B and A in human parkinsonian dopamine deficiency disorders. Brain 140, 2460–2474 (2017).

Cryan, J. F. et al. The microbiota-gut-brain axis. Physiol. Rev. 99, 1877–2013 (2019).

Cavanaugh, D. J. et al. Distinct subsets of unmyelinated primary sensory fibers mediate behavioral responses to noxious thermal and mechanical stimuli. Proc. Natl Acad. Sci. USA 106, 9075–9080 (2009).

Diepenbroek, C. et al. Validation and characterization of a novel method for selective vagal deafferentation of the gut. Am. J. Physiol. Gastrointest. Liver Physiol. 313, G342–G352 (2017).

Tellez, L. A. et al. A gut lipid messenger links excess dietary fat to dopamine deficiency. Science 341, 800–802 (2013).

Chang, F. Y. et al. Gut-inhabiting clostridia build human GPCR ligands by conjugating neurotransmitters with diet- and human-derived fatty acids. Nat. Microbiol. 6, 792–805 (2021).

Sharma, N. et al. The emergence of transcriptional identity in somatosensory neurons. Nature 577, 392–398 (2020).

Muller, C., Morales, P. & Reggio, P. H. Cannabinoid ligands targeting TRP channels. Front. Mol. Neurosci. 11, 487 (2018).

Dubreucq, S., Koehl, M., Abrous, D. N., Marsicano, G. & Chaouloff, F. CB1 receptor deficiency decreases wheel-running activity: consequences on emotional behaviours and hippocampal neurogenesis. Exp. Neurol. 224, 106–113 (2010).

Cluny, N. L. et al. A novel peripherally restricted cannabinoid receptor antagonist, AM6545, reduces food intake and body weight, but does not cause malaise, in rodents. Br. J. Pharmacology 161, 629–642 (2010).

Bull, F. C. et al. World Health Organization 2020 guidelines on physical activity and sedentary behaviour. Br. J. Sports Med. 54, 1451–1462 (2020).

Teixeira, P. J., Carraca, E. V., Markland, D., Silva, M. N. & Ryan, R. M. Exercise, physical activity, and self-determination theory: a systematic review. Int. J. Behav. Nutr. Phys. 9, 78 (2012).

Fuss, J. et al. A runner's high depends on cannabinoid receptors in mice. Proc. Natl Acad. Sci. USA 112, 13105–13108 (2015).

Su, Z., Alhadeff, A. L. & Betley, J. N. Nutritive, post-ingestive signals are the primary regulators of AgRP neuron activity. Cell Rep. 21, 2724–2736 (2017).

Goldstein, N. et al. Hypothalamic detection of macronutrients via multiple gut-brain pathways. Cell Metab. 33, 676–687 e675 (2021).

Lin, Y. T. & Chen, J. C. Dorsal root ganglia isolation and primary culture to study neurotransmitter release. J. Vis. Exp. https://doi.org/10.3791/57569 (2018).

Loro, E. et al. Effect of interleukin-15 receptor alpha ablation on the metabolic responses to moderate exercise simulated by in vivo isometric muscle contractions. Front. Physiol. 10, 1439 (2019).

Habib, N. et al. Massively parallel single-nucleus RNA-seq with DroNc-seq. Nat. Methods 14, 955–958 (2017).

Hafemeister, C. & Satija, R. Normalization and variance stabilization of single-cell RNA-seq data using regularized negative binomial regression. Genome Biol. 20, 296 (2019).

Gokce, O. et al. Cellular taxonomy of the mouse striatum as revealed by single-cell RNA-seq. Cell Rep. 16, 1126–1137 (2016).

Wang, L., Liu, J., Harvey-White, J., Zimmer, A. & Kunos, G. Endocannabinoid signaling via cannabinoid receptor 1 is involved in ethanol preference and its age-dependent decline in mice. Proc. Natl Acad. Sci. USA 100, 1393–1398 (2003).
Acknowledgements
We thank the members of the Thaiss and Betley labs for valuable discussions and input. We acknowledge D. Kobuley and M. Albright for germ-free animal caretaking, M. Tetlak for technical assistance and L. Micha for mouse husbandry. We thank N. Yucel and Z. Arany (University of Pennsylvania) for access to running wheel cages, G. Kunos (National Institute of Health) for CB1-deficient mice, M. Abt (University of Pennsylvania) for bacterial strains, the Rodent Metabolic Phenotyping Core (S10-OD025098) for metabolic cage measurements and S. Cherry and J. Henao-Mejia for critical support. P.L. was supported by the NIH (F31HL160065), N.G. by NSF GFRP (DGE-1845298) and J.K. by a Boehringer Ingelheim MD Fellowship. A.D.P. was supported by NIH grant no. S10-OD021750. J.N.B. is supported by NIH grant no. P01DK119130 and R01DK115578, and by a Klingenstein-Simons Fellowship. C.A.T. is a Pew Biomedical Scholar and a Kathryn W. Davis Aging Brain Scholar and is supported by the NIH Director's New Innovator Award (grant no. DP2AG067492), NIH grant no. R01-DK-129691, the Edward Mallinckrodt, Jr Foundation, the Agilent Early Career Professor Award, the Global Probiotics Council, the Mouse Microbiome Metabolic Research Program of the National Mouse Metabolic Phenotyping Centers and grants by the IDSA Foundation, the Thyssen Foundation, the Human Frontier Science Program (HFSP), the Penn Center for Musculoskeletal Disorders (grant no. P30-AR-069619), the PennCHOP Microbiome Program, the Penn Institute for Immunology, the Penn Center for Molecular Studies in Digestive and Liver Diseases (grant no. P30-DK-050306), the Penn Skin Biology and Diseases Resource-based Center (grant no. P30-AR-069589), the Penn Diabetes Research Center (grant no. P30-DK-019525), the Penn Institute on Aging and the Dean's Innovation Fund of the University of Pennsylvania Perelman School of Medicine.
Ethics declarations
Competing interests
The authors declare no competing interests.
Peer review
Peer review information
Nature thanks Aleksandar Kostic and the other, anonymous, reviewer(s) for their contribution to the peer review of this work.
Additional information
Publisher's note Springer Nature remains neutral with regard to jurisdictional claims in published maps and institutional affiliations.
Extended data figures and tables
Supplementary information
n and P values for each panel.
Rights and permissions
Springer Nature or its licensor (e.g. a society or other partner) holds exclusive rights to this article under a publishing agreement with the author(s) or other rightsholder(s); author self-archiving of the accepted manuscript version of this article is solely governed by the terms of such publishing agreement and applicable law.
About this article
Cite this article
Dohnalová, L., Lundgren, P., Carty, J.R.E. et al. A microbiome-dependent gut–brain pathway regulates motivation for exercise. Nature 612, 739–747 (2022). https://doi.org/10.1038/s41586-022-05525-z
Received:

Accepted:

Published:

Issue Date:

DOI: https://doi.org/10.1038/s41586-022-05525-z
This article is cited by
Nature Reviews Microbiology (2023)
Comments
By submitting a comment you agree to abide by our Terms and Community Guidelines. If you find something abusive or that does not comply with our terms or guidelines please flag it as inappropriate.