Abstract
Multilocular adipocytes are a hallmark of thermogenic adipose tissue1,2, but the factors that enforce this cellular phenotype are largely unknown. Here, we show that an adipocyte-selective product of the Clstn3 locus (CLSTN3β) present in only placental mammals facilitates the efficient use of stored triglyceride by limiting lipid droplet (LD) expansion. CLSTN3β is an integral endoplasmic reticulum (ER) membrane protein that localizes to ER–LD contact sites through a conserved hairpin-like domain. Mice lacking CLSTN3β have abnormal LD morphology and altered substrate use in brown adipose tissue, and are more susceptible to cold-induced hypothermia despite having no defect in adrenergic signalling. Conversely, forced expression of CLSTN3β is sufficient to enforce a multilocular LD phenotype in cultured cells and adipose tissue. CLSTN3β associates with cell death-inducing DFFA-like effector proteins and impairs their ability to transfer lipid between LDs, thereby restricting LD fusion and expansion. Functionally, increased LD surface area in CLSTN3β-expressing adipocytes promotes engagement of the lipolytic machinery and facilitates fatty acid oxidation. In human fat, CLSTN3B is a selective marker of multilocular adipocytes. These findings define a molecular mechanism that regulates LD form and function to facilitate lipid utilization in thermogenic adipocytes.
Access options
Access Nature and 54 other Nature Portfolio journals
Get Nature+, our best-value online-access subscription
$29.99 / 30 days
cancel any time
Subscribe to this journal
Receive 51 print issues and online access
$199.00 per year
only $3.90 per issue
Rent or buy this article
Get just this article for as long as you need it
$39.95
Prices may be subject to local taxes which are calculated during checkout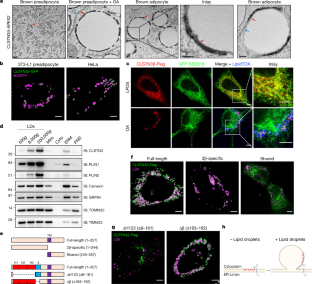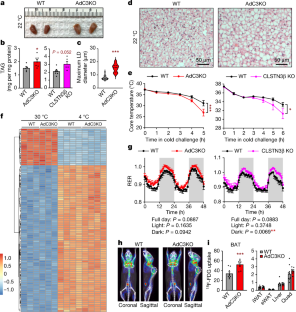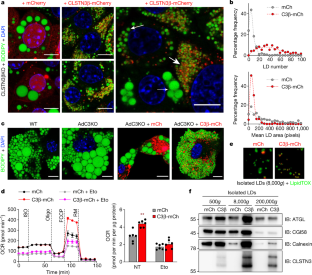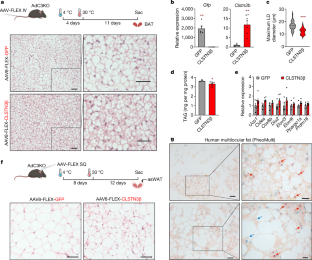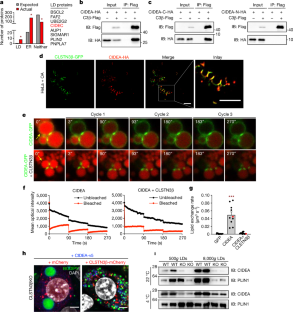 Data availability
Source data for all figures are provided with the paper. The RNA-sequencing dataset generated for this paper is available at accession number GSE181123. The previously published RNA-sequencing dataset used for LeafCutter splicing analysis in this paper is available at accession number GSE65776. All unique biological materials used are readily available from the authors or from standard commercial sources. 
References
Wang, W. & Seale, P. Control of brown and beige fat development. Nat. Rev. Mol. Cell Biol. 17, 691–702 (2016).

Cohen, P. & Kajimura, S. The cellular and functional complexity of thermogenic fat. Nat. Rev. Mol. Cell Biol. 22, 393–409 (2021).

Trayhurn, P. Brown adipose tissue—a therapeutic target in obesity? Front. Physiol. 9, 1672 (2018).

Cannon, B. & Nedergaard, J. Brown adipose tissue: function and physiological significance. Physiol. Rev. 84, 277–359 (2004).

Rasmussen, A. T. The so‐called hibernating gland. J. Morphol. 38, 147–205 (1923).

Barneda, D. et al. The brown adipocyte protein CIDEA promotes lipid droplet fusion via a phosphatidic acid-binding amphipathic helix. eLife 4, e07485 (2015).

Nishimoto, Y. & Tamori, Y. CIDE family-mediated unique lipid droplet morphology in white adipose tissue and brown adipose tissue determines the adipocyte energy metabolism. J. Atherosclerosis Thrombosis 24, 989–998 (2017).

Xu, L., Zhou, L. & Li, P. CIDE proteins and lipid metabolism. Arter. Thromb. Vasc. Biol. 32, 1094–1098 (2012).

Gao, G. et al. Control of lipid droplet fusion and growth by CIDE family proteins. Biochim. Biophys. Acta Mol. Cell Biol. Lipids 1862, 1197–1204 (2017).

Puri, V. et al. Cidea is associated with lipid droplets and insulin sensitivity in humans. Proc. Natl Acad. Sci. USA 105, 7833–7838 (2008).

Gong, J. et al. Fsp27 promotes lipid droplet growth by lipid exchange and transfer at lipid droplet contact sites. J. Cell Biol. 195, 953–963 (2011).

Sun, Z. et al. Perilipin1 promotes unilocular lipid droplet formation through the activation of Fsp27 in adipocytes. Nat. Commun. 4, 1594 (2013).

Lyu, X. et al. A gel-like condensation of Cidec generates lipid-permeable plates for lipid droplet fusion. Dev. Cell 56, 2592–2606.e7 (2021).

Zhou, Z. et al. Cidea-deficient mice have lean phenotype and are resistant to obesity. Nat. Genet. 35, 49–56 (2003).

Nishimoto, Y. et al. Cell death-inducing DNA fragmentation factor A-like effector A and fat-specific protein 27β coordinately control lipid droplet size in brown adipocytes. J. Biol. Chem. 292, 10824–10834 (2017).

Li, J. Z. et al. Cideb regulates diet-induced obesity, liver steatosis, and insulin sensitivity by controlling lipogenesis and fatty acid oxidation. Diabetes 56, 2523–2532 (2007).

Zhou, L. et al. Cidea promotes hepatic steatosis by sensing dietary fatty acids. Hepatology 56, 95–107 (2012).

Xu, X., Park, J. G., So, J. S. & Lee, A. H. Transcriptional activation of Fsp27 by the liver-enriched transcription factor CREBH promotes lipid droplet growth and hepatic steatosis. Hepatology 61, 857–869 (2015).

Puri, V. et al. Fat-specific protein 27, a novel lipid droplet protein that enhances triglyceride storage. J. Biol. Chem. 282, 34213–34218 (2007).

Nishino, N. et al. FSP27 contributes to efficient energy storage in murine white adipocytes by promoting the formation of unilocular lipid droplets. J. Clin. Invest. 118, 2808–2821 (2008).

Toh, S. Y. et al. Up-regulation of mitochondrial activity and acquirement of brown adipose tissue-like property in the white adipose tissue of Fsp27 deficient mice. PLoS ONE 3, e2890 (2008).

Rubio-Cabezas, O. et al. Partial lipodystrophy and insulin resistant diabetes in a patient with a homozygous nonsense mutation in CIDEC. EMBO Mol. Med. 1, 280–287 (2009).

Ye, J. et al. Cideb, an ER- and lipid droplet-associated protein, mediates VLDL lipidation and maturation by interacting with apolipoprotein B. Cell Metab. 9, 177–190 (2009).

Wu, L. Z. et al. Cidea controls lipid droplet fusion and lipid storage in brown and white adipose tissue. Sci. China Life Sci. 57, 107–116 (2014).

Zhang, S. et al. Cidea control of lipid storage and secretion in mouse and human sebaceous glands. Mol. Cell. Biol. 34, 1827–1838 (2014).

Zeng, X. et al. Innervation of thermogenic adipose tissue via a calsyntenin 3β–S100b axis. Nature 569, 229–235 (2019).

Li, Y. I. et al. Annotation-free quantification of RNA splicing using LeafCutter. Nat. Genet. 50, 151–158 (2018).

Siersbæk, M. S. et al. Genome-wide profiling of peroxisome proliferator-activated receptor γ in primary epididymal, inguinal, and brown adipocytes reveals depot-selective binding correlated with gene expression. Mol. Cell. Biol. 32, 3452–3463 (2012).

Martell, J. D., Deerinck, T. J., Lam, S. S., Ellisman, M. H. & Ting, A. Y. Electron microscopy using the genetically encoded APEX2 tag in cultured mammalian cells. Nat. Protoc. 12, 1792–1816 (2017).

Krogh, A., Larsson, B., Von Heijne, G. & Sonnhammer, E. L. L. Predicting transmembrane protein topology with a hidden Markov model: Application to complete genomes. J. Mol. Biol. 305, 567–580 (2001).

Yang, J. & Zhang, Y. I-TASSER server: New development for protein structure and function predictions. Nucleic Acids Res. 43, W174–W181 (2015).

Buchan, D. W. A. & Jones, D. T. The PSIPRED Protein Analysis Workbench: 20 years on. Nucleic Acids Res. 47, W402–W407 (2019).

Källberg, M. et al. Template-based protein structure modeling using the RaptorX web server. Nat. Protoc. 7, 1511–1522 (2012).

Baek, M. et al. Accurate prediction of protein structures and interactions using a three-track neural network. Science (80-.). 373, 871–876 (2021).

Hung, V. et al. Spatially resolved proteomic mapping in living cells with the engineered peroxidase APEX2. Nat. Protoc. 11, 456–475 (2016).

Stevenson, J., Huang, E. Y. & Olzmann, J. A. Endoplasmic reticulum-associated degradation and lipid homeostasis. Annual Rev. Nutrition 36, 511–542 (2016).

Olzmann, J. A. & Carvalho, P. Dynamics and functions of lipid droplets. Nat. Rev. Mol. Cell Biol. 20, 137–155 (2019).

Roberts, M. A. & Olzmann, J. A. Protein quality control and lipid droplet metabolism. Annu. Rev. Cell Dev. Biol. 36, 115–139 (2020).

Ruggiano, A., Mora, G., Buxó, L. & Carvalho, P. Spatial control of lipid droplet proteins by the ERAD ubiquitin ligase Doa10. EMBO J. 35, 1644–1655 (2016).

Bersuker, K. et al. A proximity labeling strategy provides insights into the composition and dynamics of lipid droplet proteomes. Dev. Cell 44, 97–112.e7 (2018).

Huang, E. Y. et al. A VCP inhibitor substrate trapping approach (VISTA) enables proteomic profiling of endogenous ERAD substrates. Mol. Biol. Cell 29, 1021–1030 (2018).

Song, B. L., Sever, N. & DeBose-Boyd, R. A. Gp78, a membrane-anchored ubiquitin ligase, associates with Insig-1 and couples sterol-regulated ubiquitination to degradation of HMG CoA reductase. Mol. Cell 19, 829–840 (2005).

Guo, Y. et al. Functional genomic screen reveals genes involved in lipid-droplet formation and utilization. Nature 453, 657–661 (2008).

Bagchi, D. P., Forss, I., Mandrup, S. & MacDougald, O. A. SnapShot: niche determines adipocyte character I. Cell Metabolism 27, 264–264.e1 (2018).

Oelkrug, R. et al. Brown fat in a protoendothermic mammal fuels eutherian evolution. Nat. Commun. 4, 2140 (2013).

Jespersen, N. Z. et al. Heterogeneity in the perirenal region of humans suggests presence of dormant brown adipose tissue that contains brown fat precursor cells. Mol. Metab. 24, 30–43 (2019).

Plucińska, K. et al. Calsyntenin 3β is dynamically regulated by temperature in murine brown adipose and marks human multilocular fat. Front. Endocrinol. 11, 767 (2020).

Vergnes, L. et al. Adipocyte browning and higher mitochondrial function in periadrenal but not SC fat in pheochromocytoma. J. Clin. Endocrinol. Metab. 101, 4440–4448 (2016).

Wang, F. et al. RNAscope: a novel in situ RNA analysis platform for formalin-fixed, paraffin-embedded tissues. J. Mol. Diagnostics 14, 22–29 (2012).

Christianson, J. L., Boutet, E., Puri, V., Chawla, A. & Czech, M. P. Identification of the lipid droplet targeting domain of the Cidea protein. J. Lipid Res. 51, 3455–3462 (2010).

Cypess, A. M. et al. Identification and importance of brown adipose tissue in adult humans. N. Engl. J. Med. 360, 1509–1517 (2009).

van Marken Lichtenbelt, W. D. et al. Cold-activated brown adipose tissue in healthy men. N. Engl. J. Med. 360, 1500–1508 (2009).

Virtanen, K. A. et al. Functional brown adipose tissue in healthy adults. N. Engl. J. Med. 360, 1518–1525 (2009).

Cypess, A. M. et al. Activation of human brown adipose tissue by a β3-adrenergic receptor agonist. Cell Metab. 21, 33–38 (2015).

Becher, T. et al. Brown adipose tissue is associated with cardiometabolic health. Nat. Med. 27, 58–65 (2021).

de Jong, J. M. A. et al. Human brown adipose tissue is phenocopied by classical brown adipose tissue in physiologically humanized mice. Nat. Metab. 1, 830–843 (2019).

Sass, F. et al. TFEB deficiency attenuates mitochondrial degradation upon brown adipose tissue whitening at thermoneutrality. Mol. Metab. 47, 101173 (2021).

Schlein, C. et al. Endogenous fatty acid synthesis drives brown adipose tissue involution. Cell Rep. 34, 108624 (2021).

Bai, N. et al. CLSTN3 gene variant associates with obesity risk and contributes to dysfunction in white adipose tissue. Mol. Metab. 63, 101531 (2022).

Rajbhandari, P. et al. IL-10 signaling remodels adipose chromatin architecture to limit thermogenesis and energy expenditure. Cell 172, 218–233.e17 (2018).

Brinkman, E. K., Chen, T., Amendola, M. & Van Steensel, B. Easy quantitative assessment of genome editing by sequence trace decomposition. Nucleic Acids Res. 42, e168–e168 (2014).

Dehairs, J., Talebi, A., Cherifi, Y. & Swinnen, J. V. CRISP-ID: decoding CRISPR mediated indels by Sanger sequencing. Sci. Rep. 6, 28973 (2016).

Xie, Z. et al. Gene set knowledge discovery with Enrichr. Curr. Protoc. 1, e90 (2021).

Mina, A. I. et al. CalR: a web-based analysis tool for indirect calorimetry experiments. Cell Metab. 28, 656–666.e1 (2018).

Chi, J. et al. Three-dimensional adipose tissue imaging reveals regional variation in beige fat biogenesis and PRDM16-dependent sympathetic neurite density. Cell Metab. 27, 226–236.e3 (2018).

Chi, J., Crane, A., Wu, Z. & Cohen, P. Adipo-clear: a tissue clearing method for three-dimensional imaging of adipose tissue. J. Vis. Exp. 2018, 58271 (2018).

Richter, K. N. et al. Glyoxal as an alternative fixative to formaldehyde in immunostaining and super‐resolution microscopy. EMBO J. 37, 139–159 (2018).

Wang, J. et al. Polybasic RKKR motif in the linker region of lipid droplet (LD)–associated protein CIDEC inhibits LD fusion activity by interacting with acidic phospholipids. J. Biol. Chem. 293, 19330–19343 (2018).

Wang, J., Chua, B. T., Li, P. & Chen, F.-J. Lipid-exchange rate assay for lipid droplet fusion in live cells. Bio-Protocol 9, e3309 (2019).
Acknowledgements
We thank H. Yang for sharing valuable expertise. We thank A. Ferrari, J. Sandhu, P. Rajbhandari and all other current and former members of the Tontonoz laboratory for technical assistance and valuable discussions. We thank S. Zhang for unwavering support. Confocal microscopy was performed at the California NanoSystems Institute Advanced Light Microscopy and Spectroscopy Laboratory. PET–CT was performed at the Crump Institute Preclinical Imaging Technology Center. RNAscope was performed at the UCLA Translational Pathology Core Laboratory. This work was supported by grants from the the National Natural Science Foundation of China (grant no. 91857103 to F.-J.C.), NIH (grant nos. R01DK120851 and R01HL136618 to P.T.) and Fondation Leducq (grant no. 19CVD04 to P.T.). K.Q. was supported by grant no. NIH F30DK123986 and a David Geffen Medical Scholarship.
Ethics declarations
Competing interests
The authors declare no competing interests.
Peer review
Peer review information
Nature thanks the anonymous reviewers for their contribution to the peer review of this work.
Additional information
Publisher's note Springer Nature remains neutral with regard to jurisdictional claims in published maps and institutional affiliations.
Extended data figures and tables
Supplementary information
Rights and permissions
Springer Nature or its licensor (e.g. a society or other partner) holds exclusive rights to this article under a publishing agreement with the author(s) or other rightsholder(s); author self-archiving of the accepted manuscript version of this article is solely governed by the terms of such publishing agreement and applicable law.
About this article
Cite this article
Qian, K., Tol, M.J., Wu, J. et al. CLSTN3β enforces adipocyte multilocularity to facilitate lipid utilization. Nature 613, 160–168 (2023). https://doi.org/10.1038/s41586-022-05507-1
Received:

Accepted:

Published:

Issue Date:

DOI: https://doi.org/10.1038/s41586-022-05507-1
This article is cited by
Armella Zadoorian
Ximing Du
Hongyuan Yang

Nature Reviews Endocrinology (2023)
Comments
By submitting a comment you agree to abide by our Terms and Community Guidelines. If you find something abusive or that does not comply with our terms or guidelines please flag it as inappropriate.