Abstract
Human leucocyte antigen B*27 (HLA-B*27) is strongly associated with inflammatory diseases of the spine and pelvis (for example, ankylosing spondylitis (AS)) and the eye (that is, acute anterior uveitis (AAU))1. How HLA-B*27 facilitates disease remains unknown, but one possible mechanism could involve presentation of pathogenic peptides to CD8+ T cells. Here we isolated orphan T cell receptors (TCRs) expressing a disease-associated public β-chain variable region–complementary-determining region 3β (BV9–CDR3β) motif2,3,4 from blood and synovial fluid T cells from individuals with AS and from the eye in individuals with AAU. These TCRs showed consistent α-chain variable region (AV21) chain pairing and were clonally expanded in the joint and eye. We used HLA-B*27:05 yeast display peptide libraries to identify shared self-peptides and microbial peptides that activated the AS- and AAU-derived TCRs. Structural analysis revealed that TCR cross-reactivity for peptide–MHC was rooted in a shared binding motif present in both self-antigens and microbial antigens that engages the BV9–CDR3β TCRs. These findings support the hypothesis that microbial antigens and self-antigens could play a pathogenic role in HLA-B*27-associated disease.
Access options
Subscribe to Nature+
Get immediate online access to Nature and 55 other Nature journal
Subscribe to Journal
Get full journal access for 1 year
$199.00
only $3.90 per issue
All prices are NET prices.
VAT will be added later in the checkout.
Tax calculation will be finalised during checkout.
Buy article
Get time limited or full article access on ReadCube.
$32.00
All prices are NET prices.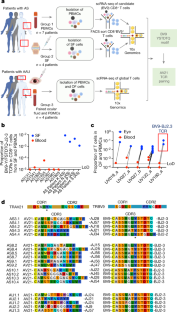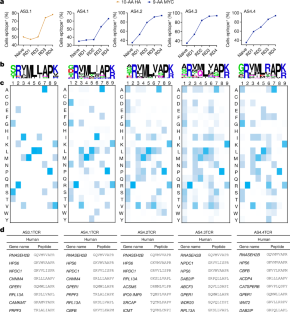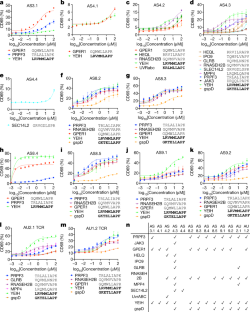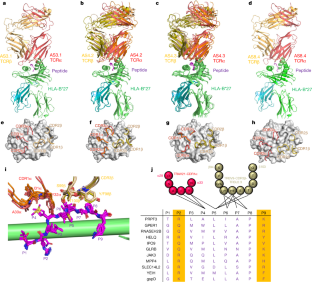 Data availability
The protein sequences used for target prediction were obtained from Uniprot (http://www.uniprot.org/). The human proteome ID is UP000005640. The Chlamydia proteome ID is UP000049987. The Salmonella proteome ID is UP000000541. The Shigella proteome ID is UP000001006. The Klebsiella proteome ID is UP000019183. The Yersinia proteome ID is UP000000815. The processed and raw deep-sequencing data have been deposited in the GEO database under the accession code GSE215018. The structures have been deposited in the RCSB protein data bank with the accession codes 7N2N, 7N2O, 7N2P, 7N2Q, 7N2R, 7N2S and 8CX4. There is no restriction on data availability. Source data are provided with this paper.
References
Bowness, P. HLA-B27. Annu. Rev. Immunol. 33, 29–48 (2015).

Faham, M. et al. Discovery of T cell receptor beta motifs specific to HLA-B27-positive ankylosing spondylitis by deep repertoire sequence analysis. Arthritis Rheumatol. 69, 774–784 (2017).

Hanson, A. L. et al. Altered repertoire diversity and disease-associated clonal expansions revealed by T cell receptor immunosequencing in ankylosing spondylitis patients. Arthritis Rheumatol. 72, 1289–1302 (2020).

Komech, E. A. et al. CD8+ T cells with characteristic T cell receptor beta motif are detected in blood and expanded in synovial fluid of ankylosing spondylitis patients. Rheumatology 57, 1097–1104 (2018).

Schlosstein, L. et al. High association of an HL-A antigen, W27, with ankylosing spondylitis. N. Engl. J. Med. 288, 704–706 (1973).

Brewerton, D. A. et al. Acute anterior uveitis and HL-A 27. Lancet 302, 994–996 (1973).

Brewerton, D. A. et al. Reiter's disease and HL-A 27. Lancet 302, 996–998 (1973).

Rosenbaum, J. T. & Asquith, M. The microbiome and HLA-B27-associated acute anterior uveitis. Nat. Rev. Rheumatol. 14, 704–713 (2018).

Robinson, P. C. et al. Genetic dissection of acute anterior uveitis reveals similarities and differences in associations observed with ankylosing spondylitis. Arthritis Rheumatol. 67, 149–151 (2015).

Finch, M. et al. Epidemic Reiter's syndrome following an outbreak of shigellosis. Eur. J. Epidemiol. 2, 26–30 (1986).

Aho, K. et al. HL-A 27 in reactive arthritis. A study of yersinia arthritis and Reiter's disease. Arthritis Rheumatol. 17, 521–526 (1974).

Benjamin, R. & Parham, P. Guilt by association: HLA-B27 and ankylosing spondylitis. Immunol. Today 11, 137–142 (1991).

Hammer, R. E. et al. Spontaneous inflammatory disease in transgenic rats expressing HLA-B27 and human beta 2m: an animal model of HLA-B27-associated human disorders. Cell 63, 1099–1112 (1990).

Tran, T. M. et al. Additional human beta2-microglobulin curbs HLA-B27 misfolding and promotes arthritis and spondylitis without colitis in male HLA-B27-transgenic rats. Arthritis Rheumatol. 54, 1317–1327 (2006).

Baggia, S. et al. A novel model of bacterially-induced acute anterior uveitis in rats and the lack of effect from HLA-B27 expression. J. Investig. Med. 45, 295–301 (1997).

Allen, R. L. et al. Cutting edge: HLA-B27 can form a novel beta 2-microglobulin-free heavy chain homodimer structure. J. Immunol. 1, 5045–5048 (1999).

DeLay, M. L. et al. HLA-B27 misfolding and the unfolded protein response augment interleukin-23 production and are associated with Th17 activation in transgenic rats. Arthritis Rheumatol. 60, 2633–2643 (2009).

Kollnberger, S. et al. Cell-surface expression and immune receptor recognition of HLA-B27 homodimers. Arthritis Rheumatol. 46, 2972–2982 (2002).

Bowness, P. et al. Th17 cells expressing KIR3DL2+ and responsive to HLA-B27 homodimers are increased in ankylosing spondylitis. J. Immunol. 186, 2672–2680 (2011).

Zheng, M. et al. TCR repertoire and CDR3 motif analyses depict the role of αβ T cells in ankylosing spondylitis. EBioMedicine 47, 414–426 (2019).

Duchmann, R. et al. HLA-B27-restricted cytotoxic T lymphocyte responses to arthritogenic enterobacteria or self-antigens are dominated by closely related TCRBV gene segments. A study in patients with reactive arthritis. Scand. J. Immunol. 43, 101–108 (1996).

Dulphy, N. et al. Common intra-articular T cell expansions in patients with reactive arthritis: identical beta-chain junctional sequences and cytotoxicity toward HLA-B27. J. Immunol. 162, 3830–3839 (1999).

May, E. et al. TCRB junctional regions from HLA-B27-restricted T cells and HLA-B27 binding peptides display conserved hydropathy profiles in the absence of primary sequence homology. Int. Immunol. 8, 1815–1823 (1996).

Evans, D. M. et al. Genome-wide association study of ankylosing spondylitis identifies non-MHC susceptibility loci. Nat. Genet. 42, 123–127 (2010).

York, I. A. et al. Endoplasmic reticulum aminopeptidase 1 (ERAP1) trims MHC class I-presented peptides in vivo and plays an important role in immunodominance. Proc. Natl Acad. Sci. USA 103, 9202–9207 (2006).

York, I. A. et al. The ER aminopeptidase ERAP1 enhances or limits antigen presentation by trimming epitopes to 8–9 residues. Nat. Immunol. 3, 1177–1184 (2002).

Martin-Esteban, A., Gomez-Molina, P., Sanz-Bravo, A. & Lopez de Castro, J. A. Combined effects of ankylosing spondylitis-associated ERAP1 polymorphisms outside the catalytic and peptide-binding sites on the processing of natural HLA-B27 ligands. J. Biol. Chem. 289, 3978–3990 (2014).

Diaz-Pena, R., Lopez-Vazquez, A. & Larrea, L. Old and new HLA associations with ankylosing spondylitis. Tissue Antigens 80, 205–213 (2012).

Colmegna, I., Cuchacovich, R. & Espinoza, L. R. HLA-B27-associated reactive arthritis: pathogenetic and clinical considerations. Clin. Microbiol. Rev. 17, 348–369 (2004).

Ebringer, A., Rashid, T., Tiwana, H. & Wilson, C. A possible link between Crohn's disease and ankyloisng spondylitis via Klebsiella infections. Clin. Rheumatol. 26, 289–297 (2007).

Rashid, T., Wilson, C. & Ebringer, A. The link between ankylosing spondylitis, Crohn's disease, Klebsiella, and starch consumption. Clin. Dev. Immunol. 2013, 872632 (2013).

Stewart-Jones, G. B. E. et al. Crystal structures and KIR3DL1 recognition of three immunodominant viral peptides complexed to HLA-B*2705. Eur. J. Immunol. 35, 341–351 (2005).

Hulsmeyer, M. et al. HLA-B27 subtypes differentially associated with disease exhibited subtle structural alterations. J. Biol. Chem. 277, 47844–47853 (2002).

Lim Kam Sian, T. C. C. et al. Allelic association with ankylosing spondylitis fails to correlate with human leukocyte antigen B27 homodimer formation. J. Biol. Chem. 294, 20185–20195 (2019).

Cole, D. K. et al. Human TCR-binding affinity is governed by MHC class restriction. J. Immunol. 178, 5727–5734 (2007).

Petersen, J. et al. Diverse T cell receptor gene usage in HLA-DQ8-associated celiac disease converges into a consensus binding solution. Structure 24, 1643–1657 (2016).

Yang, X. et al. Structural basis for clonal diversity of the human T-cell response to a dominant influenza virus epitope. J. Biol. Chem. 292, 18618–18627 (2017).

May, E. et al. Conserved TCR beta chain usage in reactive arthrits; evidence for selection by a putative HLA-B27-associated autoantigen. Tissue Antigens 60, 299–308 (2002).

Broughton, S. E. et al. Biased T cell receptor usage directed against human leukocyte antigen DQ8-restricted gliadin peptides is associated with celiac disease. Immunity 37, 611–621 (2012).

Venturi, V. et al. Sharing of T cell receptors in antigen-specific responses is driven by convergent recombination. Proc. Natl Acad. Sci. USA 103, 18691–18696 (2006).

Roldan, E. Q. et al. Different TCRBV genes generate biased pattern of V-D-J diversity in human T cells. Immunogenetics 41, 91–100 (1995).

Schittenhelm, R. B. et al. Revisiting the arthritogenic peptide theory: quantitative not qualitative changes in the peptide repertoire of HLA-B27 allotypes. Arthritis Rheumatol. 67, 702–713 (2015).

Barnea, E. et al. The human leukocyte antigen (HLA)-B27 peptidome in vivo, in spondyloarthritis-susceptible HLA-B27 transgenic rats and the effect of Erap1 deletion. Mol. Cell Proteomics 16, 642–662 (2017).

Garcia-Medal, N. et al. Peptide handling by HLA-B27 subtypes influences their biological behavior, association with ankylosing spondylitis and susceptibility to endoplasmic reticulum aminopeptidase 1 (ERAP1). Mol. Cell. Proteomics 13, 3367–3380 (2014).

Schittenhelm, R. B. et al. Human leukocyte antigen (HLA)-B27 allotype-specific binding and candidate arthritogenic peptides revealed through heuristic clustering of data-independent acquisition mass spectrometry (DIA-MS) data. Mol. Cell. Proteomics 15, 1867–1876 (2016).

Chagin, A. S. & Sävendahl, L. GPR30 estrogen receptor expression in the growth plate declines as puberty progresses. J. Clin. Endocrinol. Metab. 92, 4873–4877 (2007).

Heino, T. J., Chagin, A. S. & Sävendahl, L. The novel estrogen receptor G-protein-coupled receptor 30 is expressed in human bone. J. Endocrinol. 197, R1–R6 (2008).

Gautam, P. et al. Multi-species single-cell transcriptomic analysis of ocular compartment regulons. Nat. Commun. 28, 5675 (2021).

Cole, D. K. et al. Hotspot autoimmune T cell receptor binding underlies pathogen and insulin peptide cross-reactivity. J. Clin. Invest. 26, 2191–2204 (2016).

Petersen, J. et al. T cell receptor cross-reactivity between gliadin and bacterial peptides in celiac disease. Nat. Struct. Mol. Biol. 27, 49–61 (2020).

Standardization of Uveitis Nomenclature (SUN) Working Group. Classification criteria for spondyloarthritis/HLA-B27-associated anterior uvetis. Am. J. Ophthalmol. 228, 117–125 (2021).

Rudwaleit, M. et al. The development of Assessment of SpondyloArthritis International Society classification criteria for axial spondyloarthritis (part II): validation and final selection. Ann. Rheum. Dis. 68, 777–783 (2009).

Jabs, D. A. et al. Standardization of uveitis nonmenclature for reporting clinical data. Results of the first international workshop. Am. J. Ophthalmol. 140, 509–516 (2005).

Hassman, L. M. et al. Clinicomolecular identification of conserved and individualized features of granulomatous uveitis. Ophthalmol. Sci. https://doi.org/10.1016/j.xops.2021.100010 (2021).

Pogorelyy, M. V. et al. Persisting fetal clonotypes influence the structure and overlap of adult human T cell receptor repertoires. PLoS Comput. Biol. 13, e1005572 (2017).

Shugay, M. et al. Towards error-free profiling of immune repertoires. Nat. Methods 11, 653–655 (2014).

Bolotin, D. A. et al. MiXCR: software for comprehensive adaptive immunity profiling. Nat. Methods 12, 380–381 (2015).

Bowness, P., Allen, R. L. & McMichael, A. J. Identification of T cell receptor recognition residues for a viral peptide presented by HLA B27. Eur. J. Immunol. 24, 2357–2363 (1994).

Lybarger, L. et al. Enhanced immune presentation of a single-chain major histocompatibility complex class I molecule engineered to optimize linkage of a C-terminally extended peptide. J. Biol. Chem. 278, 27105–27111 (2003).

Birnbaum, M. E. et al. Deconstructing the peptide-MHC specificity of T cell recognition. Cell 157, 1073–1087 (2014).

Garboczi, D. N. et al. Structure of the complex between human T-cell receptor, viral peptide and HLA-A2. Nature 384, 134–141 (1996).

Aricescu, A. R., Lu, W. & Jones, E. Y. A time- and cost-efficient system for high-level protein production in mammalian cells. Acta Crystallogr. D 62, 1243–1250 (2006).

Ellis, S. A., Taylor, C. & McMichael, A. Recognition of HLA-B27 and related antigen by a monoclonal antibody. Hum. Immunol. 5, 49–59 (1982).

Garboczi, D. N., Hung, D. T. & Wiley, D. C. HLA-A2-peptide complexes: refolding and crystallization of molecules expressed in Escherichia coli and complexed with single antigenic peptides. Proc. Natl Acad. Sci. USA 89, 3429–3433 (1992).

Emsley, P. et al. Features and development of COOT. Acta Crystallogr. D 66, 486–501 (2010).

Liebschner, D. et al. Macromolecular structure determination using X-rays, neutrons and electrons: recent developments in Phenix. Acta Crystallogr. D 75, 861–877 (2019).
Acknowledgements
The study received support from the National Institutes of Health (NIH; 5R01AI103867 (K.C.G.) and U19AI057229 (K.C.G.)), the Howard Hughes Medical Institute (K.C.G.), the UK Medical Research Council (MR/M019837/1; G.M.G., A.J.M. and P.B.), Oxford University McMichael Trust Fund (G.M.G and L.I.G), the Rosetrees Trust (M455; G.M.G.), Oxford University John Fell Fund and Medical Sciences Division Internal Funds (G.M.G. and L.I.G.), the UK National Institute for Health Research Oxford Biomedical Research Centre (BRC) (P.B.), the Ministry of Science and Higher Education of the Russian Federation (075-15-2019-1789; E.A.K., I.V.Z. and D.M.C.), the Rheumatology Research Foundation (M.A.P.), the Arthritis National Research Foundation (M.A.P.), the Rheumatic Diseases Research Resource-based Center at Washington University (NIH P30-AR073752; M.A.P. and W.M.Y.), the Bursky Center for Human Immunology and Immunotherapy Programs (W.M.Y.) and the Barnes-Jewish Hospital Foundation (W.M.Y.). The views expressed are those of the author(s) and not necessarily those of the NHS, the National Institute for Health Research or the Department of Health. We thank the Oxford Genomics Centre at the Wellcome Centre for Human Genetics (Wellcome Trust grant reference 203141/Z/16/Z) for the generation and initial processing of sequencing data and J. Webber (Cell Sorting Facility, Kennedy Institute of Rheumatology, University of Oxford) for conducting cell sorting. We also thank N. Ternette, W. Paes and R. Inman for data analysis advice and scientific discussions. The Berkeley Center for Structural Biology is supported in part by the Howard Hughes Medical institute. The Advanced Light Source is a Department of Energy Office of Science User Facility under Contract No. DE-AC02-05CH11231. The ALS-ENABLE beamlines are supported in part by the NIH, National institute of General Medical Sciences (grant P30 GM124169). The schematic cartoon figures in Fig. 1 and Extended Data Fig. 1 were created with BioRender.com.
Ethics declarations
Competing interests
M.A.P. has received research support from Eli Lilly and Company paid to the university and served as a consultant for AbbVie, Priovant Therapeutics and JK MarketResearch. The remaining authors declare no competing interests.
Peer review
Peer review information
Nature thanks Robert Colbert and the other, anonymous, reviewer(s) for their contribution to the peer review of this work. Peer reviewer reports are available.
Additional information
Publisher's note Springer Nature remains neutral with regard to jurisdictional claims in published maps and institutional affiliations.
Extended data figures and tables
Supplementary information
This file contains Supplementary Tables 1–6.
Rights and permissions
Springer Nature or its licensor (e.g. a society or other partner) holds exclusive rights to this article under a publishing agreement with the author(s) or other rightsholder(s); author self-archiving of the accepted manuscript version of this article is solely governed by the terms of such publishing agreement and applicable law.
About this article
Cite this article
Yang, X., Garner, L.I., Zvyagin, I.V. et al. Autoimmunity-associated T cell receptors recognize HLA-B*27-bound peptides. Nature 612, 771–777 (2022). https://doi.org/10.1038/s41586-022-05501-7
Received:

Accepted:

Published:

Issue Date:

DOI: https://doi.org/10.1038/s41586-022-05501-7
This article is cited by
Nature Reviews Immunology (2022)
Comments
By submitting a comment you agree to abide by our Terms and Community Guidelines. If you find something abusive or that does not comply with our terms or guidelines please flag it as inappropriate.