Abstract
Helical structures are ubiquitous in nature and impart unique mechanical properties and multifunctionality1. So far, synthetic architectures that mimic these natural systems have been fabricated by winding, twisting and braiding of individual filaments1,2,3,4,5,6,7, microfluidics8,9, self-shaping1,10,11,12,13 and printing methods14,15,16,17. However, those fabrication methods are unable to simultaneously create and pattern multimaterial, helically architected filaments with subvoxel control in arbitrary two-dimensional (2D) and three-dimensional (3D) motifs from a broad range of materials. Towards this goal, both multimaterial18,19,20,21,22,23 and rotational24 3D printing of architected filaments have recently been reported; however, the integration of these two capabilities has yet to be realized. Here we report a rotational multimaterial 3D printing (RM-3DP) platform that enables subvoxel control over the local orientation of azimuthally heterogeneous architected filaments. By continuously rotating a multimaterial nozzle with a controlled ratio of angular-to-translational velocity, we have created helical filaments with programmable helix angle, layer thickness and interfacial area between several materials within a given cylindrical voxel. Using this integrated method, we have fabricated functional artificial muscles composed of helical dielectric elastomer actuators with high fidelity and individually addressable conductive helical channels embedded within a dielectric elastomer matrix. We have also fabricated hierarchical lattices comprising architected helical struts containing stiff springs within a compliant matrix. Our additive-manufacturing platform opens new avenues to generating multifunctional architected matter in bioinspired motifs.
Access options
Subscribe to Nature+
Get immediate online access to Nature and 55 other Nature journal
Subscribe to Journal
Get full journal access for 1 year
$199.00
only $3.90 per issue
All prices are NET prices.
VAT will be added later in the checkout.
Tax calculation will be finalised during checkout.
Buy article
Get time limited or full article access on ReadCube.
$32.00
All prices are NET prices.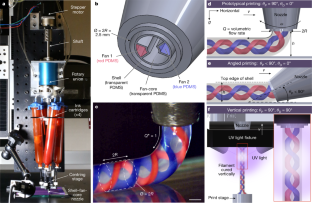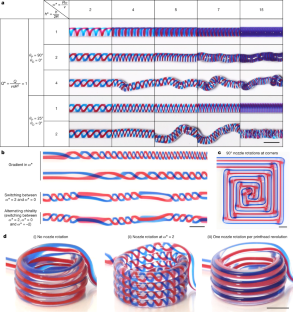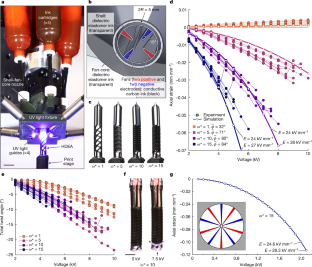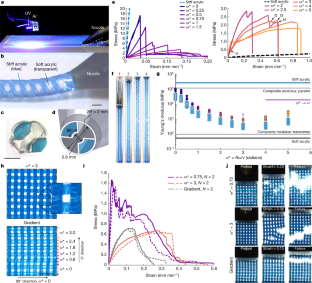 Data availability
The main data supporting the findings of this study are available within the paper and its Supplementary Information. Other datasets generated or analysed during the current study are available from the corresponding author on request. Source data are provided with this paper.
References
Spinks, G. M. Advanced actuator materials powered by biomimetic helical fiber topologies. Adv. Mater. 32, 1904093 (2020).

Evans, J. J. & Ridge, I. M. L. in WIT Transactions on State of the Art in Science and Engineering, Vol. 20 (ed. Jenkins, C. H. M.) Ch. 7, 133–169 (WIT Press, 2005).

Mu, J. et al. Sheath-run artificial muscles. Science 365, 150–155 (2019).

Wang, R. et al. Torsional refrigeration by twisted, coiled, and supercoiled fibers. Science 366, 216–221 (2019).

Yuan, J. et al. Shape memory nanocomposite fibers for untethered high-energy microengines. Science 365, 155–158 (2019).

Chatterjee, K. & Ghosh, T. K. 3D printing of textiles: potential roadmap to printing with fibers. Adv. Mater. 32, 1902086 (2020).

Lima, M. D. et al. Electrically, chemically, and photonically powered torsional and tensile actuation of hybrid carbon nanotube yarn muscles. Science 338, 928–932 (2012).

Xu, P. et al. Bioinspired microfibers with embedded perfusable helical channels. Adv. Mater. 29, 1701664 (2017).

Yu, Y. et al. Bioinspired helical microfibers from microfluidics. Adv. Mater. 29, 1605765 (2017).

Kanik, M. et al. Strain-programmable fiber-based artificial muscle. Science 365, 145–150 (2019).

Huang, M. et al. Nanomechanical architecture of strained bilayer thin films: from design principles to experimental fabrication. Adv. Mater. 17, 2860–2864 (2005).

Pham, J. T. et al. Highly stretchable nanoparticle helices through geometric asymmetry and surface forces. Adv. Mater. 25, 6703–6708 (2013).

Wu, Z. L. et al. Three-dimensional shape transformations of hydrogel sheets induced by small-scale modulation of internal stresses. Nat. Commun. 4, 1586 (2013).

Moestopo, W. P., Mateos, A. J., Fuller, R. M., Greer, J. R. & Portela, C. M. Pushing and pulling on ropes: hierarchical woven materials. Adv. Sci. 7, 2001271 (2020).

Skylar-Scott, M. A., Gunasekaran, S. & Lewis, J. A. Laser-assisted direct ink writing of planar and 3D metal architectures. Proc. Natl Acad. Sci. 113, 6137–6142 (2016).

Lebel, L. L., Aissa, B., Khakani, M. A. E. & Therriault, D. Ultraviolet-assisted direct-write fabrication of carbon nanotube/polymer nanocomposite microcoils. Adv. Mater. 22, 592–596 (2010).

Gladman, A. S., Matsumoto, E. A., Nuzzo, R. G., Mahadevan, L. & Lewis, J. A. Biomimetic 4D printing. Nat. Mater. 15, 413–418 (2016).

van der Elst, L. et al. 3D printing in fiber-device technology. Adv. Fiber Mater. 3, 59–75 (2021).

Hart, K. R., Dunn, R. M. & Wetzel, E. D. Tough, additively manufactured structures fabricated with dual‐thermoplastic filaments. Adv. Eng. Mater. 22, 1901184 (2020).

Loke, G. et al. Structured multimaterial filaments for 3D printing of optoelectronics. Nat. Commun. 10, 4010 (2019).

Xu, W. et al. Review of fiber-based three-dimensional printing for applications ranging from nanoscale nanoparticle alignment to macroscale patterning. ACS Appl. Nano Mater. 4, 7538–7562 (2021).

Mueller, J., Raney, J. R., Shea, K. & Lewis, J. A. Architected lattices with high stiffness and toughness via multicore-shell 3D printing. Adv. Mater. 30, 1705001 (2018).

Chortos, A. et al. Printing reconfigurable bundles of dielectric elastomer fibers. Adv. Funct. Mater. 31, 2010643 (2021).

Raney, J. R. et al. Rotational 3D printing of damage-tolerant composites with programmable mechanics. Proc. Natl Acad. Sci. 115, 1198–1203 (2018).

Lehman, W., Galińska-Rakoczy, A., Hatch, V., Tobacman, L. S. & Craig, R. Structural basis for the activation of muscle contraction by troponin and tropomyosin. J. Mol. Biol. 388, 673–681 (2009).

Armon, S., Efrati, E., Kupferman, R. & Sharon, E. Geometry and mechanics in the opening of chiral seed pods. Science 333, 1726–1730 (2011).

Burgert, I. & Fratzl, P. Actuation systems in plants as prototypes for bioinspired devices. Philos. Trans. R. Soc. A Math. Phys. Eng. Sci. 367, 1541–1557 (2009).

Reyssat, E. & Mahadevan, L. Hygromorphs: from pine cones to biomimetic bilayers. J. R. Soc. Interface 6, 951–957 (2009).

Zhang, J. et al. Robotic artificial muscles: current progress and future perspectives. IEEE Trans. Robot. 35, 761–781 (2019).

Carpi, F., Migliore, A., Serra, G. & Rossi, D. D. Helical dielectric elastomer actuators. Smart Mater. Struct. 14, 1210–1216 (2005).

Xin, X., Liu, L., Liu, Y. & Leng, J. Pixel mechanical metamaterials with programmable and reconfigurable properties. Adv. Funct. Mater. 32, 2107795 (2022).

Lipton, J. I. et al. Handedness in shearing auxetics creates rigid and compliant structures. Science 360, 632–635 (2018).

Truby, R. L. & Lewis, J. A. Printing soft matter in three dimensions. Nature 540, 371–378 (2016).

Skylar-Scott, M. A., Mueller, J., Visser, C. W. & Lewis, J. A. Voxelated soft matter via multimaterial multinozzle 3D printing. Nature 575, 330–335 (2019).

Mahadevan, L., Ryu, W. S. & Samuel, A. D. T. Fluid 'rope trick' investigated. Nature 392, 140–140 (1998).

Yuk, H. & Zhao, X. A new 3D printing strategy by harnessing deformation, instability, and fracture of viscoelastic inks. Adv. Mater. 30, 1704028 (2018).

Chortos, A., Hajiesmaili, E., Morales, J., Clarke, D. R. & Lewis, J. A. 3D printing of interdigitated dielectric elastomer actuators. Adv. Funct. Mater. 30, 1907375 (2020).

Murbach, M., Gerwe, B., Dawson-Elli, N. & Tsui, L. impedance.py: a Python package for electrochemical impedance analysis. J. Open Source Softw. 5, 2349 (2020).

Lasia, A. Electrochemical Impedance Spectroscopy and its Applications (Springer, 2014).
Acknowledgements
We gratefully acknowledge support from the National Science Foundation under the Materials Research Science and Engineering Centers (DMR-2011754), National Science Foundation Designing Materials to Revolutionize and Engineer our Future (DMREF-15-33985), the Vannevar Bush Faculty Fellowship Program, sponsored by the Basic Research Office for the Assistant Secretary of Defense for Research and Engineering through the Office of Naval Research grant N00014-21-1-2958, and the GETTYLAB. We thank L. K. Sanders for assistance with photography and videography, J. W. Williams for assistance with the Python image analysis pipeline and E. Hajiesmaili, N. Colella, M. Kollosche, S. G. M. Uzel, A. Kotikian, R. D. Weeks, D. Kokkinis, D. Barber, E. Davidson, D. Foresti and E. Guzman for experimental assistance and helpful discussions.
Ethics declarations
Competing interests
A US patent has been filed by Harvard University on this research. J.A.L. serves on Advisory Boards for Autodesk, Azul 3D, and Desktop Health (a subsidiary of Desktop Metal, Inc.).
Peer review
Peer review information
Nature thanks Brittany Newell and the other, anonymous, reviewer(s) for their contribution to the peer review of this work.
Additional information
Publisher's note Springer Nature remains neutral with regard to jurisdictional claims in published maps and institutional affiliations.
Extended data figures and tables
Supplementary information
Rights and permissions
Springer Nature or its licensor (e.g. a society or other partner) holds exclusive rights to this article under a publishing agreement with the author(s) or other rightsholder(s); author self-archiving of the accepted manuscript version of this article is solely governed by the terms of such publishing agreement and applicable law.
About this article
Cite this article
Larson, N.M., Mueller, J., Chortos, A. et al. Rotational multimaterial printing of filaments with subvoxel control. Nature 613, 682–688 (2023). https://doi.org/10.1038/s41586-022-05490-7
Received:

Accepted:

Published:

Issue Date:

DOI: https://doi.org/10.1038/s41586-022-05490-7
Comments
By submitting a comment you agree to abide by our Terms and Community Guidelines. If you find something abusive or that does not comply with our terms or guidelines please flag it as inappropriate.