Abstract
Odour plumes in the wild are spatially complex and rapidly fluctuating structures carried by turbulent airflows1,2,3,4. To successfully navigate plumes in search of food and mates, insects must extract and integrate multiple features of the odour signal, including odour identity5, intensity6 and timing6,7,8,9,10,11,12. Effective navigation requires balancing these multiple streams of olfactory information and integrating them with other sensory inputs, including mechanosensory and visual cues9,12,13. Studies dating back a century have indicated that, of these many sensory inputs, the wind provides the main directional cue in turbulent plumes, leading to the longstanding model of insect odour navigation as odour-elicited upwind motion6,8,9,10,11,12,14,15. Here we show that Drosophila melanogaster shape their navigational decisions using an additional directional cue—the direction of motion of odours—which they detect using temporal correlations in the odour signal between their two antennae. Using a high-resolution virtual-reality paradigm to deliver spatiotemporally complex fictive odours to freely walking flies, we demonstrate that such odour-direction sensing involves algorithms analogous to those in visual-direction sensing16. Combining simulations, theory and experiments, we show that odour motion contains valuable directional information that is absent from the airflow alone, and that both Drosophila and virtual agents are aided by that information in navigating naturalistic plumes. The generality of our findings suggests that odour-direction sensing may exist throughout the animal kingdom and could improve olfactory robot navigation in uncertain environments.
Access options
Access Nature and 54 other Nature Portfolio journals
Get Nature+, our best-value online-access subscription
$29.99 per month
cancel any time
Subscribe to this journal
Receive 51 print issues and online access
$199.00 per year
only $3.90 per issue
Rent or buy this article
Get just this article for as long as you need it
$39.95
Prices may be subject to local taxes which are calculated during checkout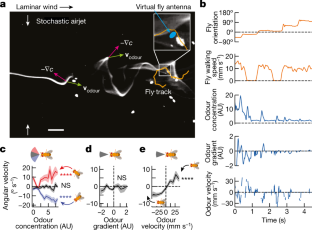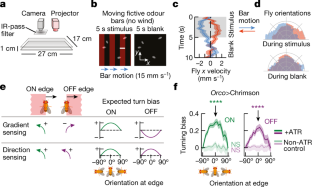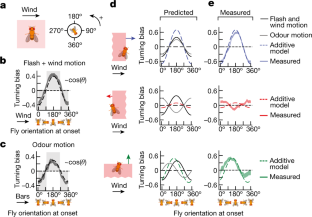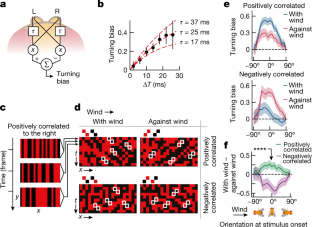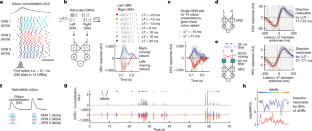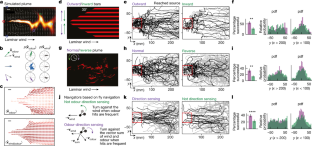 Code availability
All data collection was performed using custom codes written in Python (v.3.65), using the scientific packages numpy and scipy, plotting package matplotlib and the stimulus generation package psychopy. Custom Python codes used for projecting fictive odour stimuli, for fly tracking, and for behavioural and signal extraction and smoothing are available at GitHub (https://github.com/emonetlab/opto-track).
References
Murlis, J., Willis, M. A. & Cardé, R. T. Spatial and temporal structures of pheromone plumes in fields and forests. Physiol. Entomol. 25, 211–222 (2000).

Riffell, J. A., Abrell, L. & Hildebrand, J. G. Physical processes and real-time chemical measurement of the insect olfactory environment. J. Chem. Ecol. 34, 837–853 (2008).

Celani, A., Villermaux, E. & Vergassola, M. Odor landscapes in turbulent environments. Phys. Rev. X 4, 041015 (2014).

Connor, E. G., McHugh, M. K. & Crimaldi, J. P. Quantification of airborne odor plumes using planar laser-induced fluorescence. Exp. Fluids 59, 137 (2018).

Jung, S. H., Hueston, C. & Bhandawat, V. Odor-identity dependent motor programs underlie behavioral responses to odors. eLife 4, e11092 (2015).

Alvarez-Salvado, E. et al. Elementary sensory-motor transformations underlying olfactory navigation in walking fruit-flies. eLife 7, e37815 (2018).

Kanzaki, R., Sugi, N. & Shibuya, T. Self-generated zigzag turning of Bombyx mori males during pheromone-mediated upwind walking. Zool. Sci. 9, 515–527 (1992).

Mafra-Neto, A. & Cardé, R. T. Fine-scale structure of pheromone plumes modulates upwind orientation of flying moths. Nature 369, 142–144 (1994).

van Breugel, F. & Dickinson, M. H. Plume-tracking behavior of flying Drosophila emerges from a set of distinct sensory-motor reflexes. Curr. Biol. 24, 274–286 (2014).

Demir, M., Kadakia, N., Anderson, H. D., Clark, D. A. & Emonet, T. Walking Drosophila navigate complex plumes using stochastic decisions biased by the timing of odor encounters. eLife 9, e57524 (2020).

Vickers, N. J. & Baker, T. C. Reiterative responses to single strands of odor promote sustained upwind flight and odor source location by moths. Proc. Natl Acad. Sci. USA 91, 5756–5760 (1994).

Budick, S. A. & Dickinson, M. H. Free-flight responses of Drosophila melanogaster to attractive odors. J. Exp. Biol. 209, 3001–3017 (2006).

Suver, M. P. et al. Encoding of wind direction by central neurons in Drosophila. Neuron 102, 828–842 (2019).

Flügge, C. Geruchliche raumorientierung von Drosophila melanogaster. J. Comp. Physiol. A 20, 463–500 (1934).

Kennedy, J. S. & Marsh, D. Pheromone-regulated anemotaxis in flying moths. Science 184, 999–1001 (1974).

Hassenstein, B. & Reichardt, W. Z. Systemtheoretische analyse der zeit-, reihenfolgen-und vorzeichenauswertung bei der bewegungsperzeption des rüsselkäfers chlorophanus. Z. Naturforsch. 11, 513–524 (1956).

Gaudry, Q., Hong, E. J., Kain, J., de Bivort, B. L. & Wilson, R. I. Asymmetric neurotransmitter release enables rapid odour lateralization in Drosophila. Nature 493, 424–428 (2013).

Duistermars, B. J., Chow, D. M. & Frye, M. A. Flies require bilateral sensory input to track odor gradients in flight. Curr. Biol. 19, 1301–1307 (2009).

Taylor, G. I. Diffusion by continuous movements. Proc. Lond. Math. Soc. 20, 196–212 (1922).

Klapoetke, N. C. et al. Independent optical excitation of distinct neural populations. Nat. Methods 11, 338–346 (2014).

Bell, J. S. & Wilson, R. I. Behavior reveals selective summation and max pooling among olfactory processing channels. Neuron 91, 425–438 (2016).

DeAngelis, B. D., Zavatone-Veth, J. A., Gonzalez-Suarez, A. D. & Clark, D. A. Spatiotemporally precise optogenetic activation of sensory neurons in freely walking Drosophila. eLife 9, e54183 (2020).

Semmelhack, J. L. & Wang, J. W. Select Drosophila glomeruli mediate innate olfactory attraction and aversion. Nature 459, 218–223 (2009).

Wu, Y., Chen, K., Ye, Y., Zhang, T. & Zhou, W. Humans navigate with stereo olfaction. Proc. Natl Acad. Sci. USA 117, 16065–16071 (2020).

Bhandawat, V., Maimon, G., Dickinson, M. H. & Wilson, R. I. Olfactory modulation of flight in Drosophila is sensitive, selective and rapid. J. Exp. Biol. 213, 3625–3635 (2010).

Salazar-Gatzimas, E. et al. Direct measurement of correlation responses in Drosophila elementary motion detectors reveals fast timescale tuning. Neuron 92, 227–239 (2016).

Bours, R. J., Kroes, M. C. & Lankheet, M. J. Sensitivity for reverse-phi motion. Vision Res. 49, 1–9 (2009).

Tuthill, J. C., Chiappe, M. E. & Reiser, M. B. Neural correlates of illusory motion perception in Drosophila. Proc. Natl Acad. Sci. USA 108, 9685–9690 (2011).

Orger, M. B., Smear, M. C., Anstis, S. M. & Baier, H. Perception of Fourier and non-Fourier motion by larval zebrafish. Nat. Neurosci. 3, 1128–1133 (2000).

Livingstone, M. S., Pack, C. C. & Born, R. T. Two-dimensional substructure of MT receptive fields. Neuron 30, 781–793 (2001).

Anstis, S. M. & Rogers, B. J. Illusory reversal of visual depth and movement during changes of contrast. Vision Res. 15, 957–961 (1975).

Hu, Q. & Victor, J. D. A set of high-order spatiotemporal stimuli that elicit motion and reverse-phi percepts. J. Vis. 10, 9 (2010).

Clark, D. A. et al. Flies and humans share a motion estimation strategy that exploits natural scene statistics. Nat. Neurosci. 17, 296–303 (2014).

Jeanne, J. M. & Wilson, R. I. Convergence, divergence, and reconvergence in a feedforward network improves neural speed and accuracy. Neuron 88, 1014–1026 (2015).

Gorur-Shandilya, S., Demir, M., Long, J., Clark, D. A. & Emonet, T. Olfactory receptor neurons use gain control and complementary kinetics to encode intermittent odorant stimuli. eLife 6, e27670 (2017).

Bhandawat, V., Olsen, S. R., Gouwens, N. W., Schlief, M. L. & Wilson, R. I. Sensory processing in the Drosophila antennal lobe increases reliability and separability of ensemble odor representations. Nat. Neurosci. 10, 1474–1482 (2007).

Drix, D. & Schmuker, M. Resolving fast gas transients with metal oxide sensors. ACS Sensors 6, 688–692 (2021).

Martinez, D., Burgues, J. & Marco, S. Fast Measurements with MOX Sensors: a least-squares approach to blind deconvolution. Sensors 19, 4029 (2019).

Kowadlo, G. & Russell, R. A. Robot odor localization: a taxonomy and survey. Int. J. Robot. Res. 27, 869–894 (2008).

Burgues, J., Hernandez, V., Lilienthal, A. J. & Marco, S. Smelling nano aerial vehicle for gas source localization and mapping. Sensors 19, 478 (2019).

Boie, S. D. et al. Information-theoretic analysis of realistic odor plumes: What cues are useful for determining location? PLoS Comput. Biol. 14, e1006275 (2018).

Jayaram, V., Kadakia, N. & Emonet, T. Sensing complementary temporal features of odor signals enhances navigation of diverse turbulent plumes. eLife 11, e72415 (2022).

Reddy, G., Murthy, V. N. & Vergassola, M. Olfactory sensing and navigation in turbulent environments. Annu. Rev. Conden. Matter Phys. 13, 191–213 (2022).

Sreenivasan, K. R. Turbulent mixing: a perspective. Proc. Natl Acad. Sci. USA 116, 18175–18183 (2019).

Jefferis, G. S. et al. Comprehensive maps of Drosophila higher olfactory centers: spatially segregated fruit and pheromone representation. Cell 128, 1187–1203 (2007).

Ackels, T. et al. Fast odour dynamics are encoded in the olfactory system and guide behaviour. Nature 593, 558–563 (2021).

Martelli, C., Carlson, J. R. & Emonet, T. Intensity invariant dynamics and odor-specific latencies in olfactory receptor neuron response. J. Neurosci. 33, 6285–6297 (2013).

Shusterman, R., Smear, M. C., Koulakov, A. A. & Rinberg, D. Precise olfactory responses tile the sniff cycle. Nat. Neurosci. 14, 1039–1044 (2011).

Park, I. J. et al. Neurally encoding time for olfactory navigation. PLoS Comput. Biol. 12, e1004682 (2016).

Nagel, K. I., Hong, E. J. & Wilson, R. I. Synaptic and circuit mechanisms promoting broadband transmission of olfactory stimulus dynamics. Nat. Neurosci. 18, 56–65 (2015).

Tao, L., Ozarkar, S. & Bhandawat, V. Mechanisms underlying attraction to odors in walking Drosophila. PLoS Comput. Biol. 16, e1007718 (2020).

de Bruyne, M., Foster, K. & Carlson, J. R. Odor coding in the Drosophila antenna. Neuron 30, 537–552 (2001).

Gorur-Shandilya, S., Martelli, C., Demir, M. & Emonet, T. Controlling and measuring dynamic odorant stimuli in the laboratory. J. Exp. Biol. 222, jeb207787 (2019).

Pope, S. B. Simple models of turbulent flows. Phys. Fluids 23, 011301 (2011).

Badwan, B. A., Creamer, M. S., Zavatone-Veth, J. A. & Clark, D. A. Dynamic nonlinearities enable direction opponency in Drosophila elementary motion detectors. Nat. Neurosci. 22, 1318–1326 (2019).

Goldstein, S. On diffusion by discontinuous movements, and on the telegraph equation. Q. J. Mech. Appl. Math. 4, 129–156 (1951).

Balkovsky, E. & Shraiman, B. I. Olfactory search at high Reynolds number. Proc. Natl Acad. Sci. USA 99, 12589–12593 (2002).

Miller, C. J. & Carlson, J. R. Regulation of odor receptor genes in trichoid sensilla of the Drosophila antenna. Genetics 186, 79–95 (2010).
Acknowledgements
We thank O. Mano for help with projector troubleshooting, and A. Sehdev, E. Brown and G. Santana for help with behavioural experiments, fly rearing and discussions; V. Jayaram, J. Carlson, J. Jeanne, and the members of the Emonet laboratory for discussions and advice on the project; members of the laboratories of M. Murthy and J. Carlson for fly strains. N.K. was supported by a postdoctoral fellowship through the Swartz Foundation for Theoretical Neuroscience, by postdoctoral fellowships NIH F32MH118700 and NIH K99DC019397. M.D. was partially supported by the Program in Physics, Engineering and Biology at Yale University. B.T.M. and M.A.R. were supported by National Science Foundation grant IIS-1631864. B.D.D. was supported by an NSF GRF. D.A.C. and this research were supported by NIH R01EY026555. T.E. and this research were supported by T.E.'s setup funds from Yale University. Portions of this research were conceived at the Kavli Institute for Theoretical Physics summer school (NSF PHY-1748958).
Ethics declarations
Competing interests
The authors declare no competing interests.
Peer review
Peer review information
Nature thanks Bing Brunton and the other, anonymous, reviewer(s) for their contribution to the peer review of this work. Peer reviewer reports are available.
Additional information
Publisher's note Springer Nature remains neutral with regard to jurisdictional claims in published maps and institutional affiliations.
Extended data figures and tables
Supplementary information
Additional discussion of (1) the HRC model in odour motion sensing and its comparison to visual motion sensing and (2) the role of antennal size, active sensing and flight in odour motion sensing.
Rights and permissions
Springer Nature or its licensor (e.g. a society or other partner) holds exclusive rights to this article under a publishing agreement with the author(s) or other rightsholder(s); author self-archiving of the accepted manuscript version of this article is solely governed by the terms of such publishing agreement and applicable law.
About this article
Cite this article
Kadakia, N., Demir, M., Michaelis, B.T. et al. Odour motion sensing enhances navigation of complex plumes. Nature 611, 754–761 (2022). https://doi.org/10.1038/s41586-022-05423-4
Received:

Accepted:

Published:

Issue Date:

DOI: https://doi.org/10.1038/s41586-022-05423-4
Comments
By submitting a comment you agree to abide by our Terms and Community Guidelines. If you find something abusive or that does not comply with our terms or guidelines please flag it as inappropriate.