Abstract
Malaria infection involves an obligatory, yet clinically silent liver stage1,2. Hepatocytes operate in repeating units termed lobules, exhibiting heterogeneous gene expression patterns along the lobule axis3, but the effects of hepatocyte zonation on parasite development at the molecular level remain unknown. Here we combine single-cell RNA sequencing4 and single-molecule transcript imaging5 to characterize the host and parasite temporal expression programmes in a zonally controlled manner for the rodent malaria parasite Plasmodium berghei ANKA. We identify differences in parasite gene expression in distinct zones, including potentially co-adaptive programmes related to iron and fatty acid metabolism. We find that parasites develop more rapidly in the pericentral lobule zones and identify a subpopulation of periportally biased hepatocytes that harbour abortive infections, reduced levels of Plasmodium transcripts and parasitophorous vacuole breakdown. These 'abortive hepatocytes', which appear predominantly with high parasite inoculum, upregulate immune recruitment and key signalling programmes. Our study provides a resource for understanding the liver stage of Plasmodium infection at high spatial resolution and highlights the heterogeneous behaviour of both the parasite and the host hepatocyte.
Access options
Access Nature and 54 other Nature Portfolio journals
Get Nature+, our best-value online-access subscription
$29.99 / 30 days
cancel any time
Subscribe to this journal
Receive 51 print issues and online access
$199.00 per year
only $3.90 per issue
Rent or buy this article
Get just this article for as long as you need it
$39.95
Prices may be subject to local taxes which are calculated during checkout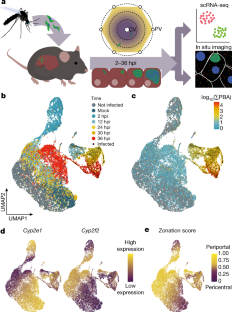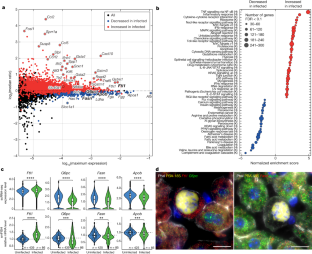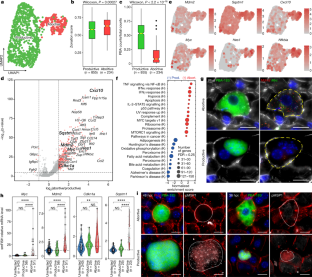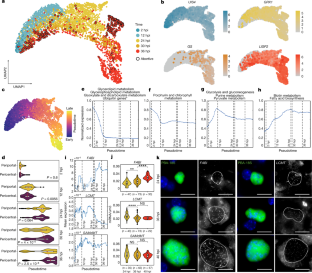 References
Despommier, D. D. et al. Parasitic Diseases 6th edn (Parasites Without Borders, 2017).

Vaughan, A. M. & Kappe, S. H. I. Malaria parasite liver infection and exoerythrocytic biology. Cold Spring Harb. Perspect. Med. 7, a025486 (2017).

Ben-Moshe, S. & Itzkovitz, S. Spatial heterogeneity in the mammalian liver. Nat. Rev. Gastroenterol. Hepatol. 16, 395–410 (2019).

Jaitin, D. A. et al. Massively parallel single-cell RNA-seq for marker-free decomposition of tissues into cell types. Science 343, 776–779 (2014).

Bahar Halpern, K. et al. Bursty gene expression in the intact mammalian liver. Mol. Cell 58, 147–156 (2015).

Nyboer, B., Heiss, K., Mueller, A.-K. & Ingmundson, A. The Plasmodium liver-stage parasitophorous vacuole: a front-line of communication between parasite and host. Int. J. Med. Microbiol. 308, 107–117 (2018).

Graewe, S. et al. Hostile takeover by plasmodium: reorganization of parasite and host cell membranes during liver stage egress. PLoS Pathog. 7, e1002224 (2011).

Halpern, K. B. et al. Single-cell spatial reconstruction reveals global division of labour in the mammalian liver. Nature 542, 352–356 (2017).

Ng, S. et al. Hypoxia promotes liver-stage malaria infection in primary human hepatocytes in vitro. Dis. Model. Mech. 7, 215–224 (2014).

Yang, A. S. P. et al. Zonal human hepatocytes are differentially permissive to Plasmodium falciparum malaria parasites. EMBO J. 40, e106583 (2021).

Albuquerque, S. S. et al. Host cell transcriptional profiling during malaria liver stage infection reveals a coordinated and sequential set of biological events. BMC Genomics 10, 270 (2009).

Toro-Moreno, M., Sylvester, K., Srivastava, T., Posfai, D. & Derbyshire, E. R. RNA-seq analysis illuminates the early stages of Plasmodium liver infection. mBio 11, e03234–19 (2020).

Howick, V. M. et al. The malaria cell atlas: single parasite transcriptomes across the complete Plasmodium life cycle. Science 365, eaaw2619 (2019).

Franke-Fayard, B. et al. A Plasmodium berghei reference line that constitutively expresses GFP at a high level throughout the complete life cycle. Mol. Biochem. Parasitol. 137, 23–33 (2004).

Halpern, K. B. et al. Paired-cell sequencing enables spatial gene expression mapping of liver endothelial cells. Nat. Biotechnol. 36, 962–970 (2018).

Liehl, P. et al. Host-cell sensors for Plasmodium activate innate immunity against liver-stage infection. Nat. Med. 20, 47–53 (2014).

van den Brink, S. C. et al. Single-cell sequencing reveals dissociation-induced gene expression in tissue subpopulations. Nat. Methods 14, 935–936 (2017).

Spottiswoode, N., Duffy, P. E. & Drakesmith, H. Iron, anemia and hepcidin in malaria. Front. Pharmacol. 5, 125 (2014).

Yu, M. et al. The fatty acid biosynthesis enzyme FabI plays a key role in the development of liver-stage malarial parasites. Cell Host Microbe 4, 567–578 (2008).

Vaughan, A. M. et al. Type II fatty acid synthesis is essential only for malaria parasite late liver stage development. Cell. Microbiol. 11, 506–520 (2009).

Qiu, X. et al. Reversed graph embedding resolves complex single-cell trajectories. Nat. Methods 14, 979–982 (2017).

Cao, J. et al. The single-cell transcriptional landscape of mammalian organogenesis. Nature 566, 496–502 (2019).

Bogale, H. N. et al. Transcriptional heterogeneity and tightly regulated changes in gene expression during Plasmodium berghei sporozoite development. Proc. Natl Acad. Sci. USA 118, e2023438118 (2021).

Real, E. et al. A single-cell atlas of Plasmodium falciparum transmission through the mosquito. Nat. Commun. 12, 3196 (2021).

Mikolajczak, S. A., Jacobs-Lorena, V., MacKellar, D. C., Camargo, N. & Kappe, S. H. I. L-FABP is a critical host factor for successful malaria liver stage development. Int. J. Parasitol. 37, 483–489 (2007).

Soga, A., Shirozu, T. & Fukumoto, S. Glyoxalase pathway is required for normal liver-stage proliferation of Plasmodium berghei. Biochem. Biophys. Res. Commun. 549, 61–66 (2021).

Kehr, S., Sturm, N., Rahlfs, S., Przyborski, J. M. & Becker, K. Compartmentation of redox metabolism in malaria parasites. PLoS Pathog. 6, e1001242 (2010).

Liu, Q. et al. The glycosylphosphatidylinositol transamidase complex subunit PbGPI16 of Plasmodium berghei is important for inducing experimental cerebral malaria. Infect. Immun. 86, e00929–17 (2018).

Fougère, A. et al. Variant exported blood-stage proteins encoded by Plasmodium multigene families are expressed in liver stages where they are exported into the parasitophorous vacuole. PLoS Pathog. 12, e1005917 (2016).

Gola, A. et al. Commensal-driven immune zonation of the liver promotes host defence. Nature 589, 131–136 (2021).

Miller, J. L., Sack, B. K., Baldwin, M., Vaughan, A. M. & Kappe, S. H. I. Interferon-mediated innate immune responses against malaria parasite liver stages. Cell Rep. 7, 436–447 (2014).

Ribot, J. C. et al. γδ-T cells promote IFN-γ–dependent Plasmodium pathogenesis upon liver-stage infection. Proc. Natl Acad. Sci. USA 116, 9979–9988 (2019).

Giladi, A. et al. Dissecting cellular crosstalk by sequencing physically interacting cells. Nat. Biotechnol. 38, 629–637 (2020).

Kaushansky, A. et al. Suppression of host p53 Is critical for Plasmodium liver-stage infection. Cell Rep. 3, 630–637 (2013).

Kolodziejczyk, A. A. et al. Acute liver failure is regulated by MYC- and microbiome-dependent programs. Nat. Med. 26, 1899–1911 (2020).

Caldelari, R. et al. Transcriptome analysis of Plasmodium berghei during exo-erythrocytic development. Malar. J. 18, 330 (2019).

Dobin, A. et al. STAR: ultrafast universal RNA-seq aligner. Bioinformatics 29, 15–21 (2013).

Parekh, S., Ziegenhain, C., Vieth, B., Enard, W. & Hellmann, I. zUMIs—a fast and flexible pipeline to process RNA sequencing data with UMIs. Gigascience 7, giy059 (2018).

Droin, C. et al. Space–time logic of liver gene expression at sub-lobular scale. Nat. Metab. 3, 43–58 (2021).

Hao, Y. et al. Integrated analysis of multimodal single-cell data. Cell 184, 3573–3587.e29 (2021).

Devroye, L. in Handbooks in Operations Research and Management Science, Vol. 13 (eds Henderson, S. G. & Nelson, B. L.) Ch. 4 (Elsevier, 2006).

Subramanian, A. et al. Gene set enrichment analysis: a knowledge-based approach for interpreting genome-wide expression profiles. Proc. Natl Acad. Sci. USA 102, 15545–15550 (2005).

Lyubimova, A. et al. Single-molecule mRNA detection and counting in mammalian tissue. Nat. Protoc. 8, 1743–1758 (2013).
Acknowledgements
S.I. is supported by the Wolfson Family Charitable Trust, the Edmond de Rothschild Foundations, the Fannie Sherr Fund, the Dr. Beth Rom-Rymer Stem Cell Research Fund, the Helen and Martin Kimmel Institute for Stem Cell Research, the Minerva Stiftung grant, the Israel Science Foundation grant no. 1486/16, the Broad Institute‐Israel Science Foundation grant no. 2615/18, the European Research Council (ERC) under the European Union's Horizon 2020 research and innovation programme grant no. 768956, the Chan–Zuckerberg Initiative grant no. CZF2019‐002434, the Bert L. and N. Kuggie Vallee Foundation and the Howard Hughes Medical Institute (HHMI) international research scholar award. L.B. is supported by the European Molecular Biology Organization under EMBO Long-Term Fellowship ALTF 724–2019. This work was also financed by la Caixa Foundation (HR17/52150010) to M.M.M. and Fundação para a Ciência e Tecnologia (LISBOA-01-0145-FEDER-030751 and PTDC/BIA-MOL/30112/2017) to M.M.M. and V.Z.-L.
Ethics declarations
Competing interests
The authors declare no competing interests.
Peer review
Peer review information
Nature thanks the anonymous reviewer(s) for their contribution to the peer review of this work. Peer review reports are available.
Additional information
Publisher's note Springer Nature remains neutral with regard to jurisdictional claims in published maps and institutional affiliations.
Extended data figures and tables
Supplementary information
Rights and permissions
Springer Nature or its licensor (e.g. a society or other partner) holds exclusive rights to this article under a publishing agreement with the author(s) or other rightsholder(s); author self-archiving of the accepted manuscript version of this article is solely governed by the terms of such publishing agreement and applicable law.
About this article
Cite this article
Afriat, A., Zuzarte-Luís, V., Bahar Halpern, K. et al. A spatiotemporally resolved single-cell atlas of the Plasmodium liver stage. Nature 611, 563–569 (2022). https://doi.org/10.1038/s41586-022-05406-5
Received:

Accepted:

Published:

Issue Date:

DOI: https://doi.org/10.1038/s41586-022-05406-5
Comments
By submitting a comment you agree to abide by our Terms and Community Guidelines. If you find something abusive or that does not comply with our terms or guidelines please flag it as inappropriate.