Abstract
Around 30–40% of patients with colorectal cancer (CRC) undergoing curative resection of the primary tumour will develop metastases in the subsequent years1. Therapies to prevent disease relapse remain an unmet medical need. Here we uncover the identity and features of the residual tumour cells responsible for CRC relapse. An analysis of single-cell transcriptomes of samples from patients with CRC revealed that the majority of genes associated with a poor prognosis are expressed by a unique tumour cell population that we named high-relapse cells (HRCs). We established a human-like mouse model of microsatellite-stable CRC that undergoes metastatic relapse after surgical resection of the primary tumour. Residual HRCs occult in mouse livers after primary CRC surgery gave rise to multiple cell types over time, including LGR5+ stem-like tumour cells2,3,4, and caused overt metastatic disease. Using Emp1 (encoding epithelial membrane protein 1) as a marker gene for HRCs, we tracked and selectively eliminated this cell population. Genetic ablation of EMP1high cells prevented metastatic recurrence and mice remained disease-free after surgery. We also found that HRC-rich micrometastases were infiltrated with T cells, yet became progressively immune-excluded during outgrowth. Treatment with neoadjuvant immunotherapy eliminated residual metastatic cells and prevented mice from relapsing after surgery. Together, our findings reveal the cell-state dynamics of residual disease in CRC and anticipate that therapies targeting HRCs may help to avoid metastatic relapse.
Relevant articles
Open Access articles citing this article.
Yi Zeng

,

Gang Ma

…

Yong Liu

Cell Death & Disease Open Access 29 June 2023

Simran Asawa

,

Manuel Nüesch

…

Nicola Aceto

British Journal of Cancer Open Access 17 March 2023

Jenniffer Linares

,

Anna Sallent-Aragay

…

Alexandre Calon

Nature Communications Open Access 10 February 2023
Access options
Access Nature and 54 other Nature Portfolio journals
Get Nature+, our best-value online-access subscription
$29.99 / 30 days
cancel any time
Subscribe to this journal
Receive 51 print issues and online access
$199.00 per year
only $3.90 per issue
Rent or buy this article
Prices vary by article type
from$1.95
to$39.95
Prices may be subject to local taxes which are calculated during checkout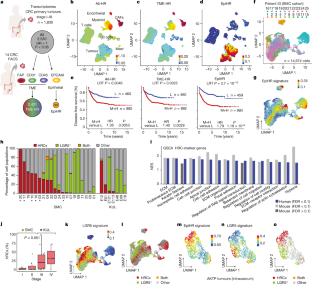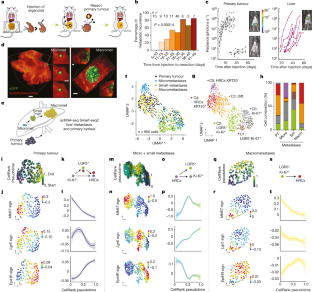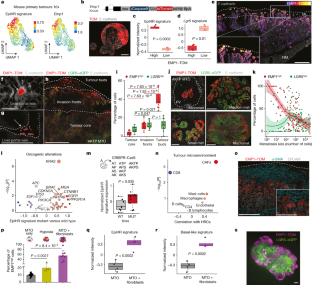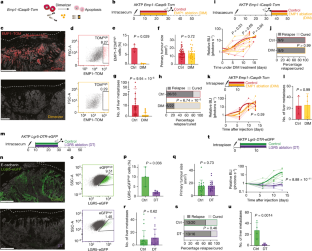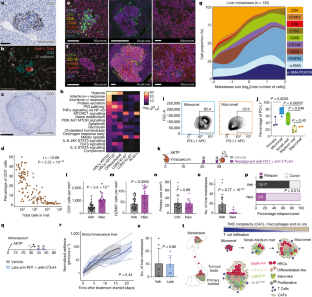 Data availability
All data relevant to this study are available from the corresponding author on reasonable request. Expression arrays and RNA-seq data are available at the Gene Expression Omnibus (GEO). Accession numbers for gene expression sequencing experiments reported in this paper are GEO: GSE190055 (arrays, EMP1high versus EMP1low AKTP tumour cells), GSE208139 (arrays, MTOs co-cultured with fibroblasts), GSE207974 (RNA-seq chemotherapy) and GSE207668 (RNA-seq CTOs). Count matrices for single-cell RNA-seq experiments were deposited at ArrayExpress under accession number E-MTAB-11284 (10x AKTP primary tumours), E-MTAB-11302 (Smart-seq metastatic progression) and E-MTAB-11981 (Smart-seq AKP micrometastases). Additional metadata and processed data files, including UMAP embeddings and gene signature scores, are available at Synapse (syn35000645). Source data are provided with this paper.
References
Amin, M.B. et al. The Eighth Edition AJCC Cancer Staging Manual: continuing to build a bridge from a population-based to a more "personalized" approach to cancer staging. CA 67, 93–99 (2017).

Shimokawa, M. et al. Visualization and targeting of LGR5+ human colon cancer stem cells. Nature 545, 187–192 (2017).

de Sousa e Melo, F. et al. A distinct role for Lgr5+ stem cells in primary and metastatic colon cancer. Nature 543, 676–680 (2017).

Cortina, C. et al. A genome editing approach to study cancer stem cells in human tumors. EMBO Mol. Med. 9, 869–879 (2017).

Calon, A. et al. Dependency of colorectal cancer on a TGF-β-driven program in stromal cells for metastasis initiation. Cancer Cell 22, 571–584 (2012).

Calon, A. et al. Stromal gene expression defines poor-prognosis subtypes in colorectal cancer. Nat. Genet. 47, 320–329 (2015).

Isella, C. et al. Stromal contribution to the colorectal cancer transcriptome. Nat. Genet. 47, 312–319 (2015).

Lee, H.-O. et al. Lineage-dependent gene expression programs influence the immune landscape of colorectal cancer. Nat. Genet. 52, 594–603 (2020).

Guinney, J. et al. The consensus molecular subtypes of colorectal cancer. Nat. Med. 21, 1350–1356 (2015).

Raghavan, S. et al. Microenvironment drives cell state, plasticity, and drug response in pancreatic cancer. Cell 184, 6119–6137 (2021).

Joanito, I. et al. Single-cell and bulk transcriptome sequencing identifies two epithelial tumor cell states and refines the consensus molecular classification of colorectal cancer. Nat. Genet. 54, 963–975 (2022).

Tauriello, D. V. F. et al. TGFβ drives immune evasion in genetically reconstituted colon cancer metastasis. Nature 554, 538–543 (2018).

Massagué, J. & Obenauf, A. C. Metastatic colonization by circulating tumour cells. Nature 529, 298–306 (2016).

Barriga, F. M. et al. Mex3a marks a slowly dividing subpopulation of Lgr5+ intestinal stem cells. Cell Stem Cell 20, 801–816 (2017).

Lange, M. et al. CellRank for directed single-cell fate mapping. Nat. Methods 19, 159–170 (2022).

Álvarez-Varela, A. et al. Mex3a marks drug-tolerant persister colorectal cancer cells that mediate relapse after chemotherapy. Nat. Cancer 3, 1052–1070 (2022).

Tyler, M. & Tirosh, I. Decoupling epithelial-mesenchymal transitions from stromal profiles by integrative expression analysis. Nat. Commun. 12, 2592 (2021).

Grigore, A. D., Jolly, M. K., Jia, D., Farach-Carson, M. C. & Levine, H. Tumor budding: the name is EMT. Partial EMT. J. Clin. Med. 5, 51 (2016).

Roa-Peña, L. et al. Keratin 17 identifies the most lethal molecular subtype of pancreatic cancer. Sci. Rep. 9, 11239 (2019).

Durgan, J. et al. SOS1 and Ras regulate epithelial tight junction formation in the human airway through EMP1. EMBO Rep. 16, 87–96 (2015).

Bangsow, T. et al. The epithelial membrane protein 1 is a novel tight junction protein of the blood-brain barrier. J. Cereb. Blood Flow Metab. 28, 1249–1260 (2008).

Aceto, N. et al. Circulating tumor cell clusters are oligoclonal precursors of breast cancer metastasis. Cell 158, 1110–1122 (2014).

Barry, E. R. et al. Restriction of intestinal stem cell expansion and the regenerative response by YAP. Nature 493, 106–110 (2013).

Cheung, P. et al. Regenerative reprogramming of the intestinal stem cell state via hippo signaling suppresses metastatic colorectal cancer. Cell Stem Cell 27, 590–604 (2020).

Vasquez, E. G. et al. Dynamic and adaptive cancer stem cell population admixture in colorectal neoplasia. Cell Stem Cell 29, 1213–1228 (2022).

Han, T. et al. Lineage reversion drives WNT independence in intestinal cancer. Cancer Discov. 10, 1590–1609 (2020).

Lupo, B. et al. Colorectal cancer residual disease at maximal response to EGFR blockade displays a druggable Paneth cell-like phenotype. Sci. Transl. Med. 12, eaax8313 (2020).

Heinz, M. C. et al. Liver colonization by colorectal cancer metastases requires YAP-controlled plasticity at the micrometastatic stage. Cancer Res. 82, 1953–1968 (2022).

Solé, L. et al. p53 wild-type colorectal cancer cells that express a fetal gene signature are associated with metastasis and poor prognosis. Nat. Commun. 13, 2866 (2022).

Ohta, Y. et al. Cell-matrix interface regulates dormancy in human colon cancer stem cells. Nature 680, 784–794 (2022).

Mustata, R. C. et al. Identification of Lgr5-independent spheroid-generating progenitors of the mouse fetal intestinal epithelium. Cell Rep. 5, 421–432 (2013).

Wang, Y. et al. Comprehensive molecular characterization of the hippo signaling pathway in cancer. Cell Rep. 25, 1304–1317 (2018).

Yuan, Y. et al. YAP1/TAZ-TEAD transcriptional networks maintain skin homeostasis by regulating cell proliferation and limiting KLF4 activity. Nat. Commun. 11, 1472 (2020).

Morral, C. et al. Zonation of ribosomal DNA transcription defines a stem cell hierarchy in colorectal cancer. Cell Stem Cell 26, 845–861 (2020).

Le, D. T. et al. PD-1 blockade in tumors with mismatch-repair deficiency. N. Engl. J. Med. 372, 2509–2520 (2015).

Fumagalli, A. et al. Plasticity of Lgr5-negative cancer cells drives metastasis in colorectal cancer. Cell Stem Cell 26, 569–578 (2020).

Ganesh, K. et al. L1CAM defines the regenerative origin of metastasis-initiating cells in colorectal cancer. Nat. Cancer 1, 28–45 (2020).

Padmanaban, V. et al. E-cadherin is required for metastasis in multiple models of breast cancer. Nature 573, 439–444 (2019).

Chalabi, M. et al. Neoadjuvant immunotherapy leads to pathological responses in MMR-proficient and MMR-deficient early-stage colon cancers. Nat. Med. 26, 566–576 (2020).

Matano, M. et al. Modeling colorectal cancer using CRISPR-Cas9–mediated engineering of human intestinal organoids. Nat. Med. 21, 256–262 (2015).

Drost, J. et al. Sequential cancer mutations in cultured human intestinal stem cells. Nature 521, 43–47 (2015).

Céspedes, M. V. et al. Orthotopic microinjection of human colon cancer cells in nude mice induces tumor foci in all clinically relevant metastatic sites. Am. J. Pathol. 170, 1077–1085 (2007).

Chen, Y.-C. et al. Gut fecal microbiota transplant in a mouse model of orthotopic rectal cancer. Front. Oncol. 10, 568012 (2020).

Conti, S. et al. CAFs and cancer cells co-migration in 3D spheroid invasion assay. Methods Mol. Biol. 2179, 243–256 (2020).

Gonzalez-Roca, E. et al. Accurate expression profiling of very small cell populations. PLoS ONE 5, e14418 (2010).

Dobin, A. et al. STAR: ultrafast universal RNA-seq aligner. Bioinformatics 29, 15–21 (2013).

Tarasov, A., Vilella, A. J., Cuppen, E., Nijman, I. J. & Prins, P. Sambamba: fast processing of NGS alignment formats. Bioinformatics 31, 2032–2034 (2015).

Liao, Y., Smyth, G. K. & Shi, W. The R package Rsubread is easier, faster, cheaper and better for alignment and quantification of RNA sequencing reads. Nucleic Acids Res. 47, e47 (2019).

Love, M. I., Huber, W. & Anders, S. Moderated estimation of fold change and dispersion for RNA-seq data with DESeq2. Genome Biol. 15, 550 (2014).

Carvalho, B. S. & Irizarry, R. A. A framework for oligonucleotide microarray preprocessing. Bioinformatics 26, 2363–2367 (2010).

Bolstad, B. M. et al. in Bioinformatics and Computational Biology Solutions Using R and Bioconductor (eds Gentleman, R. et al.) (Springer, 2005).

Fridlyand, J. Microarray Data Analysis. in Selected Works in Probability and Statistics (ed Dudoit, S.) https://doi.org/10.1007/978-1-4614-1347-9_15 (Springer, 2012).

Ritchie, M. E. et al. Limma powers differential expression analyses for RNA-sequencing and microarray studies. Nucleic Acids Res. 43, e47 (2015).

Eklund, A. C. & Szallasi, Z. Correction of technical bias in clinical microarray data improves concordance with known biological information. Genome Biol. 9, R26 (2008).

Wu, D. et al. ROAST: rotation gene set tests for complex microarray experiments. Bioinformatics 26, 2176–2182 (2010).

Efron, B. & Tibshirani, R. On testing the significance of sets of genes. Ann. Appl. Stat. 1, 107–129 (2007).

Lee, E., Chuang, H. Y., Kim, J. W., Ideker, T. & Lee, D. Inferring pathway activity toward precise disease classification. PLoS Comput. Biol. 4, e1000217 (2008).

Zheng, G. X. Y. et al. Massively parallel digital transcriptional profiling of single cells. Nat. Commun. 8, 14049 (2017).

Hao, Y. et al. Integrated analysis of multimodal single-cell data. Cell 184, 3573–3587 (2021).

Satija, R., Farrell, J. A., Gennert, D., Schier, A. F. & Regev, A. Spatial reconstruction of single-cell gene expression data. Nat. Biotechnol. 33, 495–502 (2015).

Butler, A., Hoffman, P., Smibert, P., Papalexi, E. & Satija, R. Integrating single-cell transcriptomic data across different conditions, technologies, and species. Nat. Biotechnol. 36, 411–420 (2018).

Stuart, T. et al. Comprehensive integration of single-cell data. Cell 177, 1888–1902 (2019).

Hafemeister, C. & Satija, R. Normalization and variance stabilization of single-cell RNA-seq data using regularized negative binomial regression. Genome Biol. 20, 296 (2019).

van Dijk, D. et al. Recovering gene interactions from single-cell data using data diffusion. Cell 174, 716–729 (2018).

Subramanian, A. et al. Gene set enrichment analysis: a knowledge-based approach for interpreting genome-wide expression profiles. Proc. Natl Acad. Sci. USA 102, 15545–15550 (2005).

Parekh, S., Ziegenhain, C., Vieth, B., Enard, W. & Hellmann, I. zUMIs—a fast and flexible pipeline to process RNA sequencing data with UMIs. Gigascience 7, giy059 (2018).

La Manno, G. et al. RNA velocity of single cells. Nature 560, 494–498 (2018).

Bergen, V., Lange, M., Peidli, S., Wolf, F. A. & Theis, F. J. Generalizing RNA velocity to transient cell states through dynamical modeling. Nat. Biotechnol. 38, 1408–1414 (2020).

R Core Team. R: A Language and Environment for Statistical Computing (R Foundation for Statistical Computing, 2020).

Barrett, T. & Edgar, R. [19] Gene Expression Omnibus: microarray data storage, submission, retrieval, and analysis. Methods Enzymol. 411, 352–369 (2006).

Grossman, R. L. et al. Toward a shared vision for cancer genomic data. N. Engl. J. Med. 375, 1109–1112 (2016).

Muzny, D. M. et al. Comprehensive molecular characterization of human colon and rectal cancer. Nature 487, 330–337 (2012).

Tripathi, M. K. et al. Nuclear factor of activated T-cell activity is associated with metastatic capacity in colon cancer. Cancer Res. 74, 6947–6957 (2014).

Sanz-Pamplona, R. et al. Aberrant gene expression in mucosa adjacent to tumor reveals a molecular crosstalk in colon cancer. Mol. Cancer 13, 46 (2014).

Kemper, K. et al. Mutations in the Ras-Raf axis underlie the prognostic value of CD133 in colorectal cancer. Clin. Cancer Res. 18, 3132–3141 (2012).

Jorissen, R. N. et al. Metastasis-associated gene expression changes predict poor outcomes in patients with dukes stage B and C colorectal cancer. Clin. Cancer Res. 15, 7642–7651 (2009).

Marisa, L. et al. Gene expression classification of colon cancer into molecular subtypes: characterization, validation, and prognostic value. PLoS Med. 10, e1001453 (2013).

Laibe, S. et al. A seven-gene signature aggregates a subgroup of stage II colon cancers with stage III. OMICS 16, 560–565 (2012).

Jorissen, R. N. et al. DNA copy-number alterations underlie gene expression differences between microsatellite stable and unstable colorectal cancers. Clin. Cancer Res. 14, 8061–8069 (2008).

Azzalini, A. & Menardi, G. Clustering via nonparametric density estimation: the R package pdfcluster. J. Stat. Softw. 57, 1–26 (2014).

Azzalini, A. & Torelli, N. Clustering via nonparametric density estimation. Stat. Comput. 17, 71–80 (2007).

Smedley, D. et al. The BioMart community portal: an innovative alternative to large, centralized data repositories. Nucleic Acids Res. 43, W589–W598 (2015).

Drost, H. G. & Paszkowski, J. Biomartr: genomic data retrieval with R. Bioinformatics 33, 1216–1217 (2017).

Li, B. & Dewey, C. N. RSEM: accurate transcript quantification from RNA-seq data with or without a reference genome. BMC Bioinform. 12, 323 (2011).

Bates, D., Mächler, M., Bolker, B. M. & Walker, S. C. Fitting linear mixed-effects models using lme4. J. Stat. Softw. 67, 1–48 (2015).

Therneau, T. M., Grambsch, P. M. & Pankratz, V. S. Penalized survival models and frailty. J. Comput. Graph. Stat. 12, 156–175 (2003).

Therneau, T. coxme: mixed effects Cox models. R package version 2.2-3 www.cran.R-project.org/package=coxme.Oikos (2012).

Sanchez-Vega, F. et al. Oncogenic signaling pathways in the Cancer Genome Atlas. Cell 173, 321–337 (2018).

Mootha, V. K. et al. PGC-1α-responsive genes involved in oxidative phosphorylation are coordinately downregulated in human diabetes. Nat. Genet. 34, 267–273 (2003).
Acknowledgements
We thank all of the members of the laboratory for their support and discussions; the staff at the IRB Barcelona core facilities for biostatistics, histopathology, functional genomics and advanced digital microscopy, as well as the flow cytometry, animal facilities of the UB/PCB, and the CRG genomic unit for assistance; the staff at the HCB-IDIBAPS Biobank for sample and data procurement. Sample collection of this work was also supported by the Xarxa de Bancs de Tumours de Catalunya (XBTC) sponsored by Pla Director d'Oncologia (PDO). A.C.-S., G.T. and L.J.-G. have held FPU fellowships from Spanish Ministry of Universities and A.A.-V. has held a La Caixa predoctoral fellowship. S.C. holds a FPI fellowship from the Spanish Ministry of Economy and Competitiveness (MINECO). H.H. is a Miguel Servet (CP14/00229) researcher funded by the Spanish Institute of Health Carlos III (ISCIII) and the Agencia Estatal de Investigación (AEI) and FEDER (SAF2017-89109-P). This work has been supported by ERC advanced grants 884623 (residualCRC to E.B.) and 883739 (Epifold to X.T.); LCF/PR/HR19/52160018 from La Caixa foundation; PID2020-119917RB-I00 from the Spanish MICINN; and CRUK Accelerator Award C7932/A26825 (ACRCelerate), in collaboration with AECC (grant GEACC19006BAT_2021). E.B., X.T. and H.H. are supported by the Fundació La Marató de TV3 (201903-30-31-32). H.H. received support for the project PID2020-115439GB-I00- funded by MCINN/AEI/10.13039/501100011033. S.L. was supported by a Wellcome Trust Senior Clinical Research Fellowship (206314/Z/17/Z)), E.J.M. is funded by the Lee Placito Medical Research Fund (University of Oxford). IRB Barcelona and IBEC are recipients of a Severo Ochoa Award of Excellence from MINECO. Single-cell profiling of CRC samples was supported by the Belgian Federation against Cancer grant nos 2018-127 and 2016-133 and by a grant from Fondation Roi-Baudouin. S.T. is supported by a Fundamental Clinical Researchers KU Leuven grant and Foundation against Cancer grant for this work. The Magdalena Socias Moyà fund supports metastasis research at IRB Barcelona.
Ethics declarations
Competing interests
The authors declare no competing interests.
Peer review
Peer review information
Nature thanks Hugo Snippert, Itay Tirosh, Nicola Valeri and the other, anonymous, reviewers for their contribution to the peer review of this work.
Additional information
Publisher's note Springer Nature remains neutral with regard to jurisdictional claims in published maps and institutional affiliations.
Extended data figures and tables
Supplementary information
Rights and permissions
Springer Nature or its licensor (e.g. a society or other partner) holds exclusive rights to this article under a publishing agreement with the author(s) or other rightsholder(s); author self-archiving of the accepted manuscript version of this article is solely governed by the terms of such publishing agreement and applicable law.
About this article
Cite this article
Cañellas-Socias, A., Cortina, C., Hernando-Momblona, X. et al. Metastatic recurrence in colorectal cancer arises from residual EMP1+ cells. Nature 611, 603–613 (2022). https://doi.org/10.1038/s41586-022-05402-9
Received:

Accepted:

Published:

Issue Date:

DOI: https://doi.org/10.1038/s41586-022-05402-9
Comments
By submitting a comment you agree to abide by our Terms and Community Guidelines. If you find something abusive or that does not comply with our terms or guidelines please flag it as inappropriate.