Abstract
Macrophages are important players in the maintenance of tissue homeostasis1. Perivascular and leptomeningeal macrophages reside near the central nervous system (CNS) parenchyma2, and their role in CNS physiology has not been sufficiently well studied. Given their continuous interaction with the cerebrospinal fluid (CSF) and strategic positioning, we refer to these cells collectively as parenchymal border macrophages (PBMs). Here we demonstrate that PBMs regulate CSF flow dynamics. We identify a subpopulation of PBMs that express high levels of CD163 and LYVE1 (scavenger receptor proteins), closely associated with the brain arterial tree, and show that LYVE1+ PBMs regulate arterial motion that drives CSF flow. Pharmacological or genetic depletion of PBMs led to accumulation of extracellular matrix proteins, obstructing CSF access to perivascular spaces and impairing CNS perfusion and clearance. Ageing-associated alterations in PBMs and impairment of CSF dynamics were restored after intracisternal injection of macrophage colony-stimulating factor. Single-nucleus RNA sequencing data obtained from patients with Alzheimer's disease (AD) and from non-AD individuals point to changes in phagocytosis, endocytosis and interferon-γ signalling on PBMs, pathways that are corroborated in a mouse model of AD. Collectively, our results identify PBMs as new cellular regulators of CSF flow dynamics, which could be targeted pharmacologically to alleviate brain clearance deficits associated with ageing and AD.
Relevant articles
Open Access articles citing this article.
Xavier Taylor

,

Isaiah M. Clark

…

Feng Pan

Molecular Neurodegeneration Open Access 30 August 2023

Shanon Rego

,

Guadalupe Sanchez

&

Sandro Da Mesquita

Molecular Neurodegeneration Open Access 14 August 2023

Yasuteru Inoue

,

Francis Shue

…

Takahisa Kanekiyo

Molecular Neurodegeneration Open Access 11 July 2023
Access options
Access Nature and 54 other Nature Portfolio journals
Get Nature+, our best-value online-access subscription
$29.99 / 30 days
cancel any time
Subscribe to this journal
Receive 51 print issues and online access
$199.00 per year
only $3.90 per issue
Rent or buy this article
Prices vary by article type
from$1.95
to$39.95
Prices may be subject to local taxes which are calculated during checkout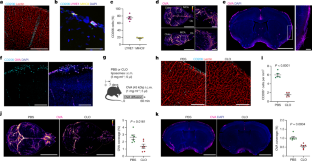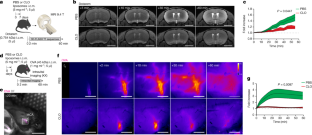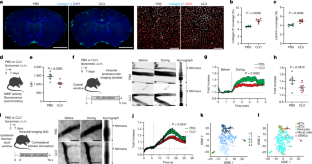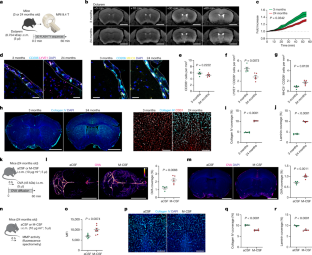 References
Ginhoux, F. & Guilliams, M. Tissue-resident macrophage ontogeny and homeostasis. Immunity 44, 439–449 (2016).

Masuda, T. et al. Specification of CNS macrophage subsets occurs postnatally in defined niches. Nature 604, 740–748 (2022).

Alves de Lima, K. et al. Meningeal γδ T cells regulate anxiety-like behavior via IL-17a signaling in neurons. Nat. Immunol. 21, 1421–1429 (2020).

Filiano, A. J. et al. Unexpected role of interferon-γ in regulating neuronal connectivity and social behaviour. Nature 535, 425–429 (2016).

Konsman, J. P., Parnet, P. & Dantzer, R. Cytokine-induced sickness behaviour: mechanisms and implications. Trends Neurosci. 25, 154–159 (2002).

Mestre, H. et al. Flow of cerebrospinal fluid is driven by arterial pulsations and is reduced in hypertension. Nat. Commun. 9, 4878 (2018).

Iliff, J. J. et al. Cerebral arterial pulsation drives paravascular CSF–interstitial fluid exchange in the murine brain. J. Neurosci. 33, 18190–18199 (2013).

van Veluw, S. J. et al. Vasomotion as a driving force for paravascular clearance in the awake mouse brain. Neuron 105, 549–561.e5 (2020).

Iliff, J. J. et al. A paravascular pathway facilitates CSF flow through the brain parenchyma and the clearance of interstitial solutes, including amyloid β. Sci. Transl Med. 4, 147ra111 (2012).

Louveau, A. et al. Structural and functional features of central nervous system lymphatic vessels. Nature 523, 337–341 (2015).

Li, X. et al. Meningeal lymphatic vessels mediate neurotropic viral drainage from the central nervous system. Nat. Neurosci. 25, 577–587 (2022).

Rustenhoven, J. et al. Functional characterization of the dural sinuses as a neuroimmune interface. Cell 184, 1000–1016.e27 (2021).

Kierdorf, K., Masuda, T., Jordão, M. J. C. & Prinz, M. Macrophages at CNS interfaces: ontogeny and function in health and disease. Nat. Rev. Neurosci. 20, 547–562 (2019).

Faraco, G., Park, L., Anrather, J. & Iadecola, C. Brain perivascular macrophages: characterization and functional roles in health and disease. J. Mol. Med. 95, 1143–1152 (2017).

Van Hove, H. et al. A single-cell atlas of mouse brain macrophages reveals unique transcriptional identities shaped by ontogeny and tissue environment. Nat. Neurosci. 22, 1021–1035 (2019).

Goldmann, T. et al. Origin, fate and dynamics of macrophages at central nervous system interfaces. Nat. Immunol. 17, 797–805 (2016).

Faraco, G. et al. Perivascular macrophages mediate the neurovascular and cognitive dysfunction associated with hypertension. J. Clin. Invest. 126, 4674–4689 (2016).

Thanopoulou, K., Fragkouli, A., Stylianopoulou, F. & Georgopoulos, S. Scavenger receptor class B type I (SR-BI) regulates perivascular macrophages and modifies amyloid pathology in an Alzheimer mouse model. Proc. Natl Acad. Sci. USA 107, 20816–20821 (2010).

Park, L. et al. Brain perivascular macrophages initiate the neurovascular dysfunction of Alzheimer Aβ peptides. Circ. Res. 121, 258–269 (2017).

Jordão, M. J. C. et al. Single-cell profiling identifies myeloid cell subsets with distinct fates during neuroinflammation. Science 363, eaat7554 (2019).

Mrdjen, D. et al. High-dimensional single-cell mapping of central nervous system immune cells reveals distinct myeloid subsets in health, aging, and disease. Immunity 48, 380–395.e6 (2018).

Wardlaw, J. M. et al. Perivascular spaces in the brain: anatomy, physiology and pathology. Nat. Rev. Neurol. 16, 137–153 (2020).

Mestre, H. et al. Aquaporin-4-dependent glymphatic solute transport in the rodent brain. eLife 7, e40070 (2018).

Yang, L. et al. Evaluating glymphatic pathway function utilizing clinically relevant intrathecal infusion of CSF tracer. J. Transl Med. 11, 107 (2013).

Da Mesquita, S. et al. Functional aspects of meningeal lymphatics in ageing and Alzheimer's disease. Nature 560, 185–191 (2018).

Ahn, J. H. et al. Meningeal lymphatic vessels at the skull base drain cerebrospinal fluid. Nature 572, 62–66 (2019).

Mestre, H. et al. Cerebrospinal fluid influx drives acute ischemic tissue swelling. Science 367, eaax7171 (2020).

Polfliet, M. M. et al. A method for the selective depletion of perivascular and meningeal macrophages in the central nervous system. J. Neuroimmunol. 116, 188–195 (2001).

Hablitz, L. M. et al. Increased glymphatic influx is correlated with high EEG delta power and low heart rate in mice under anesthesia. Sci. Adv. 5, eaav5447 (2019).

Gakuba, C. et al. General anesthesia inhibits the activity of the 'glymphatic system'. Theranostics 8, 710–722 (2018).

Lim, H. Y. et al. Hyaluronan receptor LYVE-1-expressing macrophages maintain arterial tone through hyaluronan-mediated regulation of smooth muscle cell collagen. Immunity 49, 326–341.e7 (2018).

Chow, B. W. et al. Caveolae in CNS arterioles mediate neurovascular coupling. Nature 579, 106–110 (2020).

Baccin, C. et al. Combined single-cell and spatial transcriptomics reveal the molecular, cellular and spatial bone marrow niche organization. Nat. Cell Biol. 22, 38–48 (2020).

Zhang, N. et al. LYVE1+ macrophages of murine peritoneal mesothelium promote omentum-independent ovarian tumor growth. J. Exp. Med. 218, e20210924 (2021).

Boissonneault, V. et al. Powerful beneficial effects of macrophage colony-stimulating factor on β-amyloid deposition and cognitive impairment in Alzheimer's disease. Brain 132, 1078–1092 (2009).

Hawkes, C. A. & McLaurin, J. Selective targeting of perivascular macrophages for clearance of β-amyloid in cerebral amyloid angiopathy. Proc. Natl Acad. Sci. USA 106, 1261–1266 (2009).

Keren-Shaul, H. et al. A unique microglia type associated with restricting development of Alzheimer's disease. Cell 169, 1276–1290.e17 (2017).

Da Mesquita, S. et al. Meningeal lymphatics affect microglia responses and anti-Aβ immunotherapy. Nature 593, 255–260 (2021).

Utz, S. G. et al. Early fate defines microglia and non-parenchymal brain macrophage development. Cell 181, 557–573.e18 (2020).

Pires, P. W. et al. Improvement in middle cerebral artery structure and endothelial function in stroke-prone spontaneously hypertensive rats after macrophage depletion. Microcirculation 20, 650–661 (2013).

Császár, E. et al. Microglia modulate blood flow, neurovascular coupling, and hypoperfusion via purinergic actions. J. Exp. Med. 219, e20211071 (2022).

Erde, J., Loo, R. R. O. & Loo, J. A. Improving proteome coverage and sample recovery with enhanced FASP (eFASP) for quantitative proteomic experiments. Methods Mol. Biol. 1550, 11–18 (2017).

Rappsilber, J., Mann, M. & Ishihama, Y. Protocol for micro-purification, enrichment, pre-fractionation and storage of peptides for proteomics using StageTips. Nat. Protoc. 2, 1896–1906 (2007).

Cai, R. et al. Panoptic imaging of transparent mice reveals whole-body neuronal projections and skull–meninges connections. Nat. Neurosci. 22, 317–327 (2019).

Lun, A. T. L., McCarthy, D. J. & Marioni, J. C. A step-by-step workflow for low-level analysis of single-cell RNA-seq data with Bioconductor. F1000Research 5, 2122 (2016).

McCarthy, D. J., Campbell, K. R., Lun, A. T. L. & Wills, Q. F. Scater: pre-processing, quality control, normalization and visualization of single-cell RNA-seq data in R. Bioinformatics 33, 1179–1186 (2017).

Butler, A., Hoffman, P., Smibert, P., Papalexi, E. & Satija, R. Integrating single-cell transcriptomic data across different conditions, technologies, and species. Nat. Biotechnol. 36, 411–420 (2018).

Van den Berge, K. et al. Observation weights unlock bulk RNA-seq tools for zero inflation and single-cell applications. Genome Biol. 19, 24 (2018).

Robinson, M. D., McCarthy, D. J. & Smyth, G. K. edgeR: a Bioconductor package for differential expression analysis of digital gene expression data. Bioinformatics 26, 139–140 (2010).

Hong, G., Zhang, W., Li, H., Shen, X. & Guo, Z. Separate enrichment analysis of pathways for up- and downregulated genes. J. R. Soc. Interface 11, 20130950 (2014).
Acknowledgements
We thank S. Smith for editing the manuscript; S. Blackburn, N. Al-Hamadani, X. Wang and E. Griffin for animal care; S. Brophy for laboratory management; all the members of the Kipnis Laboratory for their valuable comments during numerous discussions of this work; all the members of the Washington University Center for Cellular Imaging core (WUCCI) for their valuable contribution of electron microscopy imaging; staff at the University of Virginia Flow Cytometry Core and from the Sequencing Core for their help with cell sorting and sequencing; all the members of the Washington University Small Animal MR Imaging Facility and the University of Virginia Molecular Imaging Core Facility for their help in MRI. We acknowledge the expert technical assistance of Y. Mi, P. Erdmann-Gilmore, A. Davis and R. Connors for the CSF proteomics experiment performed at the Washington University Proteomics Shared Resource (WU-PSR), and R. Reid Townsend (Director) and R. Sprung and T. Zhang (Co-directors); the staff of the Neuropathology Cores and other personnel of the Charles F. and Joanne Knight Alzheimer's Disease Research Center (ADRC); and the altruism of the participants and their families and contributions of the Knight ADRC and DIAN research and support staff at each of the participating sites for their contributions to this study. This work was supported by grants from the National Institutes of Health/National Institute on Aging (AG034113, AG057496, AG078106), the Cure Alzheimer's Fund and the Ludwig Foundation to J.K.; AG057777 and AG067764 to O.H.; and AG062734 to C.M.K. O.H. is an Archer Foundation Research Scientist. The WU-PSR is supported in part by the WU Institute of Clinical and Translational Sciences (NCATS UL1 TR000448), the Mass Spectrometry Research Resource (NIGMS P41 GM103422; R24GM136766) and a Siteman Comprehensive Cancer Center Support grant (NCI P30 CA091842). The Neuropathology Cores and the Charles F. and Joanne Knight ADRC are supported by P30 AG066444, P01AG026276 and P01AG03991. Data collection and sharing for this project was supported by the DIAN (UF1AG032438) funded by the National Institute on Aging (NIA), the German Center for Neurodegenerative Diseases (DZNE), Raul Carrea Institute for Neurological Research (FLENI), partial support by the Research and Development Grants for Dementia from Japan Agency for Medical Research and Development, AMED, and the Korea Health Technology R&D Project through the Korea Health Industry Development Institute (KHIDI). This manuscript has been reviewed by DIAN Study investigators for scientific content and consistency of data interpretation with previous DIAN Study publications. The illustrations of the mice and MRI are freely available from Servier Medical Art (https://smart.servier.com). The brain cartoon and the summary illustration were created by the authors.
Ethics declarations
Competing interests
J.K. is a scientific advisor and collaborator with PureTech. J.K. and A.D. are holding provisional patent applications related to the findings described herein. R.J.B co-founded and is on the scientific advisory board of C2N Diagnostics. C2N Diagnostics has licensed certain anti-tau antibodies to AbbVie for therapeutic development. He receives research support from Biogen, Eisai and the DIAN-TU Pharma Consortium. He is also an advisor to Amgen and Hoffman La-Roche.
Peer review
Peer review information
Nature thanks Kiavash Movahedi and the other, anonymous, reviewer(s) for their contribution to the peer review of this work.
Additional information
Publisher's note Springer Nature remains neutral with regard to jurisdictional claims in published maps and institutional affiliations.
Extended data figures and tables
Supplementary information
Rights and permissions
Springer Nature or its licensor (e.g. a society or other partner) holds exclusive rights to this article under a publishing agreement with the author(s) or other rightsholder(s); author self-archiving of the accepted manuscript version of this article is solely governed by the terms of such publishing agreement and applicable law.
About this article
Cite this article
Drieu, A., Du, S., Storck, S.E. et al. Parenchymal border macrophages regulate the flow dynamics of the cerebrospinal fluid. Nature 611, 585–593 (2022). https://doi.org/10.1038/s41586-022-05397-3
Received:

Accepted:

Published:

Issue Date:

DOI: https://doi.org/10.1038/s41586-022-05397-3
Comments
By submitting a comment you agree to abide by our Terms and Community Guidelines. If you find something abusive or that does not comply with our terms or guidelines please flag it as inappropriate.