Abstract
RNA is a central and universal mediator of genetic information underlying the diversity of cell types and cell states, which together shape tissue organization and organismal function across species and lifespans. Despite numerous advances in RNA sequencing technologies and the massive accumulation of transcriptome datasets across the life sciences1,2, the dearth of technologies that use RNAs to observe and manipulate cell types remains a bottleneck in biology and medicine. Here we describe CellREADR (Cell access through RNA sensing by Endogenous ADAR), a programmable RNA-sensing technology that leverages RNA editing mediated by ADAR to couple the detection of cell-defining RNAs with the translation of effector proteins. Viral delivery of CellREADR conferred specific cell-type access in mouse and rat brains and in ex vivo human brain tissues. Furthermore, CellREADR enabled the recording and control of specific types of neurons in behaving mice. CellREADR thus highlights the potential for RNA-based monitoring and editing of animal cells in ways that are specific, versatile, simple and generalizable across organ systems and species, with wide applications in biology, biotechnology and programmable RNA medicine.
Relevant articles
Open Access articles citing this article.
Neuroscience Bulletin Open Access 01 June 2023

Raphaël V. Gayet

,

Katherine Ilia

…

James J. Collins

Nature Communications Open Access 11 March 2023
Access options
Access Nature and 54 other Nature Portfolio journals
Get Nature+, our best-value online-access subscription
$29.99 / 30 days
cancel any time
Subscribe to this journal
Receive 51 print issues and online access
$199.00 per year
only $3.90 per issue
Rent or buy this article
Prices vary by article type
from$1.95
to$39.95
Prices may be subject to local taxes which are calculated during checkout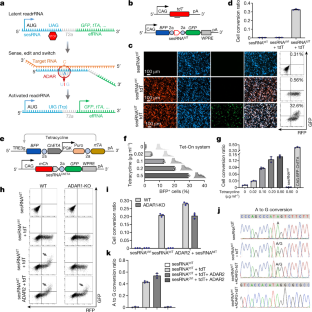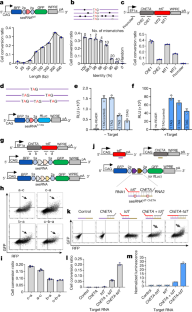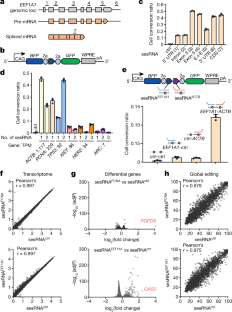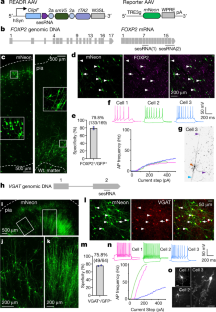 Data availability
The RNA-seq data are available at NCBI BioProject under accession code PRJNA856413. Genome reference data are available from Gencode GRCH38.p13. Plasmids will be deposited to Addgene. We will provide reagents upon request until they are available from Addgene.
References
Hu, B. C. The human body at cellular resolution: the NIH Human Biomolecular Atlas Program. Nature 574, 187–192 (2019).

BRAIN Initiative Cell Census Network (BICCN). A multimodal cell census and atlas of the mammalian primary motor cortex. Nature 598, 86–102 (2021).

Arendt, D. et al. The origin and evolution of cell types. Nat. Rev. Genet. 17, 744–757 (2016).

Regev, A. et al. The Human Cell Atlas. eLife 6, e27041 (2017).

Jinek, M. et al. A programmable dual-RNA-guided DNA endonuclease in adaptive bacterial immunity. Science 337, 816–821 (2012).

Cong, L. et al. Multiplex genome engineering using CRISPR/Cas systems. Science 339, 819–823 (2013).

Mali, P. et al. RNA-guided human genome engineering via Cas9. Science 339, 823–826 (2013).

Baylis, F., Darnovsky, M., Hasson, K. & Krahn, T. M. Human germ line and heritable genome editing: the global policy landscape. CRISPR J. 3, 365–377 (2020).

Feng, G. et al. Opportunities and limitations of genetically modified nonhuman primate models for neuroscience research. Proc. Natl Acad. Sci. USA 117, 24022–24031 (2020).

Mich, J. K. et al. Functional enhancer elements drive subclass-selective expression from mouse to primate neocortex. Cell Rep. 34, 108754 (2021).

Hartl, D., Krebs, A. R., Juttner, J., Roska, B. & Schubeler, D. Cis-regulatory landscapes of four cell types of the retina. Nucleic Acids Res. 45, 11607–11621 (2017).

Juttner, J. et al. Targeting neuronal and glial cell types with synthetic promoter AAVs in mice, non-human primates and humans. Nat. Neurosci. 22, 1345–1356 (2019).

Nair, R. R., Blankvoort, S., Lagartos, M. J. & Kentros, C. Enhancer-driven gene expression (EDGE) enables the generation of viral vectors specific to neuronal subtypes. iScience 23, 100888 (2020).

Vormstein-Schneider, D. et al. Viral manipulation of functionally distinct interneurons in mice, non-human primates and humans. Nat. Neurosci. 23, 1629–1636 (2020).

Graybuck, L. T. et al. Enhancer viruses for combinatorial cell-subclass-specific labeling. Neuron 109, 1449–1464.e13 (2021).

Dimidschstein, J. et al. A viral strategy for targeting and manipulating interneurons across vertebrate species. Nat. Neurosci. 19, 1743–1749 (2016).

Eisenberg, E. & Levanon, E. Y. A-to-I RNA editing—immune protector and transcriptome diversifier. Nat. Rev. Genet. 19, 473–490 (2018).

Nishikura, K. A-to-I editing of coding and non-coding RNAs by ADARs. Nat. Rev. Mol. Cell Biol. 17, 83–96 (2016).

Abudayyeh, O. O. et al. A cytosine deaminase for programmable single-base RNA editing. Science 365, 382–386 (2019).

Katrekar, D. et al. In vivo RNA editing of point mutations via RNA-guided adenosine deaminases. Nat. Methods 16, 239–242 (2019).

Merkle, T. et al. Precise RNA editing by recruiting endogenous ADARs with antisense oligonucleotides. Nat. Biotechnol. 37, 133–138 (2019).

Qu, L. et al. Programmable RNA editing by recruiting endogenous ADAR using engineered RNAs. Nat. Biotechnol. 37, 1059–1069 (2019).

Rauch, S. et al. Programmable RNA-guided RNA effector proteins built from human parts. Cell 178, 122–134.e12 (2019).

Tan, M. H. et al. Dynamic landscape and regulation of RNA editing in mammals. Nature 550, 249–254 (2017).

Beier, H. & Grimm, M. Misreading of termination codons in eukaryotes by natural nonsense suppressor tRNAs. Nucleic Acids Res. 29, 4767–4782 (2001).

Segel, M. et al. Mammalian retrovirus-like protein PEG10 packages its own mRNA and can be pseudotyped for mRNA delivery. Science 373, 882–889 (2021).

Yang, C. F. et al. Sexually dimorphic neurons in the ventromedial hypothalamus govern mating in both sexes and aggression in males. Cell 153, 896–909 (2013).

Ran, F. A. et al. Genome engineering using the CRISPR–Cas9 system. Nat. Protoc. 8, 2281–2308 (2013).

Chung, H. et al. Human ADAR1 prevents endogenous RNA from triggering translational shutdown. Cell 172, 811–824.e14 (2018).

Lamers, M. M., van den Hoogen, B. G. & Haagmans, B. L. ADAR1: "editor-in-chief" of cytoplasmic innate immunity. Front. Immunol. 10, 1763 (2019).

Pertea, M., Kim, D., Pertea, G. M., Leek, J. T. & Salzberg, S. L. Transcript-level expression analysis of RNA-seq experiments with HISAT, StringTie and Ballgown. Nat. Protoc. 11, 1650–1667 (2016).

Love, M. I., Huber, W. & Anders, S. Moderated estimation of fold change and dispersion for RNA-seq data with DESeq2. Genome Biol. 15, 550 (2014).

Lo Giudice, C., Tangaro, M. A., Pesole, G. & Picardi, E. Investigating RNA editing in deep transcriptome datasets with REDItools and REDIportal. Nat. Protoc. 15, 1098–1131 (2020).

Lodato, S. et al. Gene co-regulation by Fezf2 selects neurotransmitter identity and connectivity of corticospinal neurons. Nat. Neurosci. 17, 1046–1054 (2014).

Matho, K. S. et al. Genetic dissection of the glutamatergic neuron system in cerebral cortex. Nature 598, 182–187 (2021).

Hodge, R. D. et al. Conserved cell types with divergent features in human versus mouse cortex. Nature 573, 61–68 (2019).

Eugene, E. et al. An organotypic brain slice preparation from adult patients with temporal lobe epilepsy. J. Neurosci. Methods 235, 234–244 (2014).

Anzalone, A. V., Koblan, L. W. & Liu, D. R. Genome editing with CRISPR–Cas nucleases, base editors, transposases and prime editors. Nat. Biotechnol. 38, 824–844 (2020).

Mitric, M. et al. Layer- and subregion-specific electrophysiological and morphological changes of the medial prefrontal cortex in a mouse model of neuropathic pain. Sci Rep. 9, 9479 (2019).

Huang, Z. J. & Paul, A. The diversity of GABAergic neurons and neural communication elements. Nat. Rev. Neurosci. 20, 563–572 (2019).

Yi, Z. et al. Engineered circular ADAR-recruiting RNAs increase the efficiency and fidelity of RNA editing in vitro and in vivo. Nat. Biotechnol. 40, 946–955 (2022).

Katrekar, D. et al. Efficient in vitro and in vivo RNA editing via recruitment of endogenous ADARs using circular guide RNAs. Nat. Biotechnol. 40, 938–945 (2022).

Monian, P. et al. Endogenous ADAR-mediated RNA editing in non-human primates using stereopure chemically modified oligonucleotides. Nat. Biotechnol. 40, 1093–1102 (2022).

Hou, X., Zaks, T., Langer, R. & Dong, Y. Lipid nanoparticles for mRNA delivery. Nat. Rev. Mater. 6, 1078–1094 (2021).

Bedbrook, C. N., Deverman, B. E. & Gradinaru, V. Viral strategies for targeting the central and peripheral nervous systems. Annu. Rev. Neurosci. 41, 323–348 (2018).

Joyce, J. A. & Fearon, D. T. T cell exclusion, immune privilege, and the tumor microenvironment. Science 348, 74–80 (2015).

Aquino-Jarquin, G. Novel engineered programmable systems for ADAR-mediated RNA editing. Mol. Ther. Nucleic Acids 19, 1065–1072 (2020).

Cox, D. B., Platt, R. J. & Zhang, F. Therapeutic genome editing: prospects and challenges. Nat. Med. 21, 121–131 (2015).

Doudna, J. A. The promise and challenge of therapeutic genome editing. Nature 578, 229–236 (2020).

Kaiser, T., Zhou, Y. & Feng, G. Animal models for neuropsychiatric disorders: prospects for circuit intervention. Curr. Opin. Neurobiol. 45, 59–65 (2017).

He, M. et al. Strategies and tools for combinatorial targeting of GABAergic neurons in mouse cerebral cortex. Neuron 92, 555 (2016).

Schwarz, N. et al. Human cerebrospinal fluid promotes long-term neuronal viability and network function in human neocortical organotypic brain slice cultures. Sci. Rep. 7, 12249 (2017).

Schwarz, N. et al. Long-term adult human brain slice cultures as a model system to study human CNS circuitry and disease. eLife 8, e48417 (2019).
Acknowledgements
We thank L. Wan for providing the HeLa cell line; M. Tadross, A. West, K. Meyer, A. Zador and S. Soderling for comments on the manuscript; J. Hatfield and B.-x. Han for animal preparation; and R. Utama for bioinformatic analysis. This work was supported in part by NIMH grants 1DP1MH129954-01 and 5U19MH114821-03 to Z.J.H. D.G.S. was supported by the NINDS K12 Neurosurgery Research Career Development Program K12 Award and the Klingenstein-Simons Foundation. Extended Data Fig. 12a was generated using BioRender.
Ethics declarations
Competing interests
Z.J.H. and Y.Q. have filed a provisional patent application on CellREADR technology through Duke University. The other authors declare no competing interests.
Peer review
Peer review information
Nature thanks Botond Roska and the other, anonymous, reviewer(s) for their contribution to the peer review of this work. Peer reviewer reports are available.
Additional information
Publisher's note Springer Nature remains neutral with regard to jurisdictional claims in published maps and institutional affiliations.
Extended data figures and tables
Supplementary information
Rights and permissions
Springer Nature or its licensor holds exclusive rights to this article under a publishing agreement with the author(s) or other rightsholder(s); author self-archiving of the accepted manuscript version of this article is solely governed by the terms of such publishing agreement and applicable law.
About this article
Cite this article
Qian, Y., Li, J., Zhao, S. et al. Programmable RNA sensing for cell monitoring and manipulation. Nature 610, 713–721 (2022). https://doi.org/10.1038/s41586-022-05280-1
Received:

Accepted:

Published:

Issue Date:

DOI: https://doi.org/10.1038/s41586-022-05280-1
This article is cited by
Raphaël V. Gayet
Katherine Ilia
James J. Collins

Nature Communications (2023)

Neuroscience Bulletin (2023)

Nature Reviews Genetics (2022)
Comments
By submitting a comment you agree to abide by our Terms and Community Guidelines. If you find something abusive or that does not comply with our terms or guidelines please flag it as inappropriate.