Abstract
Loss of Paneth cells and their antimicrobial granules compromises the intestinal epithelial barrier and is associated with Crohn's disease, a major type of inflammatory bowel disease1,2,3,4,5,6,7. Non-classical lymphoid cells, broadly referred to as intraepithelial lymphocytes (IELs), intercalate the intestinal epithelium8,9. This anatomical position has implicated them as first-line defenders in resistance to infections, but their role in inflammatory disease pathogenesis requires clarification. The identification of mediators that coordinate crosstalk between specific IEL and epithelial subsets could provide insight into intestinal barrier mechanisms in health and disease. Here we show that the subset of IELs that express γ and δ T cell receptor subunits (γδ IELs) promotes the viability of Paneth cells deficient in the Crohn's disease susceptibility gene ATG16L1. Using an ex vivo lymphocyte–epithelium co-culture system, we identified apoptosis inhibitor 5 (API5) as a Paneth cell-protective factor secreted by γδ IELs. In the Atg16l1-mutant mouse model, viral infection induced a loss of Paneth cells and enhanced susceptibility to intestinal injury by inhibiting the secretion of API5 from γδ IELs. Therapeutic administration of recombinant API5 protected Paneth cells in vivo in mice and ex vivo in human organoids with the ATG16L1 risk allele. Thus, we identify API5 as a protective γδ IEL effector that masks genetic susceptibility to Paneth cell death.
Access options
Subscribe to Nature+
Get immediate online access to Nature and 55 other Nature journal
Subscribe to Journal
Get full journal access for 1 year
$199.00
only $3.90 per issue
All prices are NET prices.
VAT will be added later in the checkout.
Tax calculation will be finalised during checkout.
Buy article
Get time limited or full article access on ReadCube.
$32.00
All prices are NET prices.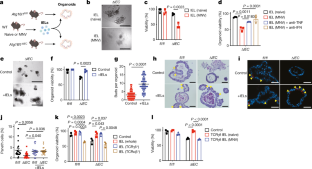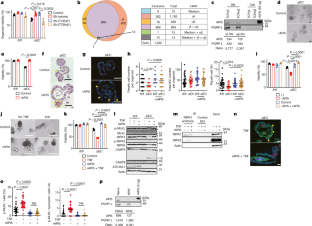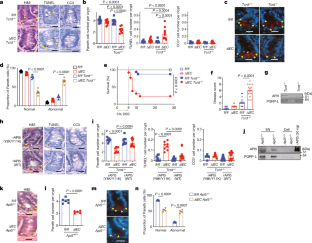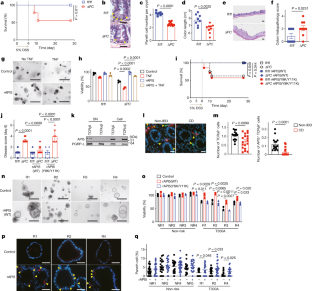 Data availability
Sequencing data were deposited to Gene Expression Omnibus (GEO) under the accession number GSE204822.
References
Cadwell, K. et al. A key role for autophagy and the autophagy gene Atg16l1 in mouse and human intestinal Paneth cells. Nature 456, 259–263 (2008).

Bevins, C. L., Stange, E. F. & Wehkamp, J. Decreased Paneth cell defensin expression in ileal Crohn's disease is independent of inflammation, but linked to the NOD2 1007fs genotype. Gut 58, 882–883 (2009).

Liu, B. et al. Irgm1-deficient mice exhibit Paneth cell abnormalities and increased susceptibility to acute intestinal inflammation. Am. J. Physiol. 305, G573–G584 (2013).

VanDussen, K. L. et al. Genetic variants synthesize to produce paneth cell phenotypes that define subtypes of Crohn's disease. Gastroenterology 146, 200–209 (2014).

Liu, T. C., Gao, F., McGovern, D. P. & Stappenbeck, T. S. Spatial and temporal stability of paneth cell phenotypes in Crohn's disease: implications for prognostic cellular biomarker development. Inflamm. Bowel Dis. 20, 646–651 (2014).

Bel, S. et al. Paneth cells secrete lysozyme via secretory autophagy during bacterial infection of the intestine. Science 357, 1047–1052 (2017).

Adolph, T. E. et al. Paneth cells as a site of origin for intestinal inflammation. Nature 503, 272–276 (2013).

Cheroutre, H., Lambolez, F. & Mucida, D. The light and dark sides of intestinal intraepithelial lymphocytes. Nat. Rev. Immunol. 11, 445–456 (2011).

McDonald, B. D., Jabri, B. & Bendelac, A. Diverse developmental pathways of intestinal intraepithelial lymphocytes. Nat. Rev. Immunol. 18, 514–525 (2018).

Plichta, D. R., Graham, D. B., Subramanian, S. & Xavier, R. J. Therapeutic opportunities in inflammatory bowel disease: mechanistic dissection of host–microbiome relationships. Cell 178, 1041–1056 (2019).

Clevers, H. C. & Bevins, C. L. Paneth cells: maestros of the small intestinal crypts. Annu. Rev. Physiol. 75, 289–311 (2013).

Matsuzawa-Ishimoto, Y. et al. Autophagy protein ATG16L1 prevents necroptosis in the intestinal epithelium. J. Exp. Med. 214, 3687–3705 (2017).

Aden, K. et al. ATG16L1 orchestrates interleukin-22 signaling in the intestinal epithelium via cGAS–STING. J. Exp. Med. 215, 2868–2886 (2018).

Matsuzawa-Ishimoto, Y. et al. An intestinal organoid-based platform that recreates susceptibility to T-cell-mediated tissue injury. Blood 135, 2388–2401 (2020).

Cadwell, K. et al. Virus-plus-susceptibility gene interaction determines Crohn's disease gene Atg16L1 phenotypes in intestine. Cell 141, 1135–1145 (2010).

Kernbauer, E., Ding, Y. & Cadwell, K. An enteric virus can replace the beneficial function of commensal bacteria. Nature 516, 94–98 (2014).

Neil, J. A. et al. IFN-I and IL-22 mediate protective effects of intestinal viral infection. Nat. Microbiol. 4, 1737–1749 (2019).

Edelblum, K. L. et al. γδ Intraepithelial lymphocyte migration limits transepithelial pathogen invasion and systemic disease in mice. Gastroenterology 148, 1417–1426 (2015).

Hoytema van Konijnenburg, D. P. et al. Intestinal epithelial and intraepithelial T cell crosstalk mediates a dynamic response to infection. Cell 171, 783–794.e13 (2017).

Sumida, H. et al. GPR55 regulates intraepithelial lymphocyte migration dynamics and susceptibility to intestinal damage. Sci. Immunol. 2, eaao1135 (2017).

Chen, Y., Chou, K., Fuchs, E., Havran, W. L. & Boismenu, R. Protection of the intestinal mucosa by intraepithelial γδ T cells. Proc. Natl Acad. Sci. USA 99, 14338–14343 (2002).

Sullivan, Z. A. et al. γδ T cells regulate the intestinal response to nutrient sensing. Science 371, eaba8310 (2021).

Mayassi, T. et al. Chronic inflammation permanently reshapes tissue-resident immunity in celiac disease. Cell 176, 967–981.e19 (2019).

Jaeger, N. et al. Single-cell analyses of Crohn's disease tissues reveal intestinal intraepithelial T cells heterogeneity and altered subset distributions. Nat. Commun. 12, 1921 (2021).

Sujino, T. et al. Tissue adaptation of regulatory and intraepithelial CD4+ T cells controls gut inflammation. Science 352, 1581–1586 (2016).

Tomov, V. T. et al. Differentiation and protective capacity of virus-specific CD8+ T cells suggest murine norovirus persistence in an immune-privileged enteric niche. Immunity 47, 723–738.e5 (2017).

Imre, G. et al. Apoptosis inhibitor 5 is an endogenous inhibitor of caspase-2. EMBO Rep. 18, 733–744 (2017).

Tewari, M. et al. AAC-11, a novel cDNA that inhibits apoptosis after growth factor withdrawal. Cancer Res. 57, 4063–4069 (1997).

van den Berghe, L. et al. FIF [fibroblast growth factor-2 (FGF-2)-interacting-factor], a nuclear putatively antiapoptotic factor, interacts specifically with FGF-2. Mol. Endocrinol. 14, 1709–1724 (2000).

Duerr, C. U. et al. Control of intestinal Nod2-mediated peptidoglycan recognition by epithelium-associated lymphocytes. Mucosal Immunol. 4, 325–334 (2011).

Han, B. G. et al. Helical repeat structure of apoptosis inhibitor 5 reveals protein-protein interaction modules. J. Biol. Chem. 287, 10727–10737 (2012).

Koide, S. & Sidhu, S. S. The importance of being tyrosine: lessons in molecular recognition from minimalist synthetic binding proteins. ACS Chem. Biol. 4, 325–334 (2009).

Liu, T. C. et al. Paneth cell defects in Crohn's disease patients promote dysbiosis. JCI Insight 1, e86907 (2016).

Salzman, N. H. et al. Enteric defensins are essential regulators of intestinal microbial ecology. Nat. Immunol. 11, 76–83 (2010).

Mastroianni, J. R. & Ouellette, A. J. α-Defensins in enteric innate immunity: functional Paneth cell α-defensins in mouse colonic lumen. J. Biol. Chem. 284, 27848–27856 (2009).

Constantinides, M. G. et al. MAIT cells are imprinted by the microbiota in early life and promote tissue repair. Science 366, eaax6624 (2019).

Deusch, K. et al. A major fraction of human intraepithelial lymphocytes simultaneously expresses the gamma/delta T cell receptor, the CD8 accessory molecule and preferentially uses the V delta 1 gene segment. Eur. J. Immunol. 21, 1053–1059 (1991).

Davey, M. S., Willcox, C. R., Baker, A. T., Hunter, S. & Willcox, B. E. Recasting human Vδ1 lymphocytes in an adaptive role. Trends Immunol. 39, 446–459 (2018).

Pang, D. J., Neves, J. F., Sumaria, N. & Pennington, D. J. Understanding the complexity of γδ T-cell subsets in mouse and human. Immunology 136, 283–290 (2012).

Giacomelli, R. et al. Increase of circulating γδ T lymphocytes in the peripheral blood of patients affected by active inflammatory bowel disease. Clin. Exp. Immunol. 98, 83–88 (1994).

Bucht, A. et al. Analysis of γδ V region usage in normal and diseased human intestinal biopsies and peripheral blood by polymerase chain reaction (PCR) and flow cytometry. Clin. Exp. Immunol. 99, 57–64 (1995).

Murthy, A. et al. A Crohn's disease variant in Atg16l1 enhances its degradation by caspase 3. Nature 506, 456–462 (2014).

Lassen, K. G. et al. Atg16L1 T300A variant decreases selective autophagy resulting in altered cytokine signaling and decreased antibacterial defense. Proc. Natl Acad. Sci. USA 111, 7741–7746 (2014).

Boada-Romero, E. et al. The T300A Crohn's disease risk polymorphism impairs function of the WD40 domain of ATG16L1. Nat. Commun. 7, 11821 (2016).

Plantinga, T. S. et al. Crohn's disease-associated ATG16L1 polymorphism modulates pro-inflammatory cytokine responses selectively upon activation of NOD2. Gut 60, 1229–1235 (2011).

Fujii, M. et al. Human intestinal organoids maintain self-renewal capacity and cellular diversity in niche-inspired culture condition. Cell Stem Cell 23, 787–793.e6 (2018).

Wong, S. Y. & Cadwell, K. There was collusion: microbes in inflammatory bowel disease. PLoS Pathog. 14, e1007215 (2018).

Liu, T. C. et al. Interaction between smoking and ATG16L1T300A triggers Paneth cell defects in Crohn's disease. J. Clin. Invest. 128, 5110–5122 (2018).

Zhu, X. et al. An efficient genotyping method for genome-modified animals and human cells generated with CRISPR/Cas9 system. Sci. Rep. 4, 6420 (2014).

Ramanan, D., Tang, M. S., Bowcutt, R., Loke, P. & Cadwell, K. Bacterial sensor Nod2 prevents inflammation of the small intestine by restricting the expansion of the commensal Bacteroides vulgatus. Immunity 41, 311–324 (2014).

Sha, F. et al. Dissection of the BCR–ABL signaling network using highly specific monobody inhibitors to the SHP2 SH2 domains. Proc. Natl Acad. Sci. USA 110, 14924–14929 (2013).

Mita, P. et al. LINE-1 protein localization and functional dynamics during the cell cycle. eLife 7, e30058 (2018).

Miyoshi, H. & Stappenbeck, T. S. In vitro expansion and genetic modification of gastrointestinal stem cells in spheroid culture. Nat. Protoc. 8, 2471–2482 (2013).

Zheng, G. X. et al. Massively parallel digital transcriptional profiling of single cells. Nat. Commun. 8, 14049 (2017).

Ural, B. B. et al. Identification of a nerve-associated, lung-resident interstitial macrophage subset with distinct localization and immunoregulatory properties. Sci. Immunol. 5, eaax8756 (2020).
Acknowledgements
We thank T. Shiomi and the Center for Biospecimen Research and Development, Histology and Immunohistochemistry laboratory (NYU Langone Health, NIH/NCI P30CA016087) for technical support in preparation of histology slides of human organoids; M. B. da Silva, Y. Shono and M. R. M. van den Brink for their support with TUNEL and cleaved caspase-3 staining; K. A. Lacey and V. J. Torres for their support in cytokine quantification; S. Y. Kim and Rodent Genetic Engineering Laboratory (RGEL) (NYU Langone Health, NIH/NCI P30CA016087) for generating Api5-knockout mice; the NYU Langone Health's Cytometry and Cell Sorting Laboratory (NIH/NCI P30ACA016087) for their assistance with cell sorting; DART Microcopy Lab (NIH/NCI P30CA016087) for their assistance with microscopic analysis; Experimental Pathology Research Laboratory (NIH/NCI P30CA016087) for their assistance with preparation and staining of mouse intestine samples; and Genome Technology Center (NIH/NCI P30CA0167087) for their assistance with single-cell RNA-sequencing analysis. Cartoon images in Fig. 1a and Extended Data Figs. 1c, 4f and 8b are adapted from the mouse, organoid, T cell and intestine templates at BioRender.com. This work was supported in part by US National Institute of Health (NIH) grants HL123340 (K.C.), DK093668 (K.C.), AI140754 (K.C.), AI121244 (K.C.), AI130945 (K.C.), DK124336 (K.C.), and DK088199 (R.S.B.); Faculty Scholar grant from the Howard Hughes Medical Institute (K.C.), Synergy Award from the Kenneth Rainin Foundation (K.C.), Senior Research Award from the Crohn's and Colitis Foundation (K.C.), Research Fellowship Award from Crohn's and Colitis Foundation (Y.M.-I.), and a pilot award from the Takeda–Columbia–NYU Alliance (K.C. and S.K.).
Ethics declarations
Competing interests
K.C. has received research support from Pfizer, Takeda, Pacific Biosciences, Genentech and Abbvie. K.C. has consulted for or received honoraria from Puretech Health, Genentech, Abbvie, GentiBio and Synedgen. K.C. is an inventor on US patent 10,722,600 and provisional patent 62/935,035, and K.C., S.K., A.K. and Y.M.-I. are inventors on US patent 63/157,225. S.K. was a scientific advisory borard member of, held equity in and received consulting fees from Black Diamond Therapeutics, has received research support from Argenx BVBA, Black Diamond Therapeutics and Puretech Health and is a co-founder of Revalia Bio.
Peer review
Peer review information
Nature thanks Charles Bevins and the other, anonymous, reviewer(s) for their contribution to the peer review of this work. Peer reviewer reports are available.
Additional information
Publisher's note Springer Nature remains neutral with regard to jurisdictional claims in published maps and institutional affiliations.
Extended data figures and tables
Supplementary information
Rights and permissions
Springer Nature or its licensor holds exclusive rights to this article under a publishing agreement with the author(s) or other rightsholder(s); author self-archiving of the accepted manuscript version of this article is solely governed by the terms of such publishing agreement and applicable law.
About this article
Cite this article
Matsuzawa-Ishimoto, Y., Yao, X., Koide, A. et al. The γδ IEL effector API5 masks genetic susceptibility to Paneth cell death. Nature 610, 547–554 (2022). https://doi.org/10.1038/s41586-022-05259-y
Received:

Accepted:

Published:

Issue Date:

DOI: https://doi.org/10.1038/s41586-022-05259-y
Comments
By submitting a comment you agree to abide by our Terms and Community Guidelines. If you find something abusive or that does not comply with our terms or guidelines please flag it as inappropriate.