Abstract
An immunosuppressive tumour microenvironment is a major obstacle in the control of pancreatic and other solid cancers1,2,3. Agonists of the stimulator of interferon genes (STING) protein trigger inflammatory innate immune responses to potentially overcome tumour immunosuppression4. Although these agonists hold promise as potential cancer therapies5, tumour resistance to STING monotherapy has emerged in clinical trials and the mechanism(s) is unclear5,6,7. Here we show that the administration of five distinct STING agonists, including cGAMP, results in an expansion of human and mouse interleukin (IL)-35+ regulatory B cells in pancreatic cancer. Mechanistically, cGAMP drives expression of IL-35 by B cells in an IRF3-dependent but type I interferon-independent manner. In several preclinical cancer models, the loss of STING signalling in B cells increases tumour control. Furthermore, anti-IL-35 blockade or genetic ablation of IL-35 in B cells also reduces tumour growth. Unexpectedly, the STING–IL-35 axis in B cells reduces proliferation of natural killer (NK) cells and attenuates the NK-driven anti-tumour response. These findings reveal an intrinsic barrier to systemic STING agonist monotherapy and provide a combinatorial strategy to overcome immunosuppression in tumours.
Access options
Subscribe to Nature+
Get immediate online access to Nature and 55 other Nature journal
Subscribe to Journal
Get full journal access for 1 year
$199.00
only $3.90 per issue
All prices are NET prices.
VAT will be added later in the checkout.
Tax calculation will be finalised during checkout.
Buy article
Get time limited or full article access on ReadCube.
$32.00
All prices are NET prices.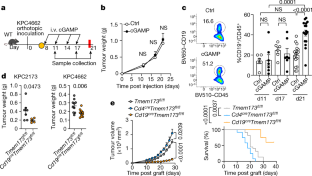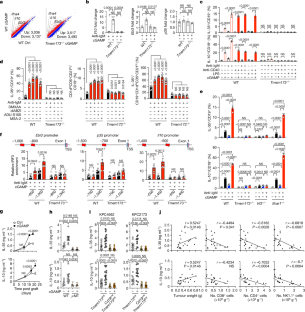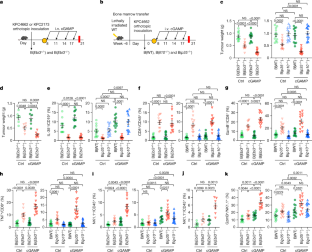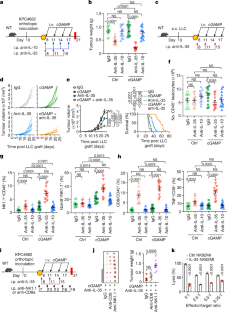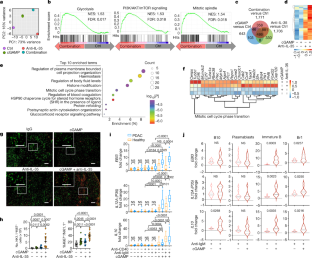 Data availability
All of the databases used in the study were publicly accessible. The hallmark (MSigDB version 7.2) and KEGG (MSigDB version 7.2) gene sets used in the GSEA are available at https://www.gsea-msigdb.org/gsea/index.jsp. The datasets of The Cancer Genome Atlas are available at https://portal.gdc.cancer.gov/. Raw and processed RNA-seq data used in the study are available at the National Center for Biotechnology Information Gene Expression Omnibus under the repository accession numbers GSE199343 (B cells) and GSE211386 (NK cells). All other data supporting the findings of this study are available from the corresponding authors upon reasonable request. Source data are provided with this paper.
References
Evans, R. A. et al. Lack of immunoediting in murine pancreatic cancer reversed with neoantigen. JCI Insight 1, e88328 (2016).

Hegde, P. S. & Chen, D. S. Top 10 challenges in cancer immunotherapy. Immunity 52, 17–35 (2020).

Lutz, E. R. et al. Immunotherapy converts nonimmunogenic pancreatic tumors into immunogenic foci of immune regulation. Cancer Immunol. Res. 2, 616–631 (2014).

Cheng, N. et al. A nanoparticle-incorporated STING activator enhances antitumor immunity in PD-L1-insensitive models of triple-negative breast cancer. JCI Insight 3, e120638 (2018).

Amouzegar, A., Chelvanambi, M., Filderman, J. N., Storkus, W. J. & Luke, J. J. STING agonists as cancer therapeutics. Cancers 13, 2695 (2021).

Meric-Bernstam, F. et al. Phase I dose-escalation trial of MIW815 (ADU-S100), an intratumoral STING agonist, in patients with advanced/metastatic solid tumors or lymphomas. Clin. Cancer Res. 28, 677–688 (2022).

Gogoi, H., Mansouri, S. & Jin, L. The age of cyclic dinucleotide vaccine adjuvants. Vaccines 8, 453 (2020).

Sun, X. et al. Amplifying STING activation by cyclic dinucleotide-manganese particles for local and systemic cancer metalloimmunotherapy. Nat. Nanotechnol. 16, 1260–1270 (2021).

Vonderhaar, E. P. et al. STING activated tumor-intrinsic type I interferon signaling promotes CXCR3 dependent antitumor immunity in pancreatic cancer. Cell Mol. Gastroenterol. Hepatol. 12, 41–58 (2021).

Jing, W. et al. STING agonist inflames the pancreatic cancer immune microenvironment and reduces tumor burden in mouse models. J. Immunother. Cancer 7, 115 (2019).

Ghaffari, A. et al. STING agonist therapy in combination with PD-1 immune checkpoint blockade enhances response to carboplatin chemotherapy in high-grade serous ovarian cancer. Br. J. Cancer 119, 440–449 (2018).

Wu, J., Dobbs, N., Yang, K. & Yan, N. Interferon-independent activities of mammalian STING mediate antiviral response and tumor immune evasion. Immunity 53, 115–126 (2020).

Lemos, H. et al. Overcoming resistance to STING agonist therapy to incite durable protective antitumor immunity. J. Immunother. Cancer 8, e001182 (2020).

Zhang, B. et al. B cell-derived GABA elicits IL-10+ macrophages to limit anti-tumour immunity. Nature 599, 471–476 (2021).

Mirlekar, B., Michaud, D., Searcy, R., Greene, K. & Pylayeva-Gupta, Y. IL35 hinders endogenous antitumor T-cell immunity and responsiveness to immunotherapy in pancreatic cancer. Cancer Immunol. Res. 6, 1014–1024 (2018).

Helmink, B. A. et al. B cells and tertiary lymphoid structures promote immunotherapy response. Nature 577, 549–555 (2020).

Meylan, M. et al. Tertiary lymphoid structures generate and propagate anti-tumor antibody-producing plasma cells in renal cell cancer. Immunity 55, 527–541 (2022).

Pylayeva-Gupta, Y. et al. IL35-producing B cells promote the development of pancreatic neoplasia. Cancer Discov. 6, 247–255 (2016).

Hong, S. et al. B cells are the dominant antigen-presenting cells that activate naive CD4+ T cells upon immunization with a virus-derived nanoparticle antigen. Immunity 49, 695–708 (2018).

Cui, C. et al. Neoantigen-driven B cell and CD4 T follicular helper cell collaboration promotes anti-tumor CD8 T cell responses. Cell 184, 6101–6118 (2021).

Bayne, L. J. et al. Tumor-derived granulocyte-macrophage colony-stimulating factor regulates myeloid inflammation and T cell immunity in pancreatic cancer. Cancer Cell 21, 822–835 (2012).

Li, W. et al. cGAS-STING-mediated DNA sensing maintains CD8+ T cell stemness and promotes antitumor T cell therapy. Sci. Transl. Med. 12, eaay9013 (2020).

Barber, G. N. STING: infection, inflammation and cancer. Nat. Rev. Immunol. 15, 760–770 (2015).

Floss, D. M. et al. IL-6/IL-12 cytokine receptor shuffling of extra- and intracellular domains reveals canonical STAT activation via synthetic IL-35 and IL-39 signaling. Sci. Rep. 7, 15172 (2017).

Shen, P. et al. IL-35-producing B cells are critical regulators of immunity during autoimmune and infectious diseases. Nature 507, 366–370 (2014).

Radomir, L. et al. The survival and function of IL-10-producing regulatory B cells are negatively controlled by SLAMF5. Nat. Commun. 12, 1893 (2021).

Mizoguchi, A., Mizoguchi, E., Takedatsu, H., Blumberg, R. S. & Bhan, A. K. Chronic intestinal inflammatory condition generates IL-10-producing regulatory B cell subset characterized by CD1d upregulation. Immunity 16, 219–230 (2002).

Mirlekar, B. et al. B cell-derived IL35 drives STAT3-dependent CD8+ T-cell exclusion in pancreatic cancer. Cancer Immunol. Res. 8, 292–308 (2020).

Collison, L. W. et al. IL-35-mediated induction of a potent regulatory T cell population. Nat. Immunol. 11, 1093–1101 (2010).

Sawant, D. V. et al. Adaptive plasticity of IL-10+ and IL-35+ Treg cells cooperatively promotes tumor T cell exhaustion. Nat. Immunol. 20, 724–735 (2019).

Li, Y. et al. STING signaling activation inhibits HBV replication and attenuates the severity of liver injury and HBV-induced fibrosis. Cell. Mol. Immunol. 19, 92–107 (2022).

Zhao, Q., Manohar, M., Wei, Y., Pandol, S. J. & Habtezion, A. STING signalling protects against chronic pancreatitis by modulating Th17 response. Gut 68, 1827–1837 (2019).

Marçais, A. et al. The metabolic checkpoint kinase mTOR is essential for IL-15 signaling during the development and activation of NK cells. Nat. Immunol. 15, 749–757 (2014).

Nandagopal, N., Ali, A. K., Komal, A. K. & Lee, S. H. The critical role of IL-15-PI3K-mTOR pathway in natural killer cell effector functions. Front. Immunol. 5, 187 (2014).

Wang, Z. et al. Glycolysis and oxidative phosphorylation play critical roles in natural killer cell receptor-mediated natural killer cell functions. Front. Immunol. 11, 202 (2020).

Sheppard, S. et al. Lactate dehydrogenase A-dependent aerobic glycolysis promotes natural killer cell anti-viral and anti-tumor function. Cell Rep. 35, 109210 (2021).

Matsumura, T. et al. TUBB1 dysfunction in inherited thrombocytopenia causes genome instability. Br. J. Haematol. 185, 888–902 (2019).

Weinstein, J. N. et al. The Cancer Genome Atlas Pan-Cancer analysis project. Nat. Genet. 45, 1113–1120 (2013).

Blair, P. A. et al. CD19+CD24hiCD38hi B cells exhibit regulatory capacity in healthy individuals but are functionally impaired in systemic lupus erythematosus patients. Immunity 32, 129–140 (2010).

Flores-Borja, F. et al. CD19+CD24hiCD38hi B cells maintain regulatory T cells while limiting TH1 and TH17 differentiation. Sci. Transl. Med. 5, 173ra123 (2013).

Liu, H. et al. Tumor-derived IFN triggers chronic pathway agonism and sensitivity to ADAR loss. Nat. Med. 25, 95–102 (2019).

Newman, A. M. et al. Determining cell type abundance and expression from bulk tissues with digital cytometry. Nat. Biotechnol. 37, 773–782 (2019).

Marcus, A. et al. Tumor-derived cGAMP triggers a STING-mediated interferon response in non-tumor cells to activate the NK cell response. Immunity 49, 754–763 (2018).

Mujal, A. M., Delconte, R. B. & Sun, J. C. Natural killer cells: from innate to adaptive features. Annu. Rev. Immunol. 39, 417–447 (2021).

Piersma, S. J. et al. Virus infection is controlled by hematopoietic and stromal cell sensing of murine cytomegalovirus through STING. eLife 9, e56882 (2020).

Jensen, H., Chen, S. Y., Folkersen, L., Nolan, G. P. & Lanier, L. L. EBI3 regulates the NK cell response to mouse cytomegalovirus infection. Proc. Natl Acad. Sci. USA 114, 1625–1630 (2017).

Turnis, M. E. et al. Interleukin-35 limits anti-tumor immunity. Immunity 44, 316–329 (2016).

Fontenot, J. D., Gavin, M. A. & Rudensky, A. Y. Foxp3 programs the development and function of CD4+CD25+ regulatory T cells. Nat. Immunol. 4, 330–336 (2003).

Kim, J. M., Rasmussen, J. P. & Rudensky, A. Y. Regulatory T cells prevent catastrophic autoimmunity throughout the lifespan of mice. Nat. Immunol. 8, 191–197 (2007).

Rubtsov, Y. P. et al. Stability of the regulatory T cell lineage in vivo. Science 329, 1667–1671 (2010).

Rubtsov, Y. P. et al. Regulatory T cell-derived interleukin-10 limits inflammation at environmental interfaces. Immunity 28, 546–558 (2008).

Cardoso Alves, L. et al. Non-apoptotic TRAIL function modulates NK cell activity during viral infection. EMBO Rep. 21, e48789 (2020).

Conlon, J. et al. Mouse, but not human STING, binds and signals in response to the vascular disrupting agent 5,6-dimethylxanthenone-4-acetic acid. J. Immunol. 190, 5216–5225 (2013).

Ramanjulu, J. M. et al. Design of amidobenzimidazole STING receptor agonists with systemic activity. Nature 564, 439–443 (2018).

Corrales, L. et al. Direct activation of STING in the tumor microenvironment leads to potent and systemic tumor regression and immunity. Cell Rep. 11, 1018–1030 (2015).

Pan, B. S. et al. An orally available non-nucleotide STING agonist with antitumor activity. Science 369, eaba6098 (2020).

Nelson, J. D., Denisenko, O. & Bomsztyk, K. Protocol for the fast chromatin immunoprecipitation (ChIP) method. Nat. Protoc. 1, 179–185 (2006).

Chen, S., Zhou, Y., Chen, Y. & Gu, J. fastp: an ultra-fast all-in-one FASTQ preprocessor. Bioinformatics 34, i884–i890 (2018).

Dobin, A. et al. STAR: ultrafast universal RNA-seq aligner. Bioinformatics 29, 15–21 (2013).

Liao, Y., Smyth, G. K. & Shi, W. featureCounts: an efficient general purpose program for assigning sequence reads to genomic features. Bioinformatics 30, 923–930 (2014).

Wang, L., Feng, Z., Wang, X., Wang, X. & Zhang, X. DEGseq: an R package for identifying differentially expressed genes from RNA-seq data. Bioinformatics 26, 136–138 (2010).

Yu, G., Wang, L. G., Han, Y. & He, Q. Y. clusterProfiler: an R package for comparing biological themes among gene clusters. Omics 16, 284–287 (2012).

Wickham, H. ggplot2: Elegant Graphics for Data Analysis (Springer, 2009).
Acknowledgements
The following sources of financial support are acknowledged: National Institutes of Health and National Cancer Institute Grants (R35-CA232109 and RO1-AI029564 to J.P.-Y.T.; U19-AI067798 to J.P.-Y.T. and W.J.B.; R37-CA230786 to Y.P.-G.; 1P50CA196510-01A1 to Y.P.-G., R. Fields and W. Hawkins; Developmental Grants from the University Cancer Research Fund at the University of North Carolina at Chapel Hill to J.P.-Y.T. and Y.P.-G.; a North Carolina Biotechnology grant to J.P.-Y.T.; an Institutional Research Training Grant (T32NHLBI7106-39) to B.M.J. and a National Institute of Health AIDS Research Grant (AI100625) to M.G. We received help from R. Fields and W. Hawkins at the Washington University School of Medicine with providing human samples financially supported by the Washington University Specialized Program of Research Excellence. This work utilized the computational resources of the NIH HPC Biowulf cluster (http://hpc.nih.gov). We thank R. Diz, A. Woody and J. Dow (UNC-CH Flow Cytometry Facility financially supported in part by P30 CA016086 Cancer Center Core Support Grant) for flow cytometry support.
Ethics declarations
Competing interests
The authors declare no competing interests.
Peer review
Peer review information
Nature thanks Glen Barber, Nabeel Bardeesy and the other, anonymous, reviewer(s) for their contribution to the peer review of this work.
Additional information
Publisher's note Springer Nature remains neutral with regard to jurisdictional claims in published maps and institutional affiliations.
Extended data figures and tables
Supplementary information
Rights and permissions
Springer Nature or its licensor holds exclusive rights to this article under a publishing agreement with the author(s) or other rightsholder(s); author self-archiving of the accepted manuscript version of this article is solely governed by the terms of such publishing agreement and applicable law.
About this article
Cite this article
Li, S., Mirlekar, B., Johnson, B.M. et al. STING-induced regulatory B cells compromise NK function in cancer immunity. Nature 610, 373–380 (2022). https://doi.org/10.1038/s41586-022-05254-3
Received:

Accepted:

Published:

Issue Date:

DOI: https://doi.org/10.1038/s41586-022-05254-3
This article is cited by
Yunke Wang
Anne E. Geller
Jun Yan

Cellular & Molecular Immunology (2022)
Comments
By submitting a comment you agree to abide by our Terms and Community Guidelines. If you find something abusive or that does not comply with our terms or guidelines please flag it as inappropriate.