Abstract
Objects that deform a liquid interface are subject to capillary forces, which can be harnessed to assemble the objects1,2,3,4. Once assembled, such structures are generally static. Here we dynamically modulate these forces to move objects in programmable two-dimensional patterns. We 3D-print devices containing channels that trap floating objects using repulsive capillary forces5,6, then move these devices vertically in a water bath. Because the channel cross-sections vary with height, the trapped objects can be steered in two dimensions. The device and interface therefore constitute a simple machine that converts vertical to lateral motion. We design machines that translate, rotate and separate multiple floating objects and that do work on submerged objects through cyclic vertical motion. We combine these elementary machines to make centimetre-scale compound machines that braid micrometre-scale filaments into prescribed topologies, including non-repeating braids. Capillary machines are distinct from mechanical, optical or fluidic micromanipulators in that a meniscus links the object to the machine. Therefore, the channel shapes need only be controlled on the scale of the capillary length (a few millimetres), even when the objects are microscopic. Consequently, such machines can be built quickly and inexpensively. This approach could be used to manipulate micrometre-scale particles or to braid microwires for high-frequency electronics.
Access options
Access Nature and 54 other Nature Portfolio journals
Get Nature+, our best-value online-access subscription
$29.99 per month
cancel any time
Subscribe to this journal
Receive 51 print issues and online access
$199.00 per year
only $3.90 per issue
Rent or buy this article
Get just this article for as long as you need it
$39.95
Prices may be subject to local taxes which are calculated during checkout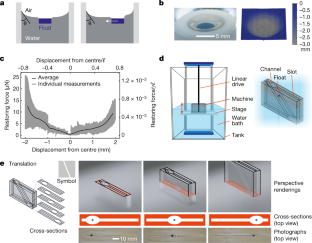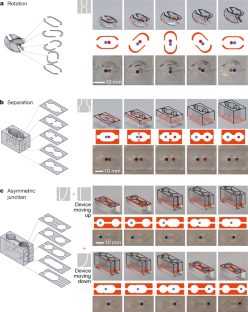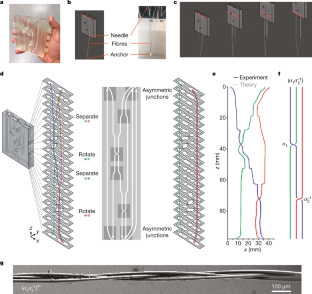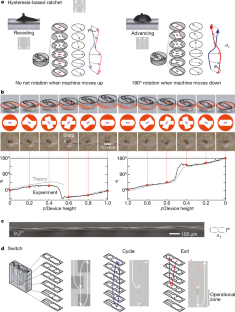 References
Bowden, N., Terfort, A., Carbeck, J. & Whitesides, G. M. Self-assembly of mesoscale objects into ordered two-dimensional arrays. Science 276, 233–235 (1997).

Tien, J., Breen, T. L. & Whitesides, G. M. Crystallization of millimeter-scale objects with use of capillary forces. J. Am. Chem. Soc. 120, 12670–12671 (1998).

Liu, I. B., Sharifi-Mood, N. & Stebe, K. J. Capillary assembly of colloids: interactions on planar and curved interfaces. Annu. Rev. Condens. Matter Phys. 9, 283–305 (2018).

Yao, L. et al. Near field capillary repulsion. Soft Matter 9, 779–786 (2012).

de Gennes, P.-G., Brochard-Wyart, F. & Quéré, D. Capillarity and Wetting Phenomena: Drops, Bubbles, Pearls, Waves (Springer, 2004); https://doi.org/10.1007/978-0-387-21656-0.

Vella, D. & Mahadevan, L. The "Cheerios effect". Am. J. Phys. 73, 817–825 (2005).

Ashkin, A., Dziedzic, J. M., Bjorkholm, J. E. & Chu, S. Observation of a single-beam gradient force optical trap for dielectric particles. Opt. Lett. 11, 288–290 (1986).

Moffitt, J. R., Chemla, Y. R., Smith, S. B. & Bustamante, C. Recent advances in optical tweezers. Annu. Rev. Biochem. 77, 205–228 (2008).

Ho, I., Pucci, G. & Harris, D. M. Direct measurement of capillary attraction between floating disks. Phys. Rev. Lett. 123, 254502 (2019).

Artin, E. Theory of braids. Ann. Math. 48, 101–126 (1947).

Branscomb, D., Beale, D. & Broughton, R. New directions in braiding. J. Eng. Fibers Fabrics 8, 11–24 (2013).

Kyosev, Y. Braiding Technology for Textiles (Woodhead, 2014).

Phillips, J. P. Carbon nano tube Litz wire for low loss inductors and resonators. US patent 8,017,864 (2011).

Marchand, P. et al. Braiding mechanism and methods of use. US patent 8,261,648 (2012).

Giszter, S., Kim, T. G. & Ramakrishnan, A. Method and apparatus for braiding micro strands. US patent 8,534,176 (2013).

Head, A. A. & Ivers, V. M. Rapidly configurable braiding machine. US patent application 14/959,661 (2016).

Duwel, A., LeBlanc, J., Carter, D. J. & Kim, E. S. Directed assembly of braided, woven or twisted wire. US patent application 15/248,238 (2017).

Quick, R., Thress, C. & Ulrich, G. Braiding machine and methods of use. US patent application 16/754,830 (2020).

Zhang, M., Atkinson, K. R. & Baughman, R. H. Multifunctional carbon nanotube yarns by downsizing an ancient technology. Science 306, 1358–1361 (2004).

Murnen, H. K., Rosales, A. M., Jaworski, J. N., Segalman, R. A. & Zuckermann, R. N. Hierarchical self-assembly of a biomimetic diblock copolypeptoid into homochiral superhelices. J. Am. Chem. Soc. 132, 16112–16119 (2010).

Lu, Y. et al. Braiding ultrathin Au nanowires into ropes. J. Am. Chem. Soc. 142, 10629–10633 (2020).

Joanny, J. F. & de Gennes, P. G. A model for contact angle hysteresis. J. Chem. Phys. 81, 552–562 (1984).

Sun, G., Liu, J., Zheng, L., Huang, W. & Zhang, H. Preparation of weavable, all-carbon fibers for non-volatile memory devices. Angew. Chem. 125, 13593–13597 (2013).

Howe, G. W. O. & Mather, T. The high-frequency resistance of multiply-stranded insulated wire. Proc. R. Soc. Lond. A 93, 468–492 (1917).

Hurley, W. G., Duffy, M. C., Acero, J., Ouyang, Z. & Zhang, J. Magnetic circuit design for power electronics. In Power Electronics Handbook (ed. Rashid, M. H.) 571–589 (Elsevier, 2018); https://doi.org/10.1016/B978-0-12-811407-0.00019-2.

Schulz, M. J. et al. New applications and techniques for nanotube superfiber development. In Nanotube Superfiber Materials (eds Schulz, M. J. et al.) 33–59 (William Andrew, 2014).

Aydin, A. Electrospun Polymer Nanofiber Scaffolds for Functionalized Long Sub-micron Diameter Cables. PhD thesis, Harvard Univ. (2019).

Lima, M. D. et al. Electrically, chemically, and photonically powered torsional and tensile actuation of hybrid carbon nanotube yarn muscles. Science 338, 928–932 (2012).

Foerster, S. A. & Clemente, S. Optimized suture braid. US patent application 10/803,455 (2006).

Ayranci, C. & Carey, J. 2D braided composites: a review for stiffness critical applications. Compos. Struct. 85, 43–58 (2008).

Singh, P. & Joseph, D. D. Fluid dynamics of floating particles. J. Fluid Mech. 530, 31–80 (2005).

Mao, Z.-S., Yang, C. & Chen, J. Mathematical modeling of a hydrophilic cylinder floating on water. J. Colloid Interface Sci. 377, 463–468 (2012).

Malagnino, N., Pesce, G., Sasso, A. & Arimondo, E. Measurements of trapping efficiency and stiffness in optical tweezers. Opt. Commun. 214, 15–24 (2002).

Zhang, Z., Wang, X., Liu, J., Dai, C. & Sun, Y. Robotic micromanipulation: fundamentals and applications. Annu. Rev. Control Robot. Auton. Syst. 2, 181–203 (2019).

Wang, X.-B., Huang, Y., Gascoyne, P. R. C. & Becker, F. F. Dielectrophoretic manipulation of particles. IEEE Trans. Ind. Appl. 33, 660–669 (1997).

Tanase, M., Biais, N. & Sheetz, M. Magnetic tweezers in cell biology. In Methods in Cell Biology Vol. 83 (eds Wang, Y.-L. & Discher, D. E.) 473–493 (Academic, 2007).

Schneider, T. M., Mandre, S. & Brenner, M. P. Algorithm for a microfluidic assembly line. Phys. Rev. Lett. 106, 094503 (2011).

Shenoy, A., Rao, C. V. & Schroeder, C. M. Stokes trap for multiplexed particle manipulation and assembly using fluidics. Proc. Nat. Am. Soc. 113, 3976–3981 (2016).

Liu, Y. et al. Manipulation of nanoparticles and biomolecules by electric field and surface tension. Comput. Meth. Appl. Mech. Eng. 197, 2156–2172 (2008).
Acknowledgements
We thank A. Duwel, D. J. Carter, K. J. Russell, R. Gordon, A. Aydin, C. Chang, R. Garmann and Z. Rozynek for helpful discussions and D. Clarke and J. Aizenberg for use of equipment. This work was supported by Defense Advanced Research Projects Agency (DARPA) contract FA8650-15-C-7543 to the Charles Stark Draper Laboratory. It was supported in part by NSF through the Harvard University Materials Research Science and Engineering Center, grant DMR-2011754. Additional support was provided by NSF through grant ECCS-1541959, the Office of Naval Research through grant number N00014-17-1-3029, and the Simons Foundation.
Ethics declarations
Competing interests
A US patent application (application serial number 17/639,088) on the design of capillary machines that manipulate and assemble micro- and nanoscopic objects has been filed by C.Z., M.W.F., A.S., Y.B.-S., M.P.B. and V.N.M.
Peer review
Peer review information
Nature thanks Camille Duprat, Shigeki Saito and the other, anonymous, reviewer(s) for their contribution to the peer review of this work. Peer reviewer reports are available.
Additional information
Publisher's note Springer Nature remains neutral with regard to jurisdictional claims in published maps and institutional affiliations.
Extended data figures and tables
Supplementary information
Rights and permissions
Springer Nature or its licensor holds exclusive rights to this article under a publishing agreement with the author(s) or other rightsholder(s); author self-archiving of the accepted manuscript version of this article is solely governed by the terms of such publishing agreement and applicable law.
About this article
Cite this article
Zeng, C., Faaborg, M.W., Sherif, A. et al. 3D-printed machines that manipulate microscopic objects using capillary forces. Nature 611, 68–73 (2022). https://doi.org/10.1038/s41586-022-05234-7
Received:

Accepted:

Published:

Issue Date:

DOI: https://doi.org/10.1038/s41586-022-05234-7
Comments
By submitting a comment you agree to abide by our Terms and Community Guidelines. If you find something abusive or that does not comply with our terms or guidelines please flag it as inappropriate.