Abstract
Advancing the spontaneous bottom-up construction of artificial cells with high organizational complexity and diverse functionality remains an unresolved issue at the interface between living and non-living matter1,2,3,4. Here, to address this challenge, we developed a living material assembly process based on the capture and on-site processing of spatially segregated bacterial colonies within individual coacervate microdroplets for the endogenous construction of membrane-bounded, molecularly crowded, and compositionally, structurally and morphologically complex synthetic cells. The bacteriogenic protocells inherit diverse biological components, exhibit multifunctional cytomimetic properties and can be endogenously remodelled to include a spatially partitioned DNA–histone nucleus-like condensate, membranized water vacuoles and a three-dimensional network of F-actin proto-cytoskeletal filaments. The ensemble is biochemically energized by ATP production derived from implanted live Escherichia coli cells to produce a cellular bionic system with amoeba-like external morphology and integrated life-like properties. Our results demonstrate a bacteriogenic strategy for the bottom-up construction of functional protoliving microdevices and provide opportunities for the fabrication of new synthetic cell modules and augmented living/synthetic cell constructs with potential applications in engineered synthetic biology and biotechnology.
Relevant articles
Open Access articles citing this article.
Shubin Li

,

Yingming Zhao

…

Xiaojun Han

Nature Communications Open Access 18 November 2023

Danping Tian

,

Ruipeng Hao

…

Hengquan Yang

Nature Communications Open Access 03 June 2023

Agustín Mangiarotti

,

Nannan Chen

…

Rumiana Dimova

Nature Communications Open Access 22 May 2023
Access options
Access Nature and 54 other Nature Portfolio journals
Get Nature+, our best-value online-access subscription
$29.99 / 30 days
cancel any time
Subscribe to this journal
Receive 51 print issues and online access
$199.00 per year
only $3.90 per issue
Rent or buy this article
Prices vary by article type
from$1.95
to$39.95
Prices may be subject to local taxes which are calculated during checkout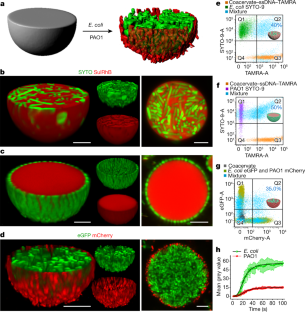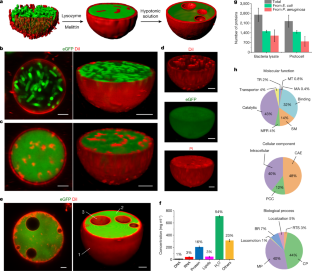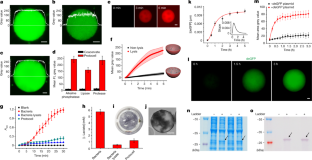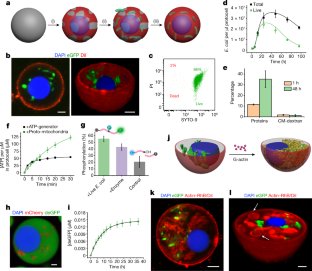 References
van Stevendaal, M. H. M. E., van Hest, J. C. M. & Mason, A. F. Functional interactions between bottom-up synthetic cells and living matter for biomedical applications. ChemSystemsChem 3, e2100009 (2021).

Jeong, S., Nguyen, H. T., Kim, C. H., Ly, M. N. & Shin, K. Toward artificial cells: novel advances in energy conversion and cellular motility. Adv. Funct. Mater. 30, 1907182 (2020).

Toparlak, O. D. & Mansy, S. S. Progress in synthesizing protocells. Exp. Biol. Med. 244, 304–313 (2018).

Yewdall, N. A., Mason, A. F. & van Hest, J. C. M. The hallmarks of living systems: towards creating artificial cells. Interface Focus 8, 20180023 (2018).

Adamala, K. P., Martin-Alarcon, D. A., Guthrie-Honea, K. R. & Boyden, E. S. Engineering genetic circuit interactions within and between synthetic minimal cells. Nat. Chem. 9, 431–439 (2017).

Deng, N.-N., Yelleswarapu, M., Zheng, L. & Huck, W. T. S. Microfluidic assembly of monodisperse vesosomes as artificial cell models. JACS 139, 587–590 (2017).

Weiss, M. et al. Sequential bottom-up assembly of mechanically stabilized synthetic cells by microfluidics. Nat. Mater. 17, 89–96 (2018).

Huang, X. et al. Interfacial assembly of protein–polymer nano-conjugates into stimulus-responsive biomimetic protocells. Nat. Commun. 4, 2239 (2013).

Li, M., Harbron, R. L., Weaver, J. V. M., Binks, B. P. & Mann, S. Electrostatically gated membrane permeability in inorganic protocells. Nat. Chem. 5, 529–536 (2013).

Marguet, M., Bonduelle, C. & Lecommandoux, S. Multicompartmentalized polymeric systems: towards biomimetic cellular structure and function. Chem. Soc. Rev. 42, 512–529 (2013).

Niederholtmeyer, H., Chaggan, C. & Devaraj, N. K. Communication and quorum sensing in non-living mimics of eukaryotic cells. Nat. Commun. 9, 5027 (2018).

Kumar, B. V. V. S. P., Patil, A. J. & Mann, S. Enzyme-powered motility in buoyant organoclay/DNA protocells. Nat. Chem. 10, 1154–1163 (2018).

Mukwaya, V. et al. Lectin-glycan-mediated nanoparticle docking as a step toward programmable membrane catalysis and adhesion in synthetic protocells. ACS Nano 14, 7899–7910 (2020).

Dou, H. et al. Higher-order assembly of crystalline cylindrical micelles into membrane-extendable colloidosomes. Nat. Commun. 8, 426 (2017).

Martin, N. Dynamic synthetic cells based on liquid–liquid phase separation. ChemBioChem 20, 2553–2568 (2019).

Zhang, Y. et al. Giant coacervate vesicles as an integrated approach to cytomimetic modeling. JACS 143, 2866–2874 (2021).

Tang, T.-Y. D. et al. Fatty acid membrane assembly on coacervate microdroplets as a step towards a hybrid protocell model. Nat. Chem. 6, 527–533 (2014).

Koga, S., Williams, D. S., Perriman, A. W. & Mann, S. Peptide–nucleotide microdroplets as a step towards a membrane-free protocell model. Nat. Chem. 3, 720–724 (2011).

Tang, T.-Y. D., van Swaay, D., deMello, A., Ross Anderson, J. L. & Mann, S. In vitro gene expression within membrane-free coacervate protocells. Chem. Commun. 51, 11429–11432 (2015).

Li, M., Green, D. C., Anderson, J. L. R., Binks, B. P. & Mann, S. In vitro gene expression and enzyme catalysis in bio-inorganic protocells. Chem. Sci. 2, 1739–1745 (2011).

Küchler, A., Yoshimoto, M., Luginbühl, S., Mavelli, F. & Walde, P. Enzymatic reactions in confined environments. Nat. Nanotechnol. 11, 409–420 (2016).

Strulson, C. A., Molden, R. C., Keating, C. D. & Bevilacqua, P. C. RNA catalysis through compartmentalization. Nat. Chem. 4, 941–946 (2012).

Drobot, B. et al. Compartmentalised RNA catalysis in membrane-free coacervate protocells. Nat. Commun. 9, 3643 (2018).

Faust, J. E., Yang, P.-Y. & Huang, H. W. Action of antimicrobial peptides on bacterial and lipid membranes: a direct comparison. Biophys. J. 112, 1663–1672 (2017).

Gray, L. R., Tompkins, S. C. & Taylor, E. B. Regulation of pyruvate metabolism and human disease. Cell. Mol. Life Sci. 71, 2577–2604 (2014).

Silverman, A. D., Karim, A. S. & Jewett, M. C. Cell-free gene expression: an expanded repertoire of applications. Nat. Rev. Genet. 21, 151–170 (2020).

Lee, K. Y. et al. Photosynthetic artificial organelles sustain and control ATP-dependent reactions in a protocellular system. Nat. Biotechnol. 36, 530–535 (2018).

Fung, B. M. & Eyob, E. The effect of ATP concentration on the rate of actin polymerization. Arch. Biochem. Biophys. 220, 370–378 (1983).

Nakashima, K. K., Baaij, J. F. & Spruijt, E. Reversible generation of coacervate droplets in an enzymatic network. Soft Matter 14, 361–367 (2018).

Mempin, R. et al. Release of extracellular ATP by bacteria during growth. BMC Microbiol. 13, 301 (2013).

Alvarez, C. L. et al. Dynamic regulation of extracellular ATP in Escherichia coli. Biochem. J. 474, 1395–1416 (2017).

Donau, C. et al. Active coacervate droplets as a model for membraneless organelles and protocells. Nat. Commun. 11, 5167 (2020).

Moreau, N. G., Martin, N., Gobbo, P., Tang, T. Y. D. & Mann, S. Spontaneous membrane-less multi-compartmentalization via aqueous two-phase separation in complex coacervate micro-droplets. Chem. Commun. 56, 12717–12720 (2020).

Skruzny, M. et al. Molecular basis for coupling the plasma membrane to the actin cytoskeleton during clathrin-mediated endocytosis. Proc. Natl Acad. Sci. USA 109, E2533–E2542 (2012).

Bosnea, L. A., Moschakis, T. & Biliaderis, C. G. Complex coacervation as a novel microencapsulation technique to improve viability of probiotics under different stresses. Food Bioprocess Technol. 7, 2767–2781 (2014).

Florea, M. et al. Engineering control of bacterial cellulose production using a genetic toolkit and a new cellulose-producing strain. Proc. Natl Acad. Sci. USA 113, E3431–E3440 (2016).

Linger, J. G., Adney, W. S. & Darzins, A. Heterologous expression and extracellular secretion of cellulolytic enzymes by Zymomonas mobilis. Appl. Environ. Microbiol. 76, 6360–6369 (2010).

Thakur, S., Weir, B. S. & Guttman, D. S. Phytopathogen genome announcement: draft genome sequences of 62 Pseudomonas syringae type and pathotype strains. Mol. Plant Microbe Interact. 29, 243–246 (2016).

Costales, M. G. et al. A designed small molecule inhibitor of a non-coding RNA sensitizes HER2 negative cancers to herceptin. J. Am. Chem. Soc. 141, 2960–2974 (2019).

Wiechelman, K. J., Braun, R. D. & Fitzpatrick, J. D. Investigation of the bicinchoninic acid protein assay: identification of the groups responsible for color formation. Anal. Biochem. 175, 231–237 (1988).

Drescher, H. K. et al. l-Selectin/CD62L is a key driver of non-alcoholic steatohepatitis in mice and men. Cells 9, 1106 (2020).

Jung, Y. et al. Metabolic signature genes associated with susceptibility to pyruvate kinase, muscle type 2 gene ablation in cancer cells. Mol. Cells 35, 335–341 (2013).

Chiu, J., March, P. E., Lee, R. & Tillett, D. Site-directed, ligase-independent mutagenesis (SLIM): a single-tube methodology approaching 100% efficiency in 4 h. Nucleic Acids Res. 32, e174 (2004).

Berkson, J. Application of the logistic function to bio-assay. J. Am. Stat. Assoc. 39, 357–365 (1944).

Wittrup, K. D. & Bailey, J. E. A single-cell assay of β-galactosidase activity in Saccharomyces cerevisiae. Cytometry 9, 394–404 (1988).

Spoelstra, W. K., van der Sluis, E. O., Dogterom, M. & Reese, L. Nonspherical coacervate shapes in an enzyme-driven active system. Langmuir 36, 1956–1964 (2020).
Acknowledgements
We thank Y. Takebayashi and J. Spencer for help with bacterial cultures; H. Sun, C. Berger-Schaffitzel and E. Bragginton for help with gel electrophoresis and western blot analysis; and A. Coutable and J. L. R. Anderson for providing the plasmid pEXP5-NT/deGFP. C.X. was funded by a Marie Curie Skłodowska Postdoctoral Fellowship (8082 H2020 PROTOBAC ERC 670 837197) and the BBSRC (BB/P017320/1). N.M. and S.M. were funded by the ERC Advanced Grant Scheme (EC-2016-674 ADG 740235).
Ethics declarations
Competing interests
The authors declare no competing interests.
Peer review
Peer review information
Nature thanks the anonymous reviewers for their contribution to the peer review of this work.
Additional information
Publisher's note Springer Nature remains neutral with regard to jurisdictional claims in published maps and institutional affiliations.
Extended data figures and tables
Supplementary information
Rights and permissions
Springer Nature or its licensor holds exclusive rights to this article under a publishing agreement with the author(s) or other rightsholder(s); author self-archiving of the accepted manuscript version of this article is solely governed by the terms of such publishing agreement and applicable law.
About this article
Cite this article
Xu, C., Martin, N., Li, M. et al. Living material assembly of bacteriogenic protocells. Nature 609, 1029–1037 (2022). https://doi.org/10.1038/s41586-022-05223-w
Received:

Accepted:

Published:

Issue Date:

DOI: https://doi.org/10.1038/s41586-022-05223-w
Comments
By submitting a comment you agree to abide by our Terms and Community Guidelines. If you find something abusive or that does not comply with our terms or guidelines please flag it as inappropriate.