Abstract
Artificial neural networks have revolutionized electronic computing. Similarly, molecular networks with neuromorphic architectures may enable molecular decision-making on a level comparable to gene regulatory networks1,2. Non-enzymatic networks could in principle support neuromorphic architectures, and seminal proofs-of-principle have been reported3,4. However, leakages (that is, the unwanted release of species), as well as issues with sensitivity, speed, preparation and the lack of strong nonlinear responses, make the composition of layers delicate, and molecular classifications equivalent to a multilayer neural network remain elusive (for example, the partitioning of a concentration space into regions that cannot be linearly separated). Here we introduce DNA-encoded enzymatic neurons with tuneable weights and biases, and which are assembled in multilayer architectures to classify nonlinearly separable regions. We first leverage the sharp decision margin of a neuron to compute various majority functions on 10 bits. We then compose neurons into a two-layer network and synthetize a parametric family of rectangular functions on a microRNA input. Finally, we connect neural and logical computations into a hybrid circuit that recursively partitions a concentration plane according to a decision tree in cell-sized droplets. This computational power and extreme miniaturization open avenues to query and manage molecular systems with complex contents, such as liquid biopsies or DNA databases.
Access options
Access Nature and 54 other Nature Portfolio journals
Get Nature+, our best-value online-access subscription
$29.99 / 30 days
cancel any time
Subscribe to this journal
Receive 51 print issues and online access
$199.00 per year
only $3.90 per issue
Rent or buy this article
Prices vary by article type
from$1.95
to$39.95
Prices may be subject to local taxes which are calculated during checkout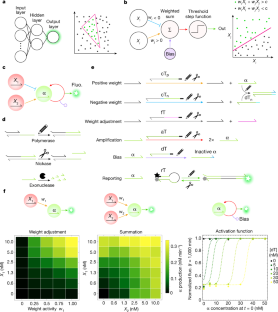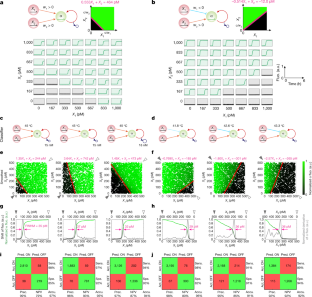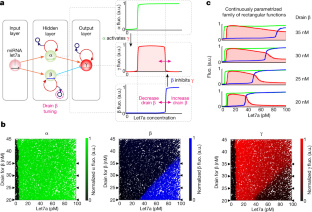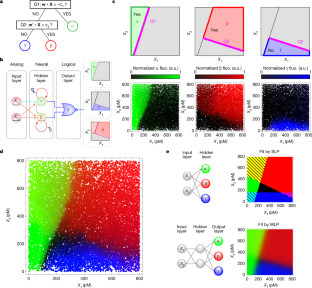 Data availability
Source data are provided with this paper. Source data for the droplet microfluidic experiments are provided within the Supplementary Information.
Code availability
The code is available upon request.
References
Kim, J., Hopfield, J. J. & Winfree, E. Neural network computation by in vitro transcriptional circuits. Adv. Neural Inf. Process. Syst. 17, 681–688 (2004).

Genot, A. J., Fujii, T. & Rondelez, Y. Scaling down DNA circuits with competitive neural networks. J. R. Soc. Interface 10, 20130212 (2013).

Cherry, K. M. & Qian, L. Scaling up molecular pattern recognition with DNA-based winner-take-all neural networks. Nature 559, 370–376 (2018).

Lopez, R., Wang, R. & Seelig, G. A molecular multi-gene classifier for disease diagnostics. Nat. Chem. 10, 746–754 (2018).

Seelig, G., Soloveichik, D., Zhang, D. Y. & Winfree, E. Enzyme-free nucleic acid logic circuits. Science 314, 1585–1588 (2006).

Qian, L. & Winfree, E. Scaling up digital circuit computation with DNA strand displacement cascades. Science 332, 1196–1201 (2011).

Genot, A. J., Bath, J. & Turberfield, A. J. Reversible logic circuits made of DNA. J. Am. Chem. Soc. 133, 20080–20083 (2011).

Wang, F. et al. Implementing digital computing with DNA-based switching circuits. Nat. Commun. 11, 121 (2020).

Woods, D. et al. Diverse and robust molecular algorithms using reprogrammable DNA self-assembly. Nature 567, 366–372 (2019).

Qian, L., Winfree, E. & Bruck, J. Neural network computation with DNA strand displacement cascades. Nature 475, 368–372 (2011).

Song, T. et al. Fast and compact DNA logic circuits based on single-stranded gates using strand-displacing polymerase. Nat. Nanotechnol. 14, 1075–1081 (2019).

Kim, J., White, K. S. & Winfree, E. Construction of an in vitro bistable circuit from synthetic transcriptional switches. Mol. Syst. Biol. 2, 68 (2006).

Montagne, K., Gines, G., Fujii, T. & Rondelez, Y. Boosting functionality of synthetic DNA circuits with tailored deactivation. Nat. Commun. 7, 13474 (2016).

Meijer, L. H. H. et al. Hierarchical control of enzymatic actuators using DNA-based switchable memories. Nat. Commun. 8, 1117 (2017).

Montagne, K., Plasson, R., Sakai, Y., Fujii, T. & Rondelez, Y. Programming an in vitro DNA oscillator using a molecular networking strategy. Mol. Syst. Biol. 7, 466 (2011).

Franco, E. et al. Timing molecular motion and production with a synthetic transcriptional clock. Proc. Natl Acad. Sci. USA 108, E784–E793 (2011).

Kim, J. & Winfree, E. Synthetic in vitro transcriptional oscillators. Mol. Syst. Biol. 7, 465 (2011).

Fujii, T. & Rondelez, Y. Predator–prey molecular ecosystems. ACS Nano 7, 27–34 (2013).

Gines, G. et al. Microscopic agents programmed by DNA circuits. Nat. Nanotechnol. 12, 351–359 (2017).

Padirac, A., Fujii, T., Estévez-Torres, A. & Rondelez, Y. Spatial waves in synthetic biochemical networks. J. Am. Chem. Soc. 135, 14586–14592 (2013).

Zambrano, A., Zadorin, A. S., Rondelez, Y., Estévez-Torres, A. & Galas, J.-C. Pursuit-and-evasion reaction-diffusion waves in microreactors with tailored geometry. J. Phys. Chem. B 119, 5349–5355 (2015).

Zadorin, A. S. et al. Synthesis and materialization of a reaction–diffusion French flag pattern. Nat. Chem. 9, 990–996 (2017).

Dupin, A. & Simmel, F. C. Signalling and differentiation in emulsion-based multi-compartmentalized in vitro gene circuits. Nat. Chem. 11, 32–39 (2019).

Rosenblatt, F. The perceptron: A probabilistic model for information storage and organization in the brain. Psychol. Rev. 65, 386–408 (1958).

Slaby, O. et al. Altered expression of miR-21, miR-31, miR-143 and miR-145 is related to clinicopathologic features of colorectal cancer. Oncology 72, 397–402 (2007).

Genot, A. J. et al. High-resolution mapping of bifurcations in nonlinear biochemical circuits. Nat. Chem. 8, 760–767 (2016).

Lobato-Dauzier, N. et al. Silicon chambers for enhanced-imaging of droplet arrays in a graded temperature field. In microTAS 2019 (Chemical and Biological Microsystems Society, 2019).

Mangan, S. & Alon, U. Structure and function of the feed-forward loop network motif. Proc. Natl Acad. Sci. USA 100, 11980–11985 (2003).

Su, J.-L., Chen, P.-S., Johansson, G. & Kuo, M.-L. Function and regulation of let-7 family microRNAs. MicroRNA Shariqah United Arab Emir. 1, 34–39 (2012).

Goldbeter, A. & Koshland, D. E. An amplified sensitivity arising from covalent modification in biological systems. Proc. Natl Acad. Sci. USA 78, 6840–6844 (1981).

Vasic, M., Chalk, C., Khurshid, S. & Soloveichik, D. Deep molecular programming: A natural implementation of binary-weight ReLU neural networks. In International Conference on Machine Learning (eds Daumé, H. III & Singh, A.) 9701–9711 (PMLR, 2020).

Hao, Y., Li, Q., Fan, C. & Wang, F. Data storage based on DNA. Small Struct. 2, 2000046 (2021).

Gines, G. et al. Isothermal digital detection of microRNAs using background-free molecular circuit. Sci. Adv. 6, eaay5952 (2020).

McDermott, A. M. et al. Identification and validation of oncologic miRNA biomarkers for Luminal A-like breast cancer. PLoS ONE 9, e87032 (2014).

Lancashire, L. J. et al. A validated gene expression profile for detecting clinical outcome in breast cancer using artificial neural networks. Breast Cancer Res. Treat. 120, 83–93 (2010).

Yamagata, A., Masui, R., Kakuta, Y., Kuramitsu, S. & Fukuyama, K. Overexpression, purification and characterization of RecJ protein from Thermus thermophilus HB8 and its core domain. Nucleic Acids Res. 29, 4617–4624 (2001).

Van Der Hofstadt, M., Galas, J.-C. & Estevez-Torres, A. Spatiotemporal patterning of living cells with extracellular DNA programs. ACS Nano 15, 1741–1752 (2021).

Baccouche, A. et al. Massively parallel and multiparameter titration of biochemical assays with droplet microfluidics. Nat. Protoc. 12, 1912–1932 (2017).

Deteix, R. et al. Droplet-based investigation of a biochemical bistable circuit for sensitive and noise-free detection of nucleic acid. In microTAS 2019 (Chemical and Biological Microsystems Society, 2019).

Peng, T. et al. A BaSiC tool for background and shading correction of optical microscopy images. Nat. Commun. 8, 14836 (2017).

Preibisch, S., Saalfeld, S. & Tomancak, P. Globally optimal stitching of tiled 3D microscopic image acquisitions. Bioinformatics 25, 1463–1465 (2009).
Acknowledgements
This research was supported by the French ANR (grant SmartGuide to A.J.G.), the Japanese JSPS (DC1 fellowship 18J22815 to S.O., postdoctoral fellowship 17F17796 to A.B. and Core-to-Core Program on Advanced Research Networks to T.F.), the Japanese MEXT (studentship to N.L.D. and R.D.), the ERC (CoG ProFF 647275 to Y.R. and StG MoP-MiP 949493 to G.G.) and the CNRS (MITI DNA2 grant to A.J.G. and G.G.). We also acknowledge support from the RENATECH microfabrication network in France for the fabrication of the silicon chambers. A.J.G acknowledges support from the ESPCI (Joliot chair) and G.G. acknowledges support from LIMMS for a travel grant. We thank N. Aubert-Kato and L. Cazenille for discussions.
Ethics declarations
Competing interests
T.F., Y.R. and G.G. have filed a patent on the PEN DNA toolbox (patent no. WO2017141067A1).
Peer review
Peer review information
Nature thanks Chunhai Fan and the other, anonymous, reviewer(s) for their contribution to the peer review of this work. Peer reviewer reports are available.
Additional information
Publisher's note Springer Nature remains neutral with regard to jurisdictional claims in published maps and institutional affiliations.
Extended data figures and tables
Supplementary information
Rights and permissions
Springer Nature or its licensor holds exclusive rights to this article under a publishing agreement with the author(s) or other rightsholder(s); author self-archiving of the accepted manuscript version of this article is solely governed by the terms of such publishing agreement and applicable law.
About this article
Cite this article
Okumura, S., Gines, G., Lobato-Dauzier, N. et al. Nonlinear decision-making with enzymatic neural networks. Nature 610, 496–501 (2022). https://doi.org/10.1038/s41586-022-05218-7
Received:

Accepted:

Published:

Issue Date:

DOI: https://doi.org/10.1038/s41586-022-05218-7
Comments
By submitting a comment you agree to abide by our Terms and Community Guidelines. If you find something abusive or that does not comply with our terms or guidelines please flag it as inappropriate.