Abstract
The water-splitting reaction using photocatalyst particles is a promising route for solar fuel production1,2,3,4. Photo-induced charge transfer from a photocatalyst to catalytic surface sites is key in ensuring photocatalytic efficiency5; however, it is challenging to understand this process, which spans a wide spatiotemporal range from nanometres to micrometres and from femtoseconds to seconds6,7,8. Although the steady-state charge distribution on single photocatalyst particles has been mapped by microscopic techniques9,10,11, and the charge transfer dynamics in photocatalyst aggregations have been revealed by time-resolved spectroscopy12,13, spatiotemporally evolving charge transfer processes in single photocatalyst particles cannot be tracked, and their exact mechanism is unknown. Here we perform spatiotemporally resolved surface photovoltage measurements on cuprous oxide photocatalyst particles to map holistic charge transfer processes on the femtosecond to second timescale at the single-particle level. We find that photogenerated electrons are transferred to the catalytic surface quasi-ballistically through inter-facet hot electron transfer on a subpicosecond timescale, whereas photogenerated holes are transferred to a spatially separated surface and stabilized through selective trapping on a microsecond timescale. We demonstrate that these ultrafast-hot-electron-transfer and anisotropic-trapping regimes, which challenge the classical perception of a drift–diffusion model, contribute to the efficient charge separation in photocatalysis and improve photocatalytic performance. We anticipate that our findings will be used to illustrate the universality of other photoelectronic devices and facilitate the rational design of photocatalysts.
Access options
Access Nature and 54 other Nature Portfolio journals
Get Nature+, our best-value online-access subscription
$29.99 / 30 days
cancel any time
Subscribe to this journal
Receive 51 print issues and online access
$199.00 per year
only $3.90 per issue
Rent or buy this article
Prices vary by article type
from$1.95
to$39.95
Prices may be subject to local taxes which are calculated during checkout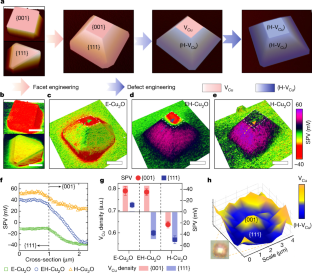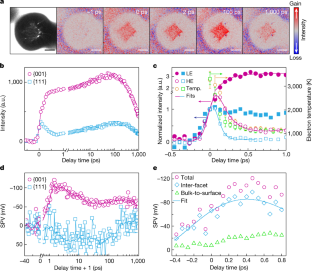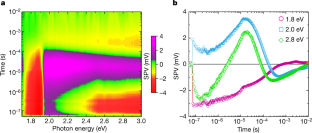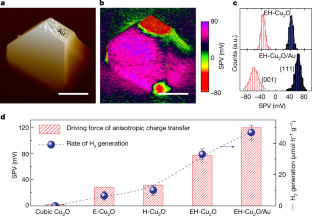 References
Wang, Q. et al. Scalable water splitting on particulate photocatalyst sheets with a solar-to-hydrogen energy conversion efficiency exceeding 1%. Nat. Mater. 15, 611–615 (2016).

Lewis, N. S. Developing a scalable artificial photosynthesis technology through nanomaterials by design. Nat. Nanotechnol. 11, 1010–1019 (2016).

Hisatomi, T. & Domen, K. Reaction systems for solar hydrogen production via water splitting with particulate semiconductor photocatalysts. Nat. Catal. 2, 387–399 (2019).

Takata, T. et al. Photocatalytic water splitting with a quantum efficiency of almost unity. Nature 581, 411–414 (2020).

Wang, D. et al. Identifying the key obstacle in photocatalytic oxygen evolution on rutile TiO2. Nat. Catal. 1, 291–299 (2018).

Corby, S., Rao, R. R., Steier, L. & Durrant, J. R. The kinetics of metal oxide photoanodes from charge generation to catalysis. Nat. Rev. Mater. 6, 1136–1155 (2021).

Esposito, D. V. et al. Methods of photoelectrode characterization with high spatial and temporal resolution. Energy Environ. Sci. 8, 2863–2885 (2015).

Delor, M., Weaver, H. L., Yu, Q. & Ginsberg, N. S. Imaging material functionality through three-dimensional nanoscale tracking of energy flow. Nat. Mater. 19, 56–62 (2020).

Sambur, J. B. et al. Sub-particle reaction and photocurrent mapping to optimize catalyst-modified photoanodes. Nature 530, 77–80 (2016).

Chen, R. et al. Charge separation via asymmetric illumination in photocatalytic Cu2O particles. Nat. Energy 3, 655–663 (2018).

Chen, R., Fan, F., Dittrich, T. & Li, C. Imaging photogenerated charge carriers on surfaces and interfaces of photocatalysts with surface photovoltage microscopy. Chem. Soc. Rev. 47, 8238–8262 (2018).

Yang, Y. et al. Semiconductor interfacial carrier dynamics via photoinduced electric fields. Science 350, 1061–1065 (2015).

Selim, S. et al. Impact of oxygen vacancy occupancy on charge carrier dynamics in BiVO4 photoanodes. J. Am. Chem. Soc. 141, 18791–18798 (2019).

Wu, Y. A. et al. Facet-dependent active sites of a single Cu2O particle photocatalyst for CO2 reduction to methanol. Nat. Energy 4, 957–968 (2019).

Mao, X. & Chen, P. Inter-facet junction effects on particulate photoelectrodes. Nat. Mater. 21, 331–337 (2022).

Selcuk, S. & Selloni, A. Facet-dependent trapping and dynamics of excess electrons at anatase TiO2 surfaces and aqueous interfaces. Nat. Mater. 15, 1107–1112 (2016).

Scanlon, D. O., Morgan, B. J., Watson, G. W. & Walsh, A. Acceptor levels in p-type Cu2O: rationalizing theory and experiment. Phys. Rev. Lett. 103, 096405 (2009).

Chen, R. et al. Giant defect-induced effects on nanoscale charge separation in semiconductor photocatalysts. Nano Lett. 19, 426–432 (2019).

Scanlon, D. O. & Watson, G. W. Uncovering the complex behavior of hydrogen in Cu2O. Phys. Rev. Lett. 106, 186403 (2011).

Man, M. K. et al. Imaging the motion of electrons across semiconductor heterojunctions. Nat. Nanotechnol. 12, 36–40 (2017).

Doherty, T. A. S. et al. Performance-limiting nanoscale trap clusters at grain junctions in halide perovskites. Nature 580, 360–366 (2020).

Park, J. S., Kim, S., Xie, Z. & Walsh, A. Point defect engineering in thin-film solar cells. Nat. Rev. Mater. 3, 194–210 (2018).

Sadasivam, S., Chan, M. K. Y. & Darancet, P. Theory of thermal relaxation of electrons in semiconductors. Phys. Rev. Lett. 119, 136602 (2017).

Tanimura, H., Tanimura, K. & Kanasaki, J. I. Ultrafast relaxation of photoinjected nonthermal electrons in the Γ valley of GaAs studied by time- and angle-resolved photoemission spectroscopy. Phys. Rev. B 104, 245201 (2021).

Wittenbecher, L. et al. Unraveling the ultrafast hot electron dynamics in semiconductor nanowires. ACS Nano 15, 1133–1144 (2021).

Borgwardt, M. et al. Femtosecond time-resolved two-photon photoemission studies of ultrafast carrier relaxation in Cu2O photoelectrodes. Nat. Commun. 10, 2106 (2019).

Sung, J. et al. Long-range ballistic propagation of carriers in methylammonium lead iodide perovskite thin films. Nat. Phys. 16, 171–176 (2019).

Guo, Z. et al. Long-range hot-carrier transport in hybrid perovskites visualized by ultrafast microscopy. Science 356, 59–62 (2017).

Najafi, E., Scarborough, T. D., Tang, J. & Zewail, A. Four-dimensional imaging of carrier interface dynamics in p–n junctions. Science 347, 164–167 (2015).

Zhu, J. et al. Visualizing the nano cocatalyst aligned electric fields on single photocatalyst particles. Nano Lett. 17, 6735–6741 (2017).

Siegfried, M. J. & Choi, K. S. Electrochemical crystallization of cuprous oxide with systematic shape evolution. Adv. Mater. 16, 1743–1746 (2004).

Barbet, S. et al. Cross-talk artefacts in Kelvin probe force microscopy imaging: a comprehensive study. J. Appl. Phys. 115, 144313 (2014).

Kronik, L. & Shapira, Y. Surface photovoltage phenomena: theory, experiment, and applications. Surf. Sci. Rep. 37, 1–206 (1999).

Chen, R., Fan, F. & Li, C. Unraveling charge‐separation mechanisms in photocatalyst particles by spatially resolved surface photovoltage techniques. Angew. Chem. Int. Ed. 61, e202117567 (2022).

Fukumoto, K. et al. Femtosecond time-resolved photoemission electron microscopy for spatiotemporal imaging of photogenerated carrier dynamics in semiconductors. Rev. Sci. Instrum. 85, 083705 (2014).

Da̧browski, M., Dai, Y. & Petek, H. Ultrafast photoemission electron microscopy: imaging plasmons in space and time. Chem. Rev. 120, 6247–6287 (2020).

Malerba, C. et al. Absorption coefficient of bulk and thin film Cu2O. Sol. Energy Mater. Sol. Cells 95, 2848–2854 (2011).

Grad, L., Novotny, Z., Hengsberger, M. & Osterwalder, J. Influence of surface defect density on the ultrafast hot carrier relaxation and transport in Cu2O photoelectrodes. Sci Rep. 10, 10686 (2020).

Gloystein, A., Nilius, N., Goniakowski, J. & Noguera, C. Nanopyramidal reconstruction of Cu2O (111): a long-standing surface puzzle solved by STM and DFT. J. Phys. Chem. C 124, 26937–26943 (2020).

Ricca, C. et al. Importance of surface oxygen vacancies for ultrafast hot carrier relaxation and transport in Cu2O. Phys. Rev. Res. 3, 043219 (2021).

Bendavid, L. I. & Carter, E. A. First-principles predictions of the structure, stability, and photocatalytic potential of Cu2O surfaces. J. Phys. Chem. B 117, 15750–15760 (2013).

Dittrich, T., Fengler, S. & Franke, M. Transient surface photovoltage measurement over 12 orders of magnitude in time. Rev. Sci. Instrum. 88, 053904 (2017).

Dittrich, T., Bonisch, S., Zabel, P. & Dube, S. High precision differential measurement of surface photovoltage transients on ultrathin CdS layers. Rev. Sci. Instrum. 79, 113903 (2008).

Kresse, G. & J. Furthmuller, J. Efficient iterative schemes for ab initio total-energy calculations using a plane-wave basis set. Phys. Rev. B 54, 11169–11186 (1996).

Heyd, J., Scuseria, G. E. & Ernzerhof, M. Hydrid functionals based on a screened Coulomb potential. J. Chem. Phys. 118, 8207–8215 (2003).

Zhang, S. B. & Northrup, J. E. Chemical potential dependence of defect formation energies in GaAs: application to Ga self-diffusion. Phys. Rev. Lett. 67, 2339–2342 (1991).

de Jongh, P. E. & Vanmaekelbergh, D. Trap-limited electronic transport in assemblies of nanometer-size TiO2 particles. Phys. Rev. Lett. 77, 3427–3430 (1996).

Lee, Y. S. et al. Hall mobility of cuprous oxide thin films deposited by reactive direct-current magnetron sputtering. Appl. Phys. Lett. 98, 192115 (2011).

Liao, B. et al. Photo-excited hot carrier dynamics in hydrogenated amorphous silicon imaged by 4D electron microscopy. Nat. Nanotechnol. 12, 871–876 (2017).

Dekorsy, T., Pfeifer, T., Kutt, W. & Kurz, H. Subpicosecond carrier transport in GaAs surface-space-charge fields. Phys. Rev. B 47, 3842–3849 (1993).

Rossi, F. & Kuhn, T. Theory of ultrafast phenomena in photoexcited semiconductors. Rev. Mod. Phys. 74, 895–950 (2002).

Toe, C. Y. et al. Photocorrosion of cuprous oxide in hydrogen production: rationalising self-oxidation or self-reduction. Angew. Chem. Int. Ed. 57, 13613–13617 (2018).

Poulston, S., Parlett, P. M., Stone, P. & Bowker, M. Surface oxidation and reduction of CuO and Cu2O studied using XPS and XAES. Surf. Interface Anal. 24, 811–820 (1996).

Sander, T. et al. Correlation of intrinsic point defects and the Raman modes of cuprous oxide. Phys. Rev. B 90, 045203 (2014).

Petroff, Y., Yu, P. Y. & Shen, Y. R. Study of photoluminescence in Cu2O. Phys. Rev. B 12, 2488–2495 (1975).

Önsten, A. et al. Role of defects in surface chemistry on Cu2O(111). J. Phys. Chem. C 117, 19357–19364 (2013).

Soldemo, M. et al. The surface structure of Cu2O(100). J. Phys. Chem. C 120, 4373–4381 (2016).

Grioni, M. et al. Unoccupied electronic structure and core-hole effects in the X-ray-absorption spectra of Cu2O. Phys. Rev. B 45, 3309–3318 (1992).

de Jongh, P. E., Vanmaekelbergh, D. & Kelly, J. J. Photoelectrochemistry of electrodeposited Cu2O. J. Electrochem. Soc. 147, 486–489 (2000).

Scanlon, D. O. & Watson, G. W. Undoped n-type Cu2O: fact or fiction? J. Phys. Chem. Lett. 1, 2582–2585 (2010).
Acknowledgements
This work was conducted by the Fundamental Research Center of Artificial Photosynthesis (FReCAP) and financially supported by the National Natural Science Foundation of China (22088102, 22102173, 22073097), CAS Projects for Young Scientists in Basic Research (YSBR-004), National Program on Key Basic Research Project (2021YFA1500600, 2018YFA0208700), and Dalian Institute of Chemical Physics Innovation Foundation (DICPSZ201801).
Ethics declarations
Competing interests
The authors declare no competing interests.
Peer review
Peer review information
Nature thanks the anonymous reviewers for their contribution to the peer review of this work. Peer reviewer reports are available.
Additional information
Publisher's note Springer Nature remains neutral with regard to jurisdictional claims in published maps and institutional affiliations.
Extended data figures and tables
Supplementary information
Animated video created by TR-PEEM images of a single EH-Cu2O photocatalyst particle. The image intensity represents accumulation (red) and depletion (blue) of photoexcited electrons.
Rights and permissions
Springer Nature or its licensor (e.g. a society or other partner) holds exclusive rights to this article under a publishing agreement with the author(s) or other rightsholder(s); author self-archiving of the accepted manuscript version of this article is solely governed by the terms of such publishing agreement and applicable law.
About this article
Cite this article
Chen, R., Ren, Z., Liang, Y. et al. Spatiotemporal imaging of charge transfer in photocatalyst particles. Nature 610, 296–301 (2022). https://doi.org/10.1038/s41586-022-05183-1
Received:

Accepted:

Published:

Issue Date:

DOI: https://doi.org/10.1038/s41586-022-05183-1
This article is cited by
Baowen Zhou
Jinglin Li
Lin Yao

Science China Chemistry (2023)

Yaling Niu
Chengcai Yue
Chunmei Li

Carbon Letters (2023)

Yuting Deng
Hongpeng Zhou
Rengui Li

Science China Chemistry (2023)
Comments
By submitting a comment you agree to abide by our Terms and Community Guidelines. If you find something abusive or that does not comply with our terms or guidelines please flag it as inappropriate.