Abstract
The Hubbard model constitutes one of the most celebrated theoretical frameworks of condensed-matter physics. It describes strongly correlated phases of interacting quantum particles confined in lattice potentials1,2. For bosons, the Hubbard Hamiltonian has been deeply scrutinized for short-range on-site interactions3,4,5,6. However, accessing longer-range couplings has remained elusive experimentally7. This marks the frontier towards the extended Bose–Hubbard Hamiltonian, which enables insulating ordered phases at fractional lattice fillings8,9,10,11,12. Here we implement this Hamiltonian by confining semiconductor dipolar excitons in an artificial two-dimensional square lattice. Strong dipolar repulsions between nearest-neighbour lattice sites then stabilize an insulating state at half filling. This characteristic feature of the extended Bose–Hubbard model exhibits the signatures theoretically expected for a chequerboard spatial order. Our work thus highlights that dipolar excitons enable controlled implementations of boson-like arrays with strong off-site interactions, in lattices with programmable geometries and more than 100 sites.
Access options
Subscribe to Nature+
Get immediate online access to Nature and 55 other Nature journal
Subscribe to Journal
Get full journal access for 1 year
$199.00
only $3.90 per issue
All prices are NET prices.
VAT will be added later in the checkout.
Tax calculation will be finalised during checkout.
Buy article
Get time limited or full article access on ReadCube.
$32.00
All prices are NET prices.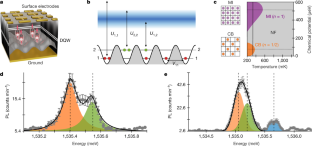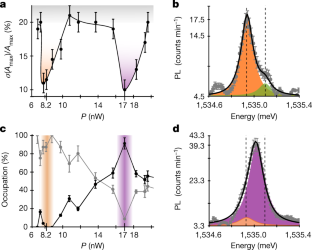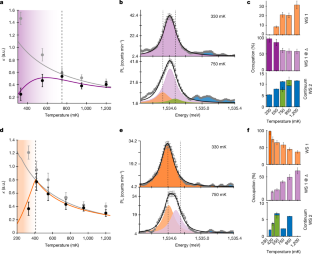 References
Salomon, C. et al. Many-Body Physics with Ultracold Gases: Lecture Notes of the Les Houches Summer School: Volume 94, July 2010 (Oxford Univ. Press, 2012).

Arovas, D. P., Berg, E., Kivelson, S. A. & Raghu, S. The Hubbard model. Ann. Rev. Condens. Matter Phys. 13, 239–274 (2022).

Greiner, M., Mandel, O., Esslinger, T., Haensch, T. W. & Bloch, I. Quantum phase transition from a superfluid to a Mott insulator in a gas of ultracold atoms. Nature 415, 39–44 (2002).

Gemelke, N., Zhang, X., Hung, C. L. & Chin, C. In situ observation of incompressible Mott-insulating domains in ultracold atomic gases. Nature 460, 995–998 (2009).

Bakr, W. S. et al. Probing the superfluid-to-Mott insulator transition at the single-atom level. Science 329, 547–550 (2010).

Sherson, J. et al. Single-atom-resolved fluorescence imaging of an atomic Mott insulator. Nature 467, 68–72 (2010).

Baier, S. et al. Extended Bose–Hubbard models with ultracold magnetic atoms. Science 352, 201–205 (2016).

Batrouni, G. G., Scalettar, R. T., Zimanyi, G. T. & Kampf, A. P. Supersolids in the Bose–Hubbard Hamiltonian. Phys. Rev. Lett. 74, 2527 (1995).

Hebert, F. et al. Quantum phase transitions in the two-dimensional hardcore boson model. Phys. Rev. B 65, 014513 (2001).

Goral, K., Santos, L. & Lewenstein, M. Quantum phases of dipolar bosons in optical lattices. Phys. Rev. Lett. 88, 170406 (2002).

Baranov, M. A., Dalmonte, M., Pupillo, G. & Zoller, P. Condensed matter theory of dipolar quantum gases. Chem. Rev. 112, 5012–5061 (2012).

Dutta, O. et al. Non-standard Hubbard models in optical lattices: a review. Rep. Prog. Phys. 78, 066001 (2015).

Trefzger, C., Menotti, C., Capogrosso-Sansone, B. & Lewenstein, M. Ultracold dipolar gases in optical lattices. J. Phys. B 44, 193001 (2010).

Capogrosso-Sansone, B., Trefzger, C., Lewenstein, M., Zoller, P. & Pupillo, G. Quantum phases of cold polar molecules in 2D optical lattices. Phys. Rev. Lett. 104, 125301 (2010).

Fradkin, E., Kivelson, S. A. & Tranquada, J. M. Colloquium: theory of intertwined orders in high temperature superconductors. Rev. Mod. Phys. 87, 457 (2015).

Wise, W. et al. Charge-density-wave origin of cuprate checkerboard visualized by scanning tunnelling microscopy. Nat. Phys. 4, 696–699 (2008).

Jin, C. et al. Stripe phases in WSe2/WS2 moiré superlattices. Nat. Mater. 20, 940–944 (2021).

Lagoin, C., Suffit, S., Baldwin, K., Pfeiffer, L. & Dubin, F. Mott insulator of strongly interacting two-dimensional excitons. Nat. Phys. 18, 149–153 (2022).

Lackner, L. et al. Tunable exciton-polaritons emerging from WS2 monolayer excitons in a photonic lattice at room temperature. Nat. Commun. 12, 4933 (2021).

Seyler, K. L. et al. Signatures of moiré-trapped valley excitons in MoSe2/WSe2 heterobilayers. Nature 567, 66–70 (2019).

Tran, K. et al. Evidence for moiré excitons in van der Waals heterostructures. Nature 567, 71–75 (2019).

Jin, C. et al. Observation of moiré excitons in WSe2/WS2 heterostructure superlattices. Nature 567, 76–80 (2019).

Alexeev, E. M. et al. Resonantly hybridized excitons in moiré superlattices in van der Waals heterostructures. Nature 567, 81–86 (2019).

Kennes, D. M. et al. Moiré heterostructures as a condensed-matter quantum simulator. Nat. Phys. 17, 155–163 (2021).

Gu, J. et al. Dipolar excitonic insulator in a moiré lattice. Nat. Phys. 18, 395–400 (2022).

Remeika, M., Fogler, M. M., Butov, L. V., Hanson, M. & Gossard, A. C. Two-dimensional electrostatic lattices for indirect excitons. Appl. Phys. Lett. 100, 061103 (2012).

Lagoin, C. et al. Microscopic lattice for two-dimensional dipolar excitons. Phys. Rev. B 102, 245428 (2020).

Lagoin, C. et al. Quasicondensation of bilayer excitons in a periodic potential. Phys. Rev. Lett 126, 067404 (2021).

Combescot, M., Combescot, R. & Dubin, F. Bose–Einstein condensation of indirect excitons: a review. Rep. Prog. Phys. 80, 066401 (2017).

High, A. A. et al. Trapping indirect excitons in a GaAs quantum-well structure with a diamond-shaped electrostatic trap. Phys. Rev. Lett. 103, 087403 (2009).

Winbow, A. G. et al. Electrostatic conveyer for excitons. Phys. Rev. Lett. 106, 196806 (2011).

Rosenberg, I., Mazuz-Harpaz, Y., Rapaport, R., West, K. & Pfeiffer, L. Electrically controlled mutual interactions of flying waveguide dipolaritons. Phys. Rev. B 93, 195151 (2016).

Götting, N., Lohof, F. & Gies, C. Moiré-Bose-Hubbard model for interlayer excitons in twisted transition metal dichalcogenide heterostructures. Phys. Rev. B 105, 165419 (2022).

Bissbort, U., Deuretzbacher, F. & Hofstetter, W. Effective multibody-induced tunneling and interactions in the Bose–Hubbard model of the lowest dressed band of an optical lattice. Phys. Rev. A 86, 023617 (2012).

Schmid, G., Todo, S., Troyer, M. & Dorneich, A. Finite-temperature phase diagram of hard-core bosons in two dimensions. Phys. Rev. Lett. 88, 167208 (2002).

Mahmud, K. W. et al. Finite-temperature study of bosons in a two-dimensional optical lattice. Phys. Rev. B 84, 054302 (2011).

Gerbier, F. Boson Mott insulators at finite temperatures. Phys. Rev. Lett. 99, 120405 (2007).

DeMarco, B., Lannert, C., Vishveshwara, S. & Wei, T.-C. Structure and stability of Mott-insulator shells of bosons trapped in an optical lattice. Phys. Rev. A 71, 063601 (2005).

Scholl, P. et al. Quantum simulation of 2D antiferromagnets with hundreds of Rydberg atoms. Nature 595, 233–238 (2021).

Alloing, M., Lemaitre, A., Galopin, E. & Dubin, F. Nonlinear dynamics and inner-ring photoluminescence pattern of indirect excitons. Phys. Rev. B 85, 245106 (2012).

Beian, M. et al. Spectroscopic signatures for the dark Bose–Einstein condensation of spatially indirect excitons. EuroPhys. Lett. 119, 37004 (2017).
Acknowledgements
C.L. and F.D. thank S. Suffit for support during sample fabrication, together with A. Reserbat-Plantey and B. Urbaszek for a critical reading of the manuscript. Work at CNRS was funded by IXTASE from the French Agency for Research (ANR-20-CE30-0032-01). The work at Princeton University (L.P. and K.B.) was funded by the Gordon and Betty Moore Foundation through the EPiQS initiative grant GBMF 9545, and by the National Science Foundation MRSEC grant DMR 1420541. Research at ICFO acknowledges support from ERC AdG NOQIA; Agencia Estatal de Investigación (R&D project CEX2019-000910-S, funded by MCIN/ AEI/10.13039/501100011033, Plan National FIDEUA PID2019-106901GB-I00, FPI, QUANTERA MAQS PCI2019-111828-2, QUANTERA DYNAMITE PCI2022-132919, Proyectos de I+D+I "Retos Colaboración" QUSPIN RTC2019-007196-7); MCIN via European Union NextGenerationEU (PRTR); Fundació Cellex; Fundació Mir-Puig; Generalitat de Catalunya through the European Social Fund FEDER and CERCA programme (AGAUR grant no. 2017 SGR 134, QuantumCAT U16-011424, co-funded by ERDF Operational Programme of Catalonia 2014-2020); the computer resources and technical support at Barcelona Supercomputing Center MareNostrum (FI-2022-1-0042); EU Horizon 2020 FET-OPEN OPTOlogic (grant no 899794); National Science Centre, Poland (Symfonia grant no. 2016/20/W/ST4/00314); European Union's Horizon 2020 research and innovation programme under the Marie-Skłodowska-Curie grant agreement no. 101029393 (STREDCH) and no. 847648 ('La Caixa' Junior Leaders fellowships ID100010434: LCF/BQ/PI19/11690013, LCF/BQ/PI20/11760031, LCF/BQ/PR20/11770012, LCF/BQ/PR21/11840013). R.W.C. acknowledges support from the Polish National Science Centre (NCN) under Maestro grant no. DEC2019/34/A/ST2/00081.
Ethics declarations
Competing interests
The authors declare no competing interests.
Peer review information
Peer review information
Nature thanks the anonymous reviewers for their contribution to the peer review of this work.
Additional information
Publisher's note Springer Nature remains neutral with regard to jurisdictional claims in published maps and institutional affiliations.
Extended data figures and tables
Rights and permissions
Springer Nature or its licensor holds exclusive rights to this article under a publishing agreement with the author(s) or other rightsholder(s); author self-archiving of the accepted manuscript version of this article is solely governed by the terms of such publishing agreement and applicable law.
About this article
Cite this article
Lagoin, C., Bhattacharya, U., Grass, T. et al. Extended Bose–Hubbard model with dipolar excitons. Nature 609, 485–489 (2022). https://doi.org/10.1038/s41586-022-05123-z
Received:

Accepted:

Published:

Issue Date:

DOI: https://doi.org/10.1038/s41586-022-05123-z
This article is cited by
Nature (2022)

Camille Lagoin
Stephan Suffit
François Dubin

Nature Materials (2022)
Comments
By submitting a comment you agree to abide by our Terms and Community Guidelines. If you find something abusive or that does not comply with our terms or guidelines please flag it as inappropriate.