Abstract
The mammalian immune system uses various pattern recognition receptors to recognize invaders and host damage and transmits this information to downstream immunometabolic signalling outcomes. Laccase domain-containing 1 (LACC1) protein is an enzyme highly expressed in inflammatory macrophages and serves a central regulatory role in multiple inflammatory diseases such as inflammatory bowel diseases, arthritis and clearance of microbial infection1,2,3,4. However, the biochemical roles required for LACC1 functions remain largely undefined. Here we elucidated a shared biochemical function of LACC1 in mice and humans, converting l-citrulline to l-ornithine (l-Orn) and isocyanic acid and serving as a bridge between proinflammatory nitric oxide synthase (NOS2) and polyamine immunometabolism. We validated the genetic and mechanistic connections among NOS2, LACC1 and ornithine decarboxylase 1 (ODC1) in mouse models and bone marrow-derived macrophages infected by Salmonella enterica Typhimurium. Strikingly, LACC1 phenotypes required upstream NOS2 and downstream ODC1, and Lacc1–/– chemical complementation with its product l-Orn significantly restored wild-type activities. Our findings illuminate a previously unidentified pathway in inflammatory macrophages, explain why its deficiency may contribute to human inflammatory diseases and suggest that l-Orn could serve as a nutraceutical to ameliorate LACC1-associated immunological dysfunctions such as arthritis or inflammatory bowel disease.
Access options
Subscribe to Nature+
Get immediate online access to Nature and 55 other Nature journal
Subscribe to Journal
Get full journal access for 1 year
$199.00
only $3.90 per issue
All prices are NET prices.
VAT will be added later in the checkout.
Tax calculation will be finalised during checkout.
Buy article
Get time limited or full article access on ReadCube.
$32.00
All prices are NET prices.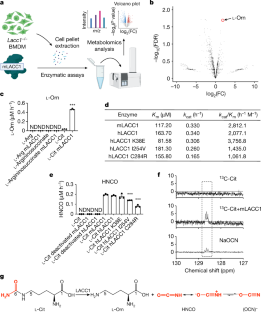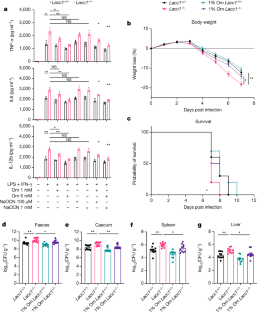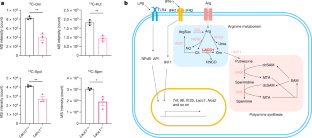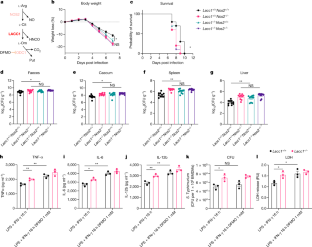 Data availability
Supplementary information and source data are provided with this paper. Additional data that support the findings of this study are available from the corresponding author on reasonable request. 
References
Heng, T. S. & Painter, M. W., Consortium, I. G. P. The Immunological Genome Project: networks of gene expression in immune cells. Nat. Immunol. 9, 1091–1094 (2008).

Skon-Hegg, C. et al. LACC1 regulates TNF and IL-17 in mouse models of arthritis and inflammation. J Immunol. 202, 183–193 (2019).

Kang, J. W. et al. Myeloid cell expression of LACC1 is required for bacterial clearance and control of intestinal inflammation. Gastroenterology 159, 1051–1067 (2020).

Mogensen, T. H. Pathogen recognition and inflammatory signaling in innate immune defenses. Clin. Microbiol. Rev. 22, 240–273 (2009).

Schieber, M. & Chandel, N. S. ROS function in redox signaling and oxidative stress. Curr. Biol. 24, R453–R462 (2014).

Mittler, R. ROS are good. Trends Plant Sci. 22, 11–19 (2017).

Martínez, M. C. & Andriantsitohaina, R. Reactive nitrogen species: molecular mechanisms and potential significance in health and disease. Antioxid. Redox Signal. 11, 669–702 (2009).

Marletta, M. A., Yoon, P. S., Iyengar, R., Leaf, C. D. & Wishnok, J. S. Macrophage oxidation of L-arginine to nitrite and nitrate: nitric oxide is an intermediate. Biochemistry 27, 8706–8711 (1988).

Nathan, C. & Shiloh, M. U. Reactive oxygen and nitrogen intermediates in the relationship between mammalian hosts and microbial pathogens. Proc. Natl Acad. Sci. USA 97, 8841–8848 (2000).

Qualls, J. E. et al. Sustained generation of nitric oxide and control of mycobacterial infection requires argininosuccinate synthase 1. Cell Host Microbe 12, 313–323 (2012).

Omarjee, O. et al. LACC1 deficiency links juvenile arthritis with autophagy and metabolism in macrophages. J. Exp. Med. 218, e20201006 (2021).

Huang, C. et al. Genetic risk for inflammatory bowel disease is a determinant of Crohn's disease development in chronic granulomatous disease. Inflamm. Bowel Dis. 22, 2794–2801 (2016).

Assadi, G. et al. LACC1 polymorphisms in inflammatory bowel disease and juvenile idiopathic arthritis. Genes Immun. 17, 261–264 (2016).

Assadi, G. et al. Functional analyses of the Crohn's disease risk gene LACC1. PLoS ONE 11, e0168276 (2016).

Kallinich, T. et al. Juvenile arthritis caused by a novel FAMIN (LACC1) mutation in two children with systemic and extended oligoarticular course. Pediatr. Rheumatol. Online J. 14, 63 (2016).

Wakil, S. M. et al. Association of a mutation in LACC1 with a monogenic form of systemic juvenile idiopathic arthritis. Arthritis Rheumatol. 67, 288–295 (2015).

Grant, A. V. et al. Crohn's disease susceptibility genes are associated with leprosy in the Vietnamese population. J. Infect. Dis. 206, 1763–1767 (2012).

Cader, M. Z. et al. FAMIN is a multifunctional purine enzyme enabling the purine nucleotide cycle. Cell 180, 278–295 (2020).

Szymanski, A. M. & Ombrello, M. J. Using genes to triangulate the pathophysiology of granulomatous autoinflammatory disease: NOD2, PLCG2 and LACC1. Int. Immunol. 30, 205–213 (2018).

Murray, P. J. et al. Macrophage activation and polarization: nomenclature and experimental guidelines. Immunity 41, 14–20 (2014).

Pearce, E. L. & Pearce, E. J. Metabolic pathways in immune cell activation and quiescence. Immunity 38, 633–643 (2013).

Delanghe, S., Delanghe, J. R., Speeckaert, R., Van Biesen, W. & Speeckaert, M. M. Mechanisms and consequences of carbamoylation. Nat. Rev. Nephrol. 13, 580–593 (2017).

Lundquist, P., Backman-Gullers, B., Kågedal, B., Nilsson, L. & Rosling, H. Fluorometric determination of cyanate in plasma by conversion to 2,4(1H,3H)-quinazolinedione and separation by high-performance liquid chromatography. Anal. Biochem. 211, 23–27 (1993).

Lahiri, A., Hedl, M., Yan, J. & Abraham, C. Human LACC1 increases innate receptor-induced responses and a LACC1 disease-risk variant modulates these outcomes. Nat. Commun. 8, 15614 (2017).

Minois, N., Carmona-Gutierrez, D. & Madeo, F. Polyamines in aging and disease. Aging (Albany NY) 3, 716–732 (2011).

Hardbower, D. M. et al. Arginase 2 deletion leads to enhanced M1 macrophage activation and upregulated polyamine metabolism in response to Helicobacter pylori infection. Amino Acids 48, 2375–2388 (2016).

Cheng, Y. et al. Helicobacter pylori-induced macrophage apoptosis requires activation of ornithine decarboxylase by c-Myc. J. Biol. Chem. 280, 22492–22496 (2005).

Shiloh, M. U. et al. Phenotype of mice and macrophages deficient in both phagocyte oxidase and inducible nitric oxide synthase. Immunity 10, 29–38 (1999).

Roberts, J. M. et al. Isocyanic acid in the atmosphere and its possible link to smoke-related health effects. Proc. Natl Acad. Sci. USA 108, 8966–8971 (2011).

Cordes, T. & Metallo, C. M. M. Itaconate alters succinate and coenzyme A metabolism via inhibition of mitochondrial complex II and methylmalonyl-CoA mutase. Metabolites 11, 117 (2021).

Murphy, M. P. & O'Neill, L. A. J. Krebs cycle reimagined: the emerging roles of succinate and itaconate as signal transducers. Cell 174, 780–784 (2018).

Viola, A., Munari, F., Sánchez-Rodríguez, R., Scolaro, T. & Castegna, A. The metabolic signature of macrophage responses. Front. Immunol. 10, 1462 (2019).

Chen, M. et al. Itaconate is an effector of a Rab GTPase cell-autonomous host defense pathway against Salmonella. Science 369, 450–455 (2020).

Saveljeva, S. et al. A purine metabolic checkpoint that prevents autoimmunity and autoinflammation. Cell Metab. 34, 106–124 (2022).

Hardbower, D. M. et al. Ornithine decarboxylase regulates M1 macrophage activation and mucosal inflammation via histone modifications. Proc. Natl Acad. Sci. USA 114, E751–E760 (2017).

Nakamura, A. et al. Symbiotic polyamine metabolism regulates epithelial proliferation and macrophage differentiation in the colon. Nat. Commun. 12, 2105 (2021).

Gaboriau, F., Vaultier, M., Moulinoux, J.-P. & Delcros, J.-G. Antioxidative properties of natural polyamines and dimethylsilane analogues. Redox Rep. 10, 9–18 (2005).

Ghosh, I., Sankhe, R., Mudgal, J., Arora, D. & Nampoothiri, M. Spermidine, an autophagy inducer, as a therapeutic strategy in neurological disorders. Neuropeptides 83, 102083 (2020).

Jeong, J.-W. et al. Spermidine protects against oxidative stress in inflammation models using macrophages and zebrafish. Biomol. Ther. (Seoul) 26, 146–156 (2018).

Eisenberg, T. et al. Induction of autophagy by spermidine promotes longevity. Nat. Cell Biol. 11, 1305–1314 (2009).

Yang, Q. et al. Spermidine alleviates experimental autoimmune encephalomyelitis through inducing inhibitory macrophages. Cell Death Differ. 23, 1850–1861 (2016).

Puleston, D. J. et al. Polyamines and eIF5A hypusination modulate mitochondrial respiration and macrophage activation. Cell Metab. 30, 352–363 (2019).

Delporte, C. et al. Myeloperoxidase-catalyzed oxidation of cyanide to cyanate: a potential carbamylation route involved in the formation of atherosclerotic plaques? J. Biol. Chem. 293, 6374–6386 (2018).

Laubach, V. E., Shesely, E. G., Smithies, O. & Sherman, P. A. Mice lacking inducible nitric oxide synthase are not resistant to lipopolysaccharide-induced death. Proc. Natl Acad. Sci. USA 92, 10688–10692 (1995).

Wang, H. et al. One-step generation of mice carrying mutations in multiple genes by CRISPR/Cas-mediated genome engineering. Cell 153, 910–918 (2013).

Nowarski, R. et al. Epithelial IL-18 equilibrium controls barrier function in colitis. Cell 163, 1444–1456 (2015).

Jackson, R. et al. The translation of non-canonical open reading frames controls mucosal immunity. Nature 564, 434–438 (2018).

Chen, L. M., Kaniga, K. & Galán, J. E. Salmonella spp. are cytotoxic for cultured macrophages. Mol. Microbiol. 21, 1101–1115 (1996).
Acknowledgements
We thank J. Alderman, B. Cadugan, C. Lieber, C. Hughes, L. Evangelisti, E. Hughes-Picard, F. Zhang, P. Ranney, W. Philbrick and P. Maher-Rivera for help with mouse gene-editing projects and in overall administration, as well as J. Galan for the gift of S. Typhimurium strain SL1344. We thank T. Wu at Yale West Campus Analytical Core for assistance with MS analysis and J. Karosas at the Yale Analytical and Stable Isotope Center for assistance with ICP–MS analysis. This work was supported by the Howard Hughes Medical Institute (to R.A.F.), the Burroughs Wellcome Fund (no. 1016720 to J.M.C.) and Yale University. Z.W. was supported by the China Scholarship Council.
Ethics declarations
Competing interests
R.A.F. is a recipient of a grant from AbbVie, Inc., is a founder of Rheos Biomedicines and is a consultant to GSK and Zai laboratories. The remaining authors declare no competing interests.
Peer review
Peer review information
Nature thanks Alexandre Belot, Kivanc Birsoy, Michael Murphy and Peter Murray for their contribution to the peer review of this work.
Additional information
Publisher's note Springer Nature remains neutral with regard to jurisdictional claims in published maps and institutional affiliations.
Extended data figures and tables
Supplementary information
Rights and permissions
Springer Nature or its licensor holds exclusive rights to this article under a publishing agreement with the author(s) or other rightsholder(s); author self-archiving of the accepted manuscript version of this article is solely governed by the terms of such publishing agreement and applicable law.
About this article
Cite this article
Wei, Z., Oh, J., Flavell, R.A. et al. LACC1 bridges NOS2 and polyamine metabolism in inflammatory macrophages. Nature 609, 348–353 (2022). https://doi.org/10.1038/s41586-022-05111-3
Received:

Accepted:

Published:

Issue Date:

DOI: https://doi.org/10.1038/s41586-022-05111-3
Comments
By submitting a comment you agree to abide by our Terms and Community Guidelines. If you find something abusive or that does not comply with our terms or guidelines please flag it as inappropriate.