Abstract
The paradigmatic example of a topological phase of matter, the two-dimensional Chern insulator1,2,3,4,5, is characterized by a topological invariant consisting of a single integer, the scalar Chern number. Extending the Chern insulator phase from two to three dimensions requires generalization of the Chern number to a three-vector6,7, similar to the three-dimensional (3D) quantum Hall effect8,9,10,11,12,13. Such Chern vectors for 3D Chern insulators have never been explored experimentally. Here we use magnetically tunable 3D photonic crystals to achieve the experimental demonstration of Chern vectors and their topological surface states. We demonstrate Chern vector magnitudes of up to six, higher than all scalar Chern numbers previously realized in topological materials. The isofrequency contours formed by the topological surface states in the surface Brillouin zone form torus knots or links, whose characteristic integers are determined by the Chern vectors. We demonstrate a sample with surface states forming a (2, 2) torus link or Hopf link in the surface Brillouin zone, which is topologically distinct from the surface states of other 3D topological phases. These results establish the Chern vector as an intrinsic bulk topological invariant in 3D topological materials, with surface states possessing unique topological characteristics.
Access options
Access Nature and 54 other Nature Portfolio journals
Get Nature+, our best-value online-access subscription
$29.99 per month
cancel any time
Subscribe to this journal
Receive 51 print issues and online access
$199.00 per year
only $3.90 per issue
Rent or buy this article
Get just this article for as long as you need it
$39.95
Prices may be subject to local taxes which are calculated during checkout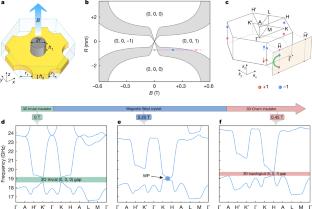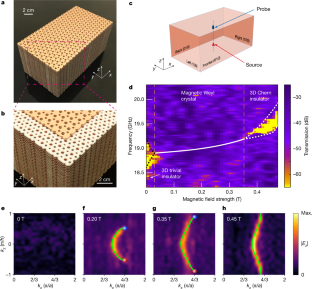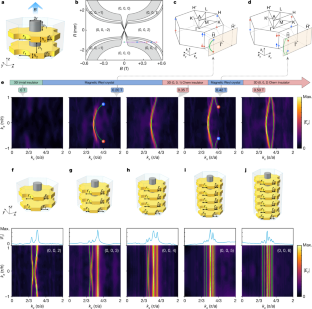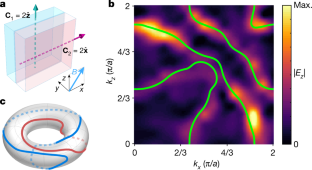 References
Haldane, F. D. M. Model for a quantum Hall effect without Landau levels: condensed-matter realization of the "parity anomaly". Phys. Rev. Lett. 61, 2015–2018 (1988).

Chang, C. Z. et al. Experimental observation of the quantum anomalous Hall effect in a magnetic topological insulator. Science 340, 167–170 (2013).

Deng, Y. et al. Quantum anomalous Hall effect in intrinsic magnetic topological insulator MnBi2Te4. Science 367, 895–900 (2020).

Zhao, Y. F. et al. Tuning the Chern number in quantum anomalous Hall insulators. Nature 588, 419–423 (2020).

Serlin, M. et al. Intrinsic quantized anomalous Hall effect in a moiré heterostructure. Science 367, 900–903 (2020).

Haldane, F. D. M. Berry curvature on the Fermi surface: anomalous Hall effect as a topological Fermi-liquid property. Phys. Rev. Lett. 93, 206602 (2004).

Vanderbilt, D. Berry Phases in Electronic Structure Theory: Electric Polarization, Orbital Magnetization and Topological Insulators (Cambridge Univ. Press, 2018).

Halperin, B. I. Possible states for a three-dimensional electron gas in a strong magnetic field. Jpn. J. Appl. Phys. 26, S3-3 (1987).

Kohmoto, M., Halperin, B. I. & Wu, Y. S. Diophantine equation for the three-dimensional quantum Hall effect. Phys. Rev. B 45, 13488 (1992).

Balents, L. & Fisher, M. P. Chiral surface states in the bulk quantum Hall effect. Phys. Rev. Lett. 76, 2782 (1996).

Druist, D. P., Turley, P. J., Maranowski, K. D., Gwinn, E. G. & Gossard, A. C. Observation of chiral surface states in the integer quantum Hall effect. Phys. Rev. Lett. 80, 365–368 (1998).

Bernevig, B. A., Hughes, T. L., Raghu, S. & Arovas, D. P. Theory of the three-dimensional quantum Hall effect in graphite. Phys. Rev. Lett. 99, 146804 (2007).

Tang, F. et al. Three-dimensional quantum Hall effect and metal–insulator transition in ZrTe5. Nature 569, 537–541 (2019).

von Klitzing, K. et al. 40 years of the quantum Hall effect. Nat. Rev. Phys. 2, 397–401 (2020).

Hasan, M. Z. & Kane, C. L. Colloquium: topological insulators. Rev. Mod. Phys. 82, 3045–3067 (2010).

Qi, X. L. & Zhang, S. C. Topological insulators and superconductors. Rev. Mod. Phys. 83, 1057–1110 (2011).

Haldane, F. D. M. & Raghu, S. Possible realization of directional optical waveguides in photonic crystals with broken time-reversal symmetry. Phys. Rev. Lett. 100, 013904 (2008).

Wang, Z., Chong, Y., Joannopoulos, J. D. & Soljačić, M. Observation of unidirectional backscattering-immune topological electromagnetic states. Nature 461, 772–775 (2009).

Ozawa, T. et al. Topological photonics. Rev. Mod. Phys. 91, 015006 (2019).

Yang, Z. et al. Topological acoustics. Phys. Rev. Lett. 114, 114301 (2015).

Ma, G., Xiao, M. & Chan, C. T. Topological phases in acoustic and mechanical systems. Nat. Rev. Phys. 1, 281–294 (2019).

Wan, X., Turner, A. M., Vishwanath, A. & Savrasov, S. Y. Topological semimetal and Fermi-arc surface states in the electronic structure of pyrochlore iridates. Phys. Rev. B 83, 205101 (2011).

Armitage, N. P., Mele, E. J. & Vishwanath, A. Weyl and Dirac semimetals in three-dimensional solids. Rev. Mod. Phys. 90, 015001 (2018).

Belopolski, I. et al. Discovery of topological Weyl fermion lines and drumhead surface states in a room temperature magnet. Science 365, 1278–1281 (2019).

Liu, D. et al. Magnetic Weyl semimetal phase in a Kagomé crystal. Science 365, 1282–1285 (2019).

Morali, N. et al. Fermi-arc diversity on surface terminations of the magnetic Weyl semimetal Co3Sn2S2. Science 365, 1286–1291 (2019).

Burkov, A. A. & Balents, L. Weyl semimetal in a topological insulator multilayer. Phys. Rev. Lett. 107, 127205 (2011).

Chen, C. Z. et al. Disorder and metal-insulator transitions in Weyl semimetals. Phys. Rev. Lett. 115, 246603 (2015).

Liu, S., Ohtsuki, T. & Shindou, R. Effect of disorder in a three-dimensional layered Chern insulator. Phys. Rev. Lett. 116, 066401 (2016).

Xiao, J. & Yan, B. First-principles calculations for topological quantum materials. Nat. Rev. Phys. 3, 283–297 (2021).

Devescovi, C. et al. Cubic 3D Chern photonic insulators with orientable large Chern vectors. Nat. Commun. 12, 7330 (2021).

Wang, Z. Y. et al. Realization of an ideal Weyl semimetal band in a quantum gas with 3D spin-orbit coupling. Science 372, 271–276 (2021).

Manturov, V. Knot Theory (CRC Press, 2018).

Jotzu, G. et al. Experimental realization of the topological Haldane model with ultracold fermions. Nature 515, 237–240 (2014).

Belopolski, I. et al. Observation of a linked-loop quantum state in a topological magnet. Nature 604, 647–652 (2022).

Slobozhanyuk, A. et al. Three-dimensional all-dielectric photonic topological insulator. Nat. Photon. 11, 130–136 (2017).

Yang, Y. et al. Realization of a three-dimensional photonic topological insulator. Nature 565, 622–626 (2019).
Acknowledgements
We acknowledge funding from the Singapore National Research Foundation Competitive Research Program (grant no. NRF-CRP23-2019-0007) and Singapore Ministry of Education Academic Research Fund Tier 3 (grant no. MOE2016-T3-1-006). P.Z., Z.G. and Y.Y. acknowledge funding from the National Natural Science Foundation of China (grant nos. 52022018, 52021001, 12104211, 6101020101 and 62175215) and Chinese Academy of Engineering (grant no. 2022-XY-127).
Ethics declarations
Competing interests
The authors declare no competing interests.
Peer review
Peer review information
Nature thanks Alexander Khanikaev and the other, anonymous, reviewer(s) for their contribution to the peer review of this work. Peer reviewer reports are available.
Additional information
Publisher's note Springer Nature remains neutral with regard to jurisdictional claims in published maps and institutional affiliations.
Extended data figures and tables
Supplementary information
Rights and permissions
Springer Nature or its licensor holds exclusive rights to this article under a publishing agreement with the author(s) or other rightsholder(s); author self-archiving of the accepted manuscript version of this article is solely governed by the terms of such publishing agreement and applicable law.
About this article
Cite this article
Liu, GG., Gao, Z., Wang, Q. et al. Topological Chern vectors in three-dimensional photonic crystals. Nature 609, 925–930 (2022). https://doi.org/10.1038/s41586-022-05077-2
Received:

Accepted:

Published:

Issue Date:

DOI: https://doi.org/10.1038/s41586-022-05077-2
Comments
By submitting a comment you agree to abide by our Terms and Community Guidelines. If you find something abusive or that does not comply with our terms or guidelines please flag it as inappropriate.