Abstract
Mating and aggression are innate social behaviours that are controlled by subcortical circuits in the extended amygdala and hypothalamus1,2,3,4. The bed nucleus of the stria terminalis (BNSTpr) is a node that receives input encoding sex-specific olfactory cues from the medial amygdala5,6, and which in turn projects to hypothalamic nuclei that control mating7,8,9 (medial preoptic area (MPOA)) and aggression9,10,11,12,13,14 (ventromedial hypothalamus, ventrolateral subdivision (VMHvl)), respectively15. Previous studies have demonstrated that male aromatase-positive BNSTpr neurons are required for mounting and attack, and may identify conspecific sex according to their overall level of activity16. However, neural representations in BNSTpr, their function and their transformations in the hypothalamus have not been characterized. Here we performed calcium imaging17,18 of male BNSTprEsr1 neurons during social behaviours. We identify distinct populations of female- versus male-tuned neurons in BNSTpr, with the former outnumbering the latter by around two to one, similar to the medial amygdala and MPOA but opposite to VMHvl, in which male-tuned neurons predominate6,9,19. Chemogenetic silencing of BNSTprEsr1 neurons while imaging MPOAEsr1 or VMHvlEsr1 neurons in behaving animals showed, unexpectedly, that the male-dominant sex-tuning bias in VMHvl was inverted to female-dominant whereas a switch from sniff- to mount-selective neurons during mating was attenuated in MPOA. Our data also indicate that BNSTprEsr1 neurons are not essential for conspecific sex identification. Rather, they control the transition from appetitive to consummatory phases of male social behaviours by shaping sex- and behaviour-specific neural representations in the hypothalamus.
Relevant articles
Open Access articles citing this article.
Tadaaki Nishioka

,

Suthinee Attachaipanich

…

Takatoshi Hikida

Nature Communications Open Access 21 April 2023

Young Hee Lee

,

Yu-Been Kim

…

Hyung Jin Choi

Nature Communications Open Access 17 March 2023
Access options
Access Nature and 54 other Nature Portfolio journals
Get Nature+, our best-value online-access subscription
$29.99 / 30 days
cancel any time
Subscribe to this journal
Receive 51 print issues and online access
$199.00 per year
only $3.90 per issue
Rent or buy this article
Get just this article for as long as you need it
$39.95
Prices may be subject to local taxes which are calculated during checkout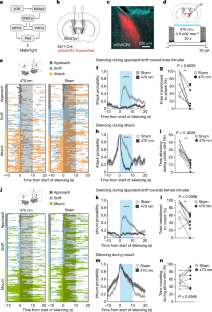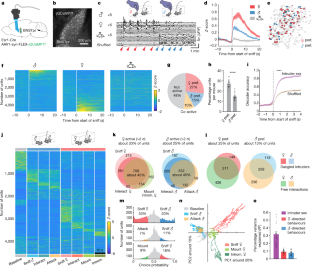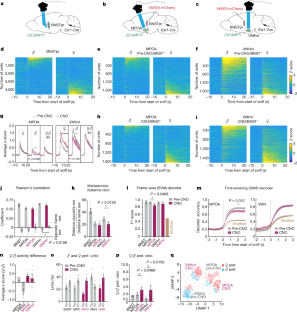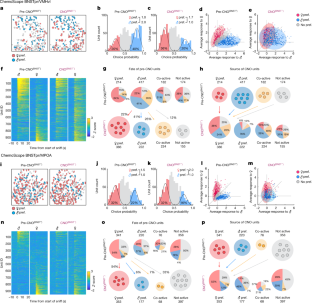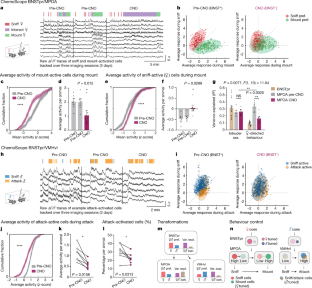 Data availability
The data on which this study is based are available on reasonable request.
Code availability
The custom MATLAB and Python codes used to analyse the data in this study are available on request.
References
Yang, C. F. & Shah, N. M. Representing sex in the brain, one module at a time. Neuron 82, 261–278 (2014).

Anderson, D. J. Circuit modules linking internal states and social behaviour in flies and mice. Nat. Rev. Neurosci. 17, 692–704 (2016).

Hashikawa, K., Hashikawa, Y., Falkner, A. & Lin, D. The neural circuits of mating and fighting in male mice. Curr. Opin. Neurobiol. 38, 27–37 (2016).

Chen, P. & Hong, W. Neural circuit mechanisms of social behavior. Neuron 98, 16–30 (2018).

Bergan, J. F., Ben-Shaul, Y. & Dulac, C. Sex-specific processing of social cues in the medial amygdala. eLife 3, e02743 (2014).

Li, Y. et al. Neuronal representation of social information in the medial amygdala of awake behaving mice. Cell 171, 1176–1190 (2017).

Simerly, R. B. Wired for reproduction: organization and development of sexually dimorphic circuits in the mammalian forebrain. Annu. Rev. Neurosci. 25, 507–536 (2002).

Wei, Y.-C. et al. Medial preoptic area in mice is capable of mediating sexually dimorphic behaviors regardless of gender. Nat. Commun. 9, 279 (2018).

Karigo, T. et al. Distinct hypothalamic control of same- and opposite-sex mounting behaviour in mice. Nature 589, 258–263 (2020).

Ogawa, S. et al. Abolition of male sexual behaviors in mice lacking estrogen receptors α and β (αβERKO). Proc. Natl Acad. Sci. USA 97, 14737 (2000).

Lin, D. et al. Functional identification of an aggression locus in the mouse hypothalamus. Nature 470, 221–226 (2011).

Yang, T. et al. Social control of hypothalamus-mediated male aggression. Neuron 95, 955–970 (2017).

Lee, H. et al. Scalable control of mounting and attack by Esr1+ neurons in the ventromedial hypothalamus. Nature 509, 627–632 (2014).

Yang, C. F. et al. Sexually dimorphic neurons in the ventromedial hypothalamus govern mating in both sexes and aggression in males. Cell 153, 896–909 (2013).

Wei, D., Talwar, V. & Lin, D. Neural circuits of social behaviors: innate yet flexible. Neuron 109, 1600–1620 (2021).

Bayless, D. W. et al. Limbic neurons shape sex recognition and social behavior in sexually naive males. Cell 176, 1190–1205 (2019).

Ghosh, K. K. et al. Miniaturized integration of a fluorescence microscope. Nat. Methods 8, 871–878 (2011).

Ziv, Y. et al. Long-term dynamics of CA1 hippocampal place codes. Nat. Neurosci. 16, 264–266 (2013).

Remedios, R. et al. Social behaviour shapes hypothalamic neural ensemble representations of conspecific sex. Nature 550, 388–392 (2017).

Armbruster, B. N., Li, X., Pausch, M. H., Herlitze, S. & Roth, B. L. Evolving the lock to fit the key to create a family of G protein-coupled receptors potently activated by an inert ligand. Proc. Natl Acad. Sci. USA 104, 5163–5168 (2007).

Govorunova, E. G., Sineshchekov, O. A., Janz, R., Liu, X. & Spudich, J. L. Natural light-gated anion channels: a family of microbial rhodopsins for advanced optogenetics. Science 349, 647–650 (2015).

Mahn, M. et al. High-efficiency optogenetic silencing with soma-targeted anion-conducting channelrhodopsins. Nat. Commun. 9, 4125 (2018).

Gradinaru, V. et al. Molecular and cellular approaches for diversifying and extending optogenetics. Cell 141, 154–165 (2010).

Mahn, M., Prigge, M., Ron, S., Levy, R. & Yizhar, O. Biophysical constraints of optogenetic inhibition at presynaptic terminals. Nat. Neurosci. 19, 554–556 (2016).

Zhang, C. et al. Optimized photo-stimulation of halorhodopsin for long-term neuronal inhibition. BMC Biol. 17, 95 (2019).

Knoedler, J. R. et al. A functional cellular framework for sex and estrous cycle-dependent gene expression and behavior. Cell 185, 654–671 (2022).

Padilla, S. L. et al. Agouti-related peptide neural circuits mediate adaptive behaviors in the starved state. Nat. Neurosci. 19, 734–741 (2016).

Nyby, J., Wysocki, C. J., Whitney, G. & Dizinno, G. Pheromonal regulation of male mouse ultrasonic courtship (Mus musculus). Anim. Behav. 25, 333–341 (1977).

Stanić, D. et al. Characterization of aromatase expression in the adult male and female mouse brain. I. Coexistence with oestrogen receptors α and β, and androgen receptors. PLoS ONE 9, e90451 (2014).

Dana, H. et al. High-performance calcium sensors for imaging activity in neuronal populations and microcompartments. Nat. Methods 16, 649–657 (2019).

Pnevmatikakis, E. A. et al. Simultaneous denoising, deconvolution, and demixing of calcium imaging data. Neuron 89, 285–299 (2016).

Zhou, P. et al. Efficient and accurate extraction of in vivo calcium signals from microendoscopic video data. eLife 7, e28728 (2018).

Dong, H.-W. & Swanson, L. W. Projections from bed nuclei of the stria terminalis, posterior division: implications for cerebral hemisphere regulation of defensive and reproductive behaviors. J. Comp. Neurol. 471, 396–433 (2004).

Kingsbury, L. et al. Cortical representations of conspecific sex shape social behavior. Neuron 107, 941–953 (2020).

Stagkourakis, S., Spigolon, G., Liu, G. & Anderson, D. J. Experience-dependent plasticity in an innate social behavior is mediated by hypothalamic LTP. Proc. Natl Acad. Sci. USA 117, 25789–25799 (2020).

Yamaguchi, T. et al. Posterior amygdala regulates sexual and aggressive behaviors in male mice. Nat. Neurosci. 23, 1111–1124 (2020).

Zha, X. et al. VMHvl-projecting Vglut1+ neurons in the posterior amygdala gate territorial aggression. Cell Rep. 31, 107517 (2020).

Moffitt, J. R. et al. Molecular, spatial, and functional single-cell profiling of the hypothalamic preoptic region. Science 362, eaau5324 (2018).

Nair, A. et al. An approximate line attractor in the hypothalamus that encodes an aggressive internal state. Preprint at bioRxiv https://doi.org/10.1101/2022.04.19.488776 (2022).

Jazayeri, M. & Afraz, A. Navigating the neural space in search of the neural code. Neuron 93, 1003–1014 (2017).

Paxinos, G. & Watson, C. The Mouse Brain in Stereotaxic Coordinates (Elsevier, 2001).

Daigle, T. L. et al. A suite of transgenic driver and reporter mouse lines with enhanced brain-cell-type targeting and functionality. Cell 174, 465–480 (2018).

Segalin, C. et al. The Mouse Action Recognition System (MARS) software pipeline for automated analysis of social behaviors in mice. eLife 10, e63720 (2021).

Friedrich, J., Zhou, P. & Paninski, L. Fast online deconvolution of calcium imaging data. PLoS Comput. Biol. 13, e1005423 (2017).

Shadlen, M., Britten, K., Newsome, W. & Movshon, J. A computational analysis of the relationship between neuronal and behavioral responses to visual motion. J. Neurosci. 16, 1486–1510 (1996).

McInnes, L., Healy, J. & Melville, J. UMAP: Uniform manifold approximation and projection for dimension reduction. Preprint at https://doi.org/10.48550/arXiv.1802.03426 (2020).
Acknowledgements
We thank A. Kennedy and A. Nair for advice on miniscope data analysis; M. Hui and C. Kim for assistance with animal surgery and behaviour experiments; M. Zelikowsky for advice on statistical analysis; W. Hong for pilot experiments performed on BNSTpr; X. Da, J. Chang and X. Wang for histology; Y. Huang for genotyping; Caltech OLAR staff for animal care; J. Costanza for mouse colony management; M. Schnitzer, A. Vinograd and B. Weissbourd for constructive comments on the manuscript; C. Chiu for laboratory management; G. Mancuso for administrative assistance; and members of the Anderson laboratory for helpful comments on this project. This paper was supported by NIH grant nos. MH070053, MH112593 and NS123916 and by the Simons Collaboration on the Global Brain. D.J.A. is an investigator of the Howard Hughes Medical Institute.
Ethics declarations
Competing interests
The authors declare no competing interests.
Peer review
Peer review information
Nature thanks the anonymous reviewers for their contribution to the peer review of this work. Peer reviewer reports are available.
Additional information
Publisher's note Springer Nature remains neutral with regard to jurisdictional claims in published maps and institutional affiliations.
Extended data figures and tables
Supplementary information
Rights and permissions
Springer Nature or its licensor holds exclusive rights to this article under a publishing agreement with the author(s) or other rightsholder(s); author self-archiving of the accepted manuscript version of this article is solely governed by the terms of such publishing agreement and applicable law.
About this article
Cite this article
Yang, B., Karigo, T. & Anderson, D.J. Transformations of neural representations in a social behaviour network. Nature 608, 741–749 (2022). https://doi.org/10.1038/s41586-022-05057-6
Received:

Accepted:

Published:

Issue Date:

DOI: https://doi.org/10.1038/s41586-022-05057-6
Comments
By submitting a comment you agree to abide by our Terms and Community Guidelines. If you find something abusive or that does not comply with our terms or guidelines please flag it as inappropriate.