Abstract
Hierarchical and parallel networks are fundamental structures of the mammalian brain1,2,3,4,5,6,7,8. During development, lower- and higher-order thalamic nuclei and many cortical areas in the visual system form interareal connections and build hierarchical dorsal and ventral streams9,10,11,12,13. One hypothesis for the development of visual network wiring involves a sequential strategy wherein neural connections are sequentially formed alongside hierarchical structures from lower to higher areas14,15,16,17. However, this sequential strategy would be inefficient for building the entire visual network comprising numerous interareal connections. We show that neural pathways from the mouse retina to primary visual cortex (V1) or dorsal/ventral higher visual areas (HVAs) through lower- or higher-order thalamic nuclei form as parallel modules before corticocortical connections. Subsequently, corticocortical connections among V1 and HVAs emerge to combine these modules. Retina-derived activity propagating the initial parallel modules is necessary to establish retinotopic inter-module connections. Thus, the visual network develops in a modular manner involving initial establishment of parallel modules and their subsequent concatenation. Findings in this study raise the possibility that parallel modules from higher-order thalamic nuclei to HVAs act as templates for cortical ventral and dorsal streams and suggest that the brain has an efficient strategy for the development of a hierarchical network comprising numerous areas.
Access options
Access Nature and 54 other Nature Portfolio journals
Get Nature+, our best-value online-access subscription
$29.99 / 30 days
cancel any time
Subscribe to this journal
Receive 51 print issues and online access
$199.00 per year
only $3.90 per issue
Rent or buy this article
Prices vary by article type
from$1.95
to$39.95
Prices may be subject to local taxes which are calculated during checkout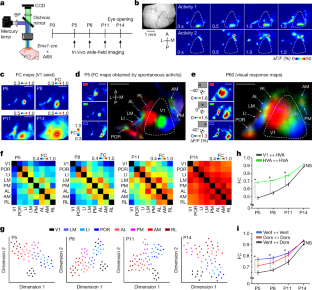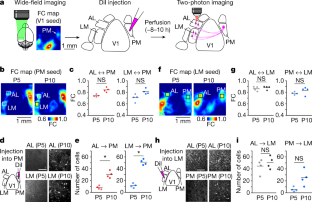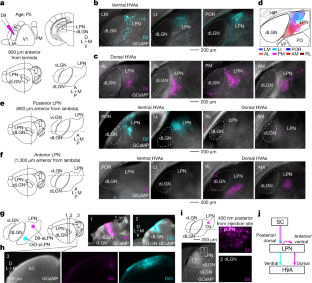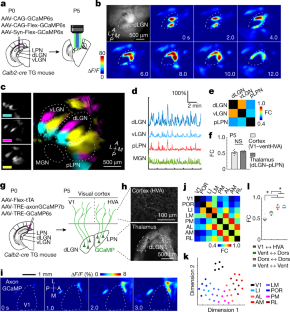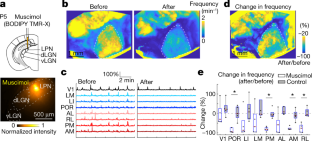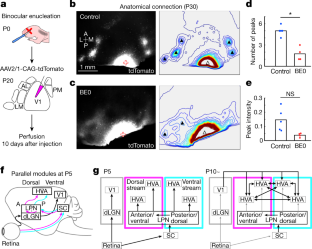 Code availability
Code is available from the corresponding authors on reasonable request.
References
Zeki, S. & Shipp, S. The functional logic of cortical connections. Nature 335, 311–317 (1988).

Felleman, D. J. & Van Essen, D. C. Distributed hierarchical processing in the primate cerebral cortex. Cereb. Cortex 1, 1–47 (1991).

Kaas, J. H. & Hackett, T. A. Subdivisions of auditory cortex and processing streams in primates. Proc. Natl Acad. Sci. USA 97, 11793–11799 (2000).

Kaas, J. H. & Lyon, D. C. Pulvinar contributions to the dorsal and ventral streams of visual processing in primates. Brain Res. Rev. 55, 285–296 (2007).

Wang, Q., Sporns, O. & Burkhalter, A. Network analysis of corticocortical connections reveals ventral and dorsal processing streams in mouse visual cortex. J. Neurosci. 32, 4386–4399 (2012).

Park, H. & Friston, K. Structural and functional brain networks: from connections to cognition. Science 342, 1238411 (2013).

Markov, N. T. et al. Anatomy of hierarchy: feedforward and feedback pathways in macaque visual cortex. J. Comp. Neurol. 522, 225–259 (2014).

Bennett, C. et al. Higher-order thalamic circuits channel parallel streams of visual information in mice. Neuron 102, 477–492 (2019).

López-Bendito, G. & Molnár, Z. Thalamocortical development: how are we going to get there? Nat. Rev. Neurosci. 4, 276–289 (2003).

Guillery, R. W. Is postnatal neocortical maturation hierarchical? Trends Neurosci. 28, 512–517 (2005).

Luo, L. & O'Leary, D. D. M. Axon retraction and degeneration in development and disease. Annu. Rev. Neurosci. 28, 127–156 (2005).

Bourne, J. A. & Morrone, M. C. Plasticity of visual pathways and function in the developing brain: is the pulvinar a crucial player? Front. Syst. Neurosci. 11, 3 (2017).

Chomiak, T. & Hu, B. Mechanisms of hierarchical cortical maturation. Front. Cell. Neurosci. 11, 272 (2017).

Godement, P., Salaün, J. & Imbert, M. Prenatal and postnatal development of retinogeniculate and retinocollicular projections in the mouse. J. Comp. Neurol. 230, 552–575 (1984).

Auladell, C., Pérez-Sust, P., Supèr, H. & Soriano, E. The early development of thalamocortical and corticothalamic projections in the mouse. Anat. Embryol. 201, 169–179 (2000).

Dong, H., Wang, Q., Valkova, K., Gonchar, Y. & Burkhalter, A. Experience-dependent development of feedforward and feedback circuits between lower and higher areas of mouse visual cortex. Vis. Res. 44, 3389–3400 (2004).

Berezovskii, V. K., Nassi, J. J. & Born, R. T. Segregation of feedforward and feedback projections in mouse visual cortex. J. Comp. Neurol. 519, 3672–3683 (2011).

Shipp, S. The functional logic of cortico–pulvinar connections. Philos. Trans. R. Soc. B 358, 1605–1624 (2003).

Sherman, S. M. Thalamus plays a central role in ongoing cortical functioning. Nat. Neurosci. 19, 533–541 (2016).

Zhou, N., Maire, P. S., Masterson, S. P. & Bickford, M. E. The mouse pulvinar nucleus: organization of the tectorecipient zones. Vis. Neurosci. 34, E011 (2017).

Rokszin, A. et al. Visual pathways serving motion detection in the mammalian brain. Sensors 10, 3218–3242 (2010).

Murakami, T., Matsui, T. & Ohki, K. Functional segregation and development of mouse higher visual areas. J. Neurosci. 37, 9424 (2017).

Feldheim, D. A. & O'Leary, D. D. M. Visual map development: bidirectional signaling, bifunctional guidance molecules, and competition. Cold Spring Harb. Perspect. Biol. 2, a001768 (2010).

Huberman, A. D., Feller, M. B. & Chapman, B. Mechanisms underlying development of visual maps and receptive fields. Annu. Rev. Neurosci. 31, 479–509 (2008).

Erzurumlu, R. S. & Gaspar, P. Development and critical period plasticity of the barrel cortex. Eur. J. Neurosci. 35, 1540–1553 (2012).

Arcaro, M. J. & Livingstone, M. S. A hierarchical, retinotopic proto-organization of the primate visual system at birth. eLife 6, e26196 (2017).

Homman-Ludiye, J. & Bourne, J. A. Mapping arealisation of the visual cortex of non-primate species: lessons for development and evolution. Front. Neural Circuits 8, 79 (2014).

Warner, C. E., Kwan, W. C. & Bourne, J. A. The early maturation of visual cortical area MT is dependent on input from the retinorecipient medial portion of the inferior pulvinar. J. Neurosci. 32, 17073–17085 (2012).

Chou, S. et al. Geniculocortical input drives genetic distinctions between primary and higher-order visual areas. Science 340, 1239–1242 (2013).

Vue, T. Y. et al. Thalamic control of neocortical area formation in mice. J. Neurosci. 33, 8442–8453 (2013).

Moreno-Juan, V. et al. Prenatal thalamic waves regulate cortical area size prior to sensory processing. Nat. Commun. 8, 14172 (2017).

Antón-Bolaños, N. et al. Prenatal activity from thalamic neurons governs the emergence of functional cortical maps in mice. Science 364, 987–990 (2019).

Batardière, A. et al. Early specification of the hierarchical organization of visual cortical areas in the macaque monkey. Cereb. Cortex 12, 453–465 (2002).

Baldwin, M. K. L., Kaskan, P. M., Zhang, B., Chino, Y. M. & Kaas, J. H. Cortical and subcortical connections of V1 and V2 in early postnatal macaque monkeys. J. Comp. Neurol. 520, 544–569 (2012).

Ackman, J. B., Burbridge, T. & Crair, M. C. Retinal waves coordinate patterned activity throughout the developing visual system. Nature 490, 219–225 (2012).

Matsui, T., Murakami, T. & Ohki, K. Transient neuronal coactivations embedded in globally propagating waves underlie resting-state functional connectivity. Proc. Natl Acad. Sci. USA 113, 6556–6561 (2016).

Yamada, J. et al. Ephrin-As and neural activity are required for eye-specific patterning during retinogeniculate mapping. Nat. Neurosci. 8, 1022–1027 (2005).

Monavarfeshani, A., Sabbagh, U. & Fox, M. A. Not a one-trick pony: diverse connectivity and functions of the rodent lateral geniculate complex. Vis. Neurosci. 34, E012 (2017).

Laing, R. J., Lasiene, J. & Olavarria, J. F. Topography of striate–extrastriate connections in neonatally enucleated rats. BioMed Res. Int. 2013, 592426–592429 (2013).

Cang, J. et al. Development of precise maps in visual cortex requires patterned spontaneous activity in the retina. Neuron 48, 797–809 (2005).

Dye, C. A., Abbott, C. W. & Huffman, K. J. Bilateral enucleation alters gene expression and intraneocortical connections in the mouse. Neural Dev. 7, 5 (2012).

Frangeul, L. et al. A cross-modal genetic framework for the development and plasticity of sensory pathways. Nature 538, 96–98 (2016).

Smith, I. T., Townsend, L. B., Huh, R., Zhu, H. & Smith, S. L. Stream-dependent development of higher visual cortical areas. Nat. Neurosci. 20, 200–208 (2017).

Tsukano, H. et al. Reconsidering tonotopic maps in the auditory cortex and lemniscal auditory thalamus in mice. Front. Neural Circuits 11, 14 (2017).

Vanni, M. P., Chan, A. W., Balbi, M., Silasi, G. & Murphy, T. H. Mesoscale mapping of mouse cortex reveals frequency-dependent cycling between distinct macroscale functional modules. J. Neurosci. 37, 7513–7533 (2017).

Adibi, M. Whisker-mediated touch system in rodents: from neuron to behavior. Front. Syst. Neurosci. 13, 40 (2019).

Phillips, J. W. et al. A repeated molecular architecture across thalamic pathways. Nat. Neurosci. 22, 1925–1935 (2019).

Pouchelon, G. et al. Modality‐specific thalamocortical inputs instruct the identity of postsynaptic L4 neurons. Nature 511, 471–474 (2014).

Gorski, J. A. et al. Cortical excitatory neurons and glia, but not GABAergic neurons, are produced in the Emx1-expressing lineage. J. Neurosci. 22, 6309–6314 (2002).

Taniguchi, H. et al. A resource of Cre driver lines for genetic targeting of GABAergic neurons in cerebral cortex. Neuron 71, 995–1013 (2011).

Zariwala, H. A. et al. A Cre-dependent GCaMP3 reporter mouse for neuronal imaging in vivo. J. Neurosci. 32, 3131–3141 (2012).

Madisen, L. et al. Transgenic mice for intersectional targeting of neural sensors and effectors with high specificity and performance. Neuron 85, 942–958 (2015).

Peirce, J. W. PsychoPy—psychophysics software in Python. J. Neurosci. Methods 162, 8–13 (2007).

Vincent, J. L. et al. Intrinsic functional architecture in the anaesthetized monkey brain. Nature 447, 83–86 (2007).

Fratzl, A. et al. Flexible inhibitory control of visually evoked defensive behavior by the ventral lateral geniculate nucleus. Neuron 109, 3810–3822 (2021).
Acknowledgements
We thank members of the Ohki laboratory for discussions; A. Honda, Y. Sono, A. Hayashi, T. Inoue, A. Ohmori, M. Saito, Y. Kato, M. Taki, S. Uto and N. Yamamoto for animal care and genotyping; T. Ohmine and N. Yamamoto for lab management; and H. Takeuchi and K.M. Hagihara for comments on the manuscript. We acknowledge support from The Research Support Center, Kyushu University Graduate School of Medical Sciences, and Imaging Core of International Research Center for Neurointelligence (IRCN), The University of Tokyo, Virus Vector Core of the Brain/MINDS-AMED (JP21dm0207111), and GENIE project, the Janelia Farm Research Campus. This work was supported by Brain/MINDS-AMED (14533320, 15653077, JP16dm0207034 and JP20dm0207048 to K.O.); the Institute for AI and Beyond (to K.O.); JSPS KAKENHI (25221001, 19H05642 and 20H05917 to K.O., 17K14931, 18H05116 and 21H0516513 to T. Matsui, and 19K21207 and 21K15181 to T. Murakami); Brain/MINDS-beyond-AMED (JP20dm0307031 to T. Matsui); and JST PRESTO (JPMJPR19M9 to T. Matsui).
Ethics declarations
Competing interests
The authors declare no competing interests.
Peer review
Peer review information
Nature thanks the anonymous reviewers for their contribution to the peer review of this work. Peer reviewer reports are available.
Additional information
Publisher's note Springer Nature remains neutral with regard to jurisdictional claims in published maps and institutional affiliations.
Extended data figures and tables
Supplementary information
About this article
Cite this article
Murakami, T., Matsui, T., Uemura, M. et al. Modular strategy for development of the hierarchical visual network in mice. Nature 608, 578–585 (2022). https://doi.org/10.1038/s41586-022-05045-w
Received:

Accepted:

Published:

Issue Date:

DOI: https://doi.org/10.1038/s41586-022-05045-w
Comments
By submitting a comment you agree to abide by our Terms and Community Guidelines. If you find something abusive or that does not comply with our terms or guidelines please flag it as inappropriate.